Ohio State Basketball: Buckeyes' 5 Must-Win Games for 2012-13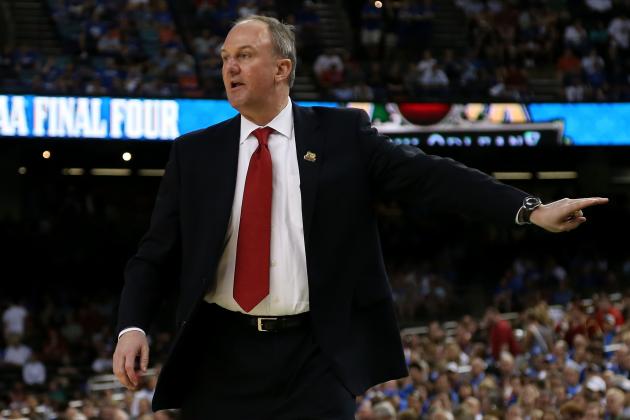 Chris Graythen/Getty Images
Thad Matta wants more than just another Final Four trip.
Ohio State comes in ranked No. 4 in the AP Top 25 poll, and this season is one in which the Buckeyes can reasonably call themselves true contenders. They have a talented cast of players left in the wake of the departure of Jared Sullinger and William Buford. Sullinger and Buford accounted for more than 32 points per game, so ordinarily the thought would be "rebuild."
Yet, there isn't much need to rebuild, because what remains after those key subtractions is still a very good basketball team.
Deshaun Thomas, Lenzelle Smith and Aaron Craft are a nice trio for the Buckeyes to develop and build around.
Thomas, a 6'7" junior forward, averaged 19.2 points per game in the NCAA tournament and he made the second team All Big-Ten last year. He's diversified his game to be both perimeter- and post-oriented now, so it's quite likely he makes the first team all-conference this year.
Craft is a top-tier defensive player who set the school record for steals last year with 98. He won the Big Ten Defensive Player of the Year award last year. Craft will have to prove he can score more if he's going to make any push for playing at the NBA level.
At this point, Craft is just a good point guard on a great Big Ten team. He doesn't post really flashy numbers (8.8 points per game, 4.6 assists per game), but he's a good floor general and makes his teammates better.
Lenzelle Smith Jr. is a returning starter who has improved every year as a Buckeye, but must continue to refine his offensive game to become a more featured player for OSU. Smith averaged just 6.8 points per game and 4.6 rebounds per game a year ago.
The Buckeyes should be there at the end in March, but there's a regular season to get through and a Big Ten championship to be won first. The must-win games may all seem somewhat obvious—big games against ranked opponents—but it is those games that decide a season. The losses to poor opponents are often unpredictable.
That said, let's take a glance at five Ohio State Buckeyes games that are going to prove to be pivotal.
Begin Slideshow

»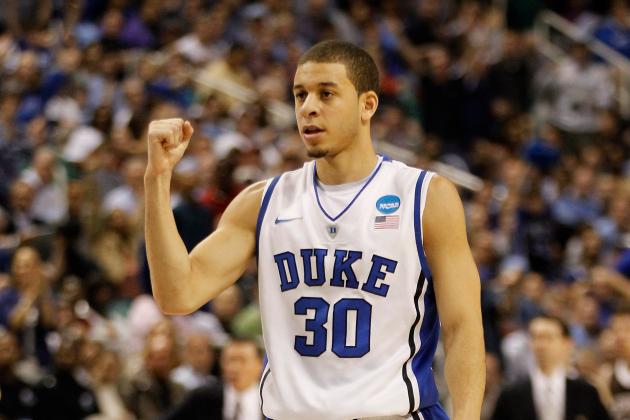 Streeter Lecka/Getty Images
Seth Curry will lead Duke at home against OSU on Nov. 28
Duke will be Ohio State's first ranked opponent of the year. It will offer the first bit of insight as to how the Buckeyes react against premier competition.
The game will offer a chance to see how Duke fares with Seth Curry, Mason Plumlee and Ryan Kelly as their main trio. Subtract Austin Rivers and Miles Plumlee, who departed to the NBA. Mason Plumlee is better than his older brother Miles, at any rate, and Rivers was a one-and-done whose impact was likely overstated.
Duke didn't lose much from last season, though the season ended in that shocking and ridiculous loss to No. 15 seed Lehigh in March. That loss ruined the season, to be sure, but one can't throw out Duke's 27-7 record from last season and say they aren't talented.
What that all means is that Duke is still going to be an elite team and still will be there deep in March. The aforementioned trio of returning starters are all seniors and all should be ready to make this season count as their last as a Blue Devil. Ohio State and Duke will be amped up for this game on ESPN, and it will serve as a statement game for both teams.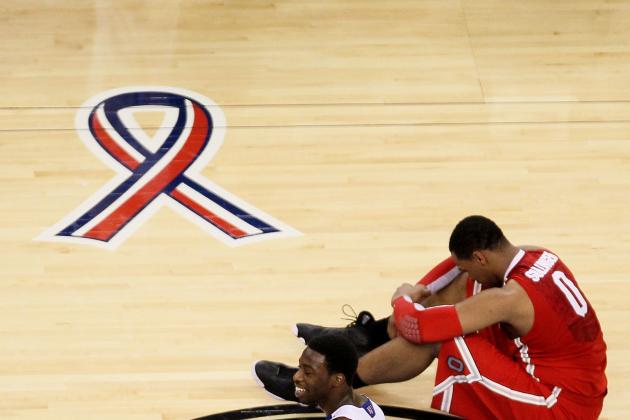 Ronald Martinez/Getty Images
This is how things ended when the teams met last.
Kansas is the other ranked nonconference opponent for the Buckeyes early this season. The No. 7 Jayhawks lost Thomas Robinson and Tyshawn Taylor to the draft, but may actually be an even better team this year without them. They have one of the best recruiting classes in the country and a lot of returning rotation players.
Seniors Elijah Johnson and Jeff Withey are the focal points of the Jayhawks' attack now. They come back with another huge year of experience from last year's title loss to Kentucky, and the duo form a great inside/outside tandem. The 7-foot Withey is a dominant defensive big man, too, and one of the best recruits will join him down low, 6'8" freshman forward Perry Ellis, whose promise as a player is very high.
This game will be televised on CBS and will be a big draw for college basketball fans, as both the Buckeyes and Jayhawks have contention hopes after meeting in the Final Four last year.
Kansas was a stacked Kentucky team away from tasting glory, but they hung tough and their returning core of players is focused on finishing off the task this time, against Kentucky or whomever.
Andy Lyons/Getty Images
Tim Hardaway Jr. makes the Wolverines a dangerous team.
The Michigan Wolverines are the first of OSU's AP ranked in-conference opponents, and they promise to be a tough challenge. The Wolverines were one and done in March, but were a tough team all year and they have a very talented duo in Tim Hardaway Jr. and Trey Burke. The tandem combined for more than 29 points per game last season and could put even more this year.
The main focus for the Wolverines won't even be winning this matchup, nor a Big Ten crown, but getting out of the first weekend in the NCAA tournament. Tim Hardaway is a very exciting and dynamic talent, but John Beilein isn't going to take another 20-plus win season if it's accompanied by a first-round tournament exit.
This game may be more important to Michigan than it is to Ohio State. The Buckeyes can always rely on saying that they reached the Final Four last year, while the Wolverine squad fell miserably short in March. There will be immense pressure on Michigan to win all their big games this year, and this one will be the first of many for Beilein's team.
The teams square off again in Ann Arbor on February 5, and that game will be of equal importance, if not more so, heightened by the season beginning to wane down even further.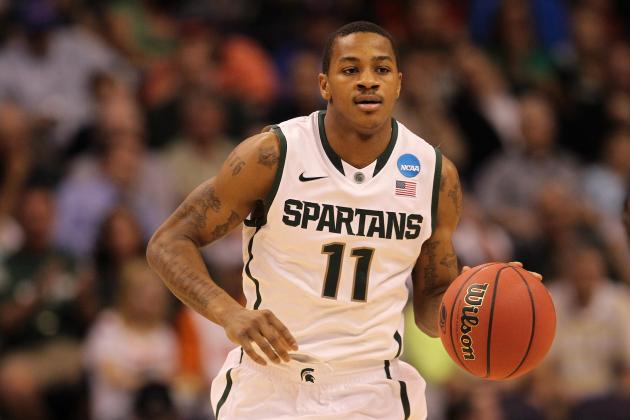 Jamie Squire/Getty Images
Keith Appling will lead a tough Spartans attack.
This game marks the first matchup between the Spartans and Buckeyes and will be held in East Lansing. The second will be on Sunday, February 24, 2013 at home in Columbus. The Spartans made it to the Sweet 16 last year and they have a deep roster that they can throw at opponents.
Tom Izzo works his players hard and pushes the pace, so the fact that they can go 11 deep into their rotation will help the team against stronger opponents.
The depth is the good news. The bad news is that the Spartans have no standout players, and only one returning player averaged double-digit scoring last year, Keith Appling with 11.4 points per game.
Appling is now a junior and he hit 41 percent from three last year. Appling will be a nice backcourt tandem with sophomore Travis Trice, who is a combo guard like Appling. They lost Draymond Green, but they may be just as good this season as last year when they went 29-8.
The Buckeyes will count themselves fortunate to sneak out with a win on the road on January 19, and if they can't, they'll seek revenge in the February meeting.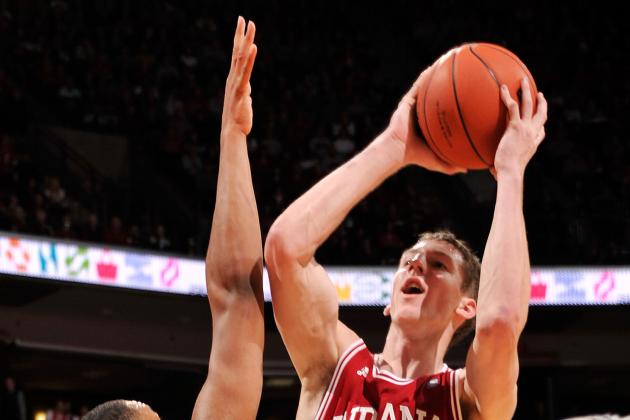 Jamie Sabau/Getty Images
Cody Zeller makes Indiana a favorite to win the NCAA title.
It just so happens that the best team in the Big Ten is also the best team in the nation. The Buckeyes won't get their first look at the Hoosiers until mid-February, so by then both teams will have had time to mature into the squads they will be when it's all on the line.
Indiana returns four of their five starters from a team that dominated last year. Center Cody Zeller very well may end up being the No. 1 overall pick in the 2013 NBA Draft and Christian Watford is a legitimate NBA prospect, too. In addition to returning all of their top-shelf talent, the Hoosiers also have an excellent recruiting class, stacking the program for the next few years at least.
As good as Ohio State is this year, this game will be the real measuring stick before the waters get any deeper.
The Buckeyes are going to be challenged at all five positions by the Hoosiers and really have only Amir Williams to throw at Zeller. Williams just isn't developed as a player yet, and Zeller will run circles around him.
It's not as though there are a lot of Division I big men capable of covering Zeller, anyway, but Williams is only a sophomore and he didn't show enough last season to give any indication he can hold his own against elite centers like Zeller.
Whether or not Indiana proves to be too much for OSU, they have to face them again March 5 in Bloomington. Barring major injuries, both teams will be using that game as a primer for the postseason, and the energy should be running high in Assembly Hall.