Virtual Simulation Stimulation: Week 11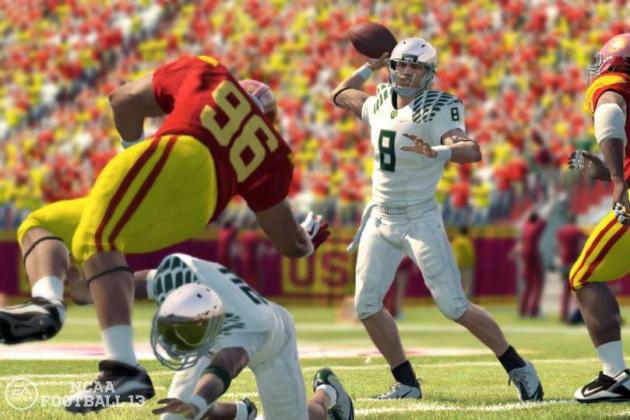 Image Via EA Sports
A 3-2 week has NCAA '13 back on track, although I won't be satisfied with just a winning week at this point. We've come too far and been too brilliant to be content with picking three out of five games correctly. Confident? Yes. Cocky? You betcha.
Our standards are high around these parts.
From an accuracy stand point, however, the world's greatest outcome decider was scary good. It predicted Texas A&M would beat Mississippi State 37-13, and the final score ended up 38-13 in A&M's favor. It also predicted that Kansas State would score 45 points in their victory, and they ended up hanging 44 on Oklahoma State. Finally, it had LSU scoring 17 in a losing effort, which it hit right on the nose.
Magical powers. There is no other explanation.
For those unfamiliar with this strange talk, it's quite simple. Using NCAA '13, we simulate the entire week in college football and report the findings. It's simple and very important, obviously.
After a solid round of back-patting, we're turning our focus toward Week 11. In other news, everyone panic it's Week 11.
Season Spotlight Prediction Record Heading into Week 11: 37-13
Begin Slideshow

»
Gregory Shamus/Getty Images

After a handful of nail-bitters, the Cornhuskers cruise against Penn State behind nearly 500 yards of total offense.
Taylor Martinez throws for 209 yards and three touchdowns, and he goes absolutely nuts on the ground for the second week in a row. He carries the ball 13 times for 161 yards and three more scores. Hello, Player of the Week.
Matt McGloin isn't bad for Penn State, completing 14-of-22 passes for 207 yards and two touchdowns. Nittany Lion backs combine for 145 rushing yards and a score on 40 carries in the game.
Nebraska or Indiana? Who do you have winning the Big Ten Championship? We're actually incredibly close to making this hilarious joke a hilarious reality so please stop laughing.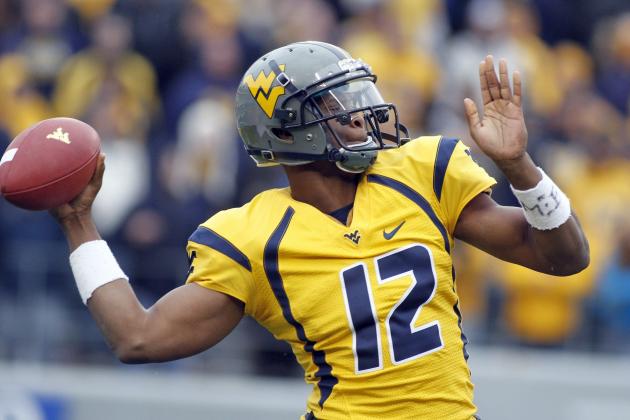 Justin K. Aller/Getty Images

The Mountaineers finally get back on track, and they topple Mike Gundy's crew in this one despite turning the ball over four times.
Geno Smith accounts for two of those turnovers with interceptions, but he does throw for 345 yards and three touchdowns as well. Tavon Austin is on the other end of two of those scores and finishes the game with 155 receiving yards.
Multiple quarterbacks see the field for Oklahoma State in the simulation, and they combine to throw for 248 yards along with a touchdown and an interception. Running back Joseph Randle runs for 72 yards on only two carries and also finds the end zone twice in a losing effort.
On a completely unrelated matchup note, I imagine a night out with Dana Holgorsen, Mike Gundy and about 50 or so beers would probably end up exactly how you think it would.
AWESOME.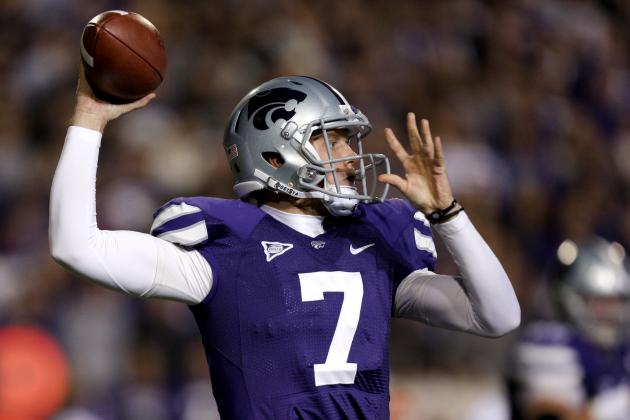 Ed Zurga/Getty Images

Although the two enter the half tied at 7-7, Kansas State explodes in the third quarter and finishes with 507 yards of total offense.
Collin Klein plays in this sim and completes 25-of-35 throws for 302 yards and a touchdown. He also runs for 73 yards on 12 carries and three more scores. This is basically the same exact production according to NCAA '13 each week, and it's usually spot on for Klein.
TCU accumulates just 154 yards through the air and one score, although the running game is much better. A stable of backs go for 157 yards, but they cannot find the end zone. Wideout Josh Boyce catches eight balls for 94 yards and their lone touchdown.
With the win, Bill Snyder is now two games away from an undefeated season and the only things in his path are the Baylor and Texas defenses. That's like being offered two giant pieces of cake before you finish your meal, and boy, do I love cake.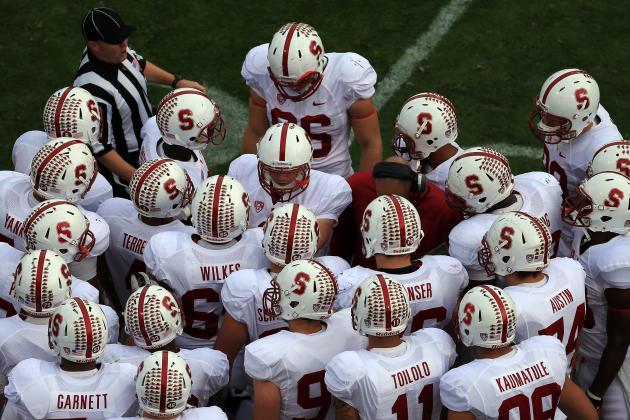 Doug Pensinger/Getty Images

Stanford jumps out to a 30-7 halftime lead, and they put it in cruise control after that.
Multiple Cardinal QBs see the field in this one and they are very good. They combine to complete 16-of-31 passes for 210 yards and two touchdowns. Running back Stepfan Taylor is also superb, and he adds 156 yards on the ground and a score.
Oregon State musters up just 295 yards of total offense, and multiple quarterbacks see the field in this game. They are productive, completing 16-of-28 passes for 181 yards and three touchdowns, but the Oregon State offense can get very little else going.
That sound you hear in the distance is Chip Kelly busting out his neon yellow calculator—it also measures body fat and mood swings—to try and figure out how this latest scenario helps or hurts the Ducks in the BCS. Good luck, brother.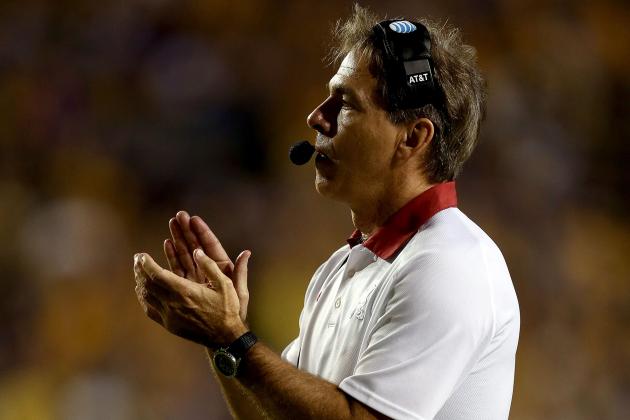 Matthew Stockman/Getty Images

Despite being outgained in total yardage, Alabama coasts in their final test before the SEC championship. Sorry, Auburn and Western Carolina fans.
AJ McCarron completes 12-of-20 passes for 214 yards and two scores, both of which actually go to running back Eddie Lacy. Lacy also adds a touchdown and 93 yards on the ground on only 15 carries to earn your Player of the Game honors.
On the other side, Johnny "Football" Manziel is, well, not his football-dominatin' self. Manziel completes 14-of-38 passes for 157 yards and an interception, although he does run for 85 yards and a touchdown. Running back Ben Malena accounts for 88 total rushing yards on 16 carries.
"Another SEC team in a championship game? Well, I'm certainly not watching," said a Purdue fan while Googling "best sixth man in the Big Ten" while telling his friends how excited he is for winter.
I hate that guy.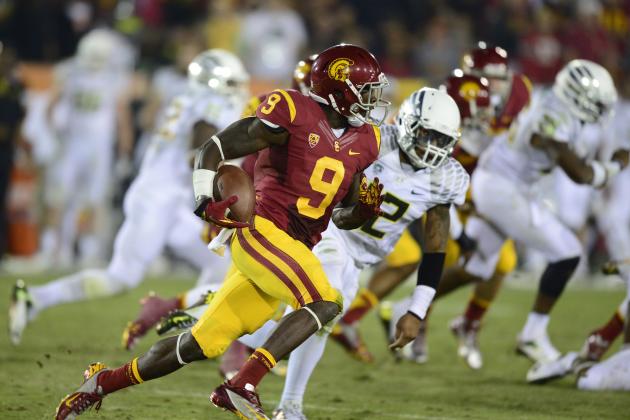 Robert Laberge/Getty Images

Auburn 33, Georgia 14; So...moving forward
LSU 38, Mississippi State 7
USC 52, Arizona State 7
Utah 42, Washington 7
Florida 35, UL Lafayette 20
Syracuse 42, Louisville 13; Down goes an unbeaten. Man, NCAA '13 really does not like Louisville.
Ole Miss 20, Vanderbilt 14
Missouri 31, Tennessee 21
UConn 45, Pitt 28
UCLA 38, Washington State 31
Wisconsin 31, Indiana 10; BIG TEN SHOWDOWN. No joke, this is a huge game. Stop laughing.
Arkansas State 23, UL Monroe 21
Michigan 49, Northwestern 17
Georgia Tech 38, North Carolina 14
Kansas 31, Texas Tech 24; 10-YEAR CONTRACT EXTENSION
South Carolina 52, Arkansas 42
Texas 43, Iowa State 14
Oregon 24, Cal 6
Oklahoma 41, Baylor 14
Virginia Tech 33, Florida State 24; Interesting game, interesting result
Notre Dame 34, Boston College 28