Champions League 2012: Complete Guide to Tuesday's Group-Stage Matches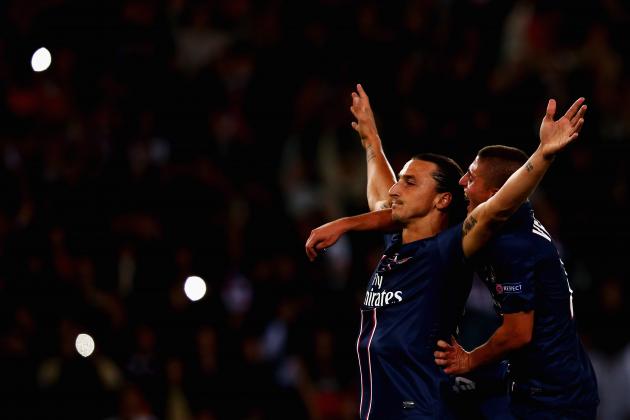 Dean Mouhtaropoulos/Getty Images

With only three weeks remaining in the group stage of UEFA Champions League competition, the pressure is definitely starting to build up.
Several teams will play their last home match before the knockout stages begin, and with one goal potentially being the difference between qualification and elimination, the stakes could not be higher for the remaining three weeks of the Champions League.
Tuesday's lineup sees Premier League champions facing a must-win match against Ajax, whilst Arsenal are away to Schalke—a fixture that could well determine whether or not the Gunners progress this season.
AC Milan take on Malaga, whilst Real Madrid play group-leading Borussia Dortmund, who beat them in their previous encounter.
Big games, big consequences, big opportunities—that's the UEFA Champions League. Read on for a complete guide to all Tuesday's group-stage action.
Begin Slideshow

»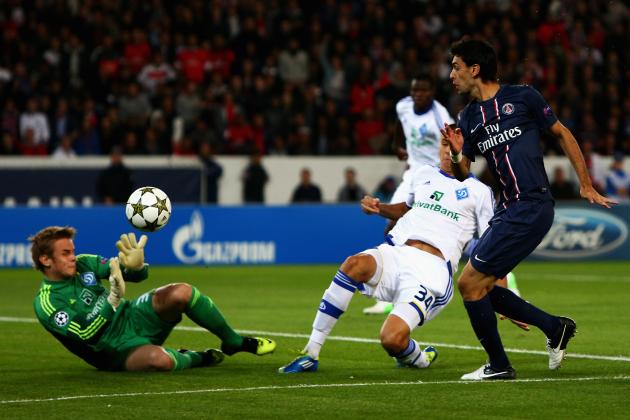 Dean Mouhtaropoulos/Getty Images

Tuesday, 6th November, 2:45 p.m. ET at NSK Olimpiyskiy, Kyiv, Ukraine
The undefeated Porto will travel to Ukraine to take on Dynamo Kyiv knowing that a win would all but guarantee them first place in the group and qualification through to the knockout rounds of the competition.
With PSG playing Dinamo Zagreb, Dynamo Kyiv must get a result at home here in order to keep pace with the French team for second place in the group. If they cannot get a result and PSG do win, it would appear all but certain that they would finish outside of the top two in the group and be eliminated from the Champions League.
Kyiv did lose to Porto, 3-2, when the sides met a fortnight ago, but home-field advantage could make this one a lot closer than people are expecting.
Still, it's tough to go past Porto, who haven't lost in any of their three matches so far and are gunning for first place and qualification from the group stages with a result here. Hard to ignore any team that has that on their mind.
Prediction: Porto win
Dean Mouhtaropoulos/Getty Images

Tuesday, 6th November, 2:45 p.m. ET at Parc des Princes, Paris, France
The other Group A match this week sees Paris St. Germain at home to Dinamo Zagreb—a result that should be as straightforward as it appears on paper.
PSG won 2-0 when these sides last met. With this match being played in Paris, expect the home side to head into this one believing that they can get the job done.
And with Porto facing a tricky away trip to Dynamo Kyiv, the big-spending French club know that a win could see them draw level with the group leaders or perhaps sit just one point behind them heading into the final two group-stage matches.
Dinamo Zagreb are yet to record a point in the competition and haven't won a Champions League match in their last nine fixtures. A bad result here would see that streak extend into double figures, something of which the Croatian club really wouldn't be proud.
Expect PSG to be too strong in attack for Zagreb to handle—at home, in front of their fans, with more to play for than their opponents.
Prediction: PSG win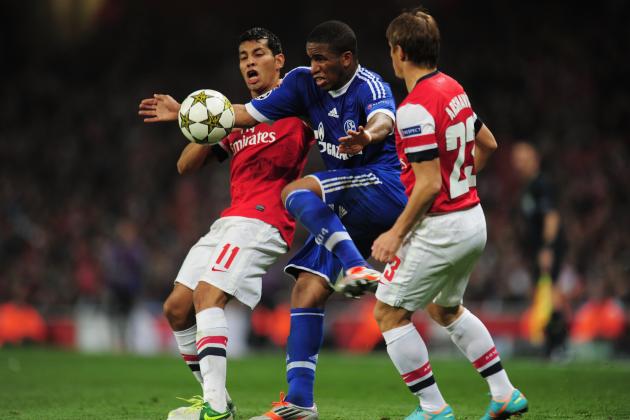 Shaun Botterill/Getty Images

Tuesday, 6th November, 2:45 p.m. ET at Stadion Gelsenkirchen, Gelsenkirchen, Germany
Arsenal suffered a humiliating 2-0 loss last time these two sides met at the Emirates Stadium in London. The Gunners failed to produce a single shot on goal for the entire match, as they fell to a severely underrated German outfit.
Schalke sit on top of the table in Group B—albeit by just one point—and know that a win here would surely give them first place overall in the group heading into the knockout stages of the tournament.
However, they will no doubt be wary of the Gunners, who could bounce back with a strong performance in this one given their poor performances over the past month or so. In the past three weeks, they've dropped Premier League matches to Manchester United and Norwich and almost dropped points to QPR—leaving manager Arsene Wenger to no doubt fire his side up heading into this crucial Champions League fixture.
The North London club will want to show soon why they are still genuine contenders both domestically and internationally, and this could well be the game to do it.
Schalke's eight-match undefeated streak ended on the weekend, with 1989 Hoffenheim defeating them in the German Bundesliga—perhaps giving Arsenal the confidence that they can do the same on Schalke's home soil.
Arsenal might have only won three of their last 13 away matches in the Champions League, but I think we could well see a statement from Wenger's men on the road here. They might not get the three points, but they will prove why they aren't to be ruled out of contention just yet.
Prediction: Draw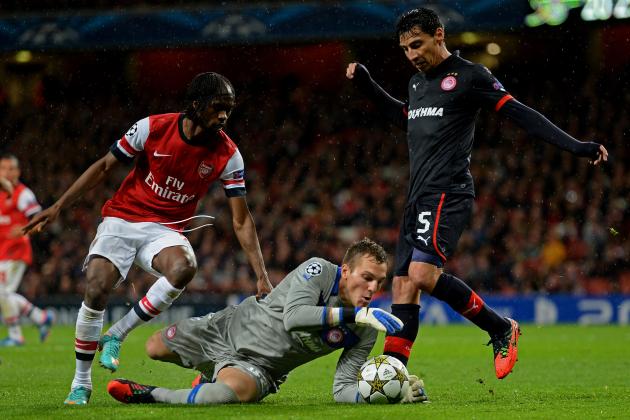 Mike Hewitt/Getty Images

Tuesday, 6th November, 2:45 p.m. ET at Georgios Karaiskakis Stadium, Piraeus, Greece
Three points behind second-placed Arsenal in Group B, Olympiacos know that without a win at home against last-placed Montpellier, their chances at qualifying for the knockout stages of the tournament would be all but over.
Their French opponents have been poor this season in both the domestic Ligue 1 and the Champions League, where they were recently beaten 2-1 at home by the Greek side, surely giving them some much-needed confidence heading into the return fixture.
It's interesting that Olympiacos haven't beaten a French opponent at their home ground in four matches since the 2004-05 campaign. Is that trend set to continue in this one?
There's no doubt that it's possible; after all, Montpellier showed us last year (and at times this year) that they are capable of earning three points and scoring great goals. They will be eager to set things right when they travel to Greece.
But I can't quite see them getting the desired result here. They will come close and be competitive, I'm sure, but given the season that they've had so far, it's reasonable to suggest that the French side could be missing that knockout blow again here.
Expect them to hang on for for another point, though—effectively ending both teams' respective Champions League campaigns in the process.
Prediction: Draw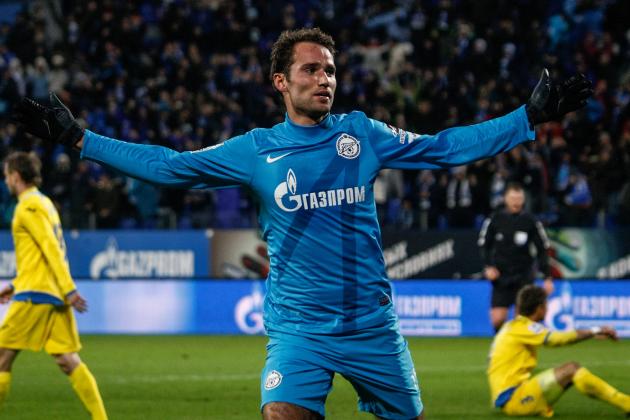 Epsilon/Getty Images

Tuesday, 6th November, 2:45 p.m. ET at Constant Vanden Stock Stadium, Brussels, Belgium
Anderlecht are at home to take on Russian giants Zenit St. Petersburg, who will be without their star forward Hulk, who was ruled out of the match with a hamstring injury (per UEFA).
The Belgian side currently sit last in the group and haven't scored a goal all tournament, but they almost managed to defeat their Russian opponents on their home ground the last time the two met, going down 3-2 a fortnight ago in the Champions League.
They'll be eager to change that scoreline and earn their first home win in the Champions League since 2003.
Zenit have been hot and cold this tournament, but away from home, they've been largely disappointing. They haven't won on the road—and haven't even scored a single goal either—and could be headed for an incredible upset with a loss to lowly Anderlecht here.
After all, they are a long way away from home.
Prediction: Anderlecht win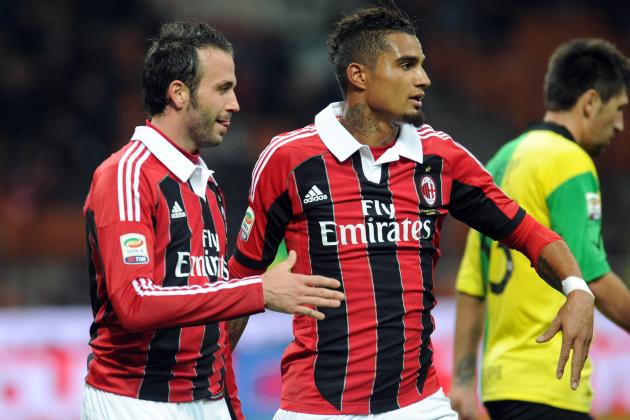 Dino Panato/Getty Images

Tuesday, 6th November, 2:45 p.m. ET at Stadio Giuseppe Meazza, Milan, Italy
I'm also wanting to call upset in the other Group C match, which sees the undefeated Malaga take on AC Milan, with the Italian giants entering this match as favorites.
The fixture might be being played at the San Siro, but given Milan's inconsistencies at home in both the Serie A and Champions League this year, it's hard to throw any support behind them—especially given the quality of their opposition.
Malaga are one of the few teams left undefeated in the Champions League, and they're the only team who hasn't had a goal scored against them all tournament. And considering that when Anderlecht came to Italy they earned a scoreless draw, you'd have to think that the Spanish side are capable of topping that performance with three points in this one.
This could be one of the more fascinating matches of the week, or it could turn into a one-sided affair for the Spanish club. Either way, expect Malaga to pull out a victory.
Prediction: Malaga win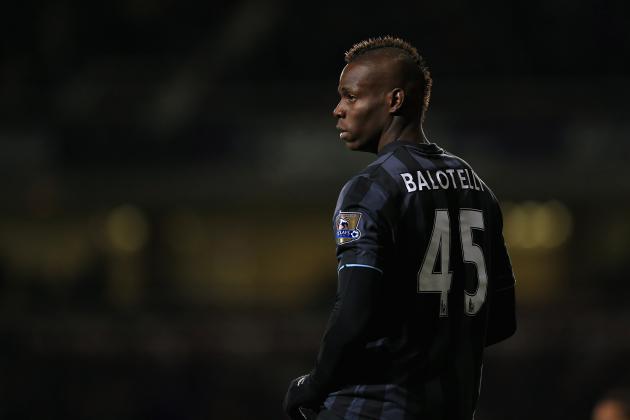 Richard Heathcote/Getty Images

Tuesday, 6th November, 2:45 p.m. ET at Etihad Stadium, Manchester, England
Manchester City has never needed a win so badly this season as they will when they take on Ajax in their Champions League group-stage match this week.
The defending English champions are last in Group D, having nearly lost all three matches. Without a win, their chances at qualification for the knockout stages are all but over.
They were beaten by the Dutch champions Ajax at home last week, 3-1, but now they have the Etihad Stadium behind them for this must-win fixture. Simply put, they are a much different and better side when they play in Manchester.
The Citizens bombed several chances against West Ham during the week and cannot allow that to happen against the likes of Christian Eriksen and Ajax here if they want to win and keep their Champions League dreams alive this year.
Expect Roberto Mancini's side to get the job done when it's required—like in this one. But don't expect it to be all plain-sailing for the defending Premier League champions, who will no doubt have a scare or two before this fixture is over.
Prediction: Manchester City win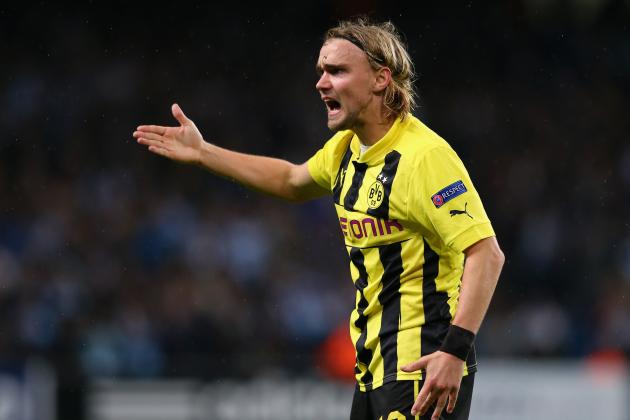 Alex Livesey/Getty Images

Tuesday, 6th November, 2:45 p.m. ET at Estadio Santiago Bernabéu, Madrid, Spain
We finish on perhaps the most mouth-watering fixture of the Champions League's Tuesday matches, which sees German champions Borussia Dortmund take on Real Madrid at the Bernabeu.
The two clubs sit first and second, respectively, in Group D and a win clear of third-placed Ajax heading into this one, with Dortmund emerging as the winners in their group-stage match when the two sides played in Germany over a fortnight ago.
But that was Germany; this is Madrid, and it will definitely be a step up for Jurgen Klopp's men from what they have experienced in the tournament to date. They did play a tough fixture on the road to Manchester City—where they were terribly unlucky not to win—but this is another level altogether.
This is Real Madrid at the Bernabeu.
Los Blancos haven't been beaten here in their last eight matches, which, coupled with the fact that Dortmund haven't won on the road in nearly nine years of competition, becomes a very daunting prospect for the current group leaders.
The German champions might be carrying the momentum at the moment in this group, but Real Madrid should be too tough at home for them here. Yes, they are an outside chance at an upset, but I can't see them being able to finish off Real Madrid.
Jose Mourinho's side is just too good for that to happen.
Prediction: Real Madrid win

Any predictions or thoughts about Tuesday's Champions League matches?
Comment below or hit me up on Twitter: Follow @dantalintyre
Also, check out 5 Teams on Upset Alert in Champions League Week 4.