5 Sleeper NBA Teams That Are Proving They're for Real in 2012-13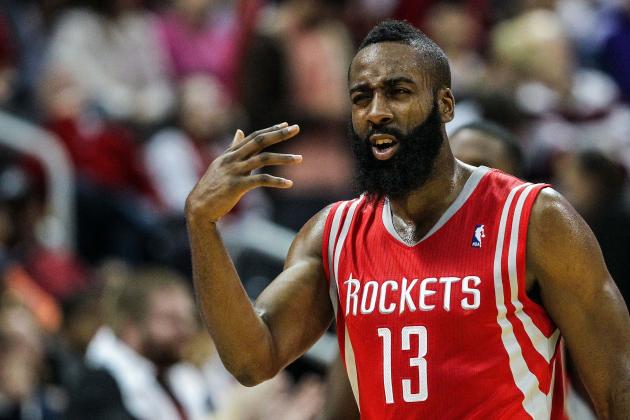 Daniel Shirey-US PRESSWIRE

It may be early in the 2012-2013 season, but several teams have already emerged from the pack after strong starts to their campaigns. While some of these squads, like the Orlando Magic, may not be able to sustain this momentum for the long haul, there are a handful that may prove to be the real deal when all is said and done.

Judging from the opening week of professional basketball, there is no set formula for these squads; they include both young, emerging teams and veteran-laden rosters playing in win-now mode. The only common factor is that they are exceeding expectations and were not on many people's radars prior to the season's tipoff.
With a huge journey ahead of them between now and April, one or two of these teams may fizzle out, but do not be surprised if these five squads emerge as legitimate threats in their respective conferences over the course of the 2012-13 NBA campaign.
Begin Slideshow

»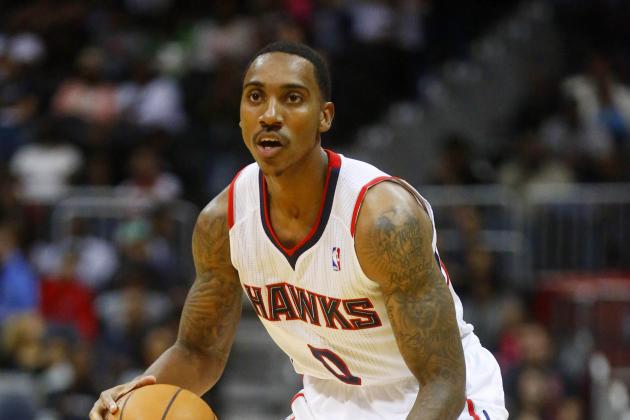 Josh D. Weiss-US PRESSWIRE

WIth Joe Johnson and Marvin Williams shipped out of town to Brooklyn and Utah, respectively, the expectations for this Atlanta Hawks team ranged from middle playoff seed to low-end lottery pick. However, the team has not struggled much in their contests against Houston and Oklahoma City, running an uptempo offense based on their wealth of backcourt ball-handlers.

The team lost to the Rockets but bested the Thunder on the road—an impressive win for any squad, let alone one that many claim is in "rebuilding mode." Without Johnson on the roster, the team has turned to Jeff Teague, Louis Williams and Devin Harris to create with the big-man tandem of Al Horford and Josh Smith still among the league's best.

Teague, in his second season as a starter, has looked strong through two games, averaging 15 points, six assists and 2.5 steals on 59.1 percent shooting. He has appeared more comfortable as a facilitator, has gotten to the rim well and remains a pest when guarding the ball.

New acquisition and Georgia native Williams has had a solid homecoming, as he has averaged 20.5 points, 4.5 assists and 2.5 steals despite seriously struggling with his shot. Williams can always create his own offense but has appeared more willing than usual to find the open man, and though he is not a particularly physical defender, he has proven capable of reading passing lanes.

A fully healthy Horford has given a pair of solid performances, while Smith played well against Houston but missed the OKC game due to an ankle sprain.

This Hawks team works because it wants to get out and run and move the ball, instead of allowing it to stick in the hands of one player. This runs counter to the team's past few years with Joe Johnson, which got them to the second round of the playoffs but nothing more.

They also boast plenty of outside shooting that forces a defense to stick tight to their man, and with depth at the guard spots, they're sure to wear out their opponents.
Atlanta may take a slight step back as they adjust to their new roster, but it won't be nearly as much of a regression as many were expecting.
Chris Humphreys-US PRESSWIRE

The Golden State Warriors got off to a hot start this season, racking up wins against the Los Angeles Clippers and Phoenix Suns while losing a tough game against the Memphis Grizzlies. The loss of Brandon Rush to an ACL tear notwithstanding, this team is one of the best Warriors squads put together in ages.

Though they are extremely young, this Golden State team features a very balanced offensive attack that thus far has been led by top reserve Carl Landry, who's averaged 20 points and 7.3 rebounds on 65.7 percent field-goal shooting, and Stephen Curry's 18 points, 5.3 boards and 4.7 dimes.

The team does not need to necessarily rely on one or two players for scoring, though, as their roster also features capable scorers in Klay Thompson, David Lee, Jarrett Jack and even rookie lottery pick Harrison Barnes.

As long as Curry and Jack run the point effectively and find the open man, this team has the shooters and finishers to be an absolute nightmare once they get hot. Add to that their ability to push pace and use their youth and athleticism, and this team becomes an even scarier prospect.

Andrew Bogut, the franchise center the team acquired for Monta Ellis in the 2011-12 season, has been working his way into the rotation, playing heavily restricted minutes, but if he can remain healthy for a full campaign, he could be the impact defender this club has lacked for so long.

The Warriors have become synonymous with all-offense, no-defense basketball, but Bogut and coach Mark Jackson have an opportunity to change that, as the current team features plenty of quick, athletic players who can force turnovers and stay tight on their man.

With Dallas looking depleted and Minnesota missing Kevin Love and Ricky Rubio for a significant chunk of the season, the Warriors have the chance to plant themselves right in the thick of the playoff race and use their depth to carry them through the grueling, 82-game battle that is an NBA season.
They have huge upside for the future, but this Warriors team appears poised to turn a few heads and be a factor right now, so long as their key contributors can remain on the floor.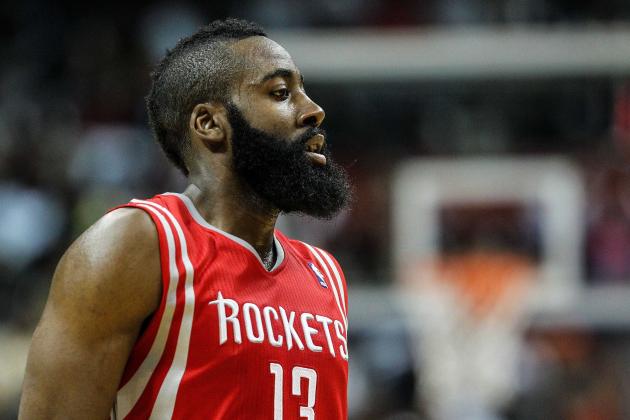 Daniel Shirey-US PRESSWIRE

Raise your hand if you thought James Harden would play well with the Houston Rockets.
Okay, now raise your hand if you thought Harden would play this well with his new squad. Didn't think so.

The newest Rocket has been nothing short of a revelation through three contests for the 2-1 Rockets, putting up the most impressive numbers of his career and thriving as a scorer, playmaker and defender in ways that must have the Thunder's front office tearing out their hair.

Through three contests, Harden has averaged 35.3 points, 6.3 rebounds, 6.3 assists and 1.7 steals on 52.9 percent shooting, all while still meshing with a team he joined just a few short days before the regular season tipped off.

In addition, Jeremy Lin has played well in the backcourt alongside Harden, notching 15.3 points, 5.7 rebounds, 7.3 dimes and 2.3 steals per contest while proving skeptics wrong.
The two give Houston a tremendously capable backcourt presence. Both can get into the paint, run the pick-and-roll and find open shooters out on the wing for kick-out plays.

The team has not played the stiffest competition, but a win on the road against a tough Atlanta Hawks team is certainly nothing to scoff at. This is a young, athletic squad that can run an opponent ragged and look to push in transition on every available opportunity.

The presence of new starting center Omer Asik has propelled this team to a hotter start than many anticipated, even if they did drop a winnable game to Portland in overtime. Asik has averaged 14.3 rebounds, including five on the offensive end, despite not being much of a scoring threat.

The Rockets defense has been surprisingly strong, as they have been able to read passing lanes and come up with loose balls regularly. That allows this team to get out in the open court, where they are an absolute nightmare to stop.

The Harden addition made many Rockets fans optimistic not just about the long-term future, but the 2012-13 season. Their hot start is proof of just how well they could play once their young pieces get better acquainted with the slings-and-arrows of a full NBA season.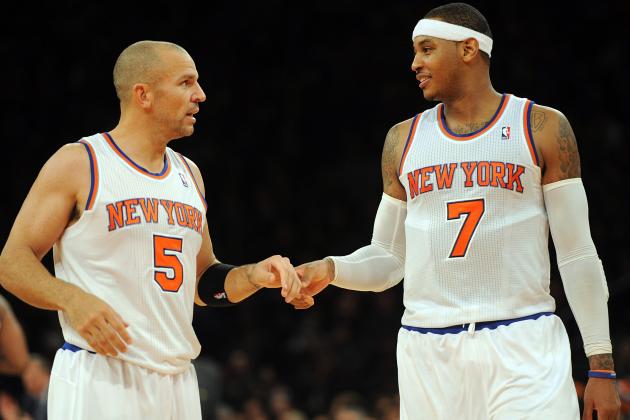 Joe Camporeale-US PRESSWIRE

Few fans or pundits were sure what to expect out of this New York Knicks squad that boasts one of the oldest rosters in NBA history. Many thought that their collective age would weigh them down, while others believed the veteran experience could power them to a strong 2012-13 season.

After a pair of absolutely dominant wins against very solid competition, the latter belief is proving true. New York's defense has looked simply stifling, and the team has been playing far better than anticipated on offense.

The team's defense has given up 84 points to both the Miami Heat and Philadelphia 76ers, while scoring an impressive 102 points on average against two of the league's stingier defenses. Particularly against the Heat, the Knicks' ball movement has been very strong. That was a major concern heading into this season with Raymond Felton as the starting point guard.

At the center of it all is star forward Carmelo Anthony, who scored 30 points and snagged 10 rebounds against Miami and had 27 on efficient 10-of-18 shooting in the team's second game against Philly. Anthony has been logging most of his time at power forward due to Amar'e Stoudemire's injury, and he has been a huge mismatch problem.

The current starting backcourt of Felton and Jason Kidd has also played quality ball on both ends of the court, forcing plenty of turnovers, making the proper passes and taking smart, efficient shots within the flow of the offense. Kidd has notched 12 points in New York's first two games, while Felton opened the season with nine dimes against Miami to lead his club in a rout.

What has really helped the Knicks is that they have shot the lights out, using versatile, shooter-filled lineups to stretch out defenses. Obviously, they cannot stay as hot as they have been—they've made 30 shots from beyond the arc in two contests—but there is no reason this team will not finish among the NBA's best shooting squads.

Their defense has also been scrappy and physical. They have truly bought into the Mike Woodson system with Tyson Chandler anchoring the paint and the other players rotating and being aggressive with their man.
New York will never be favored to win the Eastern Conference so long as the Heat are around, but it certainly looks capable at this point.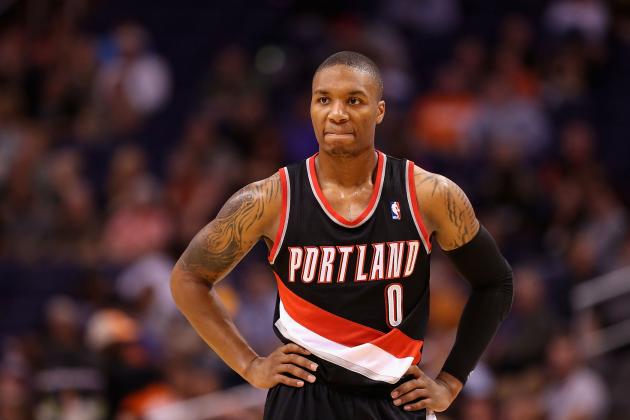 Christian Petersen/Getty Images

Through three games, the Portland Trail Blazers stand at 2-1 with wins over the Los Angeles Lakers and the Houston Rockets and one disappointing road loss to the Oklahoma City Thunder, which they kept close before the Thunder sealed it in the fourth quarter.

The Blazers are averaging a solid 101 points per game and have been moving the ball well, notching a respectable 21.3 assists per contest as a team.

Many did not peg Portland to be anything more than an also-ran in the Western Conference, but with the way Damian Lillard and LaMarcus Aldridge have been playing thus far in the 2012-13 campaign, this team appears capable of some serious overachieving.

Though his shooting percentage has been less than stellar, Aldridge has come out hot after missing the tail end of the 2011-12 season due to injury. He has been hitting outside shots with regularity while also showing an improved handle and passing ability that has greatly benefited his squad. His best game of the young season thus far was a 27-point, 11-rebound, six-assist outburst against the Houston Rockets.

Rookie point guard Lillard has also been nothing short of sensational in his first three professional appearances. Despite some expected turnover troubles, he has dictated the pace of games and run the Blazers offense very well. He is capable of getting to the rim or running the pick-and-roll, and he has been a capable shooter from distance as well.

Lillard's 20-point, six-board, nine-dime performance against Houston was capped off with eight points in overtime. Many have him pegged as a serious Rookie of the Year candidate, and if he can continue to play with a poise and maturity far above his age, that is not out of the question.

Elsewhere, starting center J.J. Hickson has been a strong presence on the interior, gobbling up rebounds and scoring in the paint. And the versatility of Nicolas Batum and Wesley Matthews has shone through in key moments.

This team is obviously not a high playoff seed, but they are an energetic, young squad that can wear down slower opponents. So long as they continue to move the ball and play tight, scrappy defense, the Trail Blazers have the potential to claw their way to a low postseason seed in a brutal Western Conference.