The Single Greatest Player of All Time for Each NBA Franchise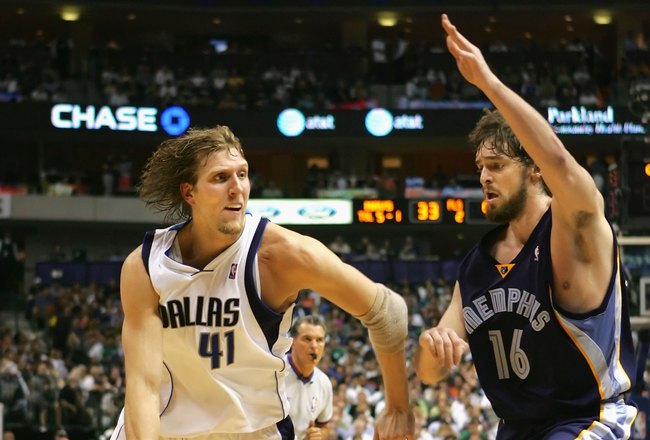 Ronald Martinez/Getty Images
Every NBA team is full of history, and while each squad has plenty of great players who have come and gone, only one can go down as the greatest of all time for each franchise.
While there's no true science to determining who that one player is, there are my candidates for who stand out above the rest when it comes down to each historic team.
Some of them helped shape the future of their franchise, and while choosing the single greatest player is rarely easy, taking a trip down memory lane can only help us determine who is worth mentioning as the game's best.
Atlanta Hawks: Bob Pettit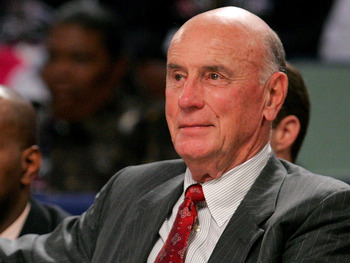 Ronald Martinez/Getty Images
When the Milwaukee Hawks selected Bob Pettit with the second pick in the 1954 NBA draft, I highly doubt they realized that they were adding one of the greatest players to ever play the game.
The 6'9" post player averaged 26.4 points and 16.2 rebounds before calling it quits in 1965. He rarely missed games, and in his 11 NBA seasons, Pettit made 11 All-Star teams, was named to 10 All-NBA First Teams and won two MVP awards.
The Hawks didn't improve instantly upon Pettit's arrival, but he would eventually lead the team to back-to-back championship appearances, winning the second of the two.
Dominique Wilkins is another name to consider here, as he is the team's all-time leading scorer and is one of just six players to average at least 25 points per game for 10 consecutive seasons.
Boston Celtics: Bill Russell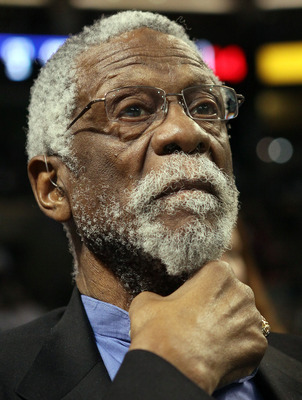 Elsa/Getty Images
The Boston Celtics featured some of the game's most celebrated players, but very few are more renowned than the legendary Bill Russell.
In 13 seasons, Russell averaged 15.1 points and 22.5 rebounds. He also had the presence of mind not to block shots out-of-bounds, but rather toward his teammates, to limit his opponents' offensive opportunities.
The big man is a 12-time All-Star and a five-time league MVP, but the statistic that jumps out is the 11 NBA championships he won during his time in Boston. Russell has more championship rings than fingers, which earns him the top spot in this franchise's incredible history.
Larry Bird is another player to consider, as he is arguably the best overall player statistically in team history, but nobody brought success to the Celtics franchise the way Russell did during his time with the organization.
Brooklyn Nets: Julius Erving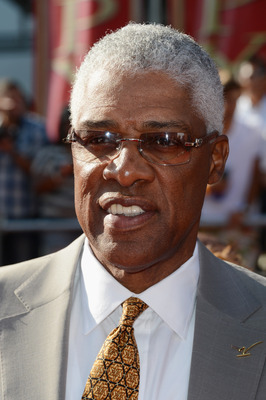 Frazer Harrison/Getty Images
Julius Erving may not have spent much time with the Brooklyn Nets organization—who at the time were the New York Nets—but when the team became the worst in the league following his departure, it became clear just how valuable he was to the franchise.
In just a few short seasons, Erving posted averages of 28.2 points, 10.9 rebounds and 5.2 assists. He was the ABA MVP every season he played for the Nets and won two championships in his three seasons with the team.
When the organization opted to sell his rights to the Philadelphia 76ers, they finished the next season with a league-worst record of 24-58.
Dr. J is a legend in the NBA, and while his stint with the Nets wasn't long, he is certainly worthy of consideration as the best career in franchise history.
Jason Kidd and Buck Williams are also worth mentioning, as their impact was felt on the Nets organization for a much longer period of time.
Charlotte Bobcats: Gerald Wallace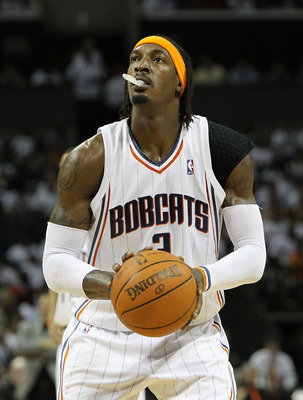 Mike Zarrilli/Getty Images
The Charlotte Bobcats are one of the few teams in the NBA that lack a true, rich history.
Having only been around since the 2004-05 season, this team doesn't have many great players to choose from, but the hands-down best player they have had was Gerald Wallace, whom the Bobcats selected in their initial expansion draft in 2004.
Wallace averaged 16.4 points and 7.5 rebounds per game, but his biggest contribution was providing energy and hope to a brand new franchise.
"Crash" is the only player in team history to make the All-Star Game and an All-Defensive First Team.
Chicago Bulls: Michael Jordan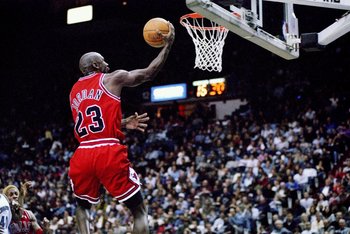 Doug Pensinger/Getty Images
If you have any other name for the greatest Chicago Bull ever, you just don't understand how important Michael Jordan was to the game of basketball.
The 6'6" guard from North Carolina was drafted in 1984, and went on to win the Rookie of the Year award, averaging 28.2 points, 5.9 assists and 6.5 rebounds in his first season.
From there, his list of career accomplishments are endless. He is a six-time NBA champion with six Finals MVP awards, he won five regular-season MVP awards and he went on to make 10 All-NBA First Teams and 14 All-Star Games.
Jordan also won the scoring title 10 times throughout his career with the Bulls, averaging 31.5 point per game while in Chicago.
Even the greatest players of his time recognized how great he was. According to NBA.com, Larry Bird referred to Jordan as "God disguised as Michael Jordan," following a 63-point performance put on by Jordan in the 1986 playoffs.
Cleveland Cavaliers: LeBron James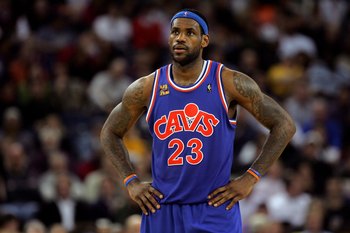 Ezra Shaw/Getty Images
LeBron James is arguably the most hated man in the city of Cleveland, but that certainly doesn't mean he isn't the best player to ever play for the Cleveland Cavaliers.
Despite spurning the Cavs for the Miami Heat in 2010, James began his illustrious career as a member of a rebuilding Cleveland team in 2003. Having been drafted straight out of high school, the hype was there, but the kid certainly lived up to the lofty expectations.
The dynamic point-forward became the youngest player to win the Rookie of the Year award, and he became just the third player ever to average at least 20 points, five assists and five rebounds in his rookie season—Michael Jordan and Oscar Robertson were the only others that had done so at the time.
As good as James is, no player in NBA history has truly been able to win on his own, which is why he fled the city of Cleveland for warmer weather and a chance to win big in South Beach.
Following his departure from the team, Cleveland became one of the worst teams in the league, showing just how valuable he was to their franchise throughout the years.
Dallas Mavericks: Dirk Nowitzki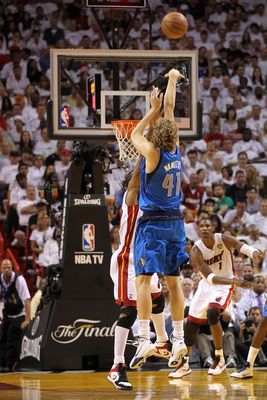 Mike Ehrmann/Getty Images
The Dallas Mavericks have only been around since the 1980-81 season, and no player in their brief history has performed as well for as long as Dirk Nowitzki.
The seven-foot power forward has averaged 22.8 points and 8.3 rebounds throughout his 14-year career, and he is arguably the best shooter in NBA history over the seven-foot mark. His one-footed fadeaway is one of the more unstoppable moves in the game today, as he puts both his height and his shooting ability on display.
The big man is one of only 11 NBA players to win a championship, a regular season MVP award, a Finals MVP award and make at least 10 All-Star Games in his career.
Nowitzki helped lead the Mavs to their only championship in 2011 when they took down the newly established Big Three of the Miami Heat.
Denver Nuggets: Alex English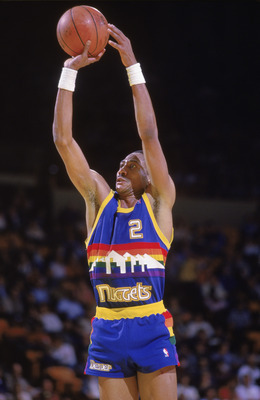 Stephen Dunn/Getty Images
Alex English is often forgotten about when thinking about the best players to ever play the game, but he is more than noteworthy when it comes to the Denver Nuggets franchise.
The 6'7" forward was originally drafted by the Milwaukee Bucks, but after being traded to the Indiana Pacers in 1978, he eventually found himself as a part of a midseason transaction that sent him to Denver.
Upon his arrival, he embarked on a decade-long scoring tear. He ended up averaging 25.9 points per game during his time in Denver, and added 5.6 rebounds, 4.4 assists and eight All-Star appearances for good measure.
English was never able to win a championship with the Nuggets, but his impact on the team was felt year after year, as he helped lead the team to nine straight playoff appearances.
Detroit Pistons: Isiah Thomas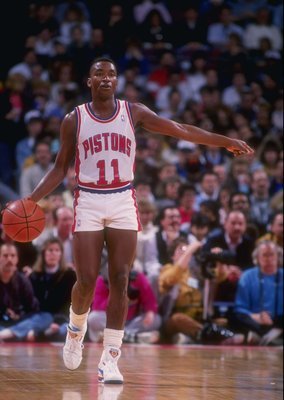 Getty Images/Getty Images
Isiah Thomas is arguably one of the greatest point guards in NBA history, and he is often one of the first names mentioned when thinking of the "Bad Boy" era in Detroit Pistons history.
The 6'1" point guard was tough as nails when he was playing throughout the '80s and early '90s. His hard-nosed style of play fit in perfectly with the Pistons' style during that time, and he helped lead the team to back-to-back championships in 1989 and 1990.
Thomas' career averages of 19.2 points and 9.3 assists are up there with the best of them, but he had a true stand-out season in 1985, when he finished the year with 21.2 points, 13.9 assists and 4.5 rebounds per game.
Thomas won two championships with the Pistons, but was eventually overshadowed by Michael Jordan and the Chicago Bulls of the early '90s.
Golden State Warriors: Wilt Chamberlain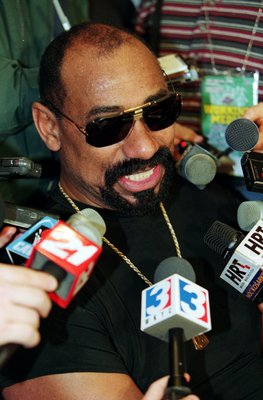 Brian Bahr/Getty Images
Michael Jordan may be considered the greatest of all time in most NBA circles, but it's hard to imagine anybody ever posting the numbers that Wilt Chamberlain did throughout his illustrious NBA career.
In his rookie year, Chamberlain averaged 37.6 points and 27.0 rebounds per game. He went on to win the Rookie of the Year and MVP awards that year.
If there's any question as to whether or not the big man was the focus of every game he played, just look at his 32.5 shots per game—that blows Kobe Bryant's 20-shots-per-game average out of the water, in case you're wondering.
Chamberlain averaged 41.5 points and 25.1 rebounds per game during his time with the then-Philadelphia Warriors, and is famous for being the only player in league history to score 100 points in a single NBA game.
Houston Rockets: Hakeem Olajuwon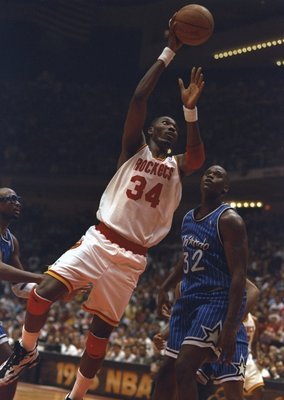 Getty Images/Getty Images
The 1984 NBA draft featured Hakeem Olajuwon as the first-overall selection, and if it weren't for a coin flip that went in the Houston Rockets' favor, the Portland Trail Blazers might have been the ones who ended up with the Hall-of-Fame center.
The big man in the middle might have been 7'0", but his agility and low-post moves were unlike anything you can find in the league today.
The legendary "Dream Shake" is the move for which Olajuwon became known, but he was the epitome of a two-way player during his time in the league. Averaging 21.8 points, 11.1 rebounds and 3.1 blocks over the course of his career, he truly impacted the game on both sides of the floor.
Olajuwon played nearly every season of his 18-year career with the Rockets, with the exception of a forgettable 2001-02 campaign with the Toronto Raptors.
Indiana Pacers: Reggie Miller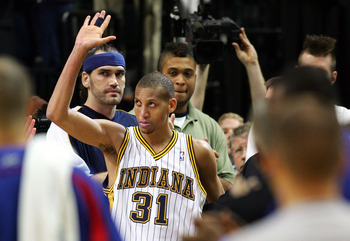 Elsa/Getty Images
Reggie Miller may not have the career numbers of some of the league's top statistical leaders, but very few players have ever been loved as much by their community as the Indiana Pacers' all-time greatest player.
Miller may be known around places such as New York and Chicago as the enemy, but in Indiana, he is worshiped as one of the greatest shooters in the history of the league.
Throughout his 18 seasons, Miller shot an outstanding 39.5 percent from behind the three-point line en route to averaging 18.2 points for his career. At 47 years old, he would probably still be a threat to knock down shots if he re-entered the league, as he was the most prolific distance shooter of all time until Ray Allen broke his mark in the 2010-11 season.
Miller was one of the many great players who never won a championship during the Michael Jordan era, but that doesn't change the fact that the Hall-of-Famer is hands-down the best player to ever put on an Indiana Pacers uniform.
Los Angeles Clippers: Bob McAdoo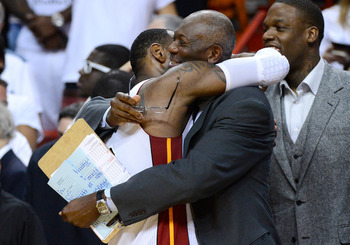 Ronald Martinez/Getty Images
Bob McAdoo was drafted in 1972 by the Buffalo Braves and very quickly became one of the league's top players.
He won the Rookie of the Year award, averaging 18 points and 9.1 rebounds, but it was his second season when he really began to make a name for himself. After putting up 30.6 points, 15.1 rebounds and 3.3 blocks per game, McAdoo won the first of his three scoring titles and led the league in shooting percentage.
In 1975, McAdoo won his only NBA MVP award, but unfortunately, it was one of the last healthy seasons he would play in his career.
The big man only lasted with the Braves organization four seasons, but the numbers he put up have been virtually untouched since his departure in 1976.
Los Angeles Lakers: Magic Johnson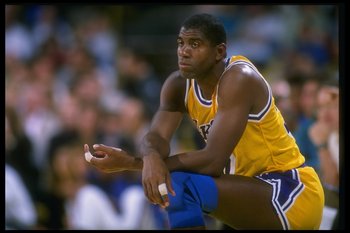 Rick Stewart/Getty Images
The greatest Los Angeles Lakers player of all time is a topic that will likely be debated for as long as the NBA exists—no need to name all of them here.
So many great players have come through this celebrated franchise, but the one who gets the recognition at this point in time is legendary point guard Magic Johnson.
At 6'9", Johnson was the definition of a versatile player. He recorded 42 points and 15 rebounds in Game 6 of the 1980 NBA Finals. Not only was this during his rookie season, but it was during a game where the point guard filled in as the team's starting center and played every position on the floor.
Johnson won a championship in his first-ever season in the league, which helped set the stage for the greatness that would soon follow.
The man known for his incredible court vision never played a game for a team other than the Lakers, and he went on to average 19.5 points, 11.2 assists and 7.3 rebounds in his 13 years with the team.
Memphis Grizzlies: Pau Gasol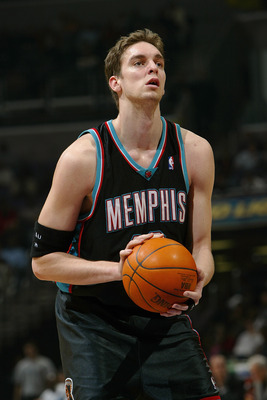 Doug Pensinger/Getty Images
The Memphis Grizzlies have yet to make a significant mark on the NBA history books, but they did help groom one of the game's best big men today in Pau Gasol.
In 2001, the Grizzlies traded veteran Shareef Abdur-Rahim for the rights to Gasol. The young seven-footer went on to be named to the All-Rookie First Team and also won the Rookie of the Year award.
Although Gasol plays for the Los Angeles Lakers today, he remains the Grizzlies' all-time leading scorer with 8,872 points totaled in his first seven seasons. He is also the franchise leader in blocks and rebounds.
A controversial trade with Los Angeles landed the Grizzlies Kwame Brown in return for Gasol, but little did everybody know that the true gem in the deal was the younger brother of Gasol, Marc, who is now one of the premier centers in a league.
Miami Heat: LeBron James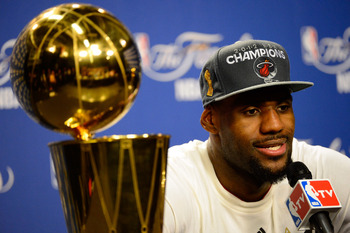 Ronald Martinez/Getty Images
The politically correct move here would be to name Dwyane Wade the greatest Miami Heat player of all time due to his longevity with the team and ability to win a title without the help of LeBron James.
Try saying that to James, who is coming off one of the greatest calendar years of any player in NBA history.
James has been criticized both for his decision to leave Cleveland and his inability to win on the big stage, but the 27-year-old took another step toward greatness following his second season with the Miami Heat.
We all know from the stat sheets that James is one of the game's most complete players, but a regular season MVP award, an NBA Finals MVP award and one of the most dominant playoff performances in recent memory all validate the notion that he has quickly become the franchise's best player ever.
Wade will be the favorite here in the eyes of many fans—and critics—but James is arguably the best player in the world today. Without him, the team's most recent championship likely doesn't exist.
Milwaukee Bucks: Lew Alcindor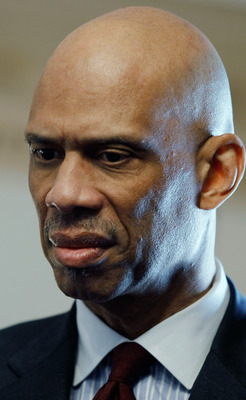 Chip Somodevilla/Getty Images
Lew Alcindor—more commonly known today as Kareem Abdul-Jabbar—made a huge impact on the Milwaukee Bucks organization upon arriving in 1969, as the team won almost 30 more games in his first year with the team.
Alcindor nearly led the league in scoring with 28.8 points per game in his rookie season. He also nearly led the league in rebounding with 14.5 per game.
The big man may be more well-known for his time spent with the Los Angeles Lakers, but there's no denying that he was the undisputed leader of the Bucks in their early championship run.
Alcindor has gone down as one of the greatest centers to ever play the game, but while you have to believe he would have success against just about anybody in his prime, he was fortunate enough to enter the league when Bill Russell retired and Wilt Chamberlain was in the twilight of his career.
Minnesota Timberwolves: Kevin Garnett
Lisa Blumenfeld/Getty Images
Kevin Garnett may be nearing the end of his illustrious career, but when he was a member of the Minnesota Timberwolves, he was easily regarded as one of the best players in the entire NBA.
As a player who can affect the game on both ends of the floor, Garnett is a future first-ballot Hall-of-Famer. He is a 14-time NBA All-Star, four-time rebounding champion and nine-time NBA All-Defensive First Team member—five of those First Team honors taking place while in Minnesota.
Although Garnett had difficulty finding team success with the Wolves, he did earn his only MVP award in the season he led Minnesota to a division title.
Garnett is the franchise leader in points, blocks, rebounds, assists and steals, and while some of his milestones may disappear with the likes of Kevin Love and Ricky Rubio now running the show, it will take a very special player to come along and prove to be as versatile as he was during his prime.
New Orleans Hornets: Alonzo Mourning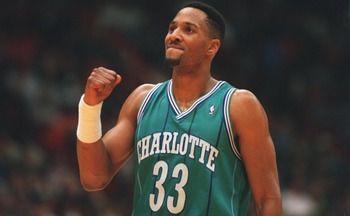 Al Bello/Getty Images
Alonzo Mourning became known for his defensive stature and plague of injuries by the end of his career, but when his playing days began, the center was one of the best examples of a player who could impact the game both offensively and defensively night-in and night-out.
In his rookie season with the Charlotte Hornets, Mourning averaged 21 points, 10.3 rebounds and 3.5 blocks. The Rookie of the Year award would have gone to him in almost any other season, but being in the same class as Shaquille O'Neal made that virtually impossible.
The 6'10" center wasn't always the biggest player in a game of five-on-five, but his physical nature is what helped him succeed against the true seven-footers that the league had to offer.
Mourning is the franchise's leader in blocked shots, which is an accomplishment he reached just 49 games into his entire career.
Players like Chris Paul and Larry Johnson deserve serious consideration, but in only three seasons, Mourning made his impact felt in an age where big men ruled the NBA.
New York Knicks: Patrick Ewing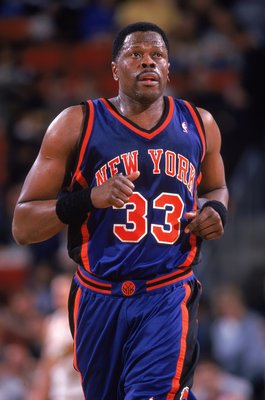 Otto Greule Jr/Getty Images
While names such as Walt Frazier and Willis Reed deserve consideration, nobody embodied the Knicks more than Patrick Ewing, which is why he earns the title of greatest New York Knicks player ever.
Ewing was dominant, to say the least, but his dominance took place during a time when great big men occupied the league almost everywhere you looked. For the better part of a decade, he was good enough to play—and have his way—against the NBA's best bigs.
The seven-footer had an eight-year run where he averaged more than 24 points, 11 rebounds and nearly three blocks per game. He led the team to the playoffs almost every year he played, including two NBA Finals runs throughout his career.
Ewing went on to play two forgettable seasons at the end of his career, one with Seattle and the other with Orlando, but the big man will always be a Knick in the minds of basketball fans across the league.
Oklahoma City Thunder: Gary Payton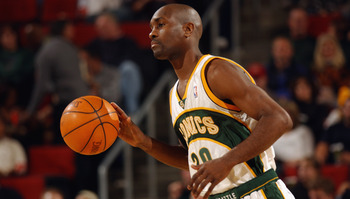 Otto Greule Jr/Getty Images
The onetime Seattle SuperSonics have a number of candidates for this prestigious title, but looking back on the days of the franchise, Gary Payton has to be considered the single greatest player in team history.
The 6'4" point guard averaged more than 20 points per game in seven different seasons with the Sonics, and he was always a reliable facilitator, having finished his career with a 6.7 assist-per-game average despite fading numbers in his final years.
The defensive end is where Payton earned his nickname, "The Glove." He was about as tenacious a defender as the league has ever seen, and his willingness to talk trash and get inside his opponent's head was unmatched.
What's maybe most impressive about Payton's career is the length at which he remained durable. In 13 seasons, Payton missed a total of five regular season games, making him a certifiable Iron Man.
In all honesty, Kevin Durant is already beginning to challenge this title, and will in all likelihood take it by the time he retires. For now, he still has work to do to catch G.P.
Orlando Magic: Shaquille O'Neal
Anton Want/Getty Images
The Orlando Magic have a few big names that pop up when you're thinking about the best in the history of the franchise. Penny Hardaway, Tracy McGrady and Dwight Howard all make sense on one level or another, but the one who really stands out is one of the most dominant big men to ever play in the NBA, Shaquille O'Neal.
The bruising center had his way with smaller opponents from day one, which was evident by his 23.4 points and 13.8 rebounds per game averages in his rookie season. He also recorded 3.5 blocks that same season.
O'Neal was the league's Rookie of the Year in 1993, and he was also the first rookie to be voted into the All-Star game since Michael Jordan had done it nearly a decade earlier.
Shaq ultimately spurned the franchise for the Los Angeles Lakers, but that doesn't change the fact that he was instantly one of the most dominant players in the league upon his arrival.
Philadelphia 76ers: Wilt Chamberlain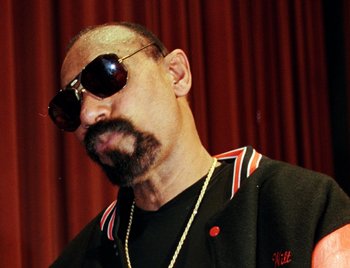 Brian Bahr/Getty Images
Wilt Chamberlain may have only been a Philadelphia 76er for three-and-a-half seasons, but he was still a dominant presence as he began the second half of his illustrious NBA career.
Following the trade that sent him to the Sixers, he finished out the year averaging 30.1 points and 22.3 rebounds. His points jumped up to 33.5 the next season, and his rebounds also improved to 24.6, en route to receiving the regular-season MVP award.
Chamberlain would go on to win the next two MVP awards, and would also win one championship with the Sixers in 1967.
The big man ultimately asked for a trade from Philadelphia and landed in Los Angeles, where he played five full seasons with the L.A. Lakers.
Phoenix Suns: Steve Nash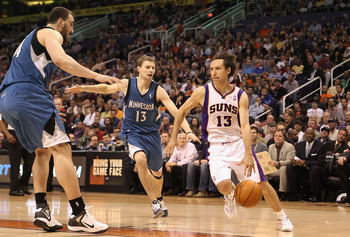 Christian Petersen/Getty Images
Steve Nash may have left the Phoenix Suns for the Los Angeles Lakers in the 2012 offseason, but he will always be one of the greatest Suns players in the hearts of Phoenix fans.
Nash began his career in Phoenix after being drafted 15th overall in 1996. He spent his first two years with the Suns before being traded to the Dallas Mavericks, but he would ultimately return to the desert for the 2004-05 season.
The point guard only started a total of 11 games during his first stint with the team, but by the time he returned, he had established himself as a full-fledged NBA superstar.
Nash is one of the game's best facilitators, which is a notion that was officially brought to the forefront when he began averaging double-digit assists in the 2004-05 season. He would go on to win back-to-back MVP awards in 2005 and 2006.
He is one of the rare players who can make his teammates better, while also taking the pressure off them to score with his deadly three-point shot.
Portland Trail Blazers: Clyde Drexler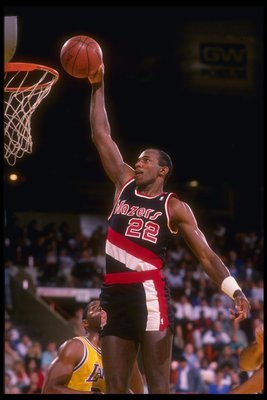 Mike Powell/Getty Images
True Rip City fans will debate this topic for a lifetime, but Clyde Drexler has to be considered the most accomplished Portland Trail Blazer in franchise history.
Drexler is a 10-time NBA All-Star who spent nearly 12 whole seasons with the organization. He was the epitome of grace as he flew through the air, and was a player who could impact the game on both ends of the floor. In his best season, he averaged 27.2 points, 7.9 rebounds and 5.8 assists.
It's true that Drexler never won a championship with the Blazers, but when it comes to the best individual performer in Blazers history, the 2-guard has to be atop the list of the team's best performers.
Players such as Bill Walton, Geoff Petrie and even Brandon Roy had the potential to take the title of greatest Trail Blazer ever, but their injury-plagued stints with the team forced them out of the city, and even out of the league, long before they were meant to walk away.
Sacramento Kings: Oscar Robertson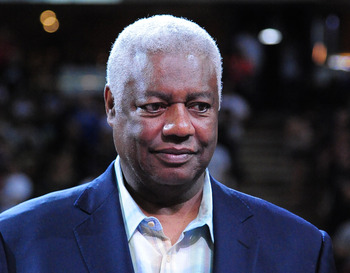 Kyle Terada-US PRESSWIRE
Back when the Sacramento Kings were the Cincinnati Royals, they had one heck of a special player in Oscar Robertson.
In Robertson's first season, he averaged an incredible 30.5 points, 10.1 rebounds and 9.7 assists. He won the Rookie of the Year award that season, and was also the MVP of the All-Star game and an All-NBA First-Teamer.
His second season, however, is his miost celebrated, as he averaged a triple-double with 30.8 points, 11.4 assists and 12.5 rebounds.
Robertson was never able to win a championship with the Royals, but he completely dominated the competition night-in and night-out while a part of their franchise.
San Antonio Spurs: Tim Duncan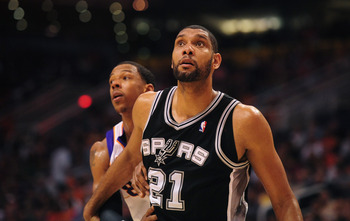 Mark J. Rebilas-US PRESSWIRE
The debate between Tim Duncan and David Robinson may be a case of 1A and 1B in many people's books, but when it comes down to it, Duncan has to go down as the greatest player in San Antonio Spurs history.
Duncan has been an integral part of the team's four NBA championships, and was the Finals MVP in three of those four runs. He is a two-time NBA MVP, and has 13 NBA All-Star selections to this point in his memorable career.
The Virgin Islands-born big man has been named to nine All-NBA First Teams and eight All-Defensive First Teams, and while his numbers have begun to fade as his career has done the same, he remains productive in the role that Gregg Popovich has given him.
If you want to make a claim for Robinson, that's fine But with Duncan set to go down as arguably the best power forward of all time, he also deserves credit as being the greatest player to ever put on a San Antonio Spurs jersey.
Toronto Raptors: Vince Carter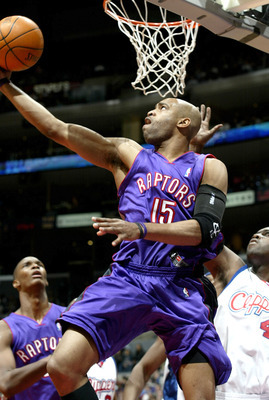 Lisa Blumenfeld/Getty Images
When it comes to the history of the Toronto Raptors, only two big names jump out as the best of all time.
Vince Carter and Chris Bosh both had productive careers in their purple uniforms, but it was Carter who helped lead the team to their only successful playoff series in 2001.
The Raptors defeated the New York Knicks in a five-game first-round series, and then went on to lose in a thrilling seven-game series against Allen Iverson and the Philadelphia 76ers.
Chris Bosh was a 20-plus point, 10-plus rebound player during his prime with the team, but Carter proved to be a more balanced contributor when it came to the stat sheet.
His averages between 1999 and 2005 were 23.4 points, 5.2 rebounds and 3.9 assists per game.
And let's not even get started on his play above the rim.
Utah Jazz: Karl Malone
Ronald Martinez/Getty Images
Karl Malone made a name for himself with his physical play and flying elbows, but he is also the greatest player to ever play in a Utah Jazz jersey.
The 6'9" power forward was seemingly always in the prime of his career. Having averaged 25 points and 10.1 rebounds in his 19 seasons, he virtually never had a down year.
The mid-'90s were kind to Malone and the Jazz in the Western Conference, but they were classic victims of playing in the era of Michael Jordan and the dominant Chicago Bulls.
Malone has two NBA MVP's to claim as his own, and he is also the franchise's leading scorer with 36,374 total points.
Malone finished his career with the Los Angeles Lakers, but he will forever be the most legendary player to lace up in Jazz franchise history.
Washington Wizards: Elvin Hayes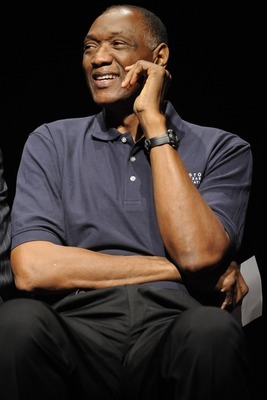 Rafael Suanes-US PRESSWIRE
Part of the Bullets-era of the Washington Wizards history, Elvin Hayes dominated the block despite his 6'9", 235-pound frame.
Hayes averaged between 14.5 and 18.1 rebounds per game in his first six years. His point total was also about as good as it got, as he averaged 27.4 points in his first four seasons.
The most impressive part of Hayes' days with the Wizards—and his career as a whole—is how he managed to never miss time due to injuries. Over his 16-year career, the big man missed just nine games. In his nine years with the Bullets, he missed just seven games.
Wes Unseld is another viable candidate, as his rebounding numbers and Finals MVP make him more than an honorable mention, but statistically, nobody in franchise history has touched what Hayes accomplished.
Keep Reading