Lakers vs. Pistons: Player Grades and Analysis for Los Angeles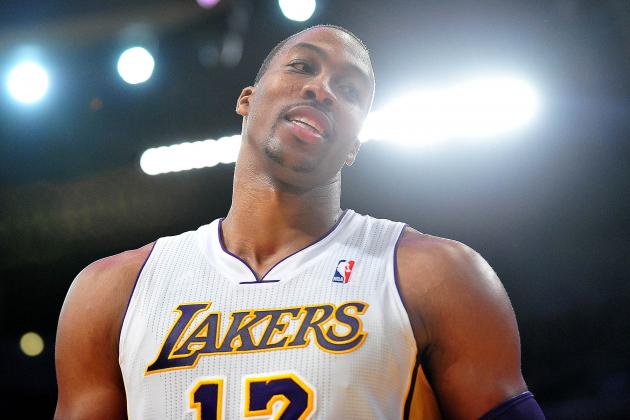 Gary A. Vasquez-US PRESSWIRE

All it took for the Los Angeles Lakers to finally get off their schnide was a visit from one of the worst teams in the NBA. Thanks to the Detroit Pistons, the Lake Show nabbed their first win of the season with a final score of 108-79.
While you can't say much about the team they beat, it was nice to see the Lakers finally put their offense together in a manner that was both entertaining and impressive.
Dwight Howard led the team in scoring with 28 points, but the team shared the wealth, with five different Lakers ending up with double-digit scoring.
It's going to be interesting to see whether or not this Lakers win was the result of the team actually clicking or just a terrible team coming into town and giving them the breathing room to run their offense efficiently.
Let's take a look at how the Lakers were able to win and what role each unit of this team played in their first victory of the season.
Begin Slideshow

»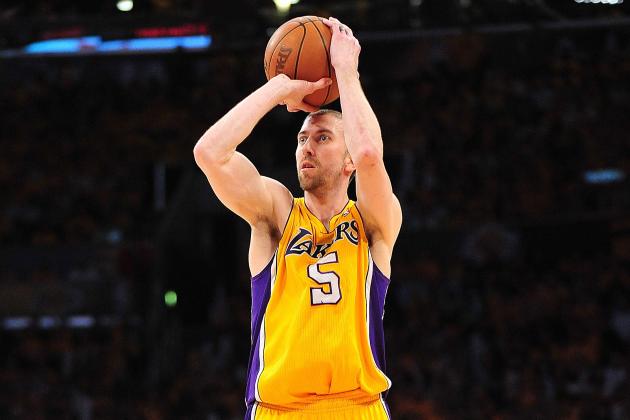 Gary A. Vasquez-US PRESSWIRE

Steve Blake looked like a completely capable stop-gap filling in for Steve Nash. If anything, I may be underselling him a bit.
What was expected from Blake was for him to come in, hit a couple threes and get out of the way when Kobe wanted the ball.
Blake did hit two threes on his way to six points, but he also finished the game up with five rebounds, six assists and a game-high five steals.
The veteran floor general wasn't just falling on a loose pass here and there, he was getting physical with Detroit's point guards and forcing them to give up the ball.
Final Grade: B+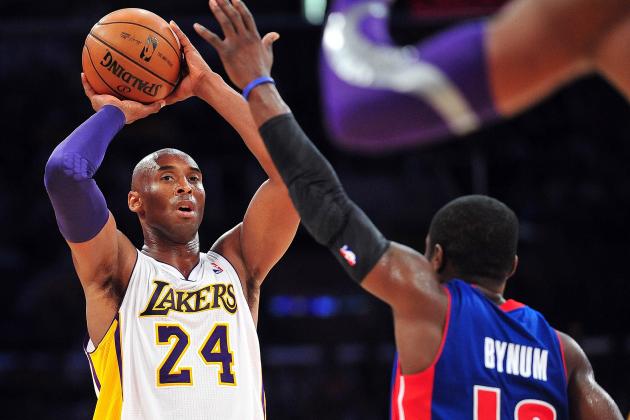 Gary A. Vasquez-US PRESSWIRE

I'm not sure the last time we saw Kobe Bryant play a game quite like this, but it was interesting to say the least.
Kobe played well, there's no doubt about it, but the last time we saw him play a game where he took fewer than 11 field-goal attempts was all the way back in January 2011.
His 5-of-10 shooting was plenty efficient and he was able to add seven rebounds and eight assists—his highest total since February of last season.
He wasn't passive, as he was very much involved in the offense, but it was a Kobe that we just aren't used to seeing. It's probably good to see that the Mamba is capable of backing down and letting the hot hands take over when appropriate.
Call it refreshing, call it promising—just don't look at Kobe's 15-point game and think he wasn't a big part of this one.
Final Grade: A-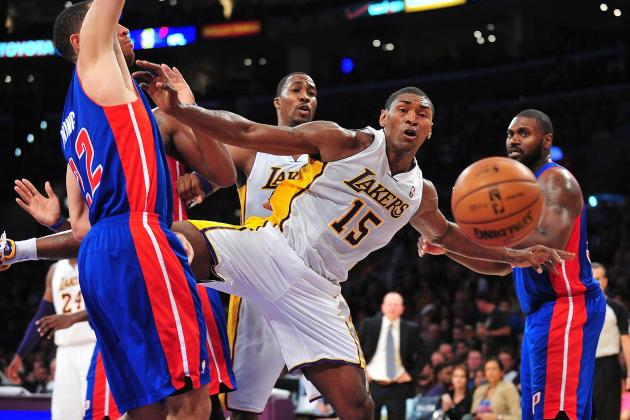 Gary A. Vasquez-US PRESSWIRE

As usual, Metta World Peace came into this game and did some weird stuff. But instead of his weird actions hurting Los Angeles, his wild three-pointers, rough-and-tumble defense and coast-to-coast trips to the basket all seemed to work.
World Peace put down 18 points, five rebounds and four assists, going above and beyond what the Lakers expect him to do on a nightly basis.
He continued to hit the corner three that has been so kind to him over the past few years, draining three trifectas in all, and ended up making seven of his 11 shots in all.
If World Peace can come in and do two-thirds of what he did tonight for the Lakers on a regular basis, he's going to be an extremely productive player this season.
Final Grade: A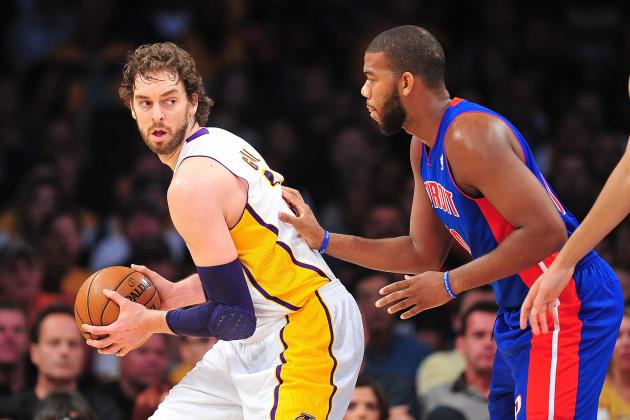 Gary A. Vasquez-US PRESSWIRE

If there's one thing you can truly get on Gasol for in this game, it has to be that he was slightly inefficient from the floor, but that's about it.
Gasol's 6-for-16 shooting mark was the worst percentage of any Lakers starter, but he did so much more than just score tonight.
Those six shots yielded 14 points to go along with five rebounds, two assists and three big-time blocks.
His defense was better tonight than it's been in Los Angeles' other three games, and by a long shot. This is the exact type of performance the Lakers need from Gasol on the defensive end night in and night out.
Final Grade: B+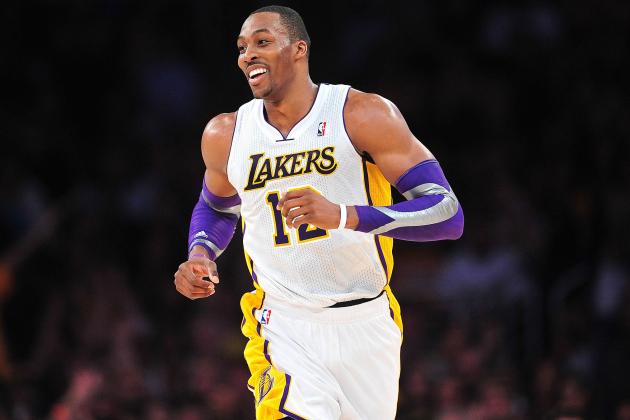 Gary A. Vasquez-US PRESSWIRE

Dwight Howard had a game that did the Purple and Gold fanbase proud.
Not only did he make his impact felt on the offensive end of the floor to the tune of 28 points on 12-of-14 shooting, but his defense was a game-changer in this one.
Howard pulled down seven rebounds and ended up with three blocks and two steals in a game where there were always shots waiting to be altered.
He may have ended up with only three blocks in this game, but he got a hand in the face of a few dozen shooters and altered nearly all of their attempts.
Final Grade: A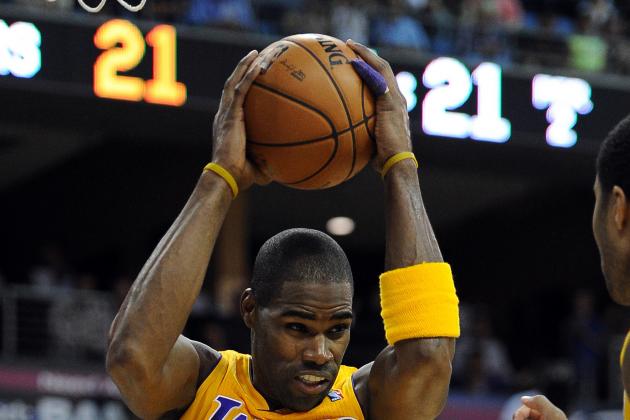 Jayne Kamin-Oncea-US PRESSWIRE

It may be on a rolling basis, but it's time for us to reevaluate who exactly is this team's sixth man. It's Antawn Jamison in theory, but in terms of impact on the game, it has to be Jordan Hill right now.
Even still, Jamison ended up putting six points on the board for the Lakers tonight, including a deep three-ball.
He was also able to run into four rebounds, an assist and a steal in 19 minutes of play. Not a bad game for Jamison, but not exceptional like the starters seemed to be.
Final Grade: C+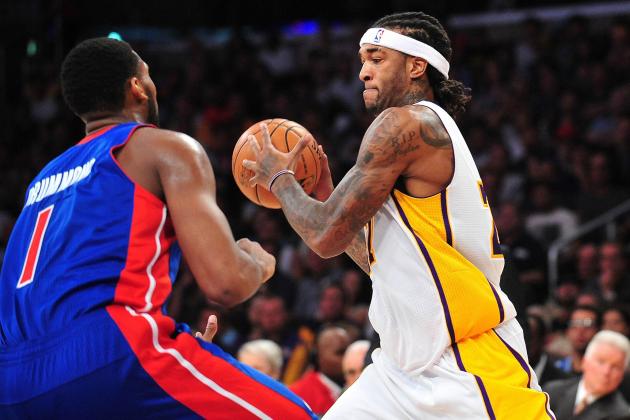 Gary A. Vasquez-US PRESSWIRE

The Lakers bench saw their most playing time of the season so far in this one. Of course, it didn't hurt that the game was well in hand by the end of the first quarter.
Jordan Hill emerged as the hero of this one off the bench, scoring 11 points to go along with seven rebounds, a steal and a block.
We also saw Darius Morris knock down a few shots, including a three-ball, and Chris Duhon add three dimes to the equation.
There wasn't anything spectacular going on off the bench tonight, but they played well enough to help the team keep a sizable lead.
The stat line of the night has to go to Earl Clark, who was able to come in for two minutes and end up with a plus/minus of plus-five despite not contributing a single stat.
Final Grade: B-