Penn State Football: Grading All 22 Starters from the Purdue Game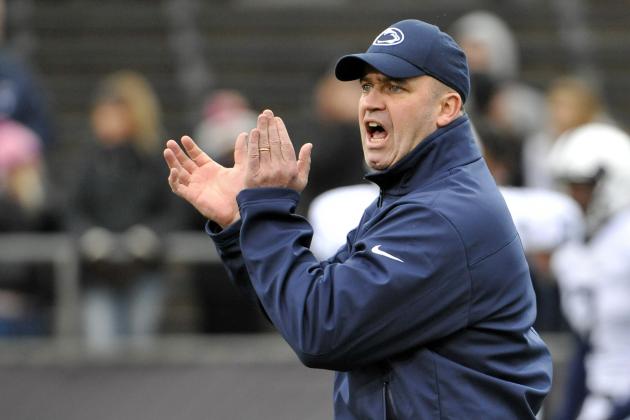 Sandra Dukes-US PRESSWIRE

Unlike last weekend, this Saturday was a good time to be a Penn State Nittany Lions football fan.
The Nittany Lions (6-3, 4-1 Big Ten) defeated the Purdue Boilermakers handily, 34-9.
The Lions got off to a relatively slow start, and they surrendered their first opening-quarter points on the season.
However, linebacker Gerald Hodges led the defense to a performance that simply broke the Boilermakers' spirits one drive at a time.
On the offensive side of the ball, quarterback Matt McGloin put up impressive numbers once again and allowed the Lions to completely dominate Purdue's defense.
Let's take a look at player grades at each position.
Begin Slideshow

»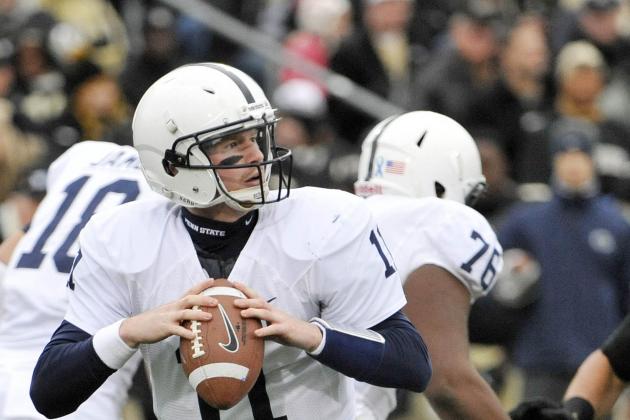 Sandra Dukes-US PRESSWIRE

Not enough can be said about the transformation Matt McGloin has undergone under center in Bill O'Brien's offensive scheme.
Mostly mediocre at best last year, the Scranton native has put up ridiculously surprising numbers, and he continued it on Saturday.
Against Purdue, McGloin threw for 321 yards, completed 22 of 36 passing attempts and tossed two touchdowns.
During Penn State's 6-1 stretch, the signal-caller has thrown 14 touchdowns, just two interceptions and has completed more than 64 percent of his passes.
That's impressive for a guy many people dreaded to see start last year.
Grade: A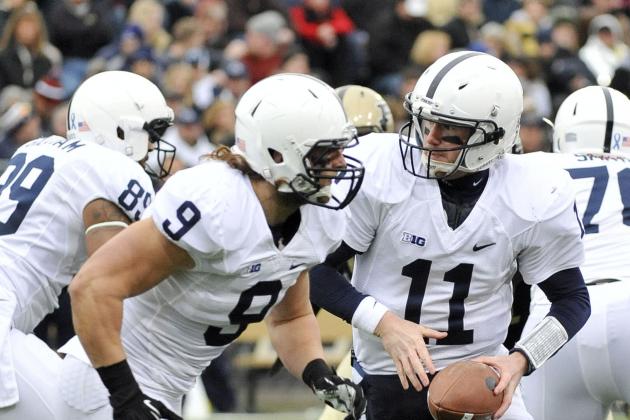 Sandra Dukes-US PRESSWIRE

While big offensive plays from McGloin to his wideouts stole the show, the running game found life on Saturday against a decent Purdue defense.
Emerging back Zach Zwinak racked up 134 rushing yards on 21 carries, averaging 6.4 yards per rush.
While he was held scoreless, fullback Michael Zordich wasn't as he touched down in the end zone twice.
However, Bill Belton oddly went unused in the Lions' win—something that should be considered heading forward.
Grade: A
Sandra Dukes-US PRESSWIRE

Allen Robinson
Back-to-back weeks, Allen Robinson has produced for the Lions but has relatively cooled off since his hot start to the year.
While he did take one catch for a 27-gain gain, the sophomore hauled in five passes for 58 yards—a nice, but not stunning stat line.
With his early season successes, it's expected that Robinson would start to get more attention from opposing secondaries.
However, it feels weird not seeing him in the end zone, and it may be tough to do this upcoming weekend against Nebraska.
Grade: B
Brandon Moseby-Felder
As Robinson has cooled off a bit, Brandon Moseby-Felder is hitting his stride—especially with the deep ball.
Moseby-Felder, a redshirt junior, had catches of 31, 41 and 42 yards on Saturday against Purdue, which added into his 129 yards total on six catches.
The 6'2" wideout has progressively become a presence in the deep aerial attack for the Lions, especially with Robinson garnering most attention from opposing defenses.
In each of the past three games, Moseby-Felder has snagged at least four catches, with one of them going for 42 yards each week.
If he keeps that up, Penn State will have one of the deadliest receiver duos in the Big Ten (if not the best).
Grade: A+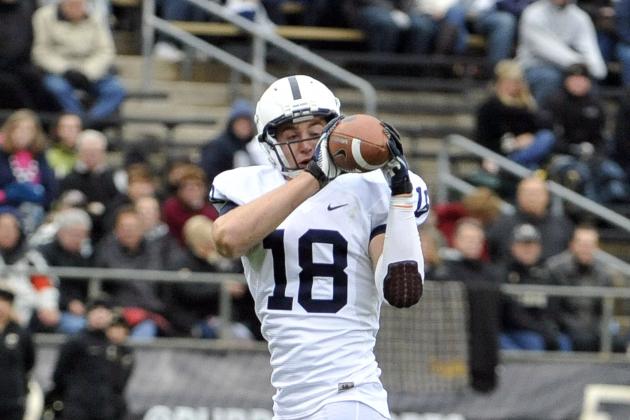 Sandra Dukes-US PRESSWIRE

One of the biggest questions heading into the game on Saturday was how impactful Kyle Carter's absence would be on the Lions offense.
Carter, Penn State's best tight end this year and arguably McGloin's favorite target, did not make the trip due to an ankle injury.
With that being said, Jesse James stepped up in his place and proved the ridiculous depth Bill O'Brien has at the tight end position.
James, who came into the game with just six catches in 2012, grabbed three receptions for 49 yards, including a 35-yard long.
The true freshman also added a touchdown to his season total (3).
To say the future is bright at the tight end position is a massive understatement for Penn State.
Grade: B+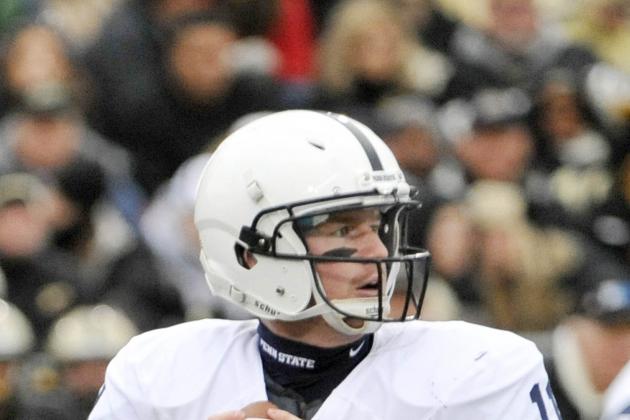 Sandra Dukes-US PRESSWIRE

Yep, that's Matt McGloin and not an offensive lineman.
But do you see how clean that white jersey is?
The offensive line did a phenomenal job keeping McGloin off his back against a Purdue front four that features one of the best lineman in the country in Kawann Short.
In fact, the O-line limited Short to just one tackle—an impressive feat considering the big man's ability to bust up plays in the backfield.
In terms of the Boilermakers' attempt to get to the quarterback, they were successful only once.
A job well done by the big boys up front.
Grade: B+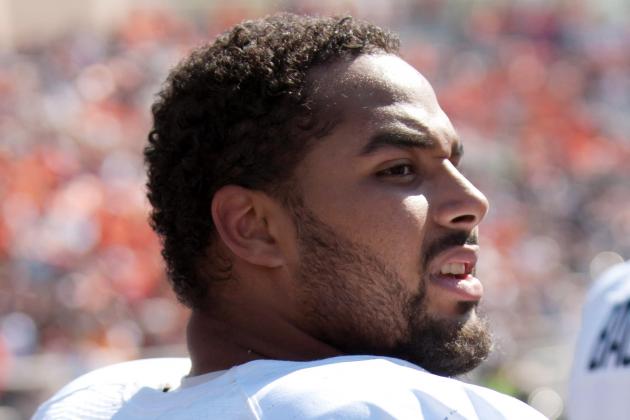 Bradley Leeb-US PRESSWIRE

Throughout the game on Saturday, defensive line coach Larry Johnson, Sr. and defensive coordinator Ted Roof were able to cycle in and get contributions from eight different defensive linemen.
The biggest name out of all of them, Jordan Hill, didn't do much at all, but that's because the star enforcer and future NFL draft pick injured his left knee early in the game.
However, James Terry and others filled in and did a respectable job on the front line.
As a unit, the front four forced two fumbles and broke up a passing attempt.
However, the big fellas got to the Boilermakers quarterbacks only once on Saturday afternoon.
Grade: B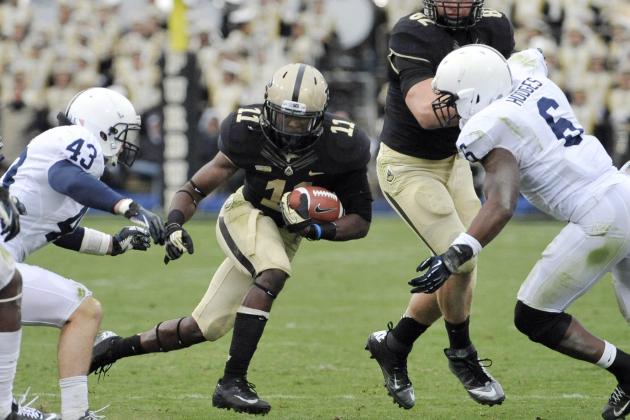 Sandra Dukes-US PRESSWIRE

Gerald Hodges
I can't remember the last time Penn State had a linebacker as athletic as Gerald Hodges.
Hodges, a potential early round pick in the next NFL draft, had eight tackles with three of them going for a loss—in the first half.
The freakishly talented senior also broke up a pass on Saturday.
It looks like Penn State could have its next Linebacker U product in the NFL soon enough if he keeps playing like this.
Grade: A
Michael Mauti
As Hodges stole the show on Saturday, leader and standout Michael Mauti was rather quiet against Purdue.
While he did tally .5 of a tackle for loss, Mauti made just five stops against the Boilermakers—just a decent performance for the takedown machine.
Expect Mauti to get back in stride against a run-first Nebraska team next week.
Grade: B
Glenn Carson
Middle linebacker Glenn Carson had another so-so performance for the second consecutive week on Saturday.
Carson, who is constantly overshadowed by Hodges and Mauti, made four tackles against Purdue with three of them being solo takedowns.
Carson also did well in coverage against Purdue, breaking up a pass.
Grade: C+
Mike Hull
Mike Hull proved again on Saturday why he deserves in-game snaps.
Hull, who has forged himself as a fourth starter at linebacker, made solid reads, filled running lanes and took down Boilermakers.
The redshirt sophomore made six tackles on Saturday (three solo, three assisted) and broke up a pass.
Grade: B+
Sandra Dukes-US PRESSWIRE

Stephon Morris

After four senior members from last year's secondary departed, Stephon Morris has been tasked with a lot of responsibility and leadership roles this season.
Considering his play on the field, he's lived up to that billing thus far in 2012, which includes Saturday.
Morris, a senior, led the secondary with six tackles (all solo) and one tackle for loss.
Grade: B+
Adrian Amos
Labeled one of the most athletic players on the team, converted cornerback Adrian Amos has done well this year in coverage and making stops.
Amos, a true sophomore, made four solo tackles and one assisted tackle on Saturday against Purdue.
As long as Amos continues to play at a consistent level, expect the Lions secondary to continue to produce solid outings.
Grade: B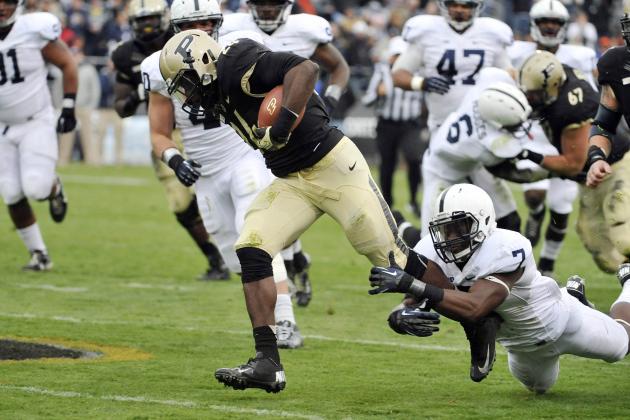 Sandra Dukes-US PRESSWIRE

Stephen Obeng-Agyapong
Battling a shoulder injury all season, Stephen Obeng-Agyapong was relatively effective on Saturday, making two solo tackles on the afternoon.
While he wasn't that productive against the Boilermakers, him playing through the pain shows a lot about the safety's character and drive.
Even though playing through an injury isn't always the best thing, the sophomore has earned a lot of respect for sucking it up and continuing playing.
Grade: C+
Malcolm Willis
While Obeng-Agyapong was dealing with an injury, Malcolm Willis was all over the field against Purdue.
Willis, a redshirt junior, made four solo tackles on Saturday and, more importantly, recovered a fumble.
The hard-hitting safety continues to prove that he's a true ball hawk and will continue to make plays for the Lions.
Grade: B+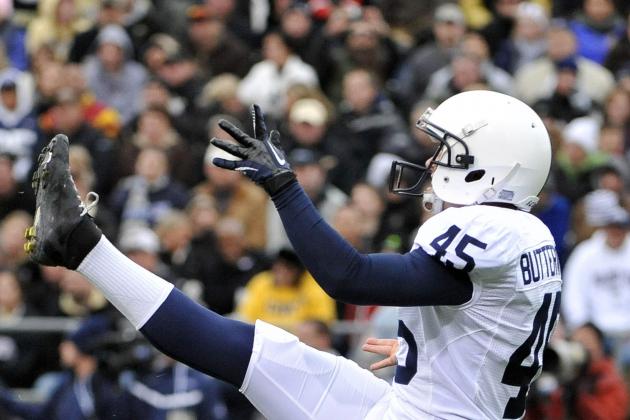 Sandra Dukes-US PRESSWIRE

Once again, special teams found a rhythm on Saturday and proved to be one of Penn State's strengths moving forward.
After the Virginia debacle, Sam Ficken has shown he's a reliable place-kicker from relatively short range. The kicker nailed two more field goals on Saturday from 27 and 24 yards out.
Alex Butterworth did a respectable job punting, averaging a little more than 34 yards on four attempts including pinning one inside the Purdue 20-yard line.
However, the Lions still have to figure something out in terms of kick returning. Jesse Della Valle has done a good job by not coughing the ball up, but hasn't really done much other than that.
Grade: B