Why Stephen Curry Is the Right Point Guard for the Golden State Warriors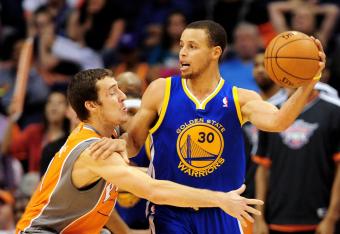 Jennifer Stewart-US PRESSWIRE
Stephen Curry was just rewarded by the Golden State Warriors with a four-year, $44 million contract extension to be their floor general and leader on the court.
Curry has been through a lot in the past year and a half with his ankle, but the Warriors wanted to lock him down before he could become a restricted free agent at the end of the season. Curry is the face of the franchise, and ownership will need him there to welcome in the new waterfront arena.
He not only represents the Dubs on the floor as their leader, but he is heavily involved in community service in the Bay Area. He is a likeable guy who is hard not to root for when he's playing.
Curry came at somewhat of a discount price-wise, but he was overpaid by the faith that the Warriors organization has in him. After Curry was signed, Ty Lawson signed for four years and $48 million with the Denver Nuggets, Toronto's DeMar DeRozan received four years and $38 million, and Jrue Holiday got four years and $41 million from Philly.
When healthy, Curry is projected to be better than the names listed above, and he could have received upwards of $56 million if he held off until next summer. Curry wanted to reward the Dubs for their faith and patience and signed at a lower price.

The biggest concern regarding the signing, of course, is injury problems that sat Steph down for 40 out of the 66 games of last year's strike-shortened season. Surgery cleaned up his ankle only to have Curry roll it in the preseason and was out of commission until opening night.
Monta Ellis has left the building, so this will be the first full season that Curry can legitimately run this team. Curry has assumed the leadership role and expects the Warriors to win close games instead of finding ways to lose in the final few minutes.
While Ellis would need or demand the ball during his time with the Dubs, Curry can run the show and distribute the ball more to his perimeter weapons Klay Thompson and Harrison Barnes.
Before, Curry usually deferred to Ellis. He now has the hunger and understanding that this is his team, and he is willing to shoulder the load on his back. He is also announced as the final starter at home games, a place that was originally reserved for Ellis.
Curry plays well with the current system that the Warriors have in place. The team is primarily a perimeter-shooting team, in which Curry excels by having a career average of 43.9 percent from behind the arc.
Besides being a sharp shooter, Curry has a penchant for finding teammates in soft spots against opposing defenses. If no one is open and he can create, he can also drive to the hoop for a runner in the lane.
Curry will now have a chance to develop that sometimes-hidden part of his game. Most of the time, he is perceived as settling for jump shots or using his standard pullback crossover to exploit defenses. Coach Mark Jackson is encouraging Curry to stay aggressive.
The biggest addition was the trade for Andrew Bogut, which will space the perimeter and give Curry more room to operate. Bogut will also setup the pick-and-roll, which both players can work on and improve as they get more familiar with each other during the season.
This is also the deepest team that the Warriors have had in almost twenty years, so Curry will benefit from the numerous tools at his disposal. He should play without fear of injury, since he has legitimate point guard Jarrett Jack to back him up.
Curry has excelled in the first three games this season. After the season opener in which he didn't have his legs under him yet, he has put up 26 points and seven assists against the Grizzlies and 23 points, four assists and three steals against the Clippers.
The key move and potential game saver versus the Clippers was when Curry stepped in front of Chris Paul, just above the restricted area, to take a charge.
Curry has the basketball IQ, understands the game very well and comes from a basketball family with father and former-NBA guard, Dell, and younger brother, Seth, who plays at Duke.
He has also studied the tendencies of other top guards in the league such as Chris Paul, Deron Williams and Steve Nash, and is working on integrating those moves into his style of play.
With the key season-ending injury to sixth man, Brandon Rush, Curry understands that he might have to shift over and play some two guard with Jack handling the ball. This is his team, so he will do whatever is necessary to win games.
The Warriors have a potential superstar, a player who could be a perennial All-Star. They made the first move to reward their faith in Stephen Curry. Now, it is time for him to reward the Warriors' fans.

A playoff appearance should be the first step to secure his legacy.
This article is
What is the duplicate article?
Why is this article offensive?
Where is this article plagiarized from?
Why is this article poorly edited?

Golden State Warriors: Like this team?