Every MLB Team's Most Worthless Player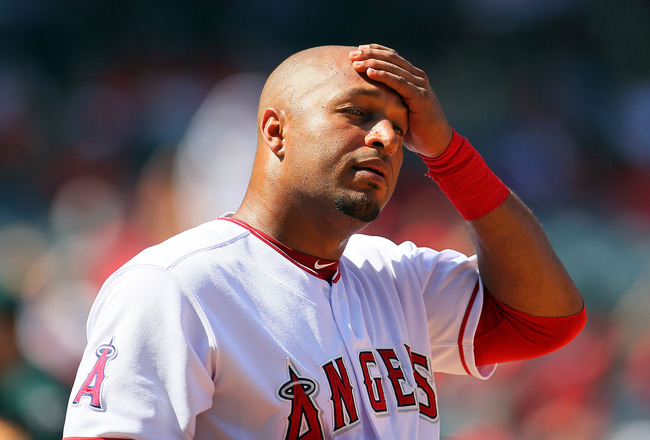 Victor Decolongon/Getty Images
On every MLB team, there's a player who makes fans ask, "Okay, why is he here, again?"
These players may include underachievers, choke artists, overpaid injury risks or guys who are just plain bad. No matter how much they hurt the team, they remain on the roster and continue to earn their seemingly unwarranted paychecks by any means possible, even if it's just sitting on the bench. As a result, they continue to drive the fans crazy and to be distractions.
One can only imagine how Los Angeles Angels fans feel about outfielder Vernon Wells, who used to be a powerful bat and could hit for a decent average. Once he came to the Angels, however, it all disappeared. He serves no real purpose to the team now that Mike Trout is in the picture, but GM Jerry DiPoto can't get rid of him thanks to his massive contract.
The sad part is that the league is rampant with players like Wells. Even sadder is that he may not be the most worthless player in the league.
Arizona Diamondbacks: John McDonald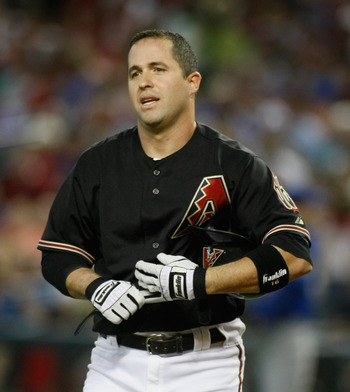 Ralph Freso/Getty Images
The Diamondbacks' weakest position is shortstop, but Willie Bloomquist can at least hit for a decent average in limited at-bats while also providing solid defense. This leaves the 38-year-old McDonald, who, despite having 13 seasons under his belt, has yet to be little more than an average utility infielder at the major league level.
Last season, he hit .246 with six homers and 22 RBI in 70 games. The home run total tied his career high.
Granted, McDonald isn't overpaid at all. His $1.5 million salary is about right for someone of his role. But on a team as young and as talented as Arizona, solid defense only counts for so much, and with so many young shortstops looking to make an impact, there really isn't a justifiable reason for keeping McDonald around.
Atlanta Braves: Dan Uggla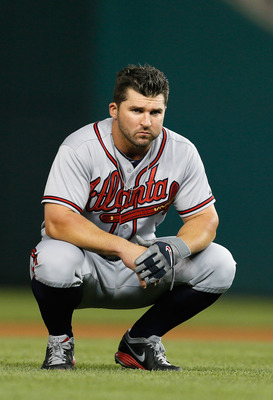 Rob Carr/Getty Images
After being acquired from the Marlins prior to the 2011 season, Uggla signed a five-year, $62 million contract to remain in Atlanta. Since then, he has remained the model of inconsistency that he has been throughout his career.
Sure, the man set a new career high with 36 home runs in his first season with the Braves, but he only hit .233 and got off to a horrendous, slow start. In 2012, however, things got worse.
Uggla's batting average dipped to .220, and his home run total was cut nearly in half, down to 19. To add insult to injury, his defense has been horrendous—27 errors at second base since becoming a Brave.
Oh well. Three years and $39 million to go!
Baltimore Orioles: Jake Arrieta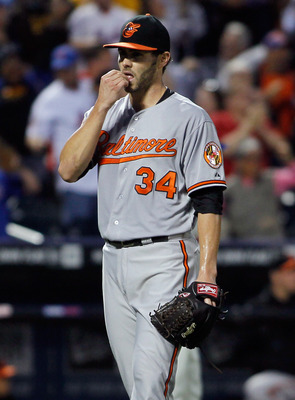 Mike Stobe/Getty Images
As great a season the Orioles had in 2012, that of Jake Arrieta was the exact opposite. After pitching well over his first six starts of the season, going 2-2 with a 3.52 ERA, the wheels fell off in the worst way possible.
Arrieta just lost whatever he had, and by early July he was out of the rotation and sent to the minors. He returned in a relief role when rosters expanded in September, but the damage was already done.
He finished the season with a 3-9 record and 6.20 ERA.
Boston Red Sox: John Lackey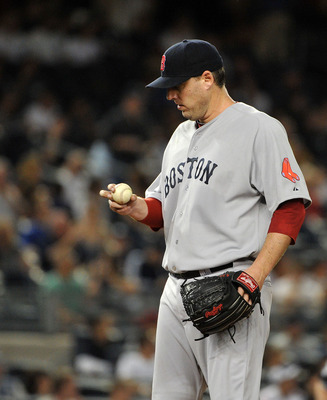 Christopher Pasatieri/Getty Images
When the Boston Red Sox signed Lackey to a five-year, $82.5 million deal prior to the 2010 season, they thought they were getting a reliable arm who could provide some shutdown pitching in the tough AL East. Instead, the 6'6" Texan has turned himself into one of the biggest jokes in MLB.
Hitter-friendly Fenway Park has been cruel to Lackey, who has gone 26-23 with a 5.26 ERA and 1.50 WHIP since coming to Boston. Even worse than his inconsistency is the fact that he missed all of last season recovering from Tommy John surgery.
Unless the elbow surgery proves to be the reason for his ineffectiveness, that $82.5 million is turning out to be anything but money well spent.
Chicago Cubs: Ian Stewart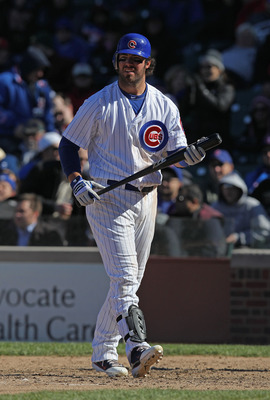 Jonathan Daniel/Getty Images
In his time with the Rockies, Stewart proved to be a reliable power bat thanks to the hitter-friendly stadium. From 2008-2010, he hit 53 dingers, while batting .247, not bad for a pure power hitter.
However, his power deserted him in 2011, and not even a trip to the minors fixed it. He was traded to the Cubs prior to the 2012 campaign and was just as disappointing in 55 games before undergoing wrist surgery. At that point, Stewart was batting just .201 with five home runs and 17 RBI.
Given that he's 6'3", 215 pounds and a lefty-hitting third baseman, he's just a waste of a body.
Chicago White Sox: Philip Humber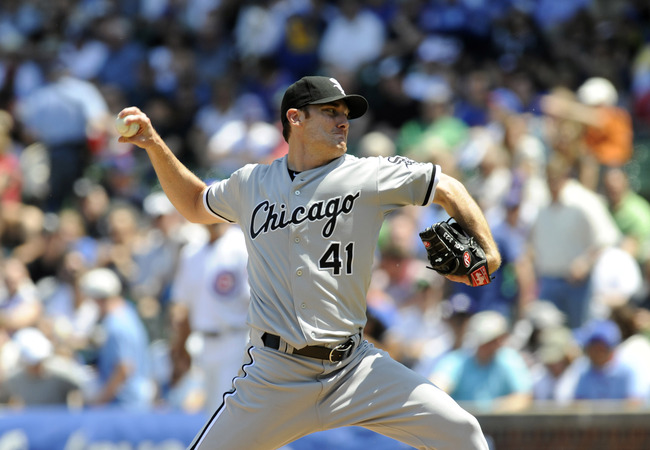 David Banks/Getty Images
Even though he threw a perfect game in just his second start of the season, Humber was otherwise a disappointment in 2012. Following his moment of greatness, he struggled to be consistent and was out of the rotation by August. While the White Sox kept fighting tooth and nail to maintain their lead in the AL Central, Humber seemed to be the only one having issues holding up his share of the weight.
In the end, his going 5-5 with a 6.44 ERA and 1.54 WHIP left him as the odd man out.
Cincinnati Reds: Drew Stubbs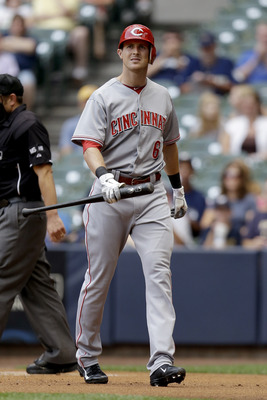 Mike McGinnis/Getty Images
Stubbs broke out in 2010 when he hit .255 with 22 homers, 77 RBI and 30 steals en route to the Reds winning the AL Central, and it looked as though he was well on his way to becoming a dangerous leadoff hitter. He upped his steals to 40 in 2011, but his average dipped to .243 and his home runs and RBI to 15 and 44. 2012 was even worse.
Stubbs stole 30 bases, but his batting average was a terrible .213, and the home run and RBI totals fell to 14 and 40. His OBP was an underwhelming .277.
With the more effective Xavier Paul on the roster, Stubbs may very well have written his ticket out of the starting lineup.
Cleveland Indians: Ubaldo Jimenez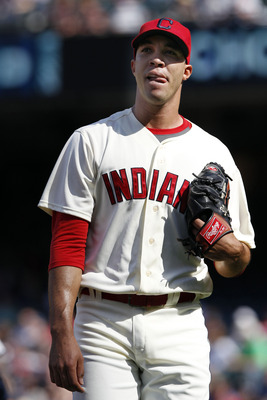 David Maxwell/Getty Images
Remember the Ubaldo Jimenez who captivated us in 2010? You know, the one that went 19-8 with a 2.88 ERA and threw a no-hitter.
Well, that man is gone and has been replaced with a Jimenez that knows nothing of the word consistency. His control and effectiveness deserted him in 2011, and he was traded to the Cleveland Indians at the trade deadline. Instead of improving, he got worse.
In 11 starts for the Indians in 2011, Jimenez went 4-4 with a 5.10 ERA and 1.45 WHIP. Last season, he was even worse, as he led the majors with 17 losses and posted a 5.40 ERA and 1.61 WHIP.
Needless to say, if the Indians are to continue playing like a young and talented team, they're going to have a hard time finding reasons to keep Jimenez around.
Colorado Rockies: Drew Pomeranz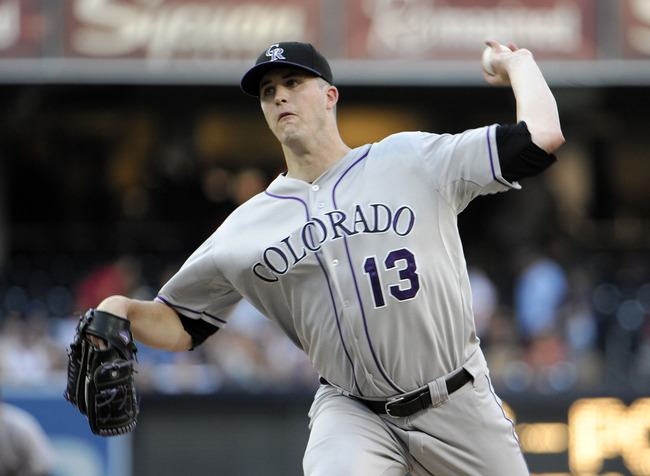 Denis Poroy/Getty Images
Pomeranz was one of the prospects dealt to Colorado from Cleveland in the Ubaldo Jimenez trade, and while it may just be the effect Coors Field has on some pitchers, he has been anything but impressive on a team full of young players who failed to prove their worth last season.
In just 96.2 innings over 22 starts, the southpaw went 2-9 with a 4.83 ERA and 1.48 WHIP. He's only 23 and has plenty of time to prove himself, but the numbers here don't suggest a bright future. At this point, both the Rockies and Indians look like losers in the trade.
Detroit Tigers: Brennan Boesch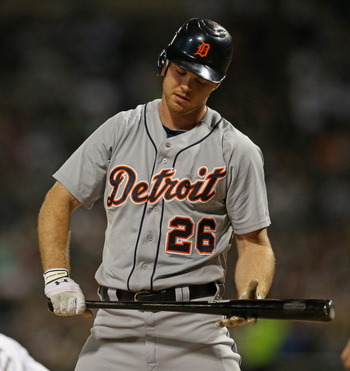 Jonathan Daniel/Getty Images
Boesch is only 27 years old and has three MLB seasons under his belt, but he is already one of the most enigmatic players in the league. He'll have a great first half of the season, but stumble after the All-Star Break. After showing steady improvement in his first two seasons, he regressed last year and hit just .240 with 12 homers and 54 RBI, his OBP just .286.
But that is only the beginning of why Boesch is the most worthless player on the Tigers. His team has been to the playoffs in two of his three seasons, and despite his talented lefty bat, he has been left off the roster each time.
"Who handled right field duties in his absence?" you may ask. Well, in 2011 it was the aging and oft-injured Magglio Ordonez, along with the lowly Don Kelly. And this past year, Kelly shared the spot with Avisail Garcia.
If the team thinks he's so talented and wants to offer him a contract for next season, what's the deal with leaving him off the playoff roster?
Houston Astros: Jordan Lyles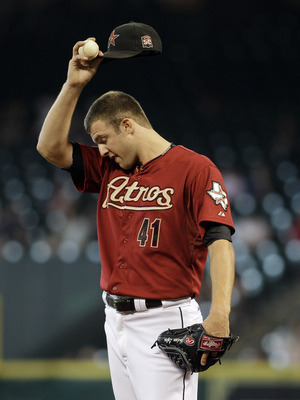 Bob Levey/Getty Images
The Astros lost 107 games last year, so it's hard to determine just which of their players is the most worthless or expendable. Still, Jordan Lyles' numbers on the season are bad enough that I have no choice but to bestow this honor upon him.
Sure, he's only 22 and has plenty of time to improve, but Lyles went just 5-12 with a 5.09 ERA and 1.42 ERA over 22 starts. Given how weak Houston's lineup is, they need all the pitching they can get.
With opposing hitters batting .279 off of Lyles, plus his giving up 20 home runs in 141.1 innings, it doesn't look as though he's the answer.
Kansas City Royals: Luke Hochevar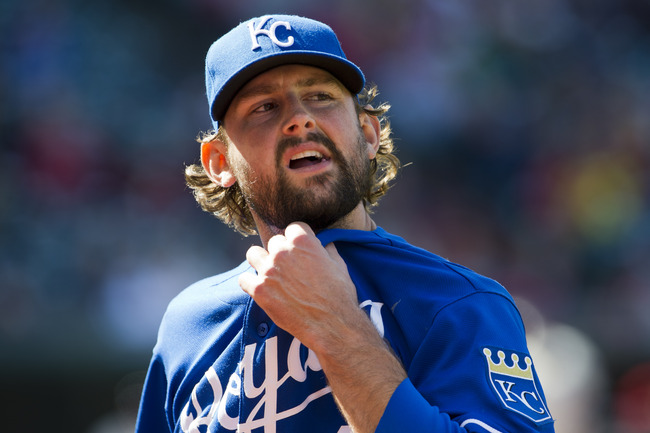 Jason Miller/Getty Images
If this were a piece about the worst draft busts in MLB history, Hochevar would be at or near the top of the list. The man was taken first overall by the Royals in 2006 and has been nothing but a disappointment since becoming a full-time starter in 2008.
In his six MLB seasons, the right-hander has gone 38-59 with a 5.39 ERA and 1.40 WHIP. Last season, he posted a 5.73 ERA and lost a career worst 16 games.
Some may attribute this to the Royals' lack of a solid offense, but the numbers don't point to that. The sad truth is that Hochevar just doesn't have what it takes to be a reliable pitcher on the major league level, and at 29 years old, his time is running out.
Los Angeles Angels: Vernon Wells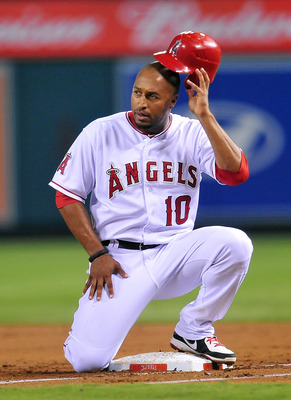 Gary A. Vasquez-US PRESSWIRE
When the Angels traded for Wells in 2011, they thought they were getting a power-hitting outfielder who could also do some fine work with the leather. After all, in 12 seasons with the Toronto Blue Jays, Wells hit .280, with 223 home runs and 813 RBI, while making three All-Star teams and taking home an equal amount of Gold Gloves.
Out west, however, Wells went from being a dream outfielder to a nightmare. He has hit just .222, with 36 longballs and 95 RBI. Last season, injuries limited him to 77 games.
Unfortunately for Angels GM Jerry DiPoto, Wells has two years and $42 million remaining on his contract.
Los Angeles Dodgers: Juan Uribe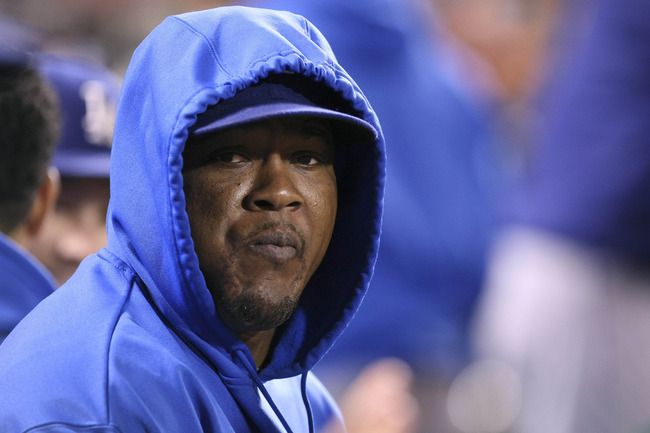 Kelley L Cox-US PRESSWIRE
After seeing him hit 24 home runs with 85 RBI for the World Series champion San Francisco Giants in 2010, the Dodgers inked Uribe to a three-year deal worth $21 million. Today, it is one of the most poisonous contracts on the books.
2011 saw him appear in just 77 games due to injury, and he hit a career worst .204. His power also deserted him to the tune of four home runs and 28 RBI. 2012 was even worse, as he played in just 66 games and batted an even more horrible .191, ultimately losing his starting job at third base to Luis Cruz.
Next season, there's no telling what his role will be, if he has one at all.
Miami Marlins: John Buck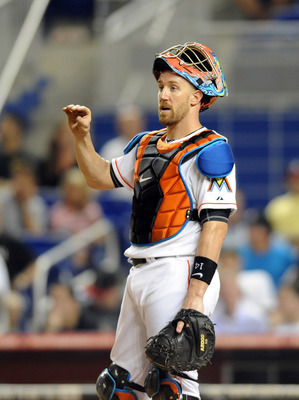 Steve Mitchell-US PRESSWIRE
After batting .281 with 20 homers and 66 RBI for the Toronto Blue Jays in 2010, Buck signed a three-year, $18 million deal with the Marlins. Two years into it, it's looking more and more like a mistake.
The pop in Buck's bat has been there to the tune of 16 longballs in 2011 and 12 last season, but his batting average over those two seasons has been a lowly .218. In 106 games in 2012, he finished the year below the Mendoza line and batted just .192.
Fortunately for the rebuilding Marlins, he only has one year left on his deal.
Milwaukee Brewers: Nyjer Morgan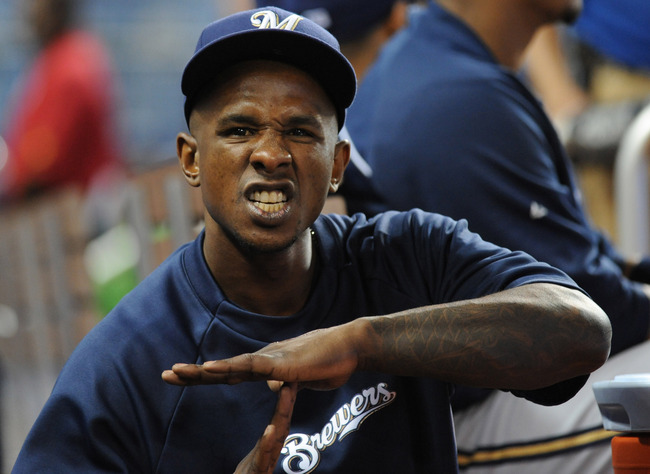 Steve Mitchell-US PRESSWIRE
As much fun as Tony Plush may be, Nyjer Morgan's value on the Brewers shrunk considerably last season. After batting .304 in the team's run to the NLCS in 2011, Morgan hit just .239 in 2012 and was soon phased out of center field thanks to Carlos Gomez finally breaking out. If the Brewers offer him arbitration, chances are he will be little more than a fourth outfielder and occasional pinch runner.
The sad part is that Morgan won't even be able to fill that role, as his speed isn't what it used to be. After swiping 76 bags from 2009-10, he has logged just 25 total steals since becoming a Brewer.
That said, there really isn't a place to put him in Milwaukee's plan for the future.
Minnesota Twins: Jamey Carroll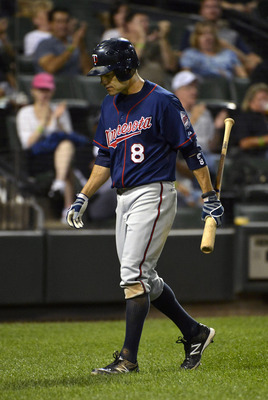 Brian Kersey/Getty Images
I'm still trying to figure out why the Minnesota Twins gave Carroll a two-year, $6.75 million deal prior to last season, and, frankly, I don't think I'll ever find the answer. Yes, the man can hit for a decent average and is a lock to put up a great OBP, but he is also 38 years old and has zero power. His bat isn't anything to really write home about either.
Carroll's infield defense may be solid, but that isn't the Twins' greatest need. Their largest issue since moving from the Metrodome to Target Field has been a lack of offense and power, and Carroll provides the exact opposite of that.
In a situation where the team needs a young hotshot who can play fine defense and do great work with the bat, Carroll provides little more than veteran leadership, and that isn't even that valuable considering he is basically a mediocre player who has managed to stick around for a long time.
New York Mets: Jason Bay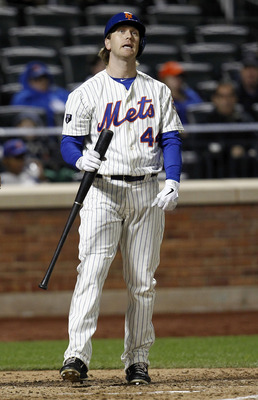 Jeff Zelevansky/Getty Images
After batting .269 with 36 home runs and 119 RBI for the Boston Red Sox in 2009, Bay became a free agent and signed a four-year, $66 million contract with the New York Mets. Instead of providing a spark to the team's offense, Bay has been an absolute joke.
While many of his struggles at the plate can be attributed to the pitcher-friendliness of Citi Field, Bay has also struggled to stay healthy with the Mets. He suffered concussions in 2010 and 2012, as well as rib injuries last season and the season before.
Bay has hit just .234, with a mere 26 homers and 124 RBI. As he enters the last season of his contract at age 34, he had better hope for a comeback season as he seeks his next contract.
New York Yankees: Alex Rodriguez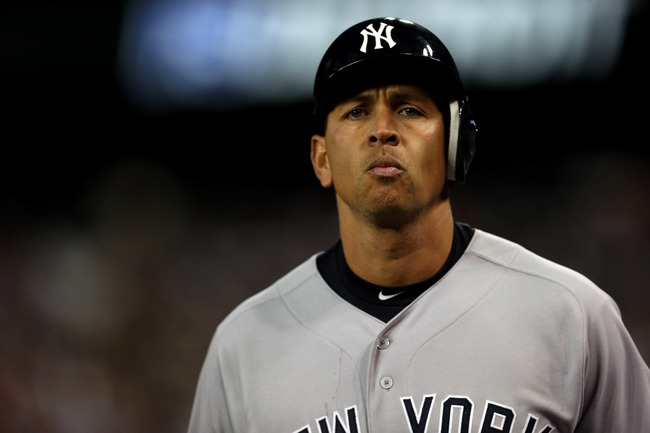 Jonathan Daniel/Getty Images
He may have a .300 lifetime batting average and 647 career home runs, but Alex Rodriguez is the most worthless player on the New York Yankees. At 37 years old, he is not worth the $29 million a year anymore, as he has missed significant portions of each of the last two seasons with injuries.
More importantly, the man simply cannot perform in the playoffs. Last season, he went 3-for-27 with 12 strikeouts in the postseason, and manager Joe Girardi actually opted to bench him against righties.
Simply put, he has proven that he cannot perform effectively without the help of PEDs, and his decline will only continue to worsen. Unfortunately for the Yankees, no other team appears willing to take on such a decline in production.
Oakland A's: Tyson Ross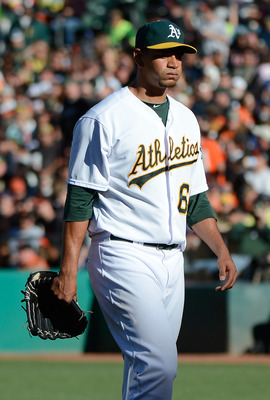 Thearon W. Henderson/Getty Images
At 6'6", 230 pounds, Ross looks like a pitcher whose mound presence is downright scary. Unfortunately, size only does so much, and it did next to nothing for Ross' first season as a starter.
The big righty went just 2-11 with a 6.50 ERA and 1.81 WHIP, with opposing hitters batting .327 against him. Given that Oakland clinched the AL West without him in the rotation, it's hard to say what his future role with the team will be.
Philadelphia Phillies: Chase Utley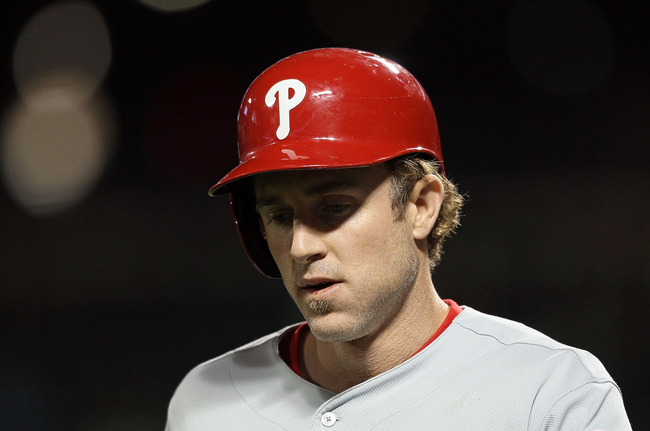 Alex Trautwig/Getty Images
This was a tough call, as Utley can still produce quite a bit...when healthy, that is. Once a regular MVP contender, the Phillies' second baseman has missed significant time each of the past two seasons, as chronic knee problems caused him to start on the disabled list in both 2011 and 2012.
Over that stretch, he has appeared in just 186 games and hit .258, with 22 home runs and 89 RBI. He may be a popular player and not the most literal definition of worthless, but Utley just isn't doing his team any favors by constantly being on the DL.
Once his contract expires at the end of 2013, he's going to have to figure out just where he stands regarding his future. If he opts to continue playing, he may have a hard time finding a new deal.
Pittsburgh Pirates: Jose Tabata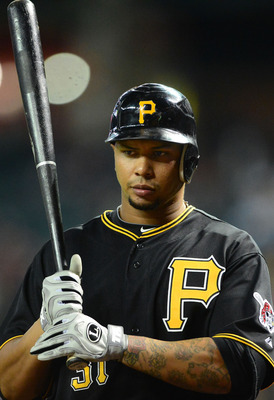 Mark J. Rebilas-US PRESSWIRE
Tabata's greatest skills are his defense and his speed, but he just can't seem to produce consistently or stay healthy enough to make a major positive impact for the young and improving Pittsburgh Pirates. In each of his three seasons, his production has steadily dropped in all major categories.
The worst part is that team management inked him to a six-year, $15 million deal in 2011, and this contract also has options for 2017-19 that add up to a total of $22.5 million. Needless to say, he had better start being consistent soon before achieving goat status.
San Diego Padres: Kyle Blanks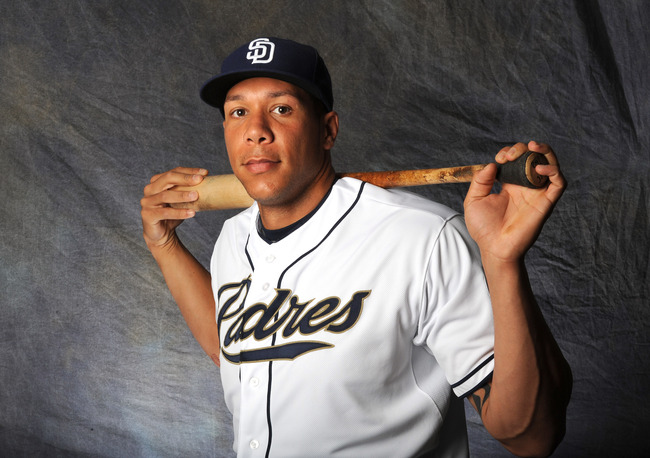 Rich Pilling/Getty Images
At 6'6", 272 pounds, 26-year-old Kyle Blanks looks like someone who is an absolute beast at the plate and hits home runs just as easily as he eats a sandwich. Unfortunately, one would be way off in making that assumption.
Since debuting for the San Diego Padres in 2009, Blanks has struggled to stay healthy, appearing in just 146 total games and batting .219 with 20 home runs and 63 RBI. But for some reason, the Padres keep him around.
Only one question remains: Why?
San Francisco Giants: None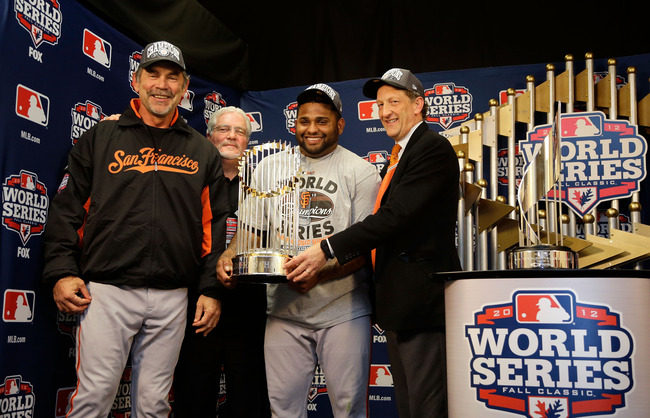 Pool/Getty Images
Looking at the roster of the 2012 World Series champion Giants, there is no player that appears bad enough to be called worthless.
Seattle Mariners: Chone Figgins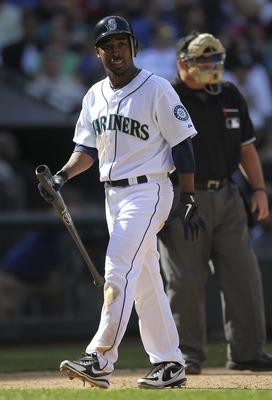 Otto Greule Jr/Getty Images
After hitting .298 and stealing 42 bases while leading the AL in walks with the Los Angeles Angels in 2009, Figgins signed a four-year, $36 million deal with the Mariners. The team hoped that his scrappy work at the plate would frustrate opposing pitchers and that his speed, combined with that of Ichiro Suzuki, would create a solid top of the order.
Instead, Figgins underachieved in 2010, despite stealing 42 bases, and he hit just .259. Since then, over 2011 and 2012, he has essentially become a reserve and has hit just .185 with just 15 steals in only 147 games.
With one year remaining on his contract, it's hard to understand why the Mariners don't eat the remaining money owed and just release him.
St. Louis Cardinals: Kyle McClellan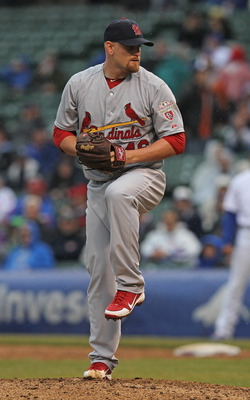 Jonathan Daniel/Getty Images
Whether he'll be tendered a contract for next season remains to be seen, but the fact remains that McClellan's missing all of the second half of last season with shoulder trouble drops his value immensely. Before getting hurt, he posted a 5.30 ERA in just 16 games.
Given how far the Cardinals got without him, it's a safe bet that he isn't worth much to them—or any other team, for that matter.
Tampa Bay Rays: Reid Brignac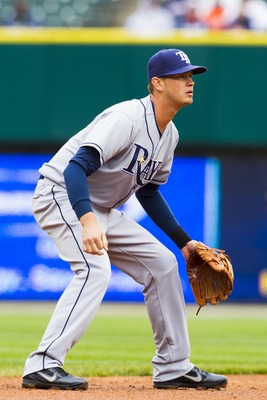 Rick Osentoski-US PRESSWIRE
After batting .256, with eight homers and 45 RBI in 113 games in 2010, it appeared as though Brignac was the Rays' shortstop of the future. Instead of continuing to improve, however, he regressed rapidly and has hit just .144, with a home run and 16 RBI since 2011, appearing in just 108 games.
Given how well guys like Ben Zobrist and Elliott Johnson have manned the middle infield positions as of late, it's safe to say that Brignac's role in Tampa Bay is dwindling down to nothing.
Texas Rangers: Geovany Soto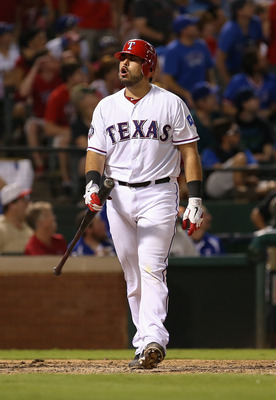 Kevin Jairaj-US PRESSWIRE
Soto came out of nowhere in 2008 and was named NL Rookie of the Year after batting .285, with 23 home runs and 86 RBI for the Chicago Cubs. Since then, however, he has been a model of inconsistency—from having a sophomore slump in 2009 to coming back in 2010 but struggling to stay healthy and being limited to 105 games.
He regressed again in 2011 and 2012 before being sent to the Texas Rangers at the trade deadline. Even as the team's backup catcher, he was unable to prove his worth and hit just .196, with five home runs and 25 RBI in 47 games.
In 2013, who knows what the man will do in terms of production?
Toronto Blue Jays: Kyle Drabek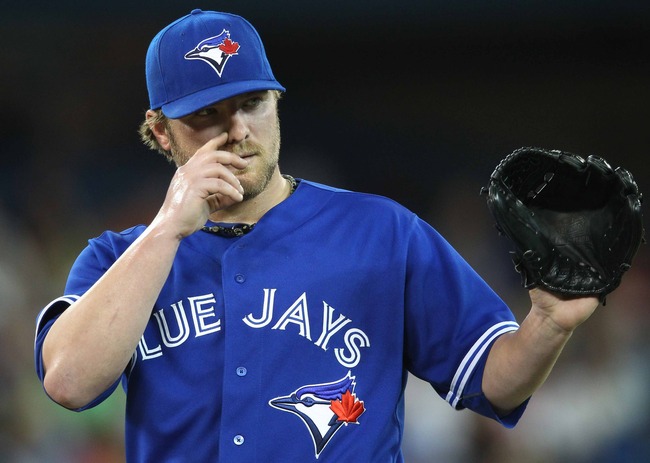 Tom Szczerbowski-US PRESSWIRE
Given that he was the top prospect sent to Toronto from Philadelphia in the Roy Halladay trade and that his father Doug won the NL Cy Young Award in 1990, there is evidence to suggest that Drabek should be a quality pitcher. Unfortunately, in his three MLB seasons, the young right-hander hasn't lived up to the hype surrounding him.
Since making his debut in 2010, he has struggled with consistency and has gone 8-15 with a 5.34 ERA and 1.67 WHIP, allowing 107 walks in 167 innings. His future is now cloudy, as he underwent Tommy John surgery last season and could very well miss all of 2013.
At this point, it's pretty obvious who got the better end of the Halladay trade.
Washington Nationals: None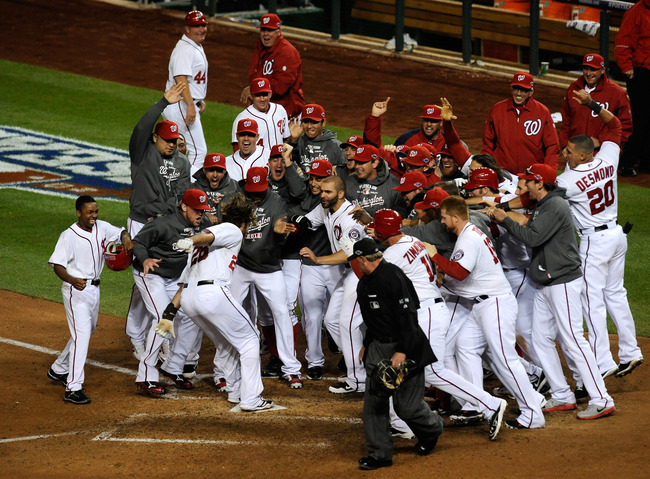 Patrick McDermott/Getty Images
After a dream season that saw them finish with the best record in baseball, the Washington Nationals have no player currently under contract that can be deemed worthless.
Keep Reading