Marquette Basketball Preview: 5 Questions for the 2012 Season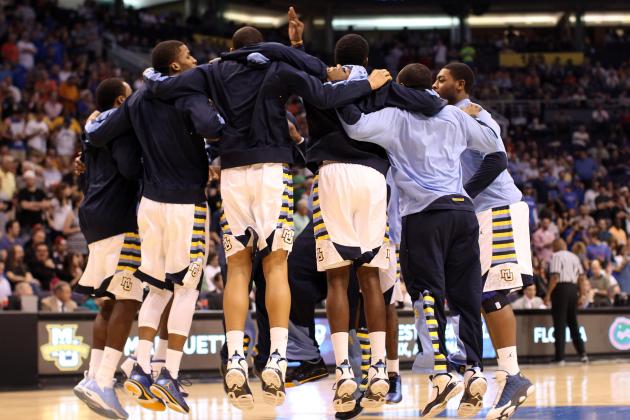 Christian Petersen/Getty Images

The Marquette Golden Eagles begin their 2012-13 campaign in five days in the Carrier Classic against Ohio State. This season comes with a lot of uncertainty. Last season, the Golden Eagles finished 27-8 with a 14-4 record in Big East play, good for second in the conference. It will be tough for Marquette to exceed last season's success without leading scorers Darius Johnson-Odom and Jae Crowder.
Marquette does return many of their key players from last season's Sweet 16 team, but unlike last season, it is unknown who the best players will be. Marquette is a team that could be a Big East contender or a bottom-feeder depending on how much these returning players have improved.
Will Marquette build off of its Sweet 16 run or will they fade into the bottom half of the treacherous Big East? Here are five questions and answers that will determine their season.
Begin Slideshow

»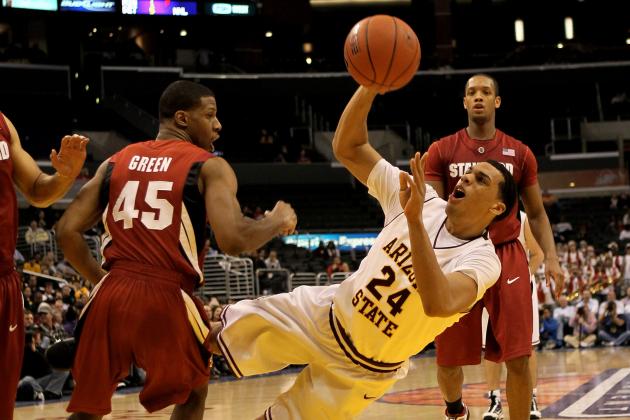 Stephen Dunn/Getty Images

Marquette will have to find some new scorers with the absence of Johnson-Odom and Crowder. Getting Trent Lockett from Arizona State is a great start to addressing this problem. Lockett transferred to Marquette to be closer to his sick mother. Although the circumstances weren't ideal, this is a great addition to Buzz Williams's roster.
Lockett averaged 13 points for the Sun Devils and shot just under 50 percent from the floor. Lockett also averaged 5.8 rebounds per game and can make an impact on both sides of the floor.
Lockett is arguably one of the best players on Marquette's roster. He was the best player on the floor at Arizona State last year and is very underrated coming into the Big East. Lockett was on a team that went 10-21 last year and will respond nicely to playing with some talent around him.
Lockett can score, rebound and sometimes dish out assists, and he will thrive for the Golden Eagles. Expect him to be in the hunt for the Big East Player of the Year award.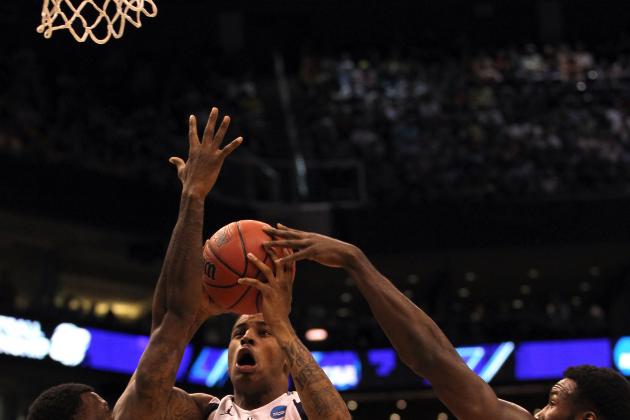 Jamie Squire/Getty Images

I've said it to several people, Marquette's season will ride on Vander Blue.
Blue was a highly touted recruit but has not played up to his expectations in his first two seasons with Marquette. Last season, Blue averaged only 8.4 points per game and shot 41 percent from the floor. Blue's season was a roller coaster ride. He played great for the first month of the season, then cooled off for a month, heated up during the home stretch of the regular season and disappeared again to finish the season.
Despite all of the solid players around him, Marquette needs Vander Blue to be much improved. He has to become a better jump shooter and develop into the star college scouts thought he would be.
If Vander Blue can tap into his great potential, Marquette could be a contender, if he struggles, the Golden Eagles will have a much harder time keeping up with their Big East foes.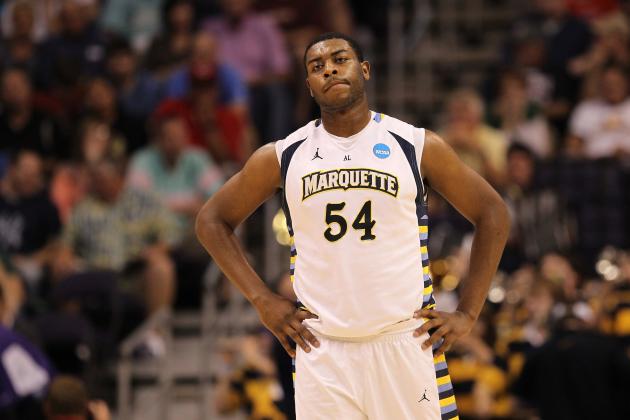 Jamie Squire/Getty Images

Last season, Marquette's weakness was in the paint. Chris Otule was lost to a knee injury early in the season and Crowder, Davante Gardner, Jamil Wilson and Juan Anderson were forced to step in. Gardner and Wilson played impressively, but the lack of big men on the roster caused them to struggle against physical teams.
Otule is healthy this season and Gardner has gotten into much better shape over the offseason. The guy to watch is Jamil Wilson.
Wilson is only 6'6" and was forced to play center at times because of Otule's absence. This season, Wilson will be able to play his natural position at power forward. Wilson is a pretty good shooter for a big man and is a flexible player who can be a matchup problem. Marquette is one of the smaller teams in the Big East, but with Otule returning, they could get some good production out of their big men.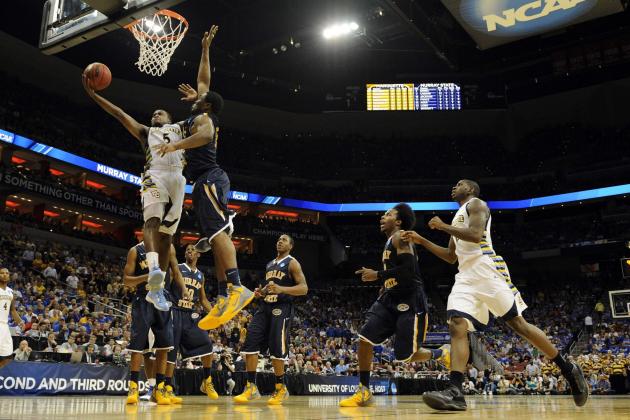 Jamie Rhodes-US PRESSWIRE

I've already mentioned Marquette's biggest addition to the roster, Trent Lockett, but Marquette has several new names that fans should remember.
They recruited Steve Taylor, and Jamal Ferguson and Jake Thomas will play his first season with Marquette after sitting out last year. Thomas is a good scorer who transferred from South Dakota, where he averaged over 30 minutes and 13 points a game.
Steve Taylor will be the fresh face that everyone should look out for. Taylor played at Simeon Academy, a powerhouse high school in Chicago. Taylor was one of the strongest players on his high school team that was stacked with talent. He is a forward that could get a chance to play early in the season and could develop into a nice asset for the Golden Eagles down on the block.
Marquette continues to add depth to their roster, which will help them adapt as they find their star power.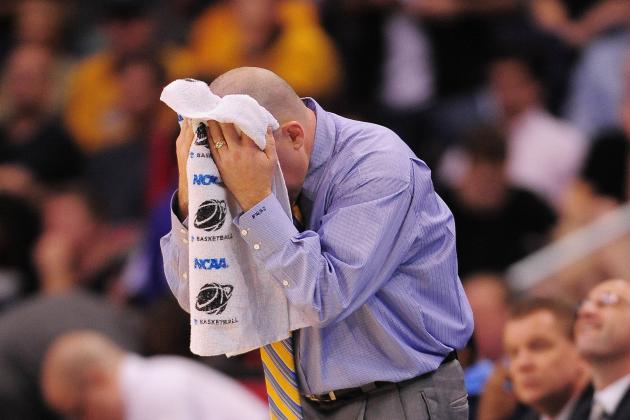 Kyle Terada-US PRESSWIRE

Marquette will also have to deal with a daunting schedule in 2012. Marquette is scheduled to play nine preseason Top 25 teams, four of which are in the Top 10. The Big East is always one of the deepest conferences from top to bottom in the nation, but out of conference, Marquette will face Ohio State, Wisconsin, Florida, Butler and possibly North Carolina in the Maui Invitational.
Marquette has one of the strongest schedules in the country and these early season slates could show us everything we need to know about them. The schedule could provide them with much needed experience, or could expose flaws that could haunt their season.
I think Marquette will survive their difficult schedule. They play many of their toughest games at home, where they only lost once last season. Although Marquette is not ranked, there is a lot of talent on this team. They will gain more than they will lose from these games and will be a battle tested when the postseason comes around.
Jamie Rhodes-US PRESSWIRE

This will be an interesting year for the Golden Eagles because I'm not really sure what to expect out of them. They have a lot of talent and could make it back to the Sweet 16, or they could stumble and struggle to even make the tournament.
I think Marquette will be a solid team, but it might take a little while to find their identity. Once they find that mix, they could be a very dangerous team. Marquette always gives 110 percent for Buzz Williams and can provide many matchup challenges with players who can play different positions.
Marquette is very deep at the guard with Blue, starting point guard Junior Cadougan, Todd Mayo, Derrick Wilson, Lockett, Ferguson and Thomas. If their big men can provide some physicality, Marquette could be a very tough team to beat.
Marquette is a good team, but are probably a year or two away from being a great team. Combining that with a tough schedule it will be hard to repeat last year's success. I see Marquette having a very up-and-down year that finishes with a record of 20-10 (depending on how far they go in the Maui Invitational, there could be a different number of games played), with an 11-7 record in Big East play.
Marquette will be good enough to qualify for the NCAA tournament based on their strength of schedule and could make some noise depending on the matchups.