Buffalo Bills: 3 Reasons They Must Improve on Defense to Contend in the AFC East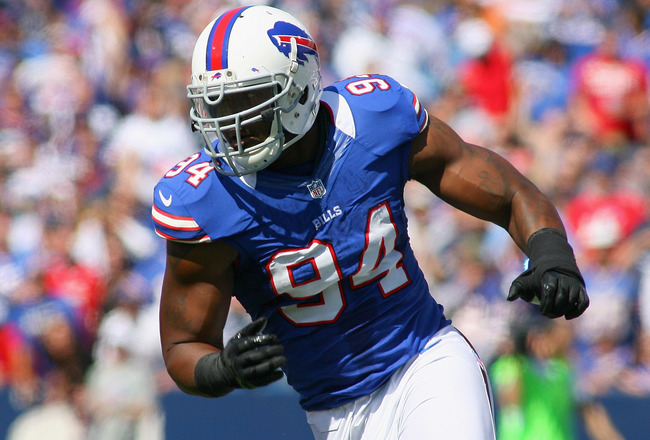 The Bills brought in former No. 1 overall pick Mario Williams to anchor their defense this year
Rick Stewart/Getty Images
The AFC East is football's closest division this season as the first-place New England Patriots are separated by only two games from the last-place New York Jets and Buffalo Bills, who are tied at 3-5.
One would be hard-pressed to call it football's most competitive division, however. The division in and of itself is very competitive, but that is more of a result of its own mediocrity than of the high quality of teams from top to bottom.
Therefore, there are still adjustments a team like the last place Buffalo Bills can make to compete in arguably the weakest AFC East in years.
Here are three reasons that the Bills can compete if they can just improve their play on defense.
1. The AFC East Is Weak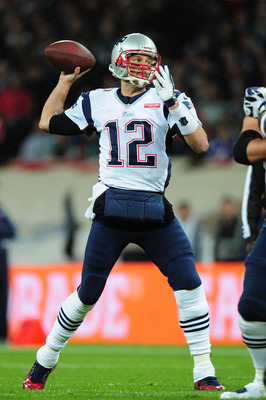 Not even Tom Brady's Patriots can be considered an elite team out of the AFC East
Jamie McDonald/Getty Images
This might be the AFC East's worst season ever. Three of four teams are under .500 or at .500, including the normally competitive Jets and sometimes competitive Dolphins and Bills.
Basically, even though the Bills are in last place, many would consider the division wide open as they are only behind two games with half of the season left to play.
The Patriots, Jets and Dolphins still have many tough games left to play including some of the strong NFC West teams. Also, those three teams still have some games left against each other which will help bring all of their records towards each other.
An improvement over their currently dreadful defense would give the Bills a shot to win many of their remaining football games and finish not only over .500, but potentially in a playoff position near or at the top of the AFC East.
2. Strength of Schedule (or Lack There Of)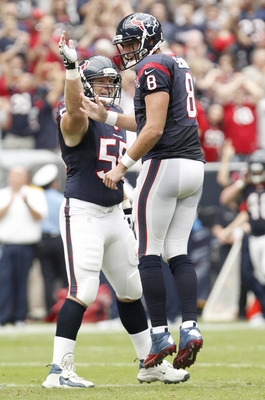 The Bills won't see another teams good as Matt Schaub's Texans this season
Thomas B. Shea/Getty Images
The combined record of the teams left on Buffalo's schedule is 30-37. They are only 3-5 themselves, but three of their five losses have come against strong teams in the Patriots, 49ers and Texans. The Bills can reasonably be expected to compete with the teams in their schedule currently remaining.
Right now, this is a toss-up. The Bills defense ranks near or at the bottom of many categories and cannot hold their own in eight games and expect to make the postseason. Any defensive improvements of note would surely elevate them above their remaining competition.
A healthy Mario Willaims will surely help (if he ever gets fully healthy), but the Bills defense needs to smell the weakness in their opponents and play with higher intensity, greater passion and finish plays.
3. Defense Wins Football Games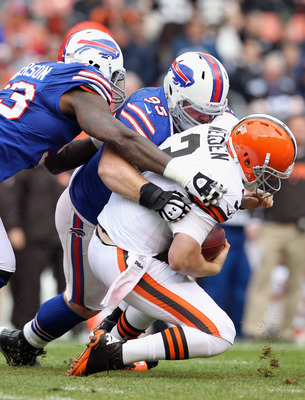 The Bills haven't had too many moments to smile about on defense this season
Matt Sullivan/Getty Images
The Bills allow 418 yards per game, good for 31st in the league according to NFL.com. They allow 31 points per game, also good for 31st. They allow a league worst 5.7 yards per carry in terms of rushing defense. These are just a few of the categories in which the Bills rank in the bottom 10 and many times the bottom three or four.
Defense wins championships. It's a very widely renowned concept. The 1985 Bears, the 1986 Giants, the Steelers of the 1970s (the Steel Curtain) and many other storied championship teams have all had one thing in common: strong defenses.
That's not to say the Bills would win the Super Bowl with a strong defense, but that is the first step in establishing a team as a competitor. Very few teams that are good on offense compete with porous defenses (see New Orleans Saints, Detroit Lions, Dallas Cowboys and Washington Redskins).
Bringing in Mario Williams was a good start, but the Bills need to dramatically improve their defense at the most opportune time in a weak AFC East to become competitors this year and for years to come.
Keep Reading

Buffalo Bills: Like this team?