Florida Football: Grading All 22 Starters from the Missouri Game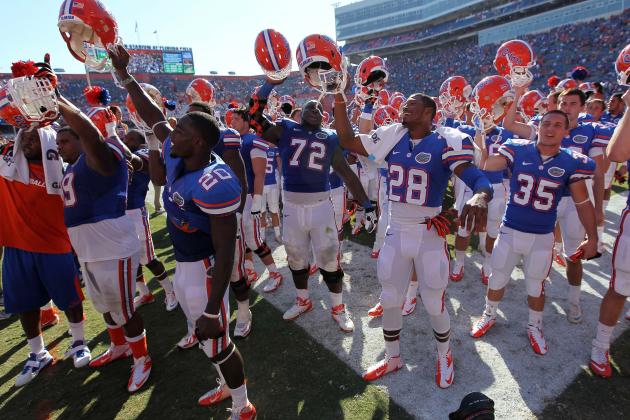 Kim Klement-US PRESSWIRE
Florida's defense keyed a victory at the Swamp.
Coming off a heartbreaking loss to Georgia, the Florida Gators did exactly what their coach preaches: overcome adversity on the field.
Despite suffering several injuries on both sides of the ball, the Gators finished their SEC schedule with a close 14-7 victory at the Swamp to finish the season with a terrific 7-1 conference record.
While the offense continues to be mind-bogglingly inconsistent, the defense continued to carry the team on its back.
Keyed by four interceptions and a quartet of sacks, the Gators shut down quarterback James Franklin and the Missouri offense.
Although the Gators may end up losing out on a spot in the SEC championship game, they've still strung together a surprisingly successful conference record this year.
Let's take a look at how all 22 starters graded out in the win against Mizzou.
Begin Slideshow

»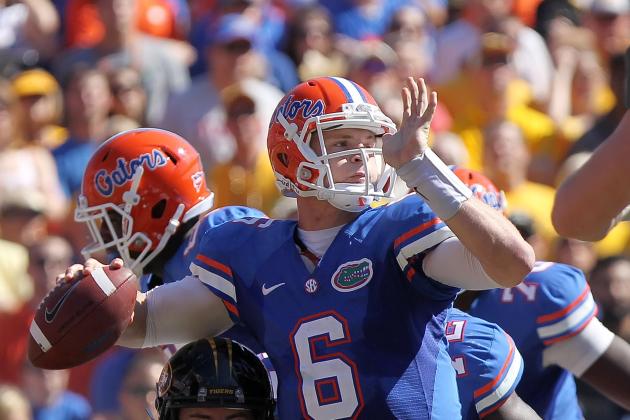 Kim Klement-US PRESSWIRE
Jeff Driskel has been solid but unspectacular this season.
While he corrected his turnover problem, Jeff Driskel still didn't put together a complete game in the win over Missouri.
The sophomore signal-caller completed just 12 of 23 pass attempts for 106 yards and a touchdown, misfiring on several occasions.
Though he's led the team to eight wins, it's not often because of Driskel that the Gators win.
Until he becomes more consistent with his accuracy, his grade won't be higher.
Grade: C+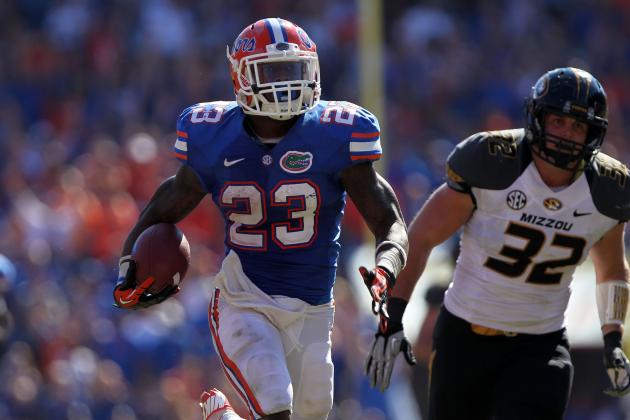 Kim Klement-US PRESSWIRE
Mike Gillislee is more than just a runner.
Senior Mike Gillislee hasn't rushed for 100 yards in a month, but the Gators have still managed to go 3-1 in the process.
The 5'11", 209-pounder showed off his versatility Saturday, getting it done both on the ground and in the passing game.
Gillislee picked up 68 yards on 16 carries (4.3 yard average), but it was his 45-yard touchdown on a screen pass from Driskel that won the game for Florida.
Chalk it up as another invaluable effort for the future NFL back.
Grade: B+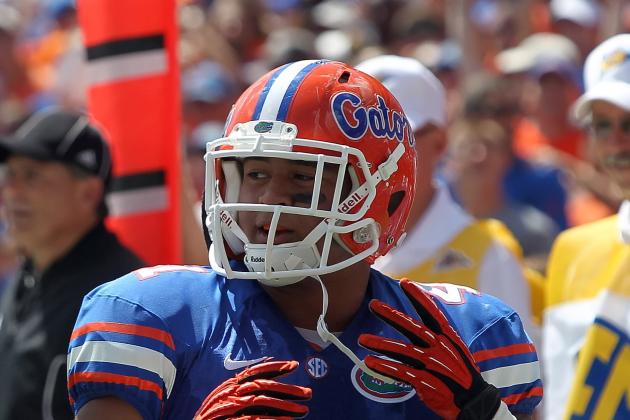 Kim Klement-US PRESSWIRE
Hunter Joyer quietly gets the job done.
Hunter Joyer didn't make a dent in the box score, but he surely made his presence known on the field.
Perhaps the most invaluable member of the Gators' rushing attack, the second-year fullback was terrific in opening holes for Gillislee and Co.
Florida averaged 5.2 yards per carry on 33 attempts, and Joyer was a big part of that.
He'll never get the statistical recognition for his work; however, the game film proves Joyer is one of the best players on Florida's offense.
Grade: A-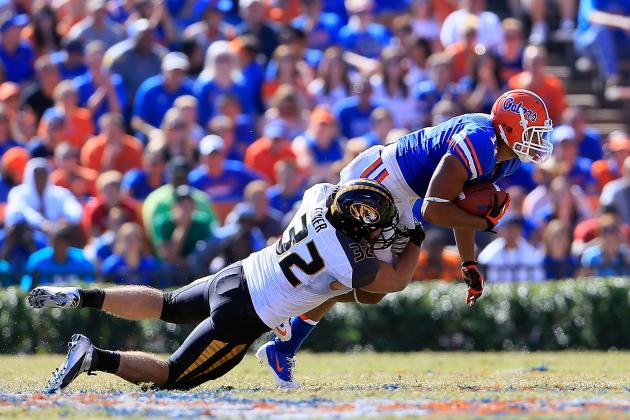 Sam Greenwood/Getty Images
Jordan Reed didn't have much of an impact Saturday.
Just a week removed from his heartbreaking fumble in the final minutes against Georgia, Jordan Reed was once again the Gators' leading receiver.
However, with just three catches for 16 yards, that's not much to brag about.
The athletic tight end failed to do much against Mizzou's defense and probably needs a strong finish to continue boosting his draft stock.
Grade: C
Kim Klement-US PRESSWIRE
D.J. Humphries made his first career start Saturday.
With senior Xavier Nixon sidelined with a knee injury, freshman D.J. Humphries earned his first career start Saturday at left tackle.
The freshman did well in his first extended action, although the offensive line as a whole definitely didn't have his best day.
Humphries was a 5-star recruit and could certainly stay in the lineup with Nixon enduring another up-and-down season.
Grade: B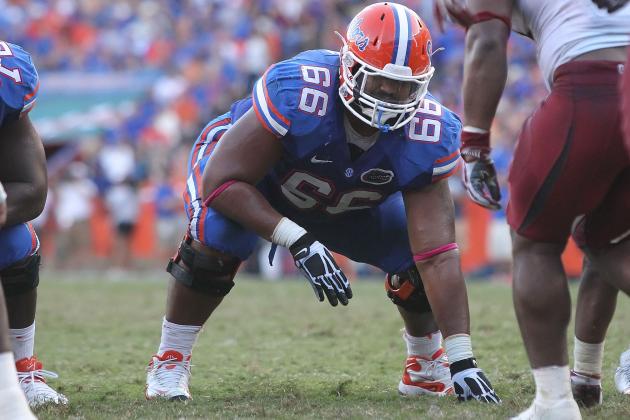 Kim Klement-US PRESSWIRE
James Wilson couldn't make it through the entire game.
Hopefully, the injury bug hasn't bitten James Wilson again.
The sixth-year senior's medical history would scare off most NFL teams, and after making it through the season mostly healthy, Wilson's chronic knees prevented him from finishing the game.
After battling through the pain for the first half, he had to leave the game for good in the third quarter.
Grade: C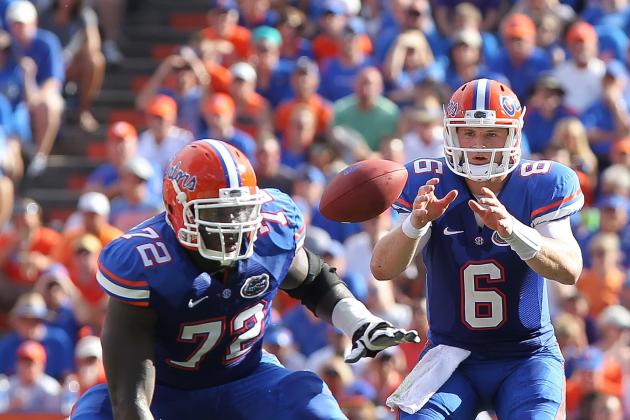 Kim Klement-US PRESSWIRE
Jonotthan Harrison had to anchor a line decimated by injuries.
On a day where he lost both his guards to injuries, center Jonotthan Harrison just kept on chugging.
The 6'3", 303-pounder anchored a line hit hard by injuries and helped pave the way for 170 rushing yards.
His steadying presence in the middle also helped keep Jeff Driskel from getting sacked.
Grade: B+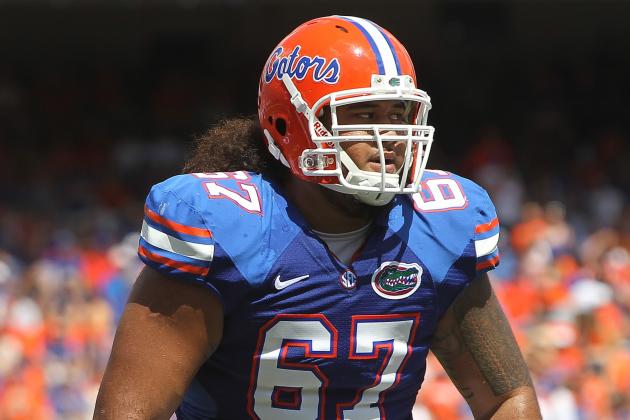 Kim Klement-US PRESSWIRE
Jon Halapio got banged up in the win.
Like left guard James Wilson, right guard Jon Halapio started but wasn't able to finish the game Saturday.
The veteran of the Gators offensive line had to exit in the fourth quarter after suffering a left leg injury.
Before that, he was mostly solid, but did miss a few key blocks in pass protection.
Grade: C+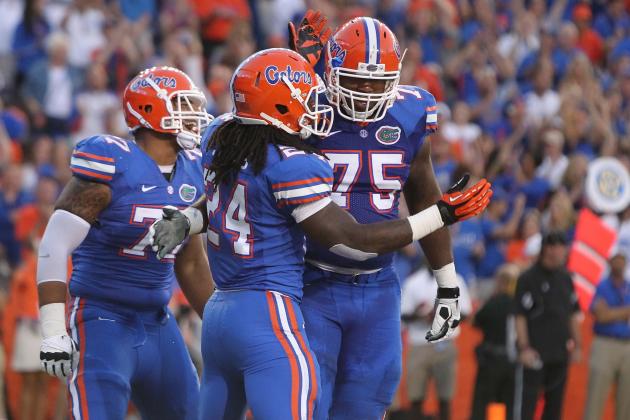 Kim Klement-US PRESSWIRE
Chaz Green had a better day than he did against Georgia.
The less you hear about an offensive lineman, the better.
After getting whipped by Jarvis Jones in the loss to Georgia, Chaz Green responded with a much better performance against Missouri.

Green was solid in the run game, sealing the edge and getting movement.
The future is bright for the redshirt sophomore, who should only get better as his health and conditioning improves.
Grade: B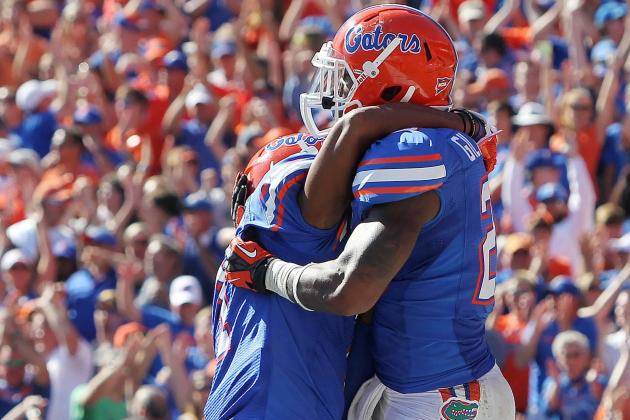 Kim Klement-US PRESSWIRE
Quinton Dunbar had a quiet day Saturday.
Quinton Dunbar has some talent, but he simply didn't produce enough to warrant a high grade.
The 6'1", 189-pound wideout managed just 13 yards on two receptions and failed to find the end zone.
For a former 4-star prospect, he should be making more of an impact on offense.
Grade: C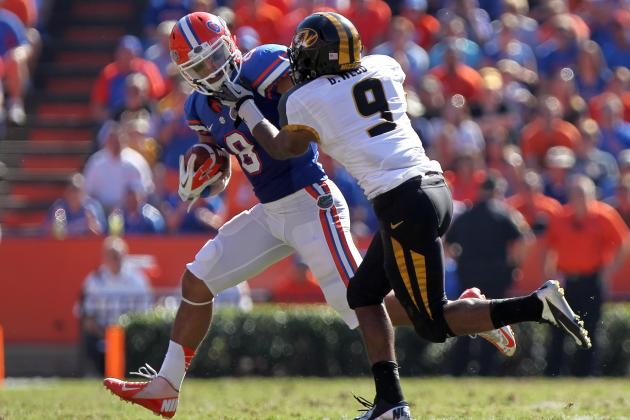 Kim Klement-US PRESSWIRE
Trey Burton drew the start Saturday.
It still baffles me how little Trey Burton gets the ball in space.
For such a talented athlete, you have to imagine he'd have a much bigger role in Brent Pease's creative offense.
On Saturday, the 6'2", 228-pounder caught two passes for 29 yards and had one carry for eight yards.
He was used as a Wildcat quarterback, but with limited success.
Grade: B-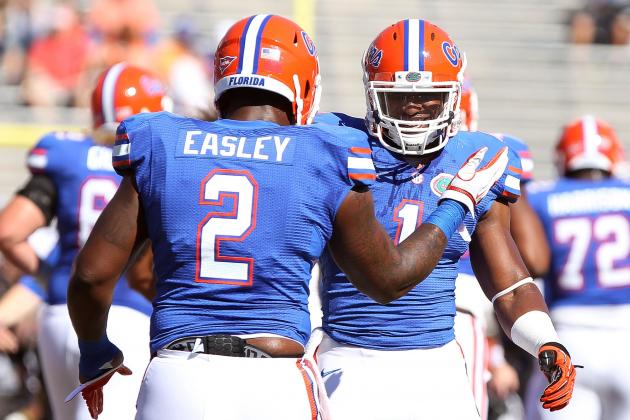 Kim Klement-US PRESSWIRE
Dominique Easley had his best game of the season Saturday.
Dominique Easley is an emotional leader and a tireless worker, but his production on the field hadn't matched his effort his year.
On Saturday, the junior defensive end finally made some big plays in the backfield.
The 6'2", 282-pounder recorded four tackles and 0.5 sacks, keying a strong day by Florida's deep defensive line.
Grade: B+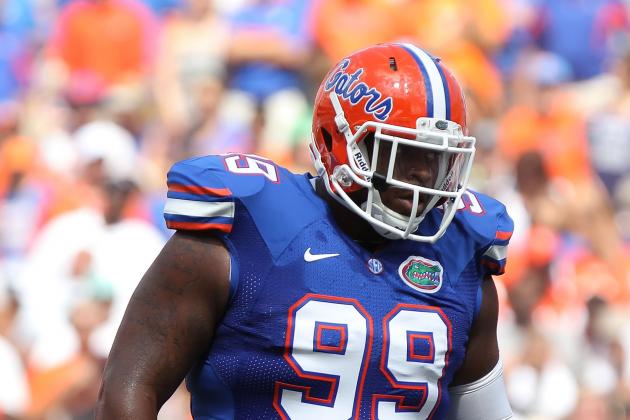 Kim Klement-US PRESSWIRE
Omar Hunter helped shut down Mizzou's running game.
As a nose tackle, Omar Hunter's primary job is to tie up blockers and stuff the run.
On Saturday, it was a job well done.
The senior led a ferocious effort by the defensive line in limiting the Tigers to just 99 yards on 35 rushing attempts.
Although he finished with just three tackles, Hunter played well against the run.
Grade: B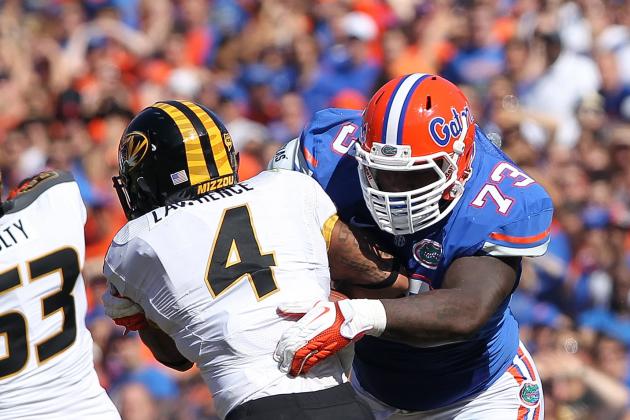 Kim Klement-US PRESSWIRE
Sharrif Floyd looks like an NFL defensive tackle.
Week by week, it's hard not to imagine Sharrif Floyd moving on to the NFL after this year.
The 6'3", 303-pounder is a beast on the field, and he added another great performance to his NFL resume Saturday.
Using his explosion, size and effort, Floyd recorded five tackles, including a team-leading 3.0 for loss.
Floyd is an emotional leader who just happens to lead by example with his on-field production.
Grade: A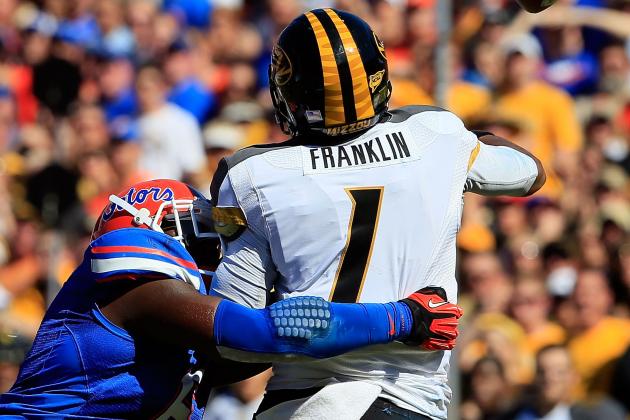 Sam Greenwood/Getty Images
Dante Fowler made his presence known on Saturday.
Drawing the start for an injured Lerentee McCray, freshman Dante Fowler was one of the best players on the field Saturday.
The 6'3", 277-pounder utilized his combination of speed and power to dominate Mizzou's offensive line, racking up five tackles, 2.0 for loss and a sack.
Between Fowler and fellow freshman Jonathan Bullard, Florida has a lethal pair of defensive ends to build around.
Grade: A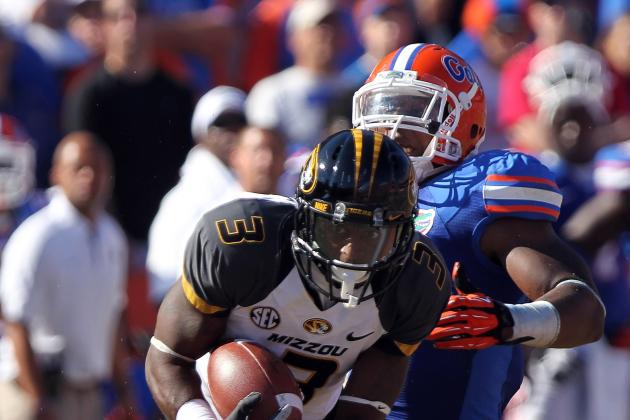 Kim Klement-US PRESSWIRE
Jon Bostic continued his steady play.
Unlike running mate Jelani Jenkins, Jon Bostic has stayed healthy and enjoyed a terrific 2012 season.
Florida's middle linebacker continued his rock-solid play in the middle, racking up seven tackles and a beautiful 24-yard interception.
Now that he's showing off better ball skills and the ability to get after the quarterback, Bostic will find his name called early on draft day.
Grade: A-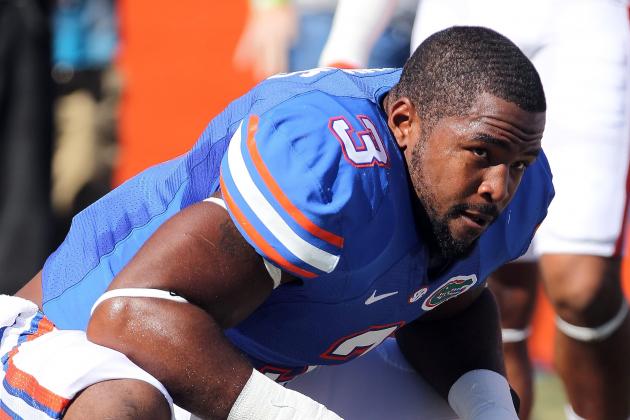 Kim Klement-US PRESSWIRE
Jelani Jenkins finally played up to his potential Saturday.
It's been a frustrating season for Jenkins, but the former 5-star recruit finally had a vintage performance against the Tigers.
The speedy linebacker finished second on the team with seven tackles, including a sack for a loss of 11 yards.
Blessed with incredible athleticism and solid instincts, Jenkins showed off those skills as he and the defense dominated the Tigers offense.
Grade: A-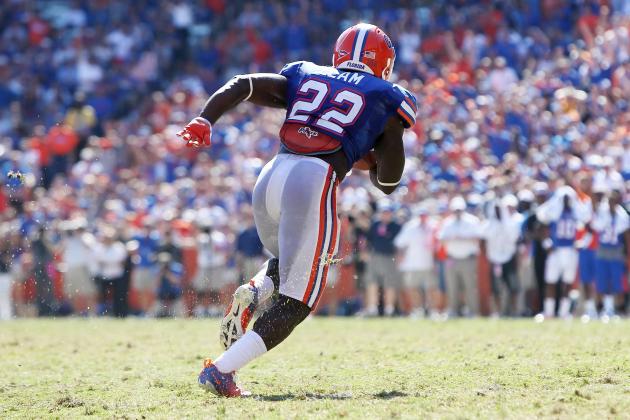 Kim Klement-US PRESSWIRE
Matt Elam is the Gators' MVP.
No Gator is having as good a season as Matt Elam.
The heart and soul of the defense has been insanely productive and come up with multiple clutch plays during his magical 2012 season.
Displaying fantastic instincts and speed, Elam stuffed the stat sheet with six tackles (2.0 for loss), one pass broken up and an interception that he returned 42 yards.
Grade: A+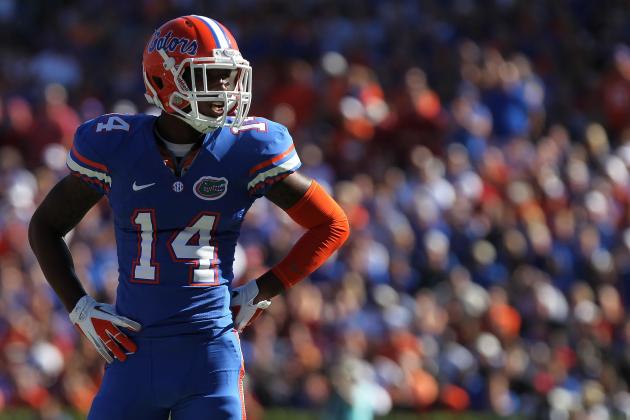 Kim Klement-US PRESSWIRE
Jaylen Watkins has become one of the better corners in the SEC.
Along with Matt Elam, cornerback Jaylen Watkins has taken a big step forward as a player in 2012.
Armed with great size and speed, Watkins' technique, ball skills and instincts have improved tremendously this season.
The true junior was fantastic in coverage, nabbing his third pick of the season.
Grade: A-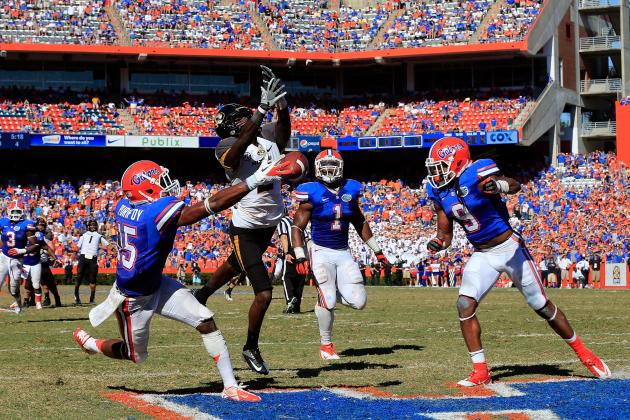 Sam Greenwood/Getty Images
Loucheiz Purifoy is developing into a great all-around player.
After getting toasted in coverage by Aaron Murray last week, Loucheiz Purifoy showed great improvement against Missouri.
The 6'1" corner used his physicality to keep the Tigers receivers off balance.
However, it was his terrific play on special teams that earns him an even higher mark.
Simply put: The guy plays with boundless energy wherever he's asked to play.
Grade: A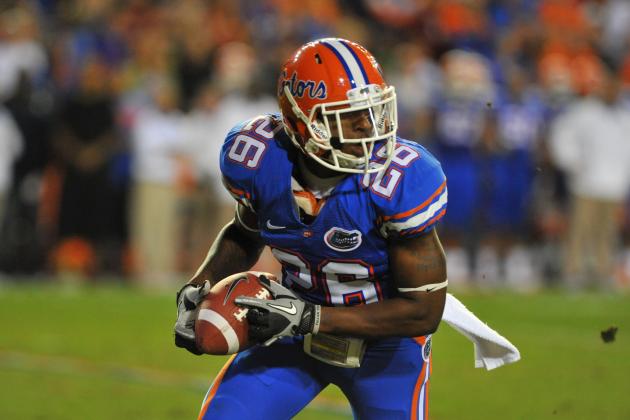 Al Messerschmidt/Getty Images
De'Ante Saunders has found himself earning more snaps on defense lately.
After earning a lot of playing time as a freshman, De'Ante "Pop" Saunders hasn't made as big of an impact as a sophomore.
The safety/punt returner has played more on defense lately, but recorded just two tackles and a pass broken up.
His size can be a limiting factor, although it seems this coaching staff values his versatility.
Grade: B-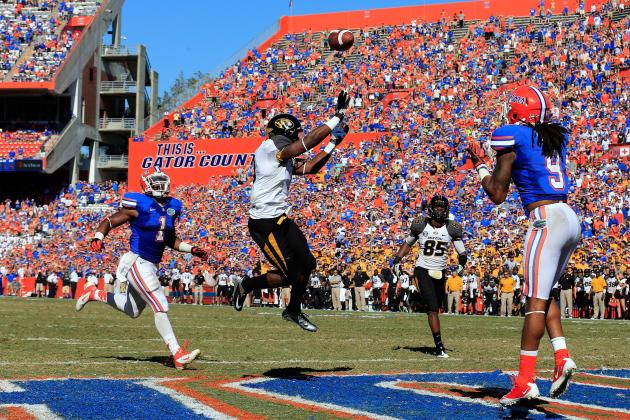 Sam Greenwood/Getty Images
Josh Evans sealed the game with his fourth-quarter interception.
Josh Evans tends to be overrated due to his inflated tackle numbers, but the senior free safety has stepped his game up over the past few weeks.
Once again, the 6'2", 201-pounder led the team in tackles (12), but it was his red-zone interception that sealed the game for Florida.
With 62 tackles and two picks, Evans has certainly been productive this year.
Grade: A-