Heisman Watch 2012: Breaking Down the Top 10 Candidates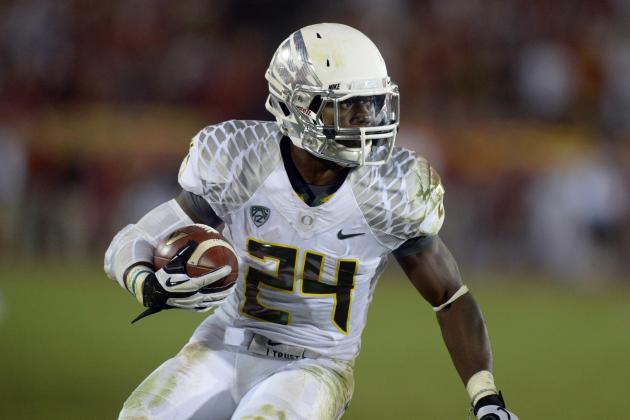 US PRESSWIRE

The Heisman picture is coming into focus as we enter the homestretch of the 2012 college football season.
This season has seen plenty of shifting in Heisman front-runners from the preseason up to now, but the top candidates are starting to separate themselves and make their respective cases for the most prestigious award in the sport.
Let's break down the top 10 players in the running and take a closer look at their chances to take home the trophy.
Begin Slideshow

»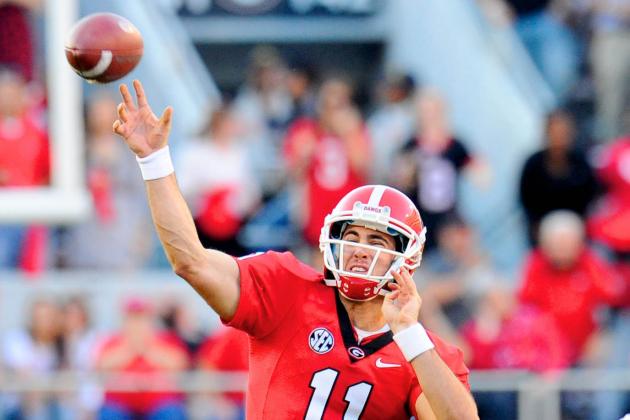 Dale Zanine-US PRESSWIRE

Season
2,448 yards, 21 touchdowns, 7 interceptions, 64.9% completion percentage
Last Game
Against Ole Miss, Murray had a huge day, going 21-of-28 for 384 yards, four touchdowns and zero interceptions. This was a huge win for Murray and the Bulldogs, putting them one step closer to a return trip to the SEC Championship Game.
Next Game
Look for Murray to put up big numbers again next week as Georgia travels to hapless Auburn. The Tigers have had major issues stopping teams in Defensive Coordinator Brian VanGorder's first year with the program.
Heisman Chances
Though Murray has had some monster games this season, he has struggled mightily against the two elite defenses he's faced, South Carolina and Florida. It would take a stellar performance in the SEC Championship Game for Murray to even get invited to New York for the ceremony.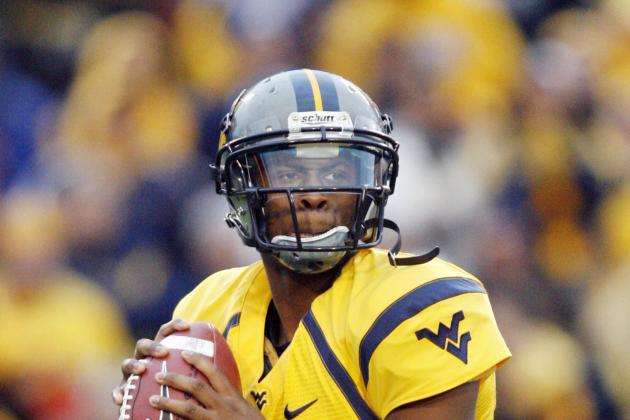 Charles LeClaire-US PRESSWIRE

Season
2,677 yards, 29 touchdowns, 3 interceptions, 72% completion percentage
Last Game
In the Mountaineers overtime loss to TCU, Smith went 32-of-54 for 260 yards, two touchdowns and one interception. This was the latest subpar performance for Smith who started the season on fire but has struggled—by his standards—in the last three games.
Next Game
West Virginia travels to Stillwater next week to take on Oklahoma State and should have a chance to put up some big numbers as this game will likely be a high-scoring affair. The Cowboys' offense puts up a lot of points and the Mountaineers haven't seemed interested in playing much defense this season, so expect Smith and the offense to have plenty of chances in this one.
Heisman Chances
Just a few weeks ago, seemingly every media pundit was of the opinion that the Heisman was Smith's to lose. But following West Virginia's three-game losing streak, it seems that he has done just that. While his numbers are still staggering, it's hard to take home the hardware when your team is losing games.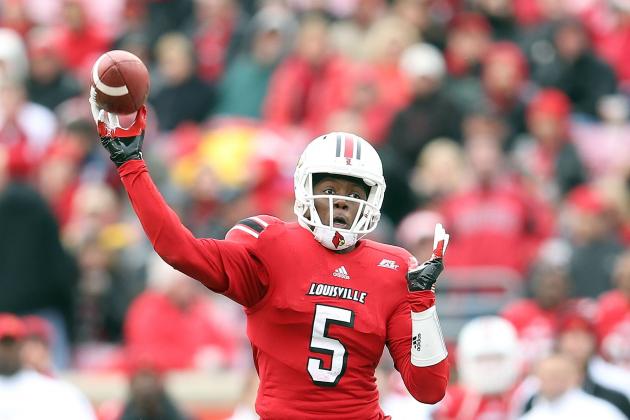 Andy Lyons/Getty Images

Season
2,434 yards, 18 touchdowns, 4 interceptions, 70.4% completion percentage
Last Game
Against Temple, Bridgewater had another solid game, going 19-of-28 for 324 yards, five touchdowns and zero interceptions. This was the fourth game this season Bridgewater has passed for at least 300 yards and his five touchdown passes was a season high.
Next Game
Louisville travels to Syracuse next week and Bridgewater should have another big day through the air. The Orange have not been especially good at defending the pass this season. In fact, Syracuse is currently tied with Pitt at 40th in the nation in passing defense, which is the same Pitt team that Bridgewater passed for over 300 yards against.
Heisman Chances
Bridgewater has led Louisville to the first 9-0 start in school history and has a great chance to run the table in the regular season. If Bridgewater has a big game against Rutgers in the season finale to secure the Big East Championship, we may very well see him get an invitation to New York. However, the chances of him actually winning the award are probably fairly slim.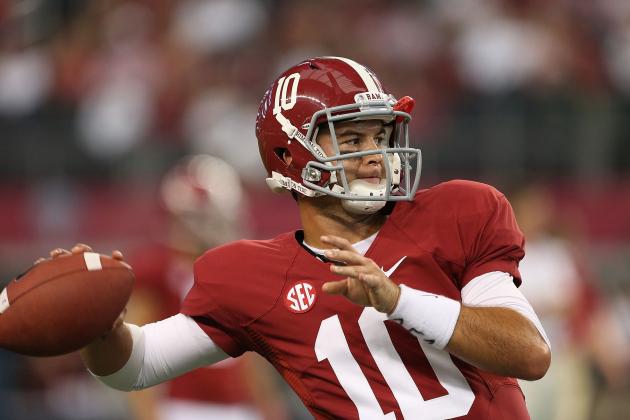 Leon Halip/Getty Images

Season
1,849 yards, 19 touchdowns, zero interceptions, 66.7% completion percentage
Last Game
Against LSU, McCarron didn't have a great game on the stat sheet, going only 14-of-27 for 165 yards, one touchdown and no interceptions. But you can throw those stats out the window. What people are going to take away from this game is McCarron's game-winning drive late in the fourth quarter to keep the Tide's perfect season intact.
Next Game
Next week, Alabama will play host to Texas A&M with a chance to wrap up the SEC West. While many programs might need to worry about a letdown game after such a huge victory in Baton Rouge, Bama is not one of those teams. Nick Saban will have his team ready to go, and McCarron should have another solid game against the Aggies.
Heisman Chances
McCarron is the quarterback for the No. 1 team in the nation, which pulls a lot of weight in the eyes of Heisman voters. Assuming that Alabama stays unbeaten, there's definitely a shot that McCarron will be getting an invite to New York. Still, I don't think he's putting up the numbers to make him a serious contender to take home the award this season.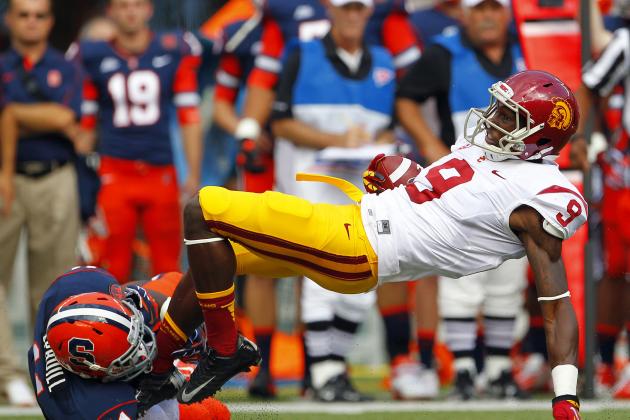 Rich Schultz/Getty Images

Season
88 receptions, 1,286 yards, 12 touchdowns
Last Game
This week in USC's loss to Oregon, Lee finished with 12 receptions for 157 yards and two touchdowns. With another huge game, Lee continues to make a case that he is the best wide receiver in the nation.
Next Game
USC gets Arizona State next week who has been stout against the pass this season, ranking seventh in the nation in passing defense. It will be interesting to see how Matt Barkley and Lee can bounce back from the huge loss to the Ducks against Sun Devils' defense.
Heisman Chances
While Lee may be the best receiver in the country, I don't see him being a serious contender for the Heisman because of USC's three losses already this season. However, if Lee continues to come up big in the next three games, USC can still win the Pac-12 South and have a signature victory over Notre Dame. That might just be enough to send Lee to New York for the ceremony.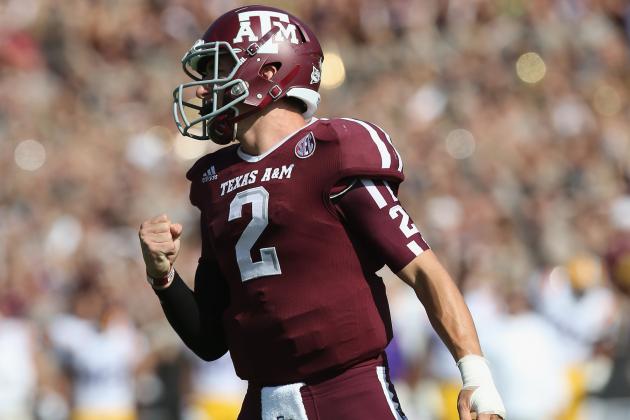 Ronald Martinez/Getty Images

Season
Passing: 2,527 yards, 16 touchdowns, 6 interceptions, 66.6%
Rushing: 138 attempts, 922 yards, 15 touchdowns
Last Game
In the Aggies' blowout win over Mississippi State, Manziel went wild on the Bulldogs to the tune of 30-of-36 passing for 311 yards and 21 rushes for 129 yards and two touchdowns on the ground. This kid just keeps getting better every week.
Next Game
The Aggies have the unenviable task of taking on Alabama on the road next week, so look for Johnny Football's ridiculous stats to slow down a bit against the Tide. This should be an interesting test for Manziel. Against a similar LSU defense, the true freshman did manage almost 300 passing yards. But the Tigers did force three interceptions and stymied Manziel's rushing attack, holding him to only 27 yards on the ground.
Heisman Chances
While no freshman has ever won the award, I wouldn't be surprised if Manziel were invited to the ceremony. He's on pace to surpass 4,500 total yards and 40 total touchdowns in the regular season. If those aren't Heisman finalist-type numbers, I don't know what is.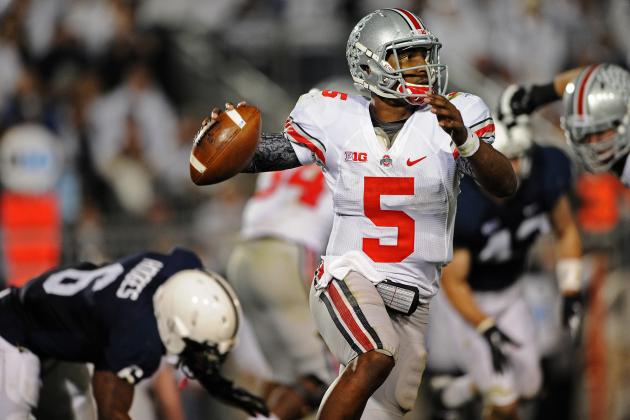 Patrick Smith/Getty Images

Season
Passing: 1,753 yards, 14 touchdowns, 6 interceptions, 56.9% completion percentage
Rushing: 184 attempts, 1166, 13 touchdowns
Last Game
Against Illinois Miller had another solid day, going 12-of-20 for 226 yards and two touchdowns through the air, plus 18 rushes for 73 yards and a touchdown.
Next Game
The Buckeyes have a bye next week before traveling to Wisconsin. The Badgers have had an up and down season, but expect them to give Miller and the Buckeyes all they can handle in Madison. Wisconsin is 16th in the nation in total defense. And with both Ohio State and Penn State ineligible to play in the Big Ten Championship Game, the Badgers will be playing to stay in control of the Leaders Division.
Heisman Chances
As Miller goes, so go the Buckeyes, and that's been pretty good this season. Ohio State has had some close calls, but it is sitting at 10-0 with only Wisconsin and arch rival Michigan standing in the way of a perfect regular season.
Unfortunately for the Buckeyes, that's all they'll have the chance to do because of their aforementioned ineligibility for postseason play. Miller is a legitimate Heisman threat, but the absence of a conference championship game could hurt his cause.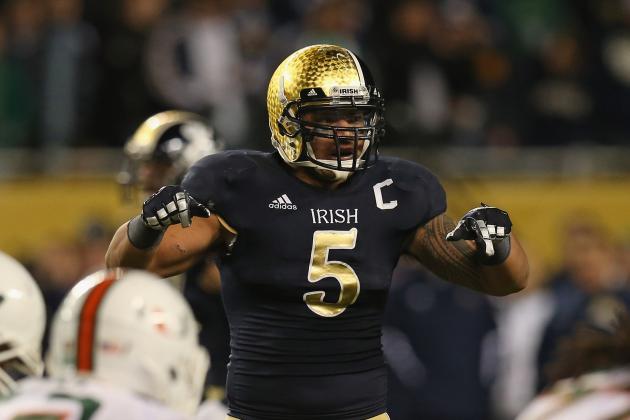 Jonathan Daniel/Getty Images

Season
85 total tackles, 19 tackles-for-loss, 5 interceptions, 2 sacks
Last Game
Against Pitt, Te'o didn't have a monster game, but still notched seven total tackles, was in on a sack and had a pass defended. Although not his best game statistically, Te'o can never be overlooked in how he affects the game with is presence in the middle of the field.
Next Game
Notre Dame travels to Boston College next week and expect Te'o to have another fine showing against the Eagles. Boston College is a pass-heavy team and Te'o may have a chance to add to his five interceptions on the season.
Heisman Chances
It's not often that a defensive player wins the Heisman, but there have been defensive finalist two of the last three years with Tyrann Mathieu in 2011 and Ndamukong Suh in 2009.
Te'o is the heart of a Notre Dame defense that has kept the Irish in close games throughout the season. If Notre Dame continues to win, expect to see Te'o at the ceremony with an outside chance to take home the trophy.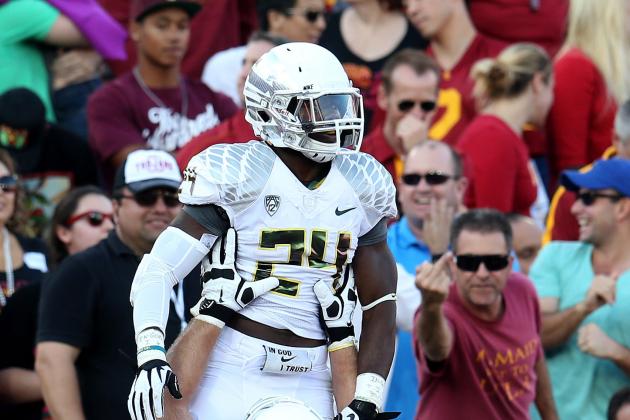 Stephen Dunn/Getty Images

Season
179 rushes, 1,295 yards, 19 touchdowns
Last Game
Barner ran all over USC, racking up a school record 321 rushing yards and five touchdowns. The Trojan defense had absolutely no answer for the Ducks offense, Barner in particular.
Next Game
Oregon goes back on the road to face the Cal Bears next week. Expect Barner to have another huge day on the ground for the Ducks as Cal is currently 71st in the nation in defending the run. The Bears give up and average of 161 yards per game on the ground, but don't be surprised if Barner goes well over 200 in this game.
Heisman Chances
Barner is arguably the most exciting player in the nation to watch with the ball in his hands. He has incredible vision and is lightning fast. And it doesn't hurt his Heisman cause that he's on the No. 2 team in the nation. At this point, Barner has to be considered one of the favorites to win the Heisman this season.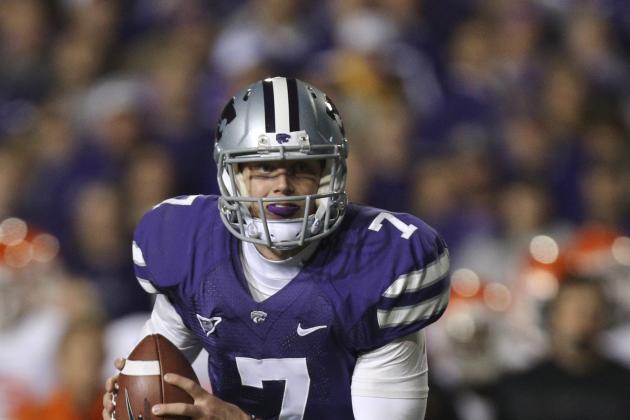 Ed Zurga/Getty Images

Season
Passing: 1,875, 12 touchdowns, 2 interceptions, 71.1% completion percentage
Rushing: 139 attempts, 703 yards, 17 touchdowns
Last Game
Despite leaving with the game in the third quarter due to a yet to be disclosed injury, Klein still went 16-of-22 for 245 yards through the air and had 17 rushes for 64 yards and a touchdown.
Next Game
Kansas State goes on the road next week to take on a tough TCU team that just upset then-No. 21 Oklahoma State. The question surrounding this game for Klein may not be how he'll play, but if he'll play at all. Bill Snyder has kept silent about the status of his star quarterback.
Should Klein be able to go—and I think we all know he will if at all possible—he may not be 100 percent and may struggle a bit against a pretty good TCU defense. Or he could be fine and will continue to run over anybody. We'll just have to wait and see.
Heisman Chances
With Geno Smith and West Virginia nose diving the past three weeks, Klein has emerged as the probable Heisman front-runner at this point. If he's healthy and can maintain his current level of play, it seems that the award is Klein's to lose.