Doug Martin, Brandon Marshall and Andrew Luck had huge Week 9 performances.
Marshall's three touchdown receptions helped the Bears stomp the Tennessee Titans, but he certainly had a lot of help.
Tampa Bay Buccaneers' rookie Doug Martin had a wonderful homecoming of sorts in Oakland, but the most impacting image came from Indianapolis.
Luck went head to head with another top-10-selected QB, but the No. 1 pick came out on top. Luck bested Ryan Tannehill and the Miami Dolphins 23-20. He threw for an NFL rookie-record 433 yards, and also tossed two touchdowns.
The Colts took the game in front of their head coach Chuck Pagano, who is battling leukemia.
He visited with the team after the game and his words were moving. I have a father battling cancer, and this speech affected me. Click here to see it on NFL.com.
Though not as spectacular as Pagano's inspirational words, these plays were worth noting.
My Gifs to You
Booker T would be proud of Adrian Peterson. It's time for a spinaroonie.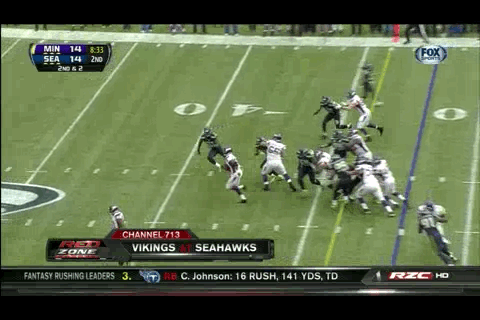 In the same game, Golden Tate does a spin, only his wasn't planned.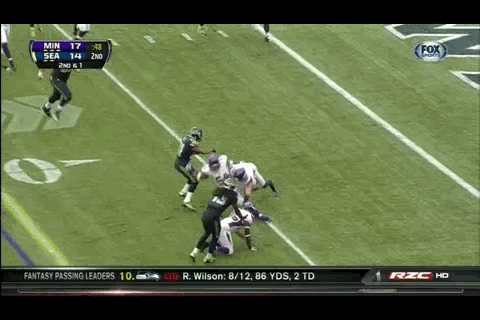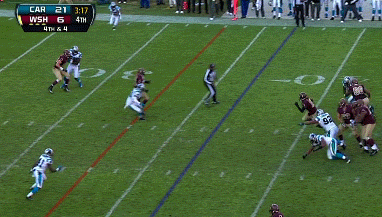 Yet another inadvertent spin, this one is from Robert Griffin III. Robert, I thought we talked about the sliding thing.
Darrius Heyward-Bey's one-handed grab wasn't enough to lead his team to victory. It was still a pretty grab, though.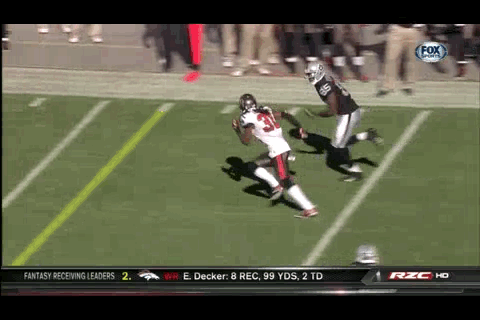 Mark Barron is a hitter.
He hits Darren McFadden so hard their helmets get lodged together. The biggest surprise here was that McFadden didn't get hurt on the play. McFadden would actually get hurt on another play later in the game, per Washington Post.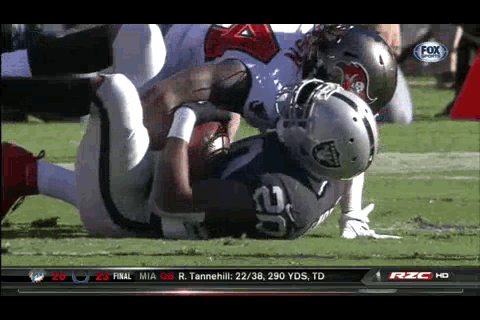 Here are the biggest stories of the ninth Sunday in the 2012 NFL season.
Cam Bests RGIII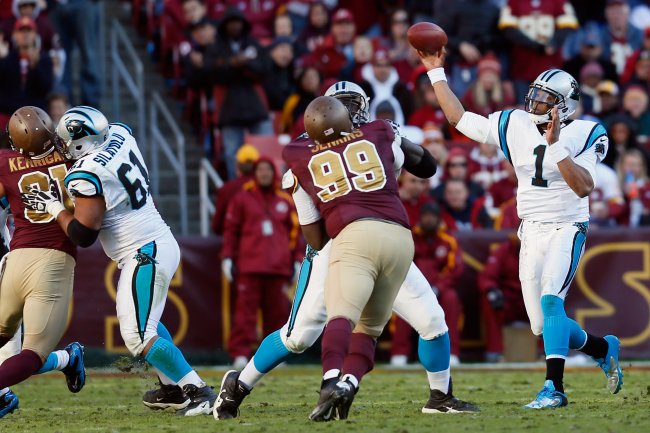 Rob Carr/Getty Images
Talks of the demise of Cam Newton are greatly exaggerated. Newton rose to the occasion today in a battle with the man destined to succeed him as the NFL's Rookie of the Year. Despite a busted thumbnail, Newton threw for 201 yards, a touchdown and ran for another score.
The Panthers' 21-13 victory was their second win of the season.
RGIII had a decent game with 215 yards passing and 53 yards rushing, but he did not find the end zone.
This scene was awesome at the end of the game. It's great to see Newton taking the time to connect with RGIII.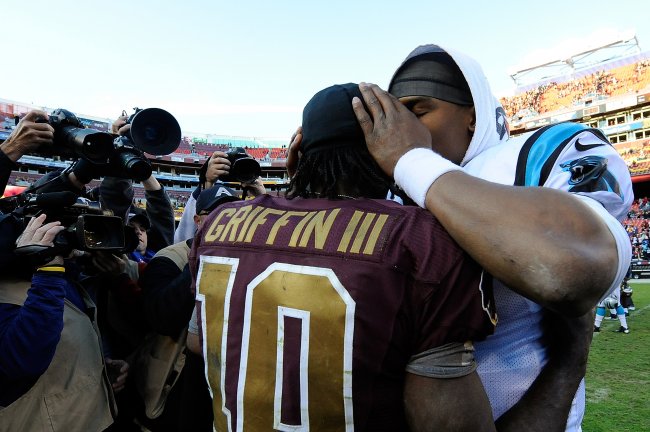 Patrick McDermott/Getty Images
Bill Voth of SpiracleBuzz.com had a key stat for Newton and Panthers' victories:
Cam Newton's won eight games in the NFL. He's thrown for a combined 0 INTs those eight games. #Panthers

— Bill Voth (@billvoth) November 4, 2012
How about B.J. Checket of Checket.com being a little less than fired up for the Presidential election:
The fact that the #Panthers won today actually excites me just a wee bit more than the #election. Wrong? OK…maybe a little.

— BJ Checket (@bchecket) November 4, 2012
Packers Keep Rolling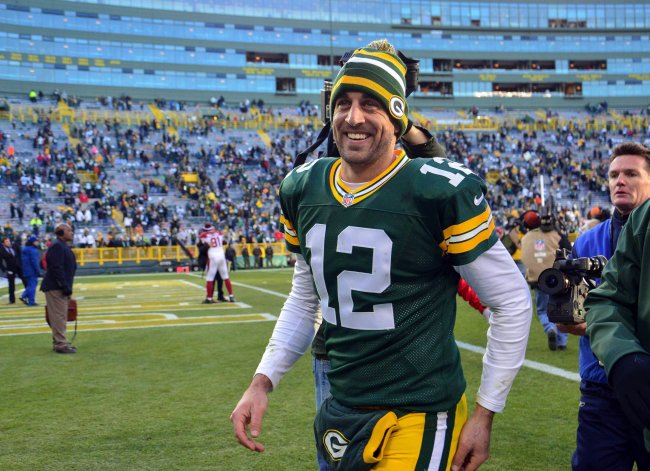 Benny Sieu-US PRESSWIRE
Green Bay is playing as well as any team in the NFL. They defeated the woeful Arizona Cardinals 31-17.
The Pack has now won four games in a row behind four touchdown passes from Aaron Rodgers. He completed only 18 of 30 pass attempts, but he found the end zone when his team needed him to.
The Packers improved to 6-3 on the season.
Mike Greenberg of ESPN had a great observation about the choice of guests by a long-time American TV staple.
I like Aaron Rodgers a lot, but two days before a presidential election, does he seem like an odd choice for 60 minutes? #Packers

— Mike Greenberg (@Espngreeny) November 4, 2012
ESPN Stats & Info gives us more insight into the Cardinals' futility at Lambeau Field:
Cardinals are now 0-6 at Lambeau Field.. via Elias, they are 1 of 3 active teams without a win at Lambeau (Broncos, Ravens) #Packers

— ESPN Stats & Info (@ESPNStatsInfo) November 4, 2012
The Bears' Defense Is Sick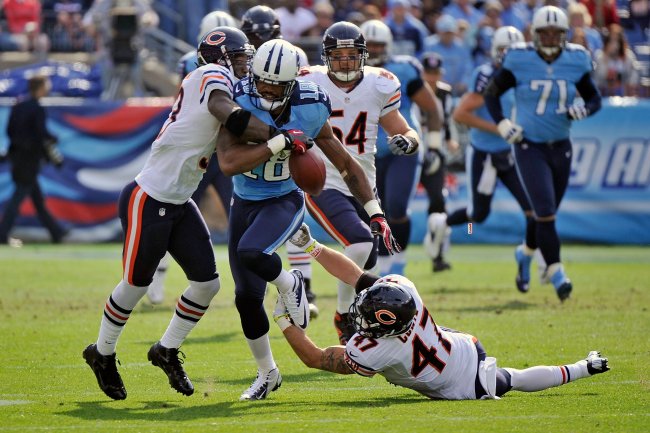 Frederick Breedon/Getty Images
The Chicago Bears put a monumental 51-20 beating on the Tennessee Titans. I mentioned Marshall's huge day, but the defense was again the story of this game.
Charles Tillman forced four fumbles in the game. The Bears' defense forced five turnovers overall. That ran their NFL league-leading total to 28 takeaways on the season.
The fifth takeaway was a pick-six from Brian Urlacher. It was the seventh defensive touchdown of the season for the Bears. Chicago outclassed the Titans in every facet of the game. They got a big punt return from Devin Hester that placed them inside the 10-yard line and a blocked punt that turned into a touchdown.
Chris Johnson ran for 141 yards, but 80 of them came on a late touchdown run after the Bears had removed most of their defensive starters.
The Bears are 7-1 and in first place in the NFC North.
Should be noted 3 TD receptions for #Bears WR Brandon Marshall today was a career high. He's had five games with 2 TD catches.
— Brad Biggs (@BradBiggs) November 5, 2012
#Bears CB Charles Tillman forced 4 fumbles today vs. #Titans...I forced a total of 4 fumbles in 7 years as a player.

— Matt Bowen (@MattBowen41) November 4, 2012
Doug Martin Explodes and The Bucs Hold On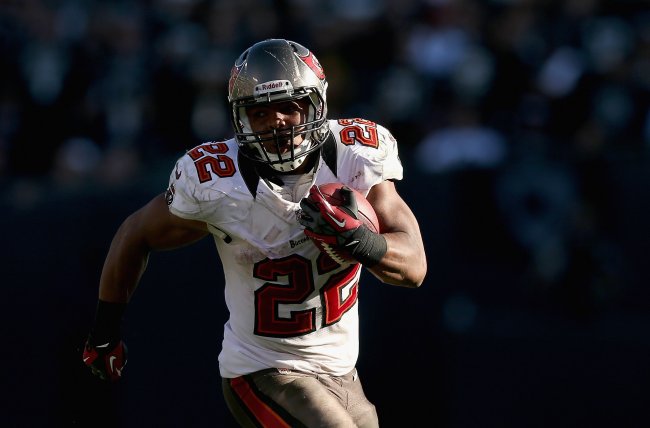 Ezra Shaw/Getty Images
The Tampa Bay Buccaneers rookie RB was amazing against the Oakland Raiders. His performance was the biggest factor in the Bucs' 42-32 win. He rushed for 251 yards and four touchdowns. Martin found the end zone from one, 45, 67 and 70 yards out.
The game definitely got exciting down the stretch.
Carson Palmer's late interception sealed the Raiders' fate as Martin's last touchdown was after the game was already decided. The rookie is originally from Oakland, Calif.; boy did he ever have a great day in his home city.
Meantime, Doug Martin is "puttin tha the team on his back doe"#Bucs

— Robert Flores (@RoFloESPN) November 4, 2012
Steelers Stump the Giants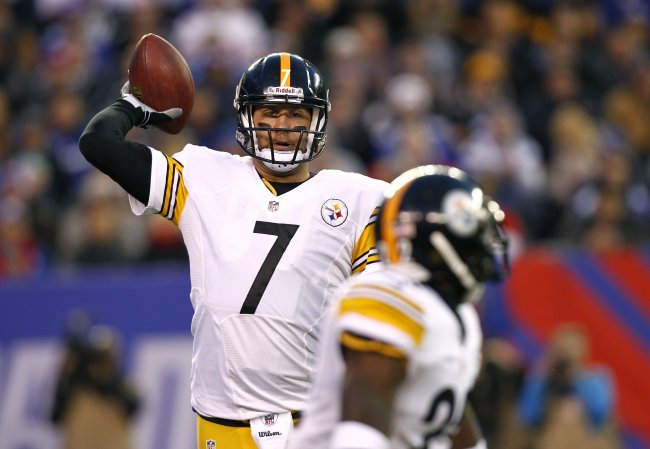 Jeff Zelevansky/Getty Images
This was a huge win for the Pittsburgh Steelers on the road. They came into MetLife Stadium to defeat the New York Giants 24-20. The Giants didn't turn the ball over quite as much as the Giants' previous opponents.
The Giants had been averaging four takeaways per game in their last four games. The Steelers only gave it away twice, and the Steelers' defense held Eli Manning to only 125 yards passing and an interception.
Great game.Great organizations.Would not mind seeing that again in the Super Bowl. #Steelers #Giants

— Jay Harris (@JayHarrisESPN) November 5, 2012
Watched Texans, Ravens, Broncos win today... None of them looked as good as #Steelers. They have as good a chance as anybody.

— Mike Greenberg (@Espngreeny) November 5, 2012
Here's the story from the rest of Sunday's action:
Broncos 31, Bengals 23
Peyton Manning is making John Elway looking like a genius. #Broncos

— Exavier Pope (@exavierpope) November 4, 2012
Ravens 25, Browns 15
#Ravens are now 34-5 when @rayrice27 has 15+ carries. Baltimore is 20-2 when Rice scores a least 1 rushing TD.

— Patrick Gleason (@PMGleason) November 4, 2012
Lions 31, Jaguars 14
#Lions RB Mikel Leshoure missed Wednesday's practice & scored 3 TDs. Calvin didn't practice & had 129 yards. I say ban practice.

— Anwar Richardson (@AnwarRichardson) November 4, 2012
Texans 21, Bills 9
#Texans @jjwatt just became the 11th player in @nfl history with 10 sacks & 10 passes defensed in a season

— Nick Scurfield (@NickScurfield) November 4, 2012
Seahawks 30, Vikings 20
#Seahawks now have 25 sacks on season. Had 33 last season total

— Dave Softy Mahler (@Softykjr) November 4, 2012
Follow Brian Mazique and Franchiseplay on YouTube and Twitter for reactions, analysis and news from the world of sports and sports video games