Atlanta Hawks vs. Oklahoma City Thunder: Live Score, Results and Game Highlights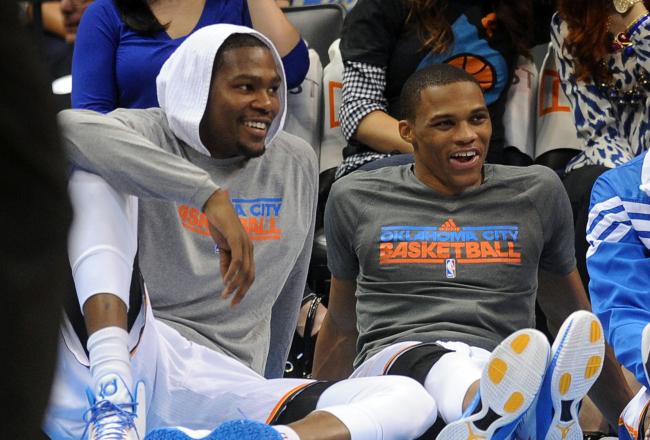 Mark D. Smith-US PRESSWIRE
The Oklahoma City Thunder (1-2) couldn't build off of their win against the Portland Trail Blazers on Friday and they were upset by the Atlanta Hawks (1-1) 104-95.
Al Horford led the Hawks with 23 points and 12 rebounds and he helped offset Kevin Martin's game-high 28 for Oklahoma City.
Kevin Durant had 22 points, 12 rebounds and eight assists but also committed six turnovers as the Thunder provided a shaky overall effort with 20 turnovers.
Final Score: Hawks 104-Thunder 95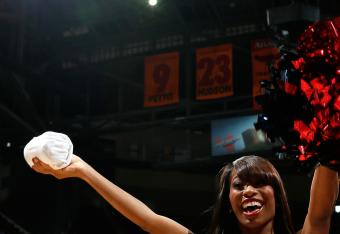 Postgame Storylines
1. The Hawks Steal a Win
Atlanta was sharp with the ball, handling it with care and efficiency, and the Thunder weren't. Simple as that.
Oklahoma City turned the ball over 20 times, highlighted by Durant's six, while the Hawks flew high and made just 10 turnovers.
2. The Battle of the Starting Point Guards
Russell Westbrook didn't have his finest game as he scored just 14 points on 5-for-18 shooting. His questionable decision-making on offense was made worse by his shaky defensive game.
A poor overall effort by a stsr player that has been inconsistent so far this season and can do much better than that.
Jeff Teague, on the other hand, had a very good outing and you could see that the game ran through him as he perfected every fastbreak opportunity and attacked the paint without fear.
3. Al Horford Steps Up
Huge game for the Dominican big man, as he stepped up with 23 points and 12 rebounds in the absence of another key piece like Josh Smith.
Horford dominated both offensively and defensively and the game was played on his terms on the painted area. Larry Drew couldn't have asked much more out of his center.
4. Kevin Martin's monster game
The 29-year-old shooting guard deserved a standing ovation for the way that he performed tonight, scoring a game-high 28 points in just 30 minutes off the bench.
The Thunder stashed him on the bench for too long in the third quarter after Martin had put up 22 in the first half.
If this is a sign of things to come, the Thunder will not miss Harden's contributions, at least as far as offense is concerned.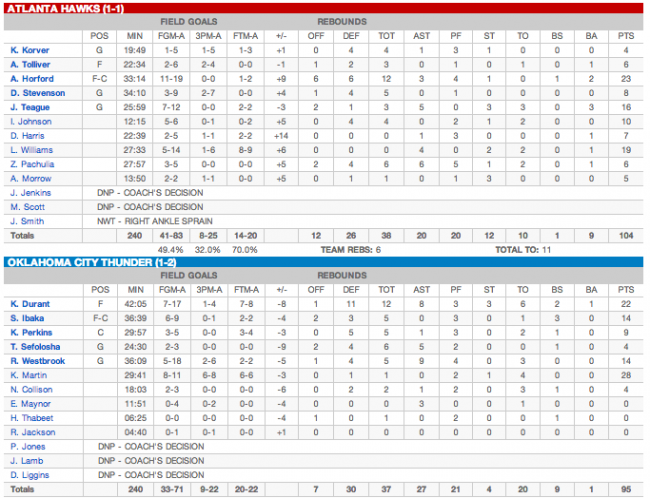 Hawks 104 -Thunder 95 Box Score
Hawks 104- Thunder 95. Final.
The Atlanta Hawks came into Oklahoma City as clear underdogs but pulled out a win despite not having Josh Smith.
The Hawks (1-1) made the difference in the second half, outscoring the Thunder 57-44 and displaying great effort both offensively and defensively.
Their mantra was simple. Force turnovers (20), take care of the ball (only 10 turnovers of their own) and feed Al Horford (23 points, 12 rebounds).
The Thunder (1-2) wasted a fine effort by Kevin Martin, who scored 28 points in 30 minutes off the bench.
OKC Leaders
K. Martin: 28 PTS, 8-11 shooting, 6-9 3-pointers.
K. Durant: 22 PTS, 12 REB, 8 AST, 7-17 shooting
R. Westbrook: 14 PTS, 9 AST, 5 REB, 5-18 shooting,
Hawks Leaders
A. Horford: 23 PTS, 12 REB, 11-19 shooting.
L. Williams: 19 PTS, 4 AST, 5-14 shooting.
J. Teague: 16 PTS, 5 AST, 3 REB, 7-12 shooting.
Hawks 102- Thunder 95. 0:20 left. 4th Quarter.
Westbrook sums up his poor game by missing the three that sealed the game. Big fourth quarter by Lou Williams, who ices the game with his free throws.
Hawks 100- Thunder 95. 1:03 left. 4th Quarter.
Hawks are over the limit with a minute left. Time for the Thunder to attack the basket relentlessly.
Hawks 100- Thunder 91. 1:28 left. 4th Quarter.
DeShawn Stevenson. For three. Dagger. Can OKC mount a comeback?
Hawks 97- Thunder 91. 2:24 left. 4th Quarter.
Big play by Westbrook scoring on the rebound, Horford answers with a bucket of his own. Clutch game by the Hawks' center tonight.
Hawks 95- Thunder 89. 2:59 left. 4th Quarter.
The Thunder's offense looks stagnant and the Hawks are more alive than ever.
Westbrook dribbles, dribbles and misses. Atlanta takes advantage of yet another careless turnover on the following possesion to score.
Hawks 91- Thunder 86. 4:24 left. 4th Quarter.
Lou Williams going ninja on the Thunder. Three-pointer to widen the lead to five as he scores Atlanta's last 10 points. What is happening to Durant? He looks shaken and has six turnovers in the game.
Hawks 86 - Thunder 82. 5:49 left. 4th Quarter.
HUGE play by Lou Williams getting to the basket and drawing the foul for the three-point play. Who will step up to seal the game for either team?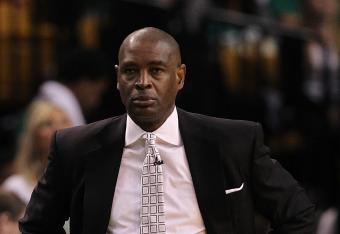 Hawks 83 - Thunder 82. 6:06 left. 4th Quarter.
Couple of questionable fouls by Pachulia have the Hawks asking what the refs are seeing. Larry Drew is livid. Zaza can't believe it.
Hawks 79-Thunder 79. 8:24 left. Fourth Quarter.
I can't stress this enough. Turnovers are the key to the game, Hawks have a 23-13 edge in points off turnovers tonight.
Hawks 79 - Thunder 79. 9:04 left. 4th Quarter.
Kevin Martin is a beast! It's like he wants to top whatever Harden is doing in Houston. 25 points and five threes off the bench. The last one tied the game up with nine minutes to go. Clutch.
Hawks 77- Thunder 76. 10:00 remaining. 4th Quarter.
Kevin Durant has just six points in the second half, but the Thunder are only down by on even though they keep turning the ball over. Sloppy night for the home team.
Hawks 75 - Thunder 74. End of Third Quarter.
Hawks broadcaster: "Ok, how many of you had the Hawks leading after three quarters tonight?".
The surprise is palpable in Oklahoma City as the Hawks play good defense and shoot timely threes to take the lead into the fourth quarter.
Turnovers are killing the Thunder, 15 total compared to just seven by the Hawks.
Hawks Leaders
A. Horford: 17 PTS, 8 REB.
J. Teague: 16 PTS, 7-12 shooting.
OKC Leaders
K. Martin: 22 PTS, 6-7 shooting
K. Durant: 17 pts, 10 REB
Hawks 70- Thunder 70. 1:30 remaining. Third Quarter.
The longer the Hawks stick around, the dicier things will get for OKC. Anthony Morrow gets his first three-ponter as a Hawk to give them the lead.
Why did Kevin Martin take so long to come in for the Thunder? That is one of the biggest mysteries of the third quarter as the Thunder have only scored 21 points.
Valiant effort by Al Horford tonight: 17 points, 8 rebounds.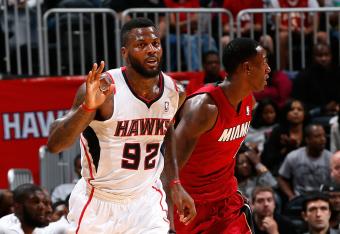 Hawks 64 - Thunder 65. 4:29 left. Third Quarter.
DeShawn Stevenson has more faith in his three-point shooting than Kyle Korver and is keeping Atlanta in the game. No, that sentence was not a typo.
Hawks 59-Thunder 65. 6:22 remaining. Third quarter.
Westbrook has made two threes in a row to give the Thunder their biggest lead of the game after the Hawks briefly tied it up.
The Thunder have too many weapons stepping up at different times to keep a scrappy Hawks team from taking back control of the game.
Hawks 47 - Thunder 55. 10:00 remaining. Third Quarter.
Russell Westbrook starts the second half with an airball and DeShawn Stevenson follows up with one of his own. Both teams clearly came out crisp out of the locker room.
Kevin Martin and Serge Ibaka are having the most positive impact so far with a +/- of plus 8. DeShawn Stevenson isn't having such a good time as he had a +/- of -7 in the first half.
The Hawks will need more from Lou Williams, who has just three points in 11 minutes. Russell Westbrook needs to wake up as well, he has only four points on 2-for-7 shooting and keeps getting scorched on defense.
If he does wake up from his slumber, expect the Thunder to pull away in the second half.
Hawks 47- Thunder 51. Halftime.
Kevin Martin goes all ninja on the Hawks as he scores 22 points in 15 minutes. In the first half. Durant went off for 11 in the first quarter but was AWOL in the second until he scored the last bucket of the half and he now has 13.
The Hawks are getting great production from Jeff Teague with 14 points but didn't finish strong as the Thunder mounted an 18-5 run to end the half.
OKC Thunder leaders
K. Martin: 22 PTS, 6-7 shooting, 1 AST, 1 REB.
K. Durant: 13 PTS, 5-8 shooting, 6 REB.
K. Perkins: 6 PTS, 3 REB..
Atlanta Hawks leaders
J. Teague: 14 PTS, 6-9 shooting.
A. Horford: 8 PTS, 4-9 shooting, 4 REB
I. Johnson: 6 PTS, 3-4 shooting, 2 REB.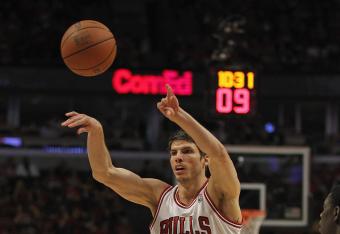 Hawks 45-Thunder 42. 1:28 left. Second Quarter.
Kyle Korver can't buy a basket. Are we sure Ashton Kutcher isn't playing in his place and that Korver isn't acting in Two and A Half Men? So that's why they moved the series to Thursdays...
Hawks 43 - Thunder 40. 2:31 remaining. Second Quarter.
Hawks keep playing well, but the Thunder inch closer as Al Horford has two fouls. Should Larry Drew take him out to prevent a third? His presence on the court is absolutely vital if Atlanta wants to hang on.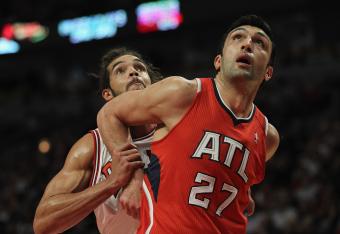 Hawks 42 - Thunder 36. 5:11 remaining. Second Quarter.
Hustle, hustle, hustle. That is the Hawks'mantra as Zaza grabs his own rebound after a miss to score. Kevin Martin tracker: Another three, 15 points in 10 minutes. Who needs James Harden?
This article is
What is the duplicate article?
Why is this article offensive?
Where is this article plagiarized from?
Why is this article poorly edited?

Oklahoma City Thunder: Like this team?