Ohio State Basketball: Full Preview, Predictions and Storylines for 2012-13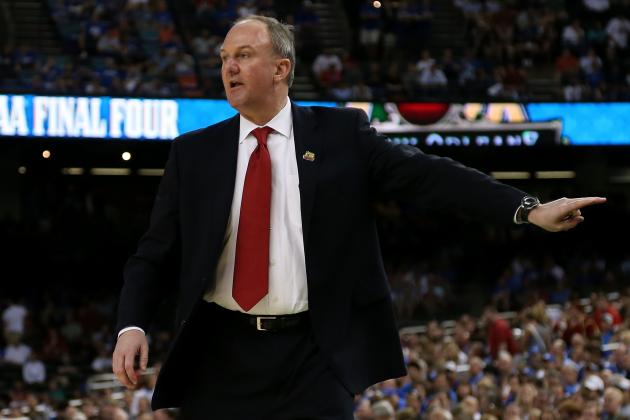 Chris Graythen/Getty Images

No Jared Sullinger, no problem.
Sullinger, one of the top interior collegiate players over the last two years, led Ohio State to 31 victories and the Final 4 last season, but despite his departure to the NBA, you can bet Thad Matta's expectations will remain just as high for his Buckeyes.
And it's not hard to see why.
Preseason All-American Deshaun Thomas has the chance to establish himself as the best player in college basketball, Aaron Craft has spent the offseason stealing the ball from little kids at the park—because that's the only way he knows how to play—and the young talent is bursting at the seams in Columbus.
Let's take a look at what to expect for the Buckeyes in 2012-13.
Begin Slideshow

»
Greg Bartram-US PRESSWIRE

SG Amedeo Della Valle (Freshman):
Certainly not Thad Matta's best recruiting class ever, but the amount of young talent already in Columbus coupled with a lack of available scholarships and an already-solid 2013 class means that it doesn't have to be.
And while Della Valle likely won't make a resounding impact right away, it's important not to look past him.
The 3-star (according to Rivals) combo guard isn't going to be mistaken for Gerald Green anytime soon, but he has solid size (listed at 6'3" by Rivals and 6'5" by ESPN), a deadly jump shot that extends to the three-point line and underrated ball-handling skills.
Most importantly for a guard in Matta's rotation, the young Italian has an incredibly high basketball IQ—as would be expected from a Findlay Prep star—and will be trusted for minutes from Day 1.
According to Lenzelle Smith Jr., Della Valle might soon be reminding Buckeye fans of another decent shooter (via The Columbus Dispatch's Bob Baptist):
Lenzelle said defenses will have to pay attention to Della Valle as they did Diebler. "Anything wide open, he's going to make it." #buckbk

— Bob Baptist (@BBaptistHoops) October 29, 2012
Yes, that would be Big Ten career three-point leader, Jon Diebler. OK, maybe it's not such a bad recruiting class after all.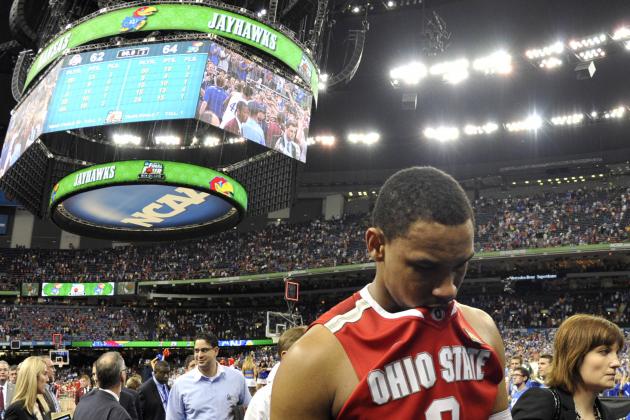 Bob Donnan-US PRESSWIRE

PF Jared Sullinger (Draft): 17.5 ppg, 9.2 rpg, 1.1 bpg, 1.2 spg, 30.4 mpg
SG William Buford (Graduation): 14.5 ppg, 5.0 rpg, 1.6 3pg, 33.8 mpg
G Jordan Siebert (Transfer): 3.0 ppg, 1.4 rpg, 0.8 apg, 0.5 spg, 11.4 mpg
SF J.D. Weatherspoon (Transfer): 2.9 ppg, 1.1 rpg, 0.2 apg, 0.2 bpg, 0.2 spg 6.0 mpg
Sully, as the kids like to call him, isn't someone you can replace. It's still unsure just how effective the under-the-rim, old-school big man will be with the Boston Celtics, but he was the perfect college player.
In two seasons with the Buckeyes, Sullinger was a double-double machine. At 6'9", 260 pounds, he was a load underneath and impossible to keep off the boards. While his game wasn't always pretty on the offensive end, he could score in a variety of ways and even started to develop a three-point shot as the season wore on.
He was arguably the most dominant interior presence in college basketball (not named Thomas Robinson) over the past two years, and Ohio State's season will be reliant on how well it replaces his production.
Moreover, Buford's ability to hit the outside shot could also be sorely missed if junior Lenzelle Smith Jr. doesn't take the expected next step in his progression.
The Buckeyes may not be taking a hit to their starting lineup like, say, North Carolina or Kentucky, but these are two huge departures nonetheless.
The starting lineup is, for the most part, a lock.
Reigning Big Ten Defensive Player of the Year and everyone's No. 1 candidate for Most Hated Player Because He's Annoyingly Effective, Aaron Craft, is the obvious leader and starter at point guard.
Preseason First-Team All-American Deshaun Thomas' spot is somewhere around 101 percent certain.
Lenzelle Smith Jr. showed flashes of brilliance last season both against Indiana (28 points on 12 shots) and in the Big Dance (11 points, 1.8 threes made per game), and will start at the 2.
The final wing and post positions, however, are a little more up in the air.
Amir Williams should start at center simply because of his size (6'11", 250 pounds). He certainly isn't as experienced (6.6 mpg last year as a freshman) as lone senior Evan Ravenel, but Ravenel will only play center when Thad Matta decides to go small.
Then you have the most intriguing battle of the past three months: LaQuinton Ross. vs. Sam Thompson.
Most expected that Thompson would grab the starting spot, but during last week's exhibition against Walsh, Matta went with Ross to begin things off. Sophomore No.1, Ross, finished with 13 points and five rebounds in 21 minutes. Sophomore No. 2, Thompson, played more minutes off the bench, 29, and chipped in 11 points, four rebounds, four assists, three blocks and two steals.
For what it's worth, I'm a bigger fan of Thompson. He has the athleticism to step on Yao Ming's head. (See above video. Yikes.) And while his outside shot is far from where it needs to be, he's an effective slasher who's also dominant and disruptive on the defensive end.
It could end up being that Matta will use him more than Ross, but he just likes his energy off the bench, similar to Ravenel. It could also mean that Matta will be playing around with multiple different starting lineups to begin the season.
| | | |
| --- | --- | --- |
| Position | Starter | Backup |
| Point Guard | Aaron Craft | Shannon Scott |
| Shooting Guard | Lenzelle Smith Jr. | Amedeo Della Valle |
| Small Forward | LaQuinton Ross | Sam Thompson |
| Power Forward | Deshaun Thomas | Evan Ravenel |
| Center | Amir Williams | Trey McDonald |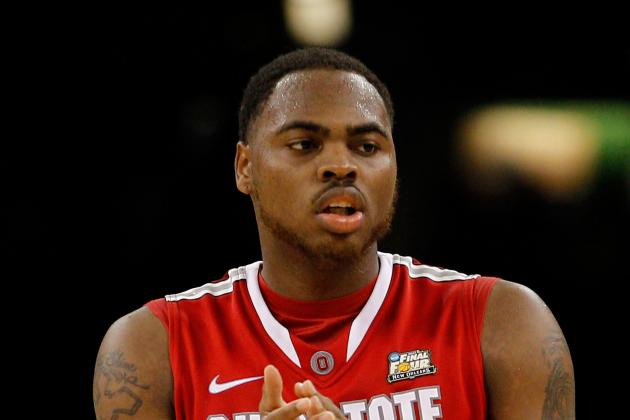 Chris Graythen/Getty Images

Sullinger Who?
Deshaun Thomas doesn't play like Jared Sullinger, but from the looks of last season and early indications this fall, he'll have no problem replacing the powerful big man's production.
Playing in Sullinger's shadow for most of the season, Thomas still managed 15.9 points on 52 percent shooting and 5.4 rebounds per game. The talented junior also knocked down 1.3 treys per game at a 34.5 percent clip.
Thomas can score in a variety of ways. He doesn't have as many post moves as Sullinger, but he gets out in transition, knows where to position himself for offensive rebounds and put-backs and is a tremendous mid-range shooter. Should Thomas continue to improve on his accuracy from long range, there's no question he'll follow through on his preseason hype.
They're Craftyyyyy
As is the prerequisite for all Big Ten teams, this Buckeyes squad is tremendous defensively, and it's led by Aaron Craft, one of the best—if not the best—on-ball defenders in the nation.
The lightning-quick junior has fast feet and even faster hands. He often gets a little too aggressive, but even more often, he frustrates opposing point guards into turnovers. Don't be surprised if he surpasses his 2.5 steals per game mark from last year.
Of course, the Buckeyes have a few more defenders, too. Lenzelle Smith Jr. is one of the more underrated defenders in the conference, Sam Thompson's athleticism makes him a pest on the outside and Amir Williams, who blocked a ridiculous 0.8 shots in just 6.6 minutes per game last year, serves as the perfect safety valve.
Good luck scoring on this team.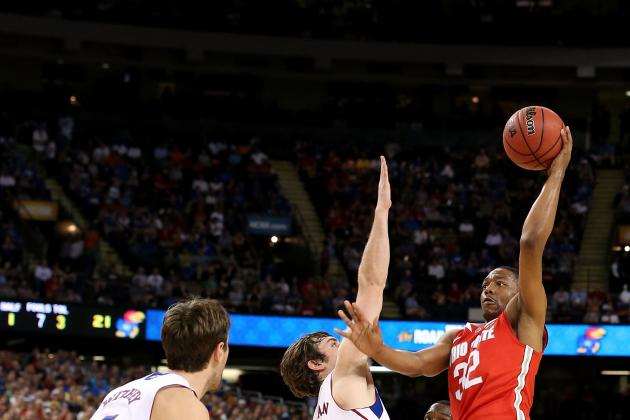 Jeff Gross/Getty Images

Baby Buckeyes...Kind Of
Juniors Aaron Craft, Deshaun Thomas and Lenzelle Smith Jr., along with senior Evan Ravenel, give the Buckeyes a good amount of experience.
But the players Thad Matta will be relying on for important depth bring along a ton of youth.
Sophomores Sam Thompson and Shannon Scott played 10.6 minutes per game last year. Amir Williams, who is expected to start, played 6.6. LaQuinton Ross played just 3.9 and never got off the bench during the Big Dance.
There's plenty of talent on this squad, but there's also plenty of unknown.
Can They Score?
Deshaun Thomas will be good for 20 most nights and 30 some other nights, but other than that, the Buckeyes don't have a legitimate scoring option.
Craft is more there for defense and setting others up, although he showed against Gonzaga last March that there is indeed potential for more on the offensive end.
The sky is the limit for Smith when he's knocking down his shot like he was at the end of the season, but consistency could be a problem for the junior.
Thompson and Scott combined to hit 1-of-32 from long rang last season—seriously. The electric Thompson's ability to get to the rack should quell that worry at times, but if teams start to back off him, then trouble could come.
More experience for Ross should help him contribute more on the offensive end, but it's unclear if that will be enough for him to make a necessary impact.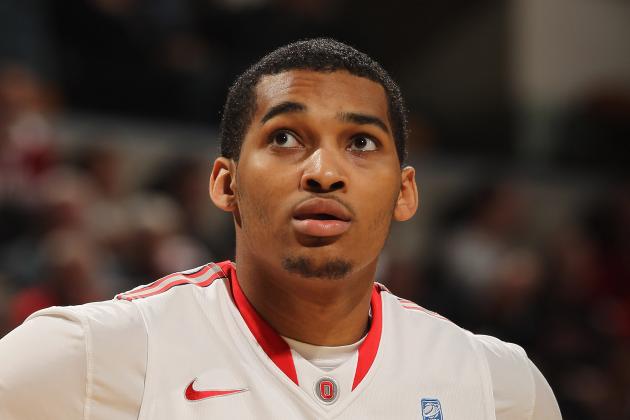 Jonathan Daniel/Getty Images

How do you Replace the Irreplaceable?
We've already mentioned that Deshaun Thomas should do a solid job of replacing Jared Sullinger's production, but will it be enough?
Yes, Sullinger scored and rebounded a lot, but he also drew defenders to help free shooters and served as a force on the inside that was nearly impossible to gameplan for. Thomas doesn't really play Sullinger did with his back to the basket, and he won't force as many double-teams.
Throw in the loss of William Buford, and the Buckeyes might just need someone besides Thomas to step up on the offensive end.
Will Aaron Craft further round out his game and start making a habit out of getting into the lane? Will Lenzelle Smith Jr. find some consistency whilst hitting his sky-high potential? Which, if any, of the talented sophomores will come to the rescue when needed?
Battle of the Opposites
Athletic slashing freak versus terrific outside shooter. Up-and-coming defensive star versus potentially unstoppable offensive force. Short first name versus long first name. Long last name versus short last name.
With Sam Thompson and LaQuinton Ross, Thad Matta certainly has some versatility out of the small forward position, but he'll also have some decisions to make regarding the minutes. Nonetheless, his tough job is our intriguing storyline to watch.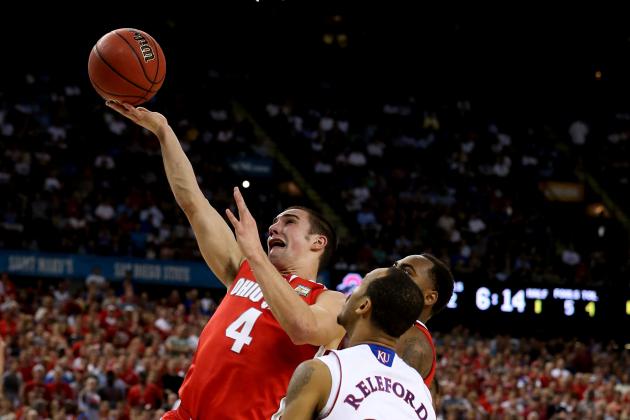 Jeff Gross/Getty Images

There's a reason this team is ranked No. 4 to start the season. The ceiling is, without a doubt, a national championship.
The Buckeyes have an elite scorer and a National Player of the Year candidate in Deshaun Thomas. They have the veteran point guard and gaudy defender in Aaron Craft. They have one of the best overall defensive squads in the country.
The pieces are there for Thad Matta and company; he just needs a little bit of glue to hold them all together.
If Matta gets the expected increase in production from guys like Lenzelle Smith Jr., Sam Thompson, LaQuinton Ross, Shannon Scott and Amir Williams—or even just a few of them—this Buckeyes team is going to be all kinds of dangerous on both sides of the ball.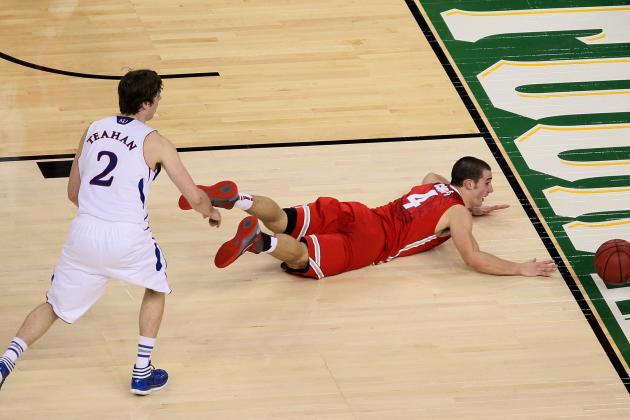 Ronald Martinez/Getty Images

Thomas, Craft and, to a lesser extent, Smith give this team enough talent to ensure the NCAA tournament as its floor. Even if everything goes painfully wrong, it's hard to imagine the Buckeyes missing the Big Dance.
However, if Ohio State's young players don't take that next step of progression and if Craft continues to only be a force on the defensive end, this team is going to struggle to score. Should that happen, a hot-shooting team could conceivably pull off an early-round upset.
It's a longshot, but crazier things have happened.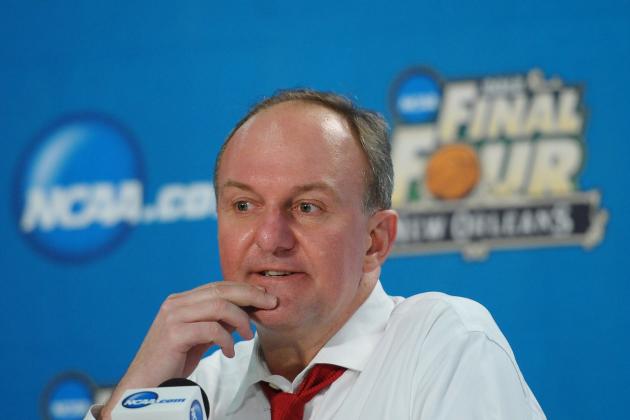 Derick E. Hingle-US PRESSWIRE

25-6 (13-5 Big Ten), Second in Big Ten
The out-of-conference schedule shouldn't provide too many tough tests for Thad Matta's squad.
They open the season with Marquette in Charleston before taking on Rhode Island and then Washington or Seton Hall in the Basketball Hall of Fame Tip-Off. The only other two challenges should be at No. 8 Duke and at home against No. 7 Kansas.
Mike Krzyzewski always has his teams playing well in the preseason, and I think Duke, which has the weapons to score on Ohio State, will handle the Buckeyes in Durham. Other than that, don't be surprised if Ohio State gets into the Big Ten unscathed.
That's where the fun starts.
The Big Ten isn't necessarily deep, but it's incredibly top-heavy. Indiana, as you may have heard, sits at No. 1. Michigan is No. 5. Tom Izzo always seems to have Michigan State playing above expectations, but the Spartans are at No. 14 nonetheless. Wisconsin rounds out the Top 25 at No. 23.
Ohio State will benefit from the fairly easy early-season schedule, as its young players will gain important experience, but don't be surprised if the top Big Ten schools, per usual, beat each other up during conference play.