Titans vs. Bears: Winners and Losers from NFL Week 9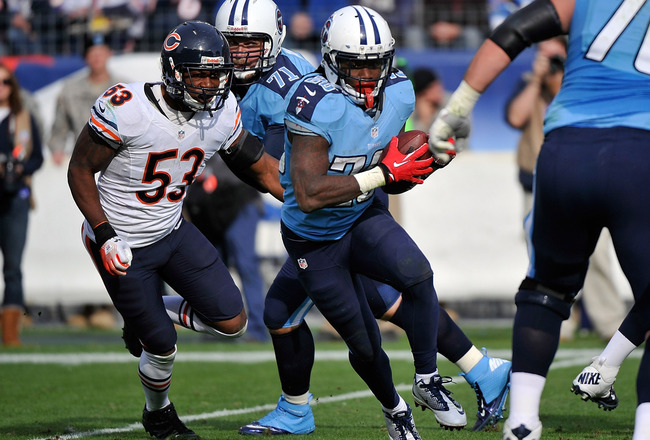 Frederick Breedon/Getty Images
Let the finger pointing begin if you're a Tennessee Titans fan following this latest loss.
Things got to the point of utter embarrassment for the Tennessee Titans in their one-sided affair against the Chicago Bears, which ended in a 51-20 loss for the Titans.
Quite frankly, no one should be walking away from this game a winner, and picking losers from this game would be as simple as looking down the roster.
However, some players played hard until the end, while others seemed disinterested by the time the second half rolled around.
This is easily rock bottom for the Titans as they fall to 3-6 and search for answers all across the board.
Winner: Zach Brown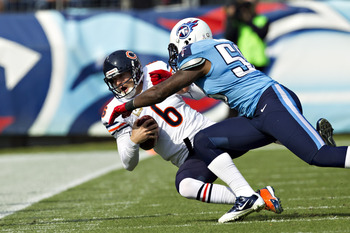 Wesley Hitt/Getty Images
The 51 points the Bears scored is definitely misleading in the sense that the Titans defense did put together a solid outing until the game got out of hand due to poor ball security.
Zach Brown stepped in for the injured Will Witherspoon and put up a very strong outing that ended in 10 tackles.
It's really too bad about all of the sloppy miscues by the Titans, because the defense actually showed up for a good portion of the game. Brown played a big part in that, and he's a key ingredient for the future of this Titans defense.
Brown made a strong case for being a starter moving forward, along with Akeem Ayers and Colin McCarthy.
Loser: Michael Griffin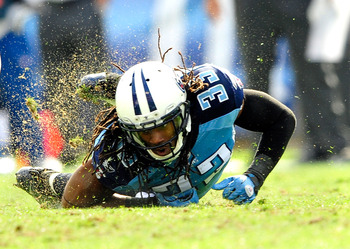 Grant Halverson/Getty Images
The poor outings are starting to pile up for Michael Griffin this season.
Everyone knows that the Titans have struggled greatly in the tackling department, and Griffin was on full display with this weakness against the Bears.
The poor tackling technique has become such an epidemic for Griffin that the new term being coined is "Griff whiff."
Griffin seems to have lost that pop that he had just a few seasons ago, and a good example of that was his attempt to tackle Matt Forte near the goal line.
That play resulted in a scrum that pushed Forte into the endzone, but Griffin could've prevented that with a solid tackle.
At this point, Griffin seems to be a lost cause. He's owed a lot of money, so that's bad news for the Titans if this continues.
Winner: Nate Washington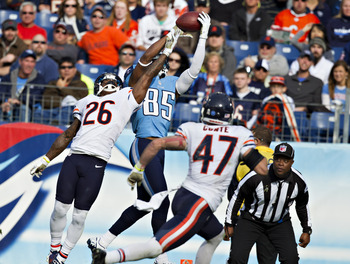 Wesley Hitt/Getty Images
For the simple reason that Nate Washington kept the score from being even more embarrassing than it already was, he's a winner coming out of this game.
Even though his fourth touchdown catch of the season didn't mean much by this time in the game, it was still an amazing catch that was really perfectly defended by the Bears.
Washington still seems to be giving his full effort each and every game, which is more than we can probably say about most of the Titans roster right now.
Loser: Chris Johnson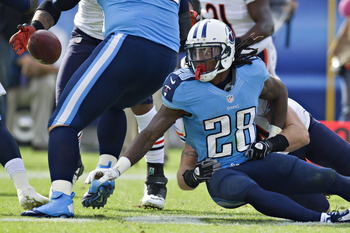 Wesley Hitt/Getty Images
This is a classic case of how misleading stats can be.
No matter how flashy that late touchdown run seemed to be, you have to realize it came at a time when the Bears defense had in backups and weren't playing with much intensity.
It's not just the two fumbles by Johnson that makes him a loser coming out of this game. His whole sideline demeanor compounded the problem.
Following his second fumble, Johnson's demeanor on the sideline was not one you would want to see from your highest-paid player. He simply seemed to not really care.
The two fumbles could be forgiven if Johnson were displaying better leadership as the team's star player, but he certainly didn't show that in this game.
Winner: Derrick Morgan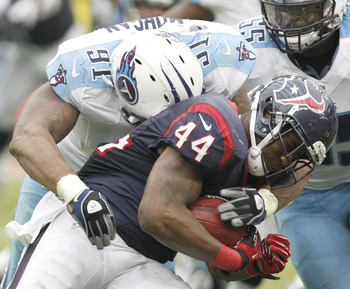 Thomas B. Shea/Getty Images
It's starting to look like Derrick Morgan is finally coming along, and he was getting into the backfield the entire game.
One of his quarterback hurries helped lead to a sack from Kamerion Wimbley.
Morgan also added two quarterback hits on Cutler to the day.
Now that Morgan is finally healthy, his numbers should start blossoming like the Titans desperately need them to.
The only way this defense is going to improve is if the defensive line starts racking up some sacks every game.
Loser: Mike Munchak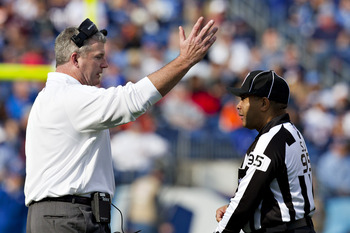 Wesley Hitt/Getty Images
It's painfully clear that Mike Munchak has lost touch with this team. Not only are the game plans not working, but the players are now starting to commit a slew of dumb penalties.
You would've expected to see a fiery head coach storming the sideline while this circus was going on in the first half, but instead you saw a coach that really looked in over his head.
That disconnect seems to be rubbing off on the players. Guys like Jared Cook, Michael Griffin and Chris Johnson had no emotion at all to show that they were upset by the team's performance.
There's a serious problem when the fans seem more upset than the head coach.
Maybe it takes a loss like this to get this team to play with some intensity, because it was clearly lacking against the Bears. That falls on the head coach, and Munchak can't let this continue to happen.
Keep Reading

Tennessee Titans: Like this team?