Dolphins vs. Colts: Miami's Biggest Winners and Losers from NFL Week 9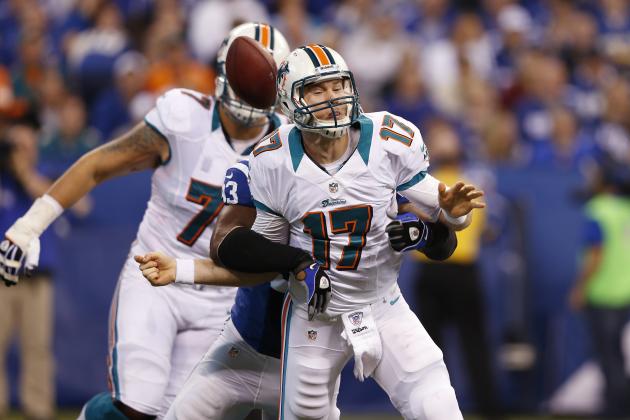 Joe Robbins/Getty Images

Just as the Miami Dolphins bandwagon was filling up, Andrew Luck single-handedly derailed it.
Luck and the Colts offense terrorized the Dolphins defense with 433 passing yards and 530 yards of total offense on Sunday. Indy converted 13-of-19 third downs and finished the game with almost 10 more minutes of possession.
Despite Ryan Tannehill's best efforts, Miami's offense ultimately couldn't keep up with Indy's firepower. Although the 'Phins received great contributions from skill players across the board, Jake Long had arguably the worst game of his career, which left a hobbled Tannehill under duress all day.
Although this loss deals with a damaging blow to the Dolphins' playoff hopes, they're still right in the thick of things at 4-4.
If, however, Miami's defense plays like this again, then it can forget about playing beyond December.
Begin Slideshow

»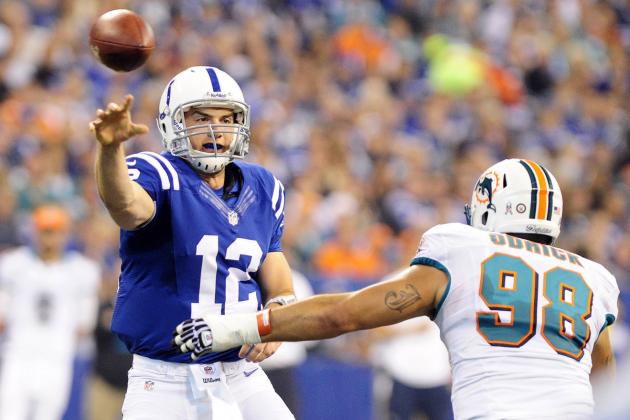 Thomas J. Russo-US PRESSWIRE

Yes, Andrew Luck is the greatest thing since sliced bread, but he's still a rookie.
Yet the Dolphins made him look like Peyton Manning.
Luck set a record for most passing yards in a game by a rookie quarterback by slicing and dicing Miami's secondary up for 433 passing yards. He literally picked them apart despite throwing to names such as LaVon Brazill, T.Y. Hilton, Donnie Avery and Dwayne Allen.
Even the front seven struggled with Luck, who dodged countless sacks.
This was an incredibly embarrassing performance for a defense that's supposed to be the foundation of this team. The Dolphins' playoff hopes are alive and well, but have absolutely no chance of making it if the defense doesn't step it up.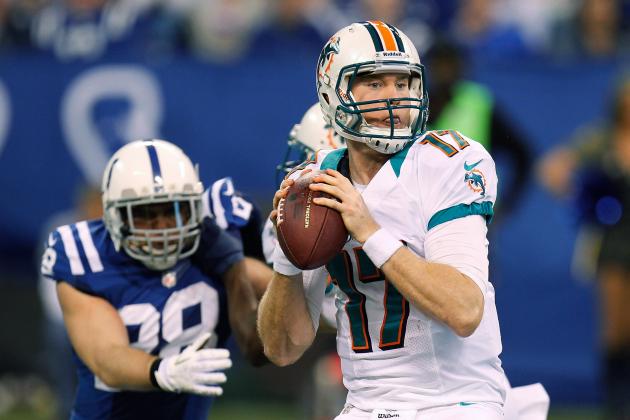 Gregory Shamus/Getty Images

Ryan Tannehill had a chance to win this game for the Dolphins in the fourth quarter, but he failed to string together a game-winning drive.
Still, you can't knock him.
Not only was Tannehill playing with a knee brace on his banged-up left knee, but he also hardly received any protection on Sunday. The Colts registered at least six quarterback hits, a few of which could've knocked him out of the game. Tannehill still managed to complete 22 of 38 passes for 290 yards and one touchdown, finishing the game with a 90.9 quarterback rating.
Also, don't forget that while Tannehill's supporting cast has elevated its play this season, it's still one of the league's worst. Sure, Andrew Luck's isn't exactly spectacular either, but at least he has Reggie Wayne.
Tannehill is keeping the Dolphins in every game, and the fact that he's doing it with such a sub-par stable of weapons is extremely respectable.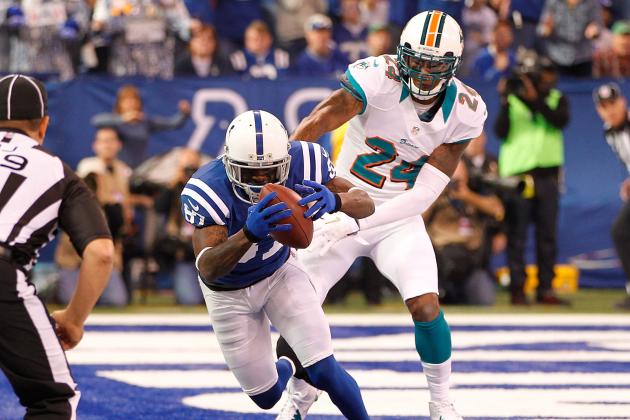 Gregory Shamus/Getty Images

Last week, I ranked Sean Smith at No. 5 in my midseason player power rankings.
After Sunday's miserable performance, he has fallen out of the top 10—if not the top 15.
Smith was torched play after play by everybody from T.Y. Hilton to Reggie Wayne and Donnie Avery. It's hard to image how Smith's afternoon could've been worse—but oh yeah, Hilton dropped a potential touchdown pass after torching Smith on a fly pattern. .
Just when it looked like Smith had finally turned the corner, he suffered a huge setback. This was a very discouraging performance for a player that just can't maintain consistency, and it's games like this that have to make the Dolphins hesitant to offer him a big contract after this season.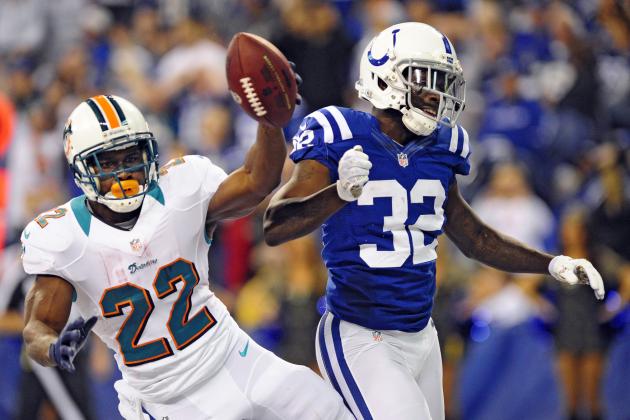 Thomas J. Russo-US PRESSWIRE

Why did the Dolphins abandon the run?
For the first time this year, both Reggie Bush and Daniel Thomas were running the ball effectively. They combined for 77 rushing yards on 16 carries, and the Dolphins never trailed by more than three points.
Yet inexplicably, Miami ran the ball only once in the fourth quarter.
It seems like games just get away from Mike Sherman sometimes. He also prematurely abandoned the run in the Dolphins' losses to the Texans and Jets. Considering Ryan Tannehill was hindered and the offensive line was struggling, I can't understand the logic here.
On a brighter note, it's comforting to see the running game thrive after a few weeks of futility. Both backs also contributed in the passing game, catching two passes for 25 yards each.
Also, Reggie Bush did this: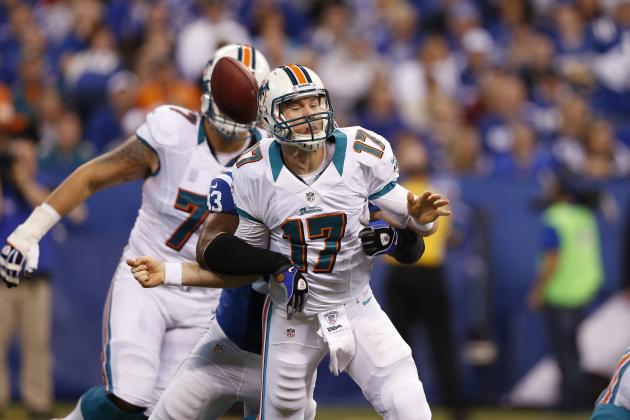 Joe Robbins/Getty Images

Let's hope Jake Long has an undocumented injury because he looked absolutely awful on Sunday.
This was one of the worst, if not the worst game of Long's career. Dwight Freeney dominated him from the get-go and didn't let up. Freeney delivered two devastating blindside hits on Ryan Tannehill, both of which could've severely injured the QB.
Long was also penalized for holding multiple times.
Frankly, Long hasn't been himself this season, but today was the most uncharacteristic performance we've seen from him. At this point, it's worth wondering whether he's in a funk or if maybe he's just not an elite offensive tackle.
When Long's contract expires after this season, the Dolphins will have a serious dilemma on their hands.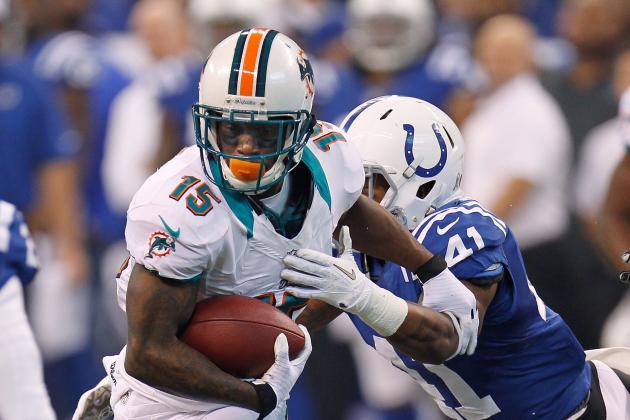 Gregory Shamus/Getty Images

Although the Dolphins have difficult decisions to make regarding Sean Smith and Jake Long's expiring contracts, they have an easy decision to make with Brian Hartline's.
Although Hartline has disappeared at times this season, he has played like a stud at others. On Sunday, he was at his best, reeling in eight receptions for 107 yards. Granted, the Colts secondary was banged up (and shoddy to begin with), but the Dolphins needed somebody to step up and Hartline answered the call.
And of course, Davone Bess was up to his old tricks.
He caught six passes for 67 yards and remains an uber-reliable wideout for Ryan Tannehill to lean on. On a roster littered with so many frustratingly inconsistent players, it's soothing to watch Bess bring his A-game week in and week out.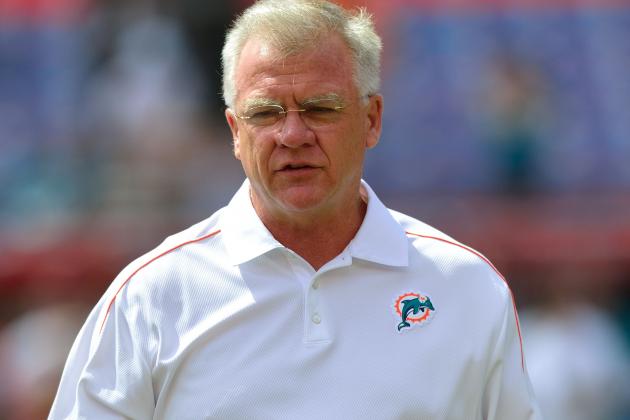 Steve Mitchell-US PRESSWIRE

As mentioned in Week 4, the Dolphins ran the ball only one time in the fourth quarter.
Somebody explain this to me, please.
Despite Reggie Bush and Daniel Thomas' success on the ground, the Dolphins attempted 21 more passes than rushes. This would make sense if Miami faced a sizable deficit at some points, but it didn't. The Dolphins never trailed by more than three points.
Plus, why wouldn't Sherman emphasize the running game given Ryan Tannehill's injury, limited mobility and nonexistent pass protection?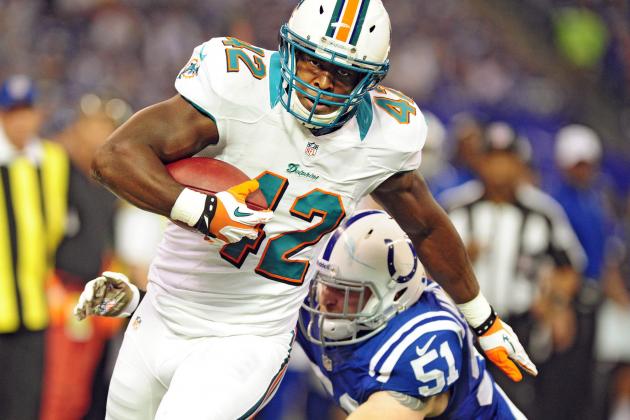 Thomas J. Russo-US PRESSWIRE

Hey, there was a Charles Clay sighting on Sunday!
Before this week's game, Clay had just five receptions for 24 yards. He had a sensational preseason, but completely fell off the map once the regular season began, and any persisting hope for a breakout season has all but faded.
Clay finally showed why he generated all of that hype this summer by reeling in a 31-yard touchdown pass from Ryan Tannehill.
Tame your optimism and temper your expectations, but this is a positive step for a player who has given us little reason to believe in him. Hopefully, this will be a breakthrough for Clay and he'll fulfill the lofty expectations that followed his great offseason.