Lions vs. Jaguars: Detroit's Biggest Winners and Losers from NFL Week 9
Sam Greenwood/Getty Images

For the first time all season, the Detroit Lions played a complete game on both offense and defense for four quarters.
Yeah, the Lions let up a couple scores in garbage time late, but at no point were they not in complete control of the game. That went up 21-0 early, taking a lead into halftime for the first time all season.
The Lions played a dominant game against a team they should have dominated, and that's good. But I listed an equal amount of winners and losers when the Lions played awful games, so I'll do the same here despite the fact that most of the Lions played a lot of good football here.
But we'll start with the good stuff. And it was really good.
Begin Slideshow

»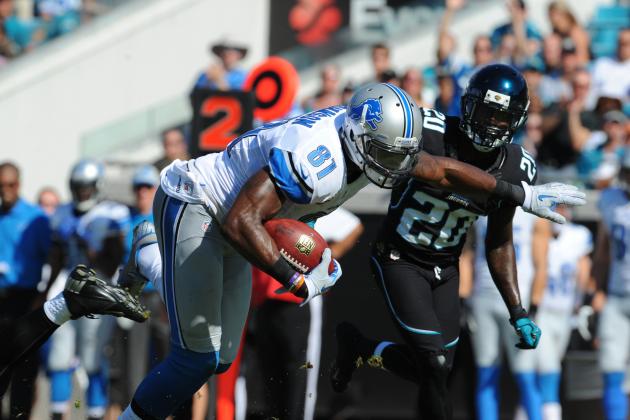 Al Messerschmidt/Getty Images

After a couple of off weeks in which he was hobbled with injury, Calvin Johnson came up big with a seven-reception, 129-yard game.
He still hasn't found the end zone, but 129 yards is a pretty good day for a guy who hadn't practiced all week and was clearly playing at about 80 percent all game long.
Better yet, Johnson didn't go for long strings without seeing the ball. His touches were distributed evenly from first quarter to fourth and seemingly opened up the entirely of the offense despite playing limited snaps.
Reports of Johnson's succumbing to the Madden Curse, it appears, are as of yet exaggerated.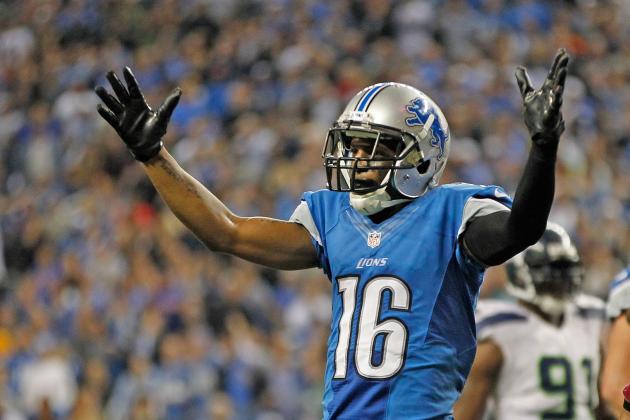 Leon Halip/Getty Images

The dark side of Johnson's big day is the relative quiet day by Titus Young.
One week after coming up huge in the absence of Nate Burleson, Young finished this game with all of 20 receiving yards.
But it's not just Young's production that makes this game a loss for him.
It's that his output could have been greatly improved had he not allowed a sure touchdown to slip right through his hands in the end zone.
It's that Ryan Broyles (six catches, 52 yards) was by far a more important piece in the Lions passing game.
Justin Blackmon was even a better offensive weapon in this game.
To be fair, though, the biggest reason young had a quiet game is something he had nothing to do with and that the Lions should try to keep doing every game...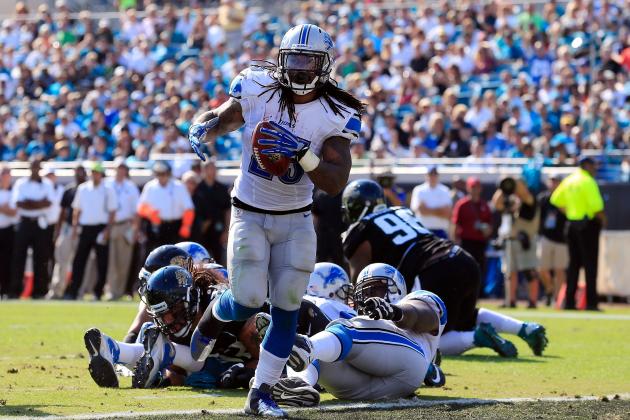 Sam Greenwood/Getty Images

How can you choose just one?
Mikel Leshoure pounded away for 70 yards and three touchdowns, while Joique Bell iced the game with power runs in the fourth quarter, ending in a touchdown.
Arguably, the Lions have never been able to ice a football game with power runs in the Schwartz era the way they did this week.
And granted, that may not hold up against a team that isn't 25th in run defense, but it was good to see this week. And if we can expect 150 yards rushing from the Lions every week from here on out, this is a much more dangerous team than anyone expected.
While this is about Leshoure and Bell, some extra credit should go to the Lions offensive line, who opened up the kinds of holes glaciers could run through.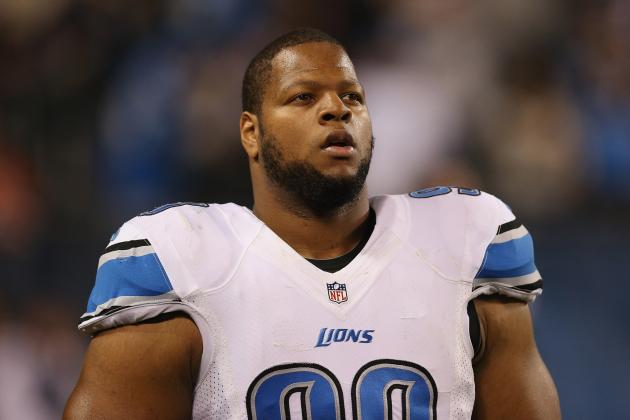 Jonathan Daniel/Getty Images

They got bailed out by some drops and bad throws, and the defense generally played well all day, but the Lions defensive line didn't really do much to affect this game.
Blaine Gabbert was under relatively little pressure all day and was only sacked once. In addition, when the Jaguars tried to run the ball, they were generally successful.
It's hard to criticize a unit that helped hold the opposition scoreless for more than three quarters, but if we're looking at a player or unit on the defense to talk about playing poorly, this is it.
It's not that they were necessarily bad. Nobody was, in a game like this. But they could have dominated, and instead, they played a pretty average ball game.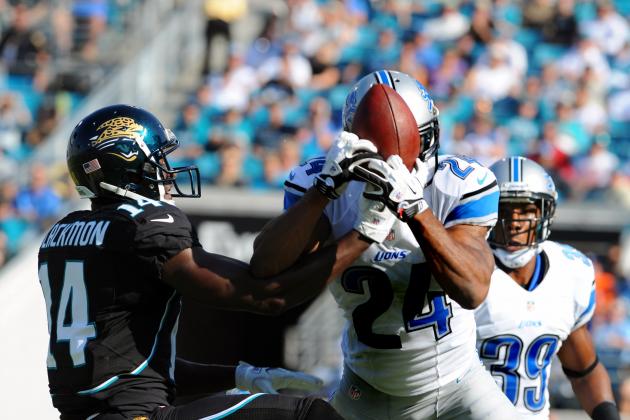 Al Messerschmidt/Getty Images

Under different circumstances, Erik Coleman could have had three interceptions in this game.
He had one in the first half when the Jaguars were trying to get some points on the board before halftime, but it was called back on a hands-to-the-face penalty on the defensive line.
On the very next play, he got his hands on a pass on the sideline, but ended up just knocking it away.
Then early in the second half, he went up and wrestled a ball away from Justin Blackmon for an interception that actually stood.
So Coleman ended up with one interception on the day, instead of three. Still, after a performance like that, the Lions have to be pretty happy with their decision to stand pat at the safety position, regardless of what happens with Louis Delmas.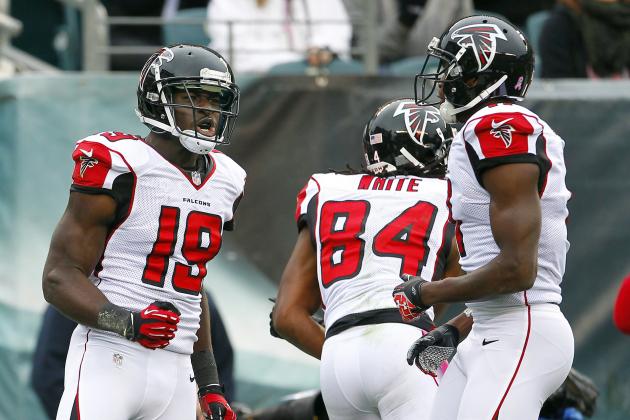 Rich Schultz/Getty Images

The Lions worked their way back to .500 and into position to start making some noise in the playoff picture, and that's great.
What isn't great is the Lions' brutal schedule in the second half of the season.
Based on current records (some of these teams are playing as I write this, so I can't include those games), the combined record of the Lions' second-half opponents is 47-19.
That's a winning percentage of over 71, which is...really good.
So while the Lions have done well to move themselves back into the playoff conversation, the hard part starts now. They're going to need to start beating playoff teams long before they actually get to the playoffs, or else, quite simply, they won't get back to the playoffs.
That's OK, of course. If this Lions team can't beat playoff teams, there's no point to them going just to get blown off the field.
But still, they might like an easier road than this. It's going to be a tooth-and-nail battle from here on. Don't expect many more dominant coasting wins this season like what the Lions got in Jacksonville. That may be the first and last one we see this year.