Notre Dame Lackluster Performance vs Pitt Proves Irish Aren't BCS Title-Worthy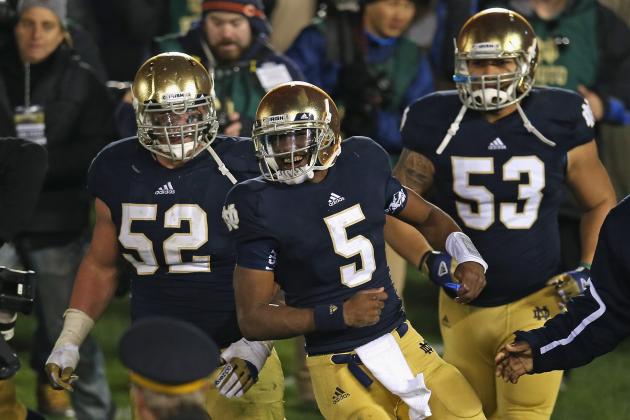 Jonathan Daniel/Getty Images

So Notre Dame has come into the season with a vengeance. The Irish have a tough defense led by Manti Te'o and an unblemished record at 9-0. And they've proven themselves against the likes of teams like Stanford and Oklahoma and are still in the running for the BCS National Championship.
But their performance against the Pittsburgh Panthers in Week 9 suggests otherwise. In fact, it suggests that this Fighting Irish team isn't worthy of the national championship. Notre Dame barely got away with a win in triple overtime.
This game shows us several reasons why this team isn't national championship-worthy.
Begin Slideshow

»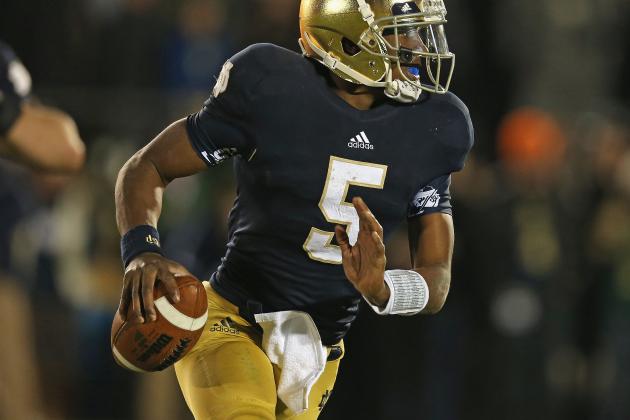 Jonathan Daniel/Getty Images

The quarterback play has been so inconsistent by this group all year. The Everett Golson/Tommy Rees back-and-forth has been too much all year.
While Golson remains the starter, he leaves much to be desired as a passer and gets by thanks to his ability to run the football. If it comes down to Golson against a defense like Alabama's, he wouldn't be able to come through.
Against Pittsburgh, a team the Fighting Irish should have had no problem with, Golson struggled for much of the game to get the offense into any kind of rhythm. He had the team in a 20-6 deficit at one point during the season.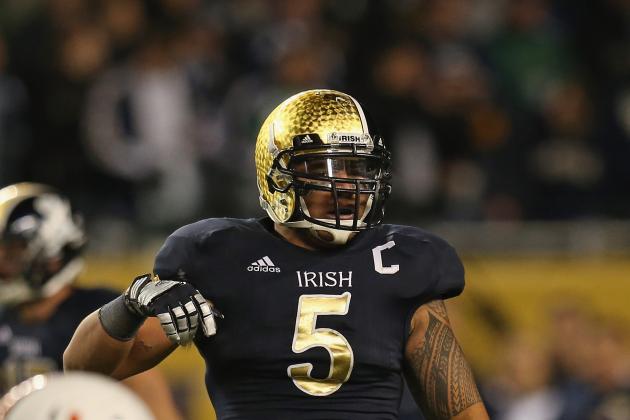 Jonathan Daniel/Getty Images

While Pittsburgh didn't explode offensively, the Panthers did do one thing that few teams have done: run the ball successfully against Notre Dame.
Running back Ray Graham ran for 172 yards on 24 carries and a touchdown, averaging 7.4 yards per carry. The Panthers showed that this rushing defense can be run on and that the key is to stay committed to the run game rather than abandoning it, which many teams playing Notre Dame this season have done.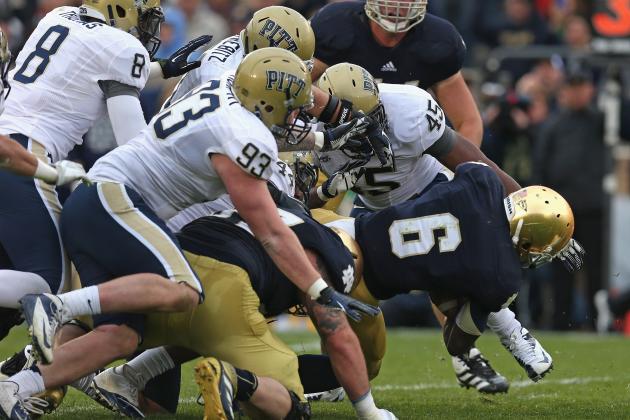 Jonathan Daniel/Getty Images

The Fighting Irish also showed an inability to hold onto the football consistently, turning the ball over three times, throwing two interceptions and losing a fumble. This does not sound like an offense ready for the national championship.
The Fighting Irish offense is not as good as the media seems to advertise it. Against a team like Alabama, Golson and that offense would be easy prey for that defense. When under pressure or forced in the pocket, Golson shows a penchant for trying to force things to happen and make costly turnovers.
Jonathan Daniel/Getty Images

We're nine games into the season, and quarterback Everett Golson has thrown only six touchdowns and four interceptions. They rank 30th in rushing, yet 90th in passing. These kinds of factors indicate that they don't have the offense to compete on a national championship level.
And with such low numbers from a quarterback, the Fighting Irish would be unable to compete against the stronger defenses of teams like Alabama or Kansas State. They wouldn't be able to keep pace with an offense like Oregon's either.
Despite being ranked in the top five, Notre Dame does not have the kinds of pieces it needs to be a complete enough team to be called national championship-worthy.