10 Things We Learned About the Big 12 in Week 10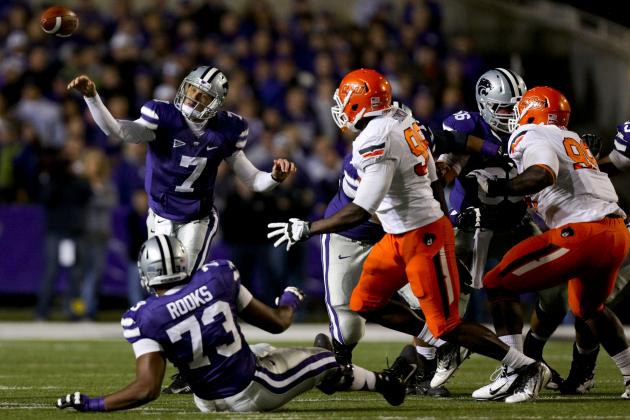 Ed Zurga/Getty Images
Barring a melt-down for the ages, Kansas State has the Big 12 virtually locked up.
After a very intriguing week of football in the Big 12 conference, we learned some things about each of the 10 teams that played.
The conference's two newcomers squared off, and the old hands tried to keep their seasons alive.
Every conference has their whipping boy, even the SEC, but the Big 12 is still anybody's game week-to-week.
Let's take a look at what we learned from each team this week.
Begin Slideshow

»
Ed Zurga/Getty Images
Speculation still remains about whether Klein has a wrist injury or head injury, or both.
As long as Collin Klein plays, there really isn't any team left on the schedule that can beat Kansas State.
They should be able to handle TCU without too much trouble, mop the floor with Baylor and hold on against Texas. All of that comes into question if Klein can't suit up going forward.
He is an integral part of their offense, and without him the Wildcats' national title shot get's a serious reality check.
Ever the competitor, the Kansas State staff had to take Klein's helmet away to keep him from trotting back on the field, according to the Washington Post.
His status is very much up in the air right now, but it's quite early in the week. There's no denying that Kansas State would be a very different side without their Heisman front-runner quarterback.
Klein scored the 50th rushing touchdown of his career in the 44-30 win over Oklahoma State.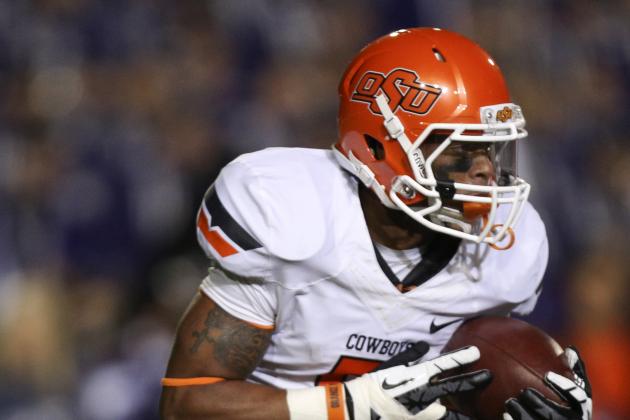 Ed Zurga/Getty Images
Still an extremely talented offense, the Cowboys are missing Brandon Weeden and Justin Blackmon this season.
Oklahoma State has fallen victim to circumstance this season in the Big 12.
They lost a huge part of their offense last year to the NFL, and much of their competition have returned large portions of their vaunted Big 12 offenses.
A team that arguably got snubbed a spot in the national championship game last season is a shell of itself this season.
In one of the more epic shootouts in Big 12 history, Oklahoma State edged Kansas State last season in a 52-45 barn-burner.
Their inability to keep up last Saturday, despite Collin Klein being out for a significant portion of the game, pretty much spells out their season.
Dorothy may be a long way from home, but she's not missing it.
Losers of eight straight, Kansas has looked exactly awful this season.
They've given up an average of 31.3 points a game while only scoring 16.9.
Their defense needs help in the worst way, and that was evident against a Baylor team that had struggled holding onto the ball coming in to the game.
It seemed like a good matchup for Kansas' defense to take advantage, but they were unable to force a single turnover against the Bears.
At 1-8, this season needs to be filed away for the Jayhawks, and they need to take a long look in the mirror in the offseason.
With the addition of two more high-scoring teams into the conference this season, things won't be getting any easier going forward.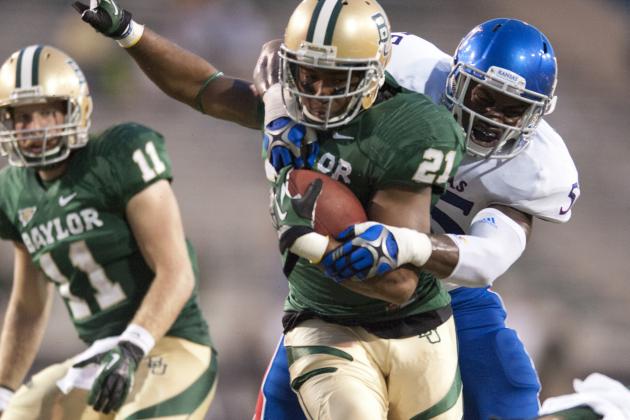 Cooper Neill/Getty Images
Ball security. That can't be too important, can it?
Despite losing Robert Griffin III, Baylor has still held up as an elite offense in college football. They're scoring the sixth most points in the nation this season.
The Bears finally got a win in-conference last Saturday after losing their first four games.
We learned that if they can hold onto the ball, they can actually win a game in the Big 12. What a novel idea.
An interesting observation on the Kansas athletics website points out that in their four wins this season, the Bears are plus-eight in the turnover margin. In their four losses, minus-11.
Baylor had a minus-11 turnover differential in their first four conference games, and it was a real opportunity for Kansas to get their second win of the season.
The Bears played as clean a game as they had all season and came away with a big win for homecoming.
The Longhorns came away with a big win on the road last Saturday against a tough Texas Tech opponent.
At 7-2, Texas is nipping at the heels of Oklahoma and is waiting to pounce should Kansas State fail spectacularly down the stretch.
They lost a highly touted matchup against West Virginia early on and then stumbled against rivals Oklahoma the following week.
Texas seems to be back on the front foot after winning three straight, and everything seems to be pointing to a huge game on the road at Kansas State.
Wouldn't Texas just love to spoil the Wildcats title hopes?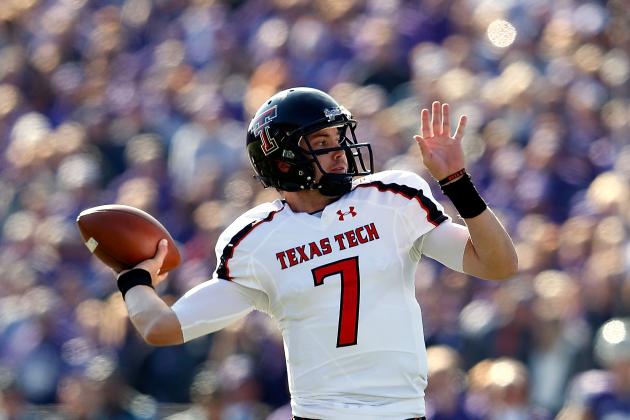 Jamie Squire/Getty Images
Seth Dodge is having his best season in his senior year, but he hasn't been able to win the big game.
It just seems like Texas Tech is one of those teams on the verge of possibly being great.
They have an offense capable of keeping up and a defense good enough to slow down those in the Big 12.
They're not quite there yet though, as they can't win the big games at home. They lost to Oklahoma and Texas at home and Kansas on the road.
All three are also ranked teams, and it's fitting that Texas Tech has lost to all of them. This latest result against Texas might see them dropped from the Top 25.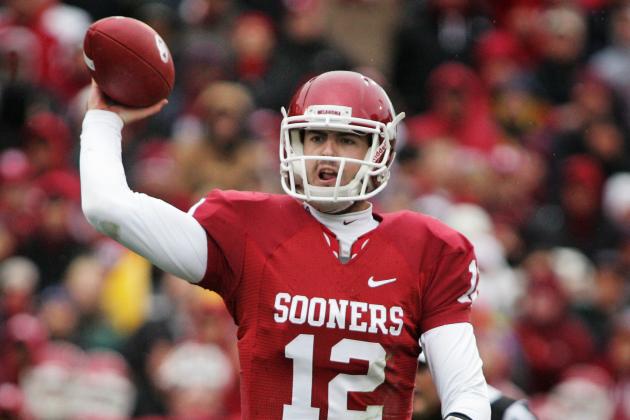 Brett Deering/Getty Images
Landry Jones is having the statistically slowest seasons of his career.
Oklahoma could be one of the best teams in the nation.
It's unfortunate their only two losses on the season have come against the outright best two teams in the nation.
Call them a victim of scheduling, but still, if they're supposed to be an elite team in college football, they have to win at least one of those games.
If Oklahoma wins out, they could find themselves in a BCS game by the end of the season.
There's still a lot to play for in Norman. They might not want to let things stay as close as Iowa State last Saturday, but they have a favorable matchup against a turnover-prone Baylor next week.
After that, they've got a pretty tough run at West Virginia, hosting Oklahoma State and then at a resilient TCU. Should the Sooners win out, they absolutely deserve a BCS game for their efforts.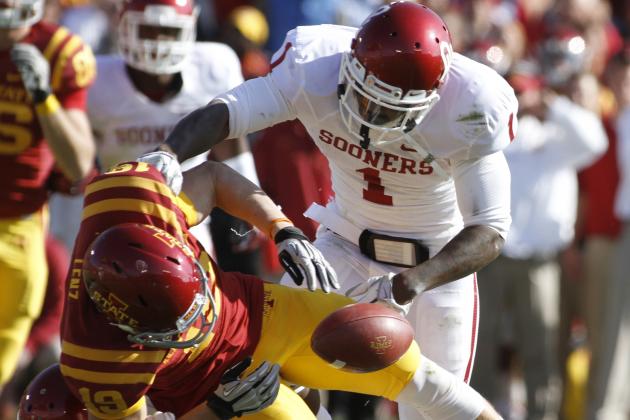 Matthew Holst/Getty Images
Just an average football team here folks, nothing to see.
There's not a whole lot we learned about Iowa State that we didn't already know going into Week 10.
Let's be honest, they're an exactly average team. At 5-4, their season is about becoming bowl-eligible, not about being relevant in the Big 12.
They're 2-4 in-conference, and the two victories came against TCU and Baylor. The TCU win would've been a big deal, but the two teams went opposite directions after the game.
While Iowa State seems content with mediocrity, TCU dares to make a statement in their first Big 12 season.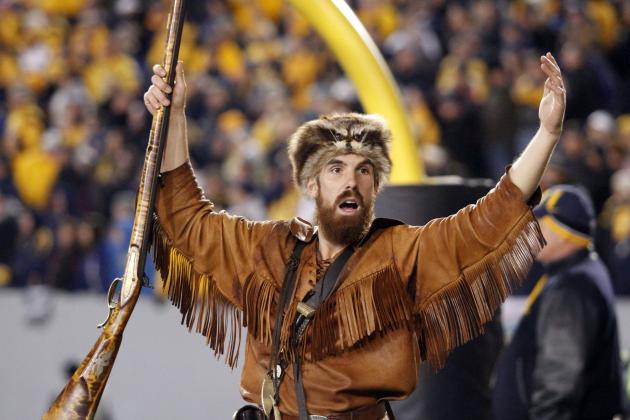 Justin K. Aller/Getty Images
What's the use having a rifle for defense if you're going to miss?
Given West Virginia's vaunted offense, one would have thought they'd be a good fit for the Big 12. In fact, most of us did.
What we've learned from West Virginia's inclusion into the conference is that the Big 12 isn't all about offense.
That's been evident by teams being able to hold off Geno Smith and company. It's also been evident by West Virginia's defense not being able to cope with the Big 12's high-flying offensive circus act.
West Virginia's defense has allowed 38.9 points per game, worse than 1-8 Kansas.
Almost poetically, they allowed 39 points to TCU in a double overtime loss last Saturday.
West Virginia's offense can definitely hang with the rest of the conference, but hanging your hat on winning the shoot out week-in and week-out is no way to live, not even in the wild wild west.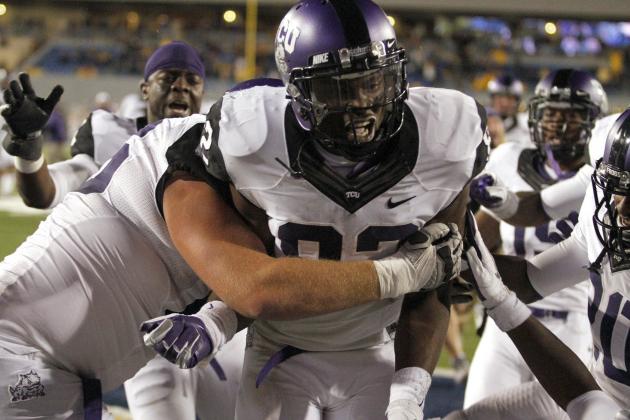 Justin K. Aller/Getty Images
TCU could end up playing the Big 12 giant killer role by season's end.
TCU has been a pleasant surprise for the Big 12.
At 6-3 overall and 3-3 in-conference, they've already shown critics that it's not too big for them.
It's been fun to watch the frogs make a name for themselves in the Big 12. They've had some thrilling overtime games, some Big 12-esque offensive showings and they've actually played defense a little.
Their schedule to close the season could not be more brutal, as they face three ranked conference foes.
Next up is a house party with Collin Klein and company as the guests of honor, followed by a road trip to burnt orange land.
And when they finally get back home, it couldn't be Sooner as Landry Jones looks to make a lasting mark on his Big 12 career.
Call me crazy, but I have a feeling that TCU can spoil one or more of these teams' seasons. TCU is focused and believe they can win right now, and if any of their upcoming opponents overlook them, it might get a little froggy for their post-season plans.