Eagles vs. Saints: Final Grades, Analysis for Philadelphia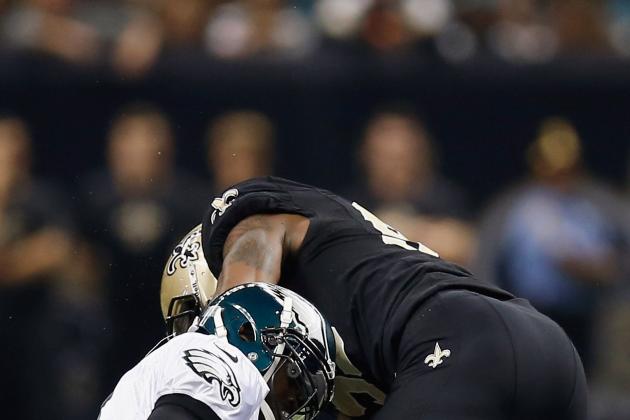 Chris Graythen/Getty Images

Michael Vick: B-
The grade may seem a little high for a quarterback that led his team to just 13 points. But Michael Vick never should have survived 60 minutes of football behind that offensive line.
Vick was sacked a career-high seven times and he escaped many more with his incredible agility. Vick ended the day 22 of 41 for 272 yards, a touchdown pass, and an interception, posting a 72.6 passer rating. His touchdown was a huge 77-yard pass to DeSean Jackson that momentarily gave Philadelphia Eagles fans hope.
Vick also ran six times for 53 yards, accounting for 325 total yards on the day. That makes him the first player in NFL history with at least 20,000 passing yards and 5,000 rushing yards in his career.
And there's no telling what Vick would have done tonight had he had the protection given to Drew Brees. Vick was playing behind an offensive line that featured four backups. Four.
Vick dropped back 53 times and was under duress on 18 of those plays. That's an absolutely absurd total to overcome.
What keeps Vick's rating from being higher though were some serious flaws: He threw an incredibly costly 99-yard interception return touchdown to cornerback Patrick Robinson, a pass that was poorly thrown to tight end Brent Celek. Vick struggled in recognizing the blitz, something a veteran of his experience needs to see.
And he led the Eagles inside the red zone five times without a touchdown, coming away with just two measly field goals.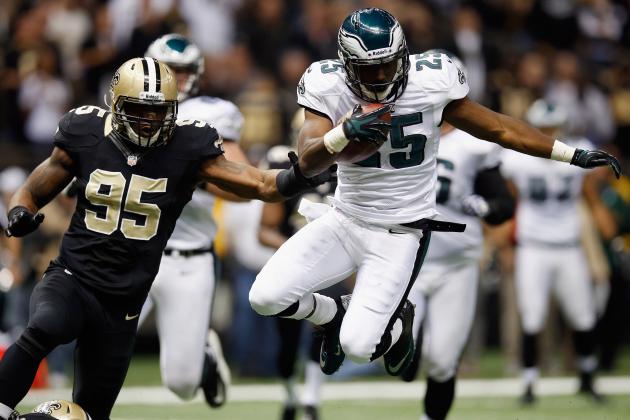 Chris Graythen/Getty Images

LeSean McCoy: A
The Philadelphia Eagles gave the ball to their All-Pro runner LeSean McCoy early and often, and they saw the results.
McCoy finished with 19 carries for 119 yards, an average of 6.3 yards per run. He didn't find the end zone, but that had more to do with the fact that the Eagles threw the ball or turned it over when they got inside the red zone.
McCoy also caught two passes for 14 yards out of the backfield, giving him 133 total yards on 21 touches. Factoring in the ineptitude of the offensive line, it was one of McCoy's best overall performances as an Eagle. He fought for every yard he got.
Bryce Brown: A
I thought Bryce Brown looked absolutely phenomenal in tonight's game. He finished the game with four carries for 49 yards, an incredible 12.3 yards per carry average. That included a 40-yard run by Brown, in which he took a handoff running to the left and cut back across the field all the way to the right, a la Reggie Bush.
Stanley Havili: A
Until the official snap counts are released, I won't know for how many plays Stanley Havili played. But the Philadelphia Eagles' running game was stellar for four quarters, and Havili continues to improve in paving the way for McCoy.
Chris Polk: A
As a running back, Chris Polk hasn't carried the ball all season. As a special teams player today, he made a huge forced fumble on a New Orleans Saints kick return that the Eagles recovered.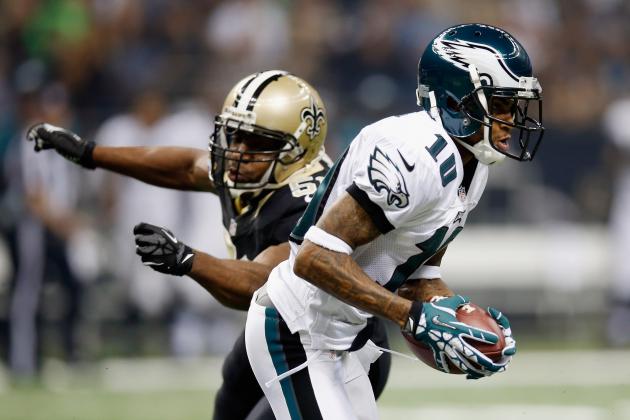 Chris Graythen/Getty Images

DeSean Jackson: A-
DeSean Jackson finally broke out with a long score, catching a 77-yard touchdown down the right sideline for his longest score since the legendary walkoff punt return against the New York Giants in 2010. He caught three passes in all for 100 yards and a touchdown, and contributed with a huge block on Bryce Brown's 40-yard run.
Jeremy Maclin: D+
There wasn't a lot of chemistry between Michael Vick and Jeremy Maclin tonight. The two hooked up on two of their four attempts for 28 total yards and no touchdowns. Maclin was also called for an illegal block that wiped out a 20-yard run by LeSean McCoy.
Jason Avant: A-
The fact that Jason Avant had six catches for 56 yards isn't quite as impressive as it seems. Michael Vick constantly had to check the ball down to his slot receiver, but Avant is a reliable target and Vick completed six of nine throws his way.
Riley Cooper: C
As a receiver, Riley Cooper provided nothing. He was targeted once and it didn't result in a reception, and Cooper was flagged was called for a penalty on a block. As a special teams player, Cooper nearly pulled off the play of the day on a 95-yard kick return touchdown, but a forward pass nullified the runback.
Chris Graythen/Getty Images

Brent Celek: C
Brent Celek caught five passes for 47 yards, which is a very reliable total for a good pass-catching tight end that he is. He did cough up the ball near the end of the game though, which decimated a Philadelphia Eagles team still trying to come back to win the game.
Clay Harbor: A-
As a backup tight end, Clay Harbor provided a pretty good day. He caught three of four passes thrown his way, totaling 20 yards. Harbor spent most of his snaps trying to block for Michael Vick.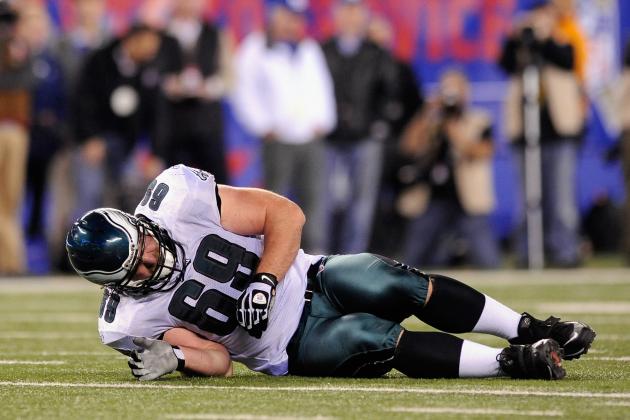 Patrick McDermott/Getty Images

King Dunlap: F
King Dunlap isn't the man to blame for the Philadelphia Eagles' struggles on the offensive line. He's a career backup who plays as one would expect from a career backup. That being said, Dunlap had no answer for New Orleans Saints defensive end Will Smith, who beat him for at least one sack officially.
Evan Mathis: C
Evan Mathis was the only offensive lineman on the Philadelphia Eagles tonight that didn't make a complete fool of himself. He committed zero penalties and was fine as a run blocker, paving the way for over 200 ground yards from LeSean McCoy, Michael Vick, and Bryce Brown.
Dallas Reynolds: F
Tonight's game was a big indicator that it might be time to give new center Matt Tennant a shot. Dallas Reynolds struggles in blitz recognition were brutal. He's an awful blocker and nearly got Michael Vick killed against arguably the worst defense in the NFL.
Dennis Kelly: F
Well, so much for Dennis Kelly's solid first game. He looked vulnerable, exposed, and confused against the New Orleans Saints tonight. They ran an impressive amount of blitzes that really worked, but Kelly really had no answer for whoever he was blocking.
Todd Herremans: D
Todd Herremans' 2012 struggles continued tonight, as the Eagles' newly-extended right tackle looked awful as VIck's blindside protector. Herremans officially gave up at least one sack and was then injured with what appears to be an ankle sprain. What kept Herremans from getting an F was his heads-up play in falling on a Vick fumble near midfield and essentially saving a New Orleans touchdown.
Demetress Bell: F-
Demetress Bell's half tonight rivals that of Winston Justice in 2007 against the New York Giants for worst single-game performance by a Philadelphia Eagles offensive lineman. At one point late in the game, Bell committed two penalties and gave up a sack—in a span of four plays. As a backup tackle, Bell needs to be able to step in at either left tackle or right tackle, and he managed to look even worse at right tackle than left tackle.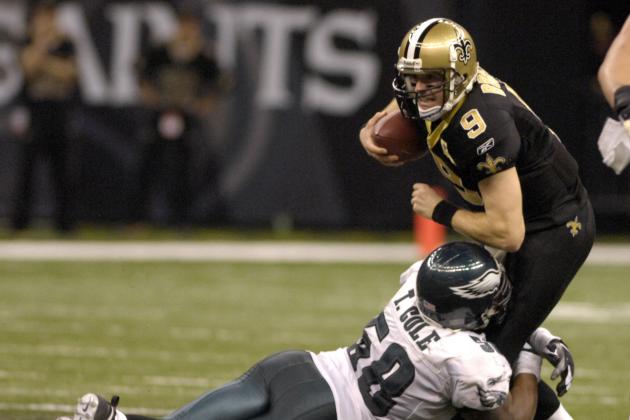 A. Messerschmidt/Getty Images

Trent Cole: C
Trent Cole has now gone five consecutive games without a sack, and he has a grand total of just 1.5 sacks at the midway point of the season. He came up huge on the first defensive play of the game with a stuff of Mark Ingram, but then he was a no-show for the remainder of the contest.
Mike Patterson: B
Mike Patterson gets at least a B for simply being back there out on the football field after having brain surgery less than a year earlier. Was he effective in this game? No. He had one tackle and no sacks in limited snaps. But he was out there, and that's huge for him.
Fletcher Cox: C
The New Orleans Saints have an extremely efficient offensive line, and Fletcher Cox was unable to do any damage against Drew Brees. He finished the day with just three tackles, one of them solo.
Cullen Jenkins: D+
Cullen Jenkins has been a borderline Pro Bowl defensive tackle for much of his career, but he didn't provide much tonight. He had just two tackles and no pressures on Brees.
Jason Babin: C-
Jason Babin was well on his way to receiving an F for being basically a non-factor, when he registered a strip sack fumble late in the game. He was pretty clueless in the running game though.
Brandon Graham: A
Brandon Graham continues to make plays, and he absolutely wrecked Brees on a hit in the third quarter that led to a forced fumble. Graham recovered the fumble himself, giving the Philadelphia Eagles the ball when the Saints were in the red zone driving for another touchdown.
Phillip Hunt: C
Like most of the Eagles' defensive linemen, Phillip Hunt took his share of snaps, made a few tackles, and provided little to no pass rushing pressure.
Cedric Thornton: C
Cedric Thornton saw his snaps diminish slightly with the return of Patterson, and he had almost no impact with just a solo tackle.
Wesley Hitt/Getty Images

DeMeco Ryans: B-
It wasn't one of the finer games by DeMeco Ryans, who has been a godsend all season for the Philadelphia Eagles. Ryans finished with six tackles but no impact plays—interceptions, sacks, or forced fumbles.
Mychal Kendricks: D
Mychal Kendricks seems to have hit the rookie wall after a promising start to his NFL career. He finished with five tackles today, four of them solo, but he was vulnerable and exposed frequently. Kendricks had the unfortunate task of trying to keep up with tight end Jimmy Graham (and as the picture above shows, he couldn't do it). Kendricks whiffed on the touchdown pass from Drew Brees to Graham late in the game, and he was flagged for a holding penalty on another play.
Akeem Jordan: C
Five tackles (three solo) is a pretty good total for Akeem Jordan, who normally finishes with one or two. But he managed to make very little of an impact against a New Orleans Saints team that averaged 5.6 yards per carry.
Wesley Hitt/Getty Images

Nnamdi Asomugha: C
In all fairness, tonight wasn't Nnamdi Asomugha's fault. He has gotten much of the blame this season for the Philadelphia Eagles' struggles, and rightfully so. Asomugha played fairly good defense in coverage, and while he did give up a touchdown catch to Marques Colston, if you watch the replay, you can see the ref step right into Asomugha's way. Asomugha had a great knockdown on a deep pass to Devery Henderson, although he was typically clueless on how to tackle on running plays.
Dominique Rodgers-Cromartie: C+
Two penalties from Dominique Rodgers-Cromartie is a very disappointing performance, especially since he's been among the league leaders at his position all season. DRC played well in coverage—like Asomugha—but struggled in the running game.
Brandon Boykin: D
Brandon Boykin didn't make or break the game in terms of a nickel cornerback. But he blew the biggest special teams play of the season, when his across-the-field pass to wide receiver Riley Cooper traveled three yards forward. Everything about the play was perfectly executed except for Boykin's pass.
Curtis Marsh: C
Curtis Marsh officially registered one tackle but didn't make enough of an impact at all.
David Sims: B
I had these visions of David Sims getting torched on every play, considering it was his first NFL start on defense. Sims had the growing pains one might expect from an inexperience player tasked with keeping an eye on Jimmy Graham for much of the night. He came up empty on a tackle attempt against Mark Ingram, in which Ingram ran into the end zone for a score. But he had a nice open field tackle on Graham, he had a knockdown on a pass to Graham, and he had a big stuff of Chris Ivory deep in the backfield.
Kurt Coleman: C-
Kurt Coleman finished with five tackles, three of them solo, although he could have had several more had he made every tackle attempt that came his way.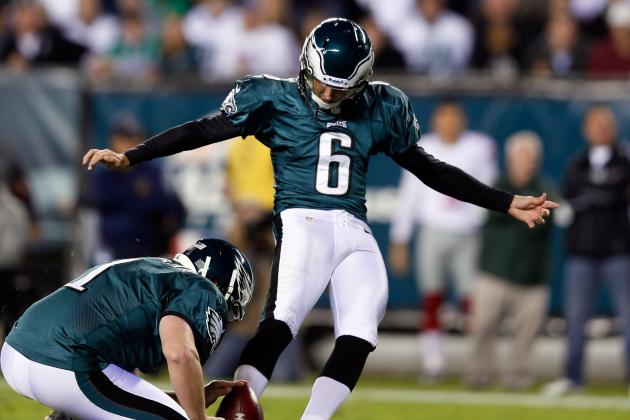 Rob Carr/Getty Images

Alex Henery: A
Alex Henery had two field goal attempts in this contest, and he converted both of them.
Mat McBriar: C+
It was an up-and-down day for Mat McBriar. He shanked one for a net gain of 26 yards to start the game but finished with four punts for an average punting average of 44.5 yards.
Brandon Boykin: F
All Brandon Boykin had to do was throw the ball backwards, and the Philadelphia Eagles would have had a touchdown.
Damaris Johnson: B-
Damaris Johnson's 20-yard punt return isn't nearly as impressive as it sounds because the New Orleans Saints did kick the ball 63 yards on the play.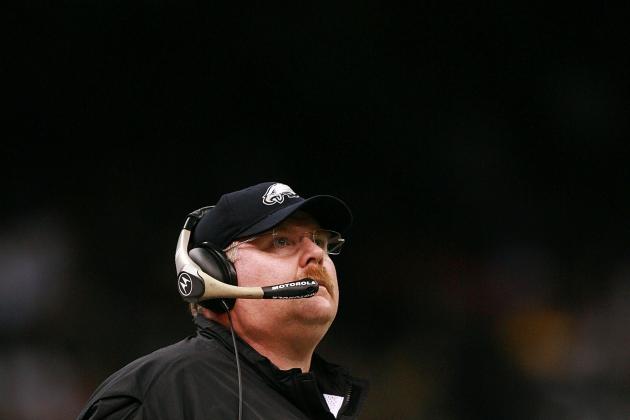 Doug Benc/Getty Images

Andy Reid: F
The Andy Reid I saw on the sidelines during the game and at the podium after the game was defeated. Every aspect about him was lifeless, and today could have been the final straw for owner Jeffrey Lurie. I wouldn't rule out the possibility of a head coaching change coming this month. This is the fourth consecutive loss by the Philadelphia Eagles following a 3-1 start. And while the wins certainly count as wins, it's a little scary to think that the Eagles are four points away from being 0-8 on the season.
Marty Mornhinweg: F
There's not a lot Marty Mornhinweg can do about turnovers or Howard Mudd's inept offensive line. But five trips to the red zone and not a single touchdown to show for it against a defense allowing opponents to score a touchdown on 60 percent of its red zone trips? It's difficult for a team to put up 450 yards and score just 13 points but the Eagles managed to do it today.
Todd Bowles: D
Todd Bowles turned in another shoddy defensive performance. He was tasked with going up against Drew Brees and Jimmy Graham, which is no easy performance. And technically, Bowles' defense only gave up 21 points because seven were the result of a Michael Vick interception. But there was almost no pressure on Brees all game, which is inexcusable.
Bobby April: A
Bobby April's unit almost saved the day with the big return score that didn't count and the forced fumble. That's terrific coaching but when the players don't execute (Brandon Boykin's forward pass), there's nothing April can do about it.