Week 10 NFL Report Card Grades for Every Team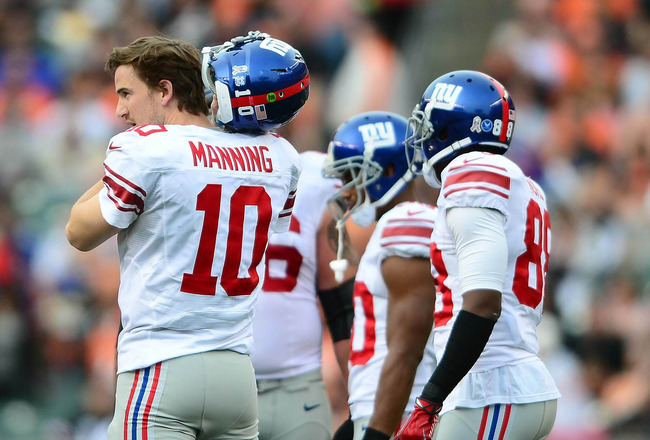 Eli Manning and the defending Super Bowl champion Giants lose their second straight game
Andrew Weber-US PRESSWIRE
You just had that feeling roughly an hour into Sunday's NFL action.
There were eight games that kicked off at 1 p.m. Eastern Time and in the first quarter of those contests, the 16 teams combined for 113 points.
And when it was all said and done, scoring points was not an issue around the league, with the exception of a small handful of teams.
So here we are once again with this week's grades. Please remember that they are based on a number of factors, not just wins, losses and numbers. They are marks for this week's performance and not a team's overall play this season.
While there were plenty of bright spots, you can expect to see your share of clubs that will be banging erasers after school is out.
Atlanta Falcons: C+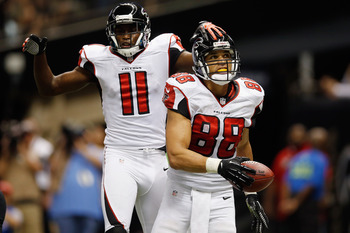 Chris Graythen/Getty Images
It seemed like only a matter of time for the Atlanta Falcons. For some reason, it was going to be the New Orleans Saints that would spoil the Falcons perfection party.
Dating back to Week 6 of 2011, Mike Smith's team is an impressive 16-4 in its last 20 regular-season games. But three of those four losses have come at the hands and feet of the Saints, whose 31-27 win on Sunday handed the Falcons their first loss of 2012.
Quarterback Matt Ryan completed 34-of-52 passes for 411 yards and three scores with one interception. Both Tony Gonzalez and Roddy White totaled 100-plus yards receiving, the former scoring twice (touchdowns No. 100 and No. 101 for Gonzalez). But the offense's inability to score a touchdown deep in Saints' territory in the fourth quarter proved to be Atlanta's undoing.
The Falcons ran for only 46 yards on 18 carries while their suspect run defense was guilty on all counts, giving up 148 yards on the ground to the Saints.
Who would have thought that the Falcons couldn't punch in the ball in close with Michael Turner in the backfield?
Strange times indeed.
Baltimore Ravens: A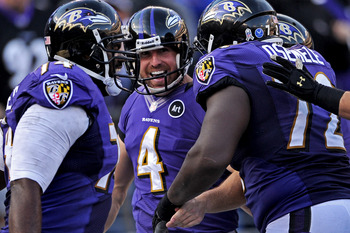 Patrick Smith/Getty Images
There's nothing like a little time off to get you back on track.
Three weeks ago, the Baltimore Ravens were coming off a 43-13 thrashing by the Houston Texans. The loss came just before the team's bye week, so head coach John Harbaugh had some extra time to cure what was ailing his team.
Apparently, the time off worked. Last Sunday, the Ravens handled the Browns in Cleveland, 25-15, and on Sunday more than doubled their scoring, courtesy of a 55-20 blowout of the Oakland Raiders.
Quarterback Joe Flacco threw for 341 yards and three touchdowns (one interception) and ran for another score. Ray Rice ran for only 35 yards but scored as well, as did punter Sam Koch, who ran seven yards for a touchdown off a fake field goal. The Ravens special teams closed out the scoring on the afternoon when Jacoby Jones returned a fourth-quarter kickoff 105 yards for a touchdown.
While old friend Carson Palmer did throw for 368 yards and a pair of scores, he was also sacked three times and committed a pair of turnovers.
With a trip to Pittsburgh on the horizon, this proved to be the perfect tune-up.
Buffalo Bills: B-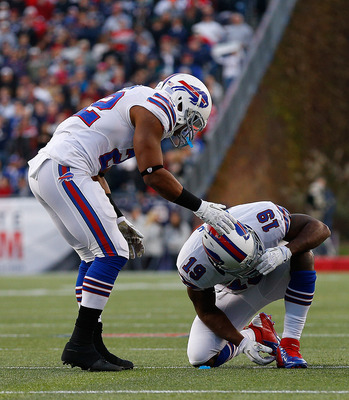 Jim Rogash/Getty Images
Let's cut to the chase.
The Buffalo Bills rolled up 481 total yards, including 162 yards rushing, and scored 31 points against the New England Patriots supposedly improved defense.
And it still wasn't enough to prevent a 23rd loss in their last 25 games to the Patriots.
That's because the Bills committed three turnovers, including a pair in the fourth quarter that proved fatal.
Running back Fred Jackson fumbled near the goal line to kill one scoring drive. And quarterback Ryan Fitzpatrick, who threw for 337 yards and two touchdowns, threw an interception in the end zone in the final seconds to kill a Buffalo comeback.
The Bills did commit 14 penalties for 148 yards. And it had to be disappointing loss for head coach Chan Gailey, who "held" the Patriots to 347 yards, including just 117 rushing.
It still wasn't enough to knock off the perennial AFC East champions.
Carolina Panthers: D+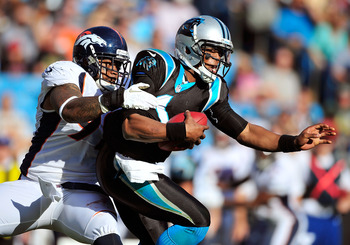 Grant Halverson/Getty Images
The Carolina Panthers had to feel pretty good a week ago after beating the Redskins in Washington.
Apparently that feeling didn't last very long.
After taking a 7-0 first-quarter lead against the visiting Denver Broncos, the wheels came off for Ron Rivera's team as Peyton Manning and lots of company scored the next 29 points and coasted to a 36-14 win, exacting a little revenge for former Panthers/now Broncos head coach John Fox.
Ron Rivera's club had to be a bit deflated as the Panthers were handled in all aspects. Carolina rushed for only 52 yards, quarterback Cam Newton was sacked seven times, once for a safety, and one of his two interceptions was returned for a touchdown.
Even the Panthers special teams had their issues this day as placekicker Justin Medlock missed a 43-yard field goal and the punt coverage unit allowed Denver's Trindon Holliday to run back one 76 yards for a touchdown.
It's one step forward and two steps back for the Panthers, who have been scratching their heads most of the 2012 season.
Chicago Bears: B-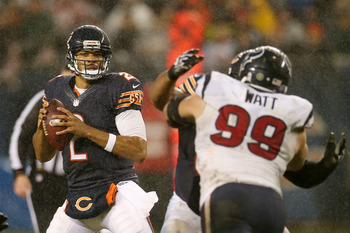 Jonathan Daniel/Getty Images
The Chicago Bears wound up losing a hard-fought game to the Houston Texans.
Hopefully for Lovie Smith's club, it hasn't lost more than that.
Chicago's 13-6 setback to the Texans on a wet Sunday night at Soldier Field featured his team committing four turnovers. Two of those were interceptions thrown by quarterback Jay Cutler, who was knocked out of the game with a concussion and did not return for the second half.
In a see-saw affair featuring a turnover-filled first half, the Chicago defense once again contributed on that front, courtesy of two more interceptions by cornerback Tim Jennings, giving him eight picks for the season.
But the Chicago passing attack was wideout Brandon Marshall and very little else. Cutler and Jason Campbell combined to complete 18 passes for 134 yards, with Marshall grabbing eight for 107 yards.
However, the turnovers and the absence of Cutler added up to zero touchdowns against a formidable Houston defense. It's hard to win a game like that.
Cincinnati Bengals: A+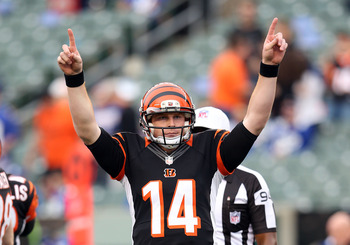 Andy Lyons/Getty Images
That sigh of relief you heard around the NFL in Week 10 came from the Queen City.
Losers of four straight games after opening the season at 3-1, the Bengals made sure the Manning family didn't have an enjoyable afternoon in Cincinnati for a second straight Sunday.
Marvin Lewis' team rolled the defending Super Bowl champion New York Giants, 31-13, and made it look easy in the process. Second-year quarterback Andy Dalton threw for 199 yards and four scores, wasn't sacked and for the first time all season did not throw an interception.
Dalton's four touchdown passes went to four different players, the first to wideout A.J. Green, who scored a touchdown for the eighth consecutive game.
Meanwhile, the Bengals came up with four takeaways, not bad considering the team had forced only 11 turnovers in their first eight games.
At 4-5, Cincinnati is far from done when it comes to factoring in the playoff chase. But it needs to start stringing together wins in a hurry. Sunday's victory over the Giants was quite the impressive start.
Dallas Cowboys: B+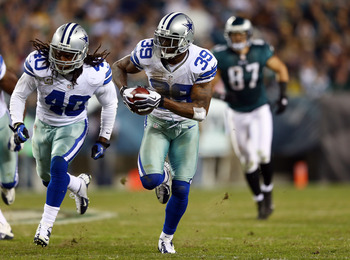 Elsa/Getty Images
They are alive and really kicking.
The Dallas Cowboys not only emerged as the winner of their showdown with the Philadelphia Eagles on Sunday courtesy of a 38-23 win, Jason Garrett's picked up a game on the suddenly struggling New York Giants in the NFC East.
The Pokes played turnover-free football, got just enough running from Felix Jones and watched their defense and special teams score three touchdowns in the fourth quarter to pull away from the Birds.
Although there's no doubt the Dallas defense took advantage of Eagles rookie quarterback Nick Foles, who was forced into action after Michael Vick was lost with a concussion, the bottom line was that Dallas quarterback Tony Romo was efficient. He threw for 209 yards and two touchdowns.
Now we'll see if the Cowboys can get on somewhat of a roll and make the possibility of a division title come to fruition in Big D.
Denver Broncos: A-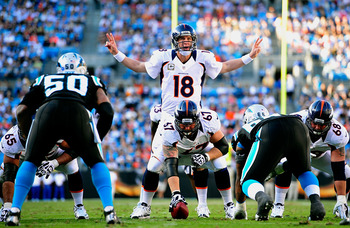 Grant Halverson/Getty Images
The defending AFC West champion Denver Broncos just keep rolling.
For the seventh time in nine games, John Fox's club was involved in a game in which one team owned at least a 20-point lead. Earlier in 2012, the Broncos were losing those games despite valiant comebacks.
These days, it's Peyton Manning and company administering the beating. The Denver quarterback threw for 301 yards and a score, the latter his 420th career touchdown pass, tying Dan Marino for second place on the all-time list.
It was also the fourth victory in a row for head coach John Fox's club, which ran for only 65 yards but held the Panthers to just 52 yards rushing. One-third of Manning's 27 completions (9) went to wide receiver Demaryius Thomas, as did nearly half (135) of the his 301 passing yards.
Throw in a Broncos defense that sacked Carolina Panthers quarterback Cam Newton seven times (once for a safety) and picked him off twice (once for a touchdown), as well as Trindon Holliday's 76-yard punt return for a score, and Denver's 36-14 win was a complete effort on all fronts.
Detroit Lions: C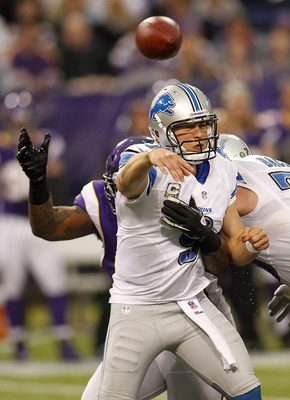 Andy King/Getty Images
Just when it appeared that the Detroit Lions were getting their bearings, Jim Schwartz's club fell behind early to the Minnesota Vikings and never caught up in a 34-24 loss at the Metrodome.
The setback left the Lions at 4-5, two of their five losses to the Vikings, not a good place to be in the very-tight NFC North.
Minnesota's defense has had its issues stopping the run, but Detroit managed only 60 yards rushing. Meanwhile, Vikings running back Adrian Peterson rumbled for 171 yards, while quarterback Christian Ponder threw a pair of touchdown passes.
Schwartz's defense was on its heels, failing to force a turnover and sacking Ponder only once.
As for a bright spot, wideout Calvin Johnson caught 12 passes for 207 yards and he and Matthew Stafford finally connected for a score.
It doesn't shape up as much of a consolation prize.
Houston Texans: A-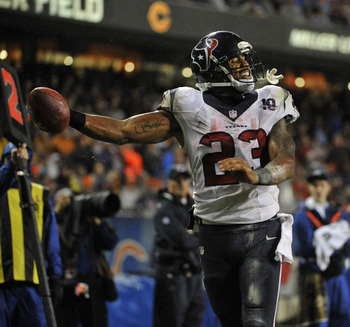 David Banks/Getty Images
It's safe to say that the Houston Texans are a pretty gritty team.
Gary Kubiak's club is now tied with the Falcons for the best record in the NFL following a sloppy but solid 13-6 Sunday night win over the Chicago Bears at rainy Soldier Field.
The Texans overcame a pair of first-half interceptions by Matt Schaub. The Houston quarterback also completed a 2-yard scoring pass to running back Arian Foster in the second quarter for the only touchdown of the game. Foster had another productive outing, running for 102 yards on 29 carries and catching five passes on the evening. His score marked the 11th straight game in which he reached the end zone.
But this was also a case of the Texans out Bear-ing the Bears via four takeaways, including a pair of interceptions at the expense of Jay Cutler. The Bears QB was knocked out of the game with a concussion and gave way to backup Jason Campbell for the second half
With the exception of one bad evening against the Packers, these Texans continue to pass all of the tests this season.
Indianapolis Colts: A-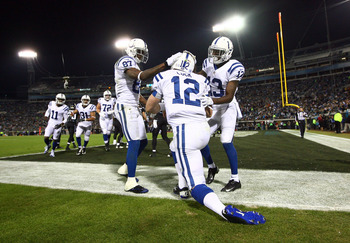 Douglas Jones-US PRESSWIRE
The amazing season for the Indianapolis Colts continues.
Thanks to a 27-10 Thursday night victory over the Jacksonville Jaguars, the 6-3 Colts have already tripled their victory total from a season ago as rookie quarterback Andrew Luck continues to lead the way. While the first overall pick threw for 227 yards, he also ran for a pair of touchdowns for the second time in four weeks.
Luck is far from a one-man show, and while he did lead the Indianapolis offense to 359 total yards, he also committed two more turnovers. Veteran wideout Reggie Wayne led the way with eight receptions for 96 yards while the Colts running attack rolled up 138 yards on the evening.
Meanwhile, the Jacksonville running attack managed only 37 yards against Greg Manusky's defense. After totaling just three takeaways in their first eight games this season, the Colts came up with three Jaguars turnovers.
Riding a four-game winning streak, the expectations are beginning to change for Luck and company.
Jacksonville Jaguars: C-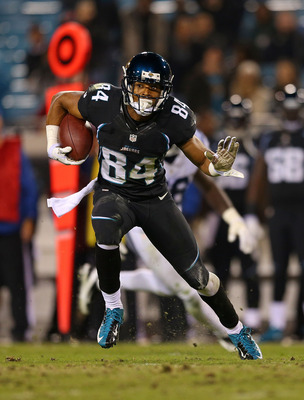 Mike Ehrmann/Getty Images
It's gone from bad to worse to futile for the Jacksonville Jaguars.
Mike Mularkey's club lost its sixth straight game as the Indianapolis Colts came to Florida and left the Sunshine State 27-10 winners.
It continued a horrible streak for the Jaguars, who have now lost all five home games this season, allowing 27 or more points in each setback while being outscored a combined 153-44 in the process.
Starter Blaine Gabbert and backup Chad Henne combined to throw for 330 yards and the latter managed a score.
With a ground attack that managed only 37 yards, the sixth straight game in which the Jaguars ran for fewer than 70 yards, there appears to be no relief in sight for this team.
With their eighth loss in nine games, the team has already secured a fifth consecutive non-winning season.
Ouch.
Kansas City Chiefs: B-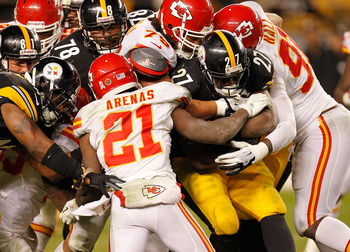 Gregory Shamus/Getty Images
The good news on Monday night was that for the first time this season, the Kansas City Chiefs did not commit at least 2 turnovers in a game.
The bad news is that the one they did commit came at the absolute least opportune time.
After a 27-yard completion to wide receiver Dwayne Bowe on 4th-and-15 set up Ryan Succop's 46-yard field goal which sent the team into overtime against the Pittsburgh Steelers, quarterback Matt Cassel's interception on the second play of the extra session set up the Steelers game winning kick as Romeo Crennel's team fell in heartbreaking fashion, 16-13.
The loss negated a great effort by the Chiefs, whose offensive line made holes for running back Jamaal Charles, who ran for a score and exactly 100 of the team's 142 yards on the ground (the most allowed by the Steelers this season).
But it was also a rough night for Cassel, who finished 11-of-26 for 154 yards and was most ineffective save for the final game-tying drive.
The Kansas City defense also played extremely well, cooling off a hot ground game at Pittsburgh managed only 95 yards rushing.
Unfortunately, it was turnover No. 30 on the season that led to loss No. 8 in what has been a very disappointing season in Kansas City.
Miami Dolphins: F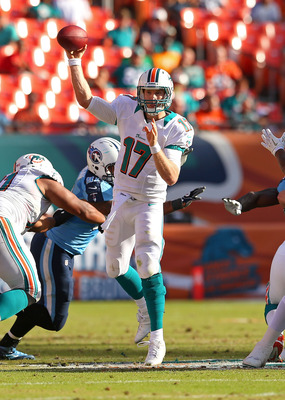 Mike Ehrmann/Getty Images
That was a tough watch.
Two weeks ago, the Miami Dolphins were riding high with a 4-3 mark after handling the New York Jets, 30-9, in New Jersey.
On Sunday, you would have thought this was a totally different football team as Joe Philbin's club was humbled at home by the Tennessee Titans, 37-3.
The Dolphins were coming off a 23-20 loss to the Indianapolis Colts in which they played well in a losing effort. That was hardly the case on Sunday as Miami's mistake-prone offense coughed up the ball four times. Three of those turnovers were interceptions by quarterback Ryan Tannehill, one of which was returned early in the second quarter for a touchdown that put Philbin's team in a 21-0 hole.
The turnover parade actually began on the team's second series when running back Reggie Bush lost a fumble, setting up Tennessee's first touchdown of the afternoon.
Unfortunately for Miami, it proved to be the first of many scores by the visiting Titans. The Tennessee defense defense limited Philbin's club to 255 total yards, including a disappointing 54 yards on the ground.
Minnesota Vikings: A-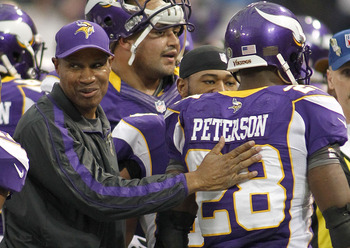 Andy King/Getty Images
After getting off to a surprising 4-1 start, it appeared that reality was setting in for the Minnesota Vikings when they dropped three of their next four games.
Perhaps the reality is that this is indeed an improved football team, shown by a 34-24 win over the Detroit Lions, completing a sweep of their NFC North rival.
Running back Adrian Peterson continued his amazing 2012 season, rushing for 171 yards and a score, and quarterback Christian Ponder dodged the interception bug, throwing for 221 yards and two touchdowns.
The Minnesota defense, which had struggled against the run in recent weeks, limited the Lions to 60 yards rushing.
Frazier's club has doubled its victory total from 2011, and the Purple Gang has two weeks to prepare for what should be an interesting final six games of the season.
New England Patriots: B-
Jared Wickerham/Getty Images
You get the feeling that the New England Patriots and head coach Bill Belichick got away with one this week.
The team's 37-31 victory over the visiting Buffalo Bills came down to the final moments as quarterback Ryan Fitzpatrick threw an end zone interception to Devin McCourty with under 30 seconds left.
It was the second bullet the Pats dodged on Sunday. At the beginning of the fourth quarter, Bills running back Fred Jackson fumbled inside the 5-yard line, killing another chance for points.
Let's not take anything away from the Patriots, who did give up 481 total yards and 31 points but came away with three takeaways. Meanwhile, Tom Brady threw for 237 yards and a pair of touchdowns and he and his teammates played turnover-free football.
Given the fact that the Dolphins and Jets also lost on Sunday, the Patriots' win was perhaps a lot bigger than anyone might have realized.
New Orleans Saints: A-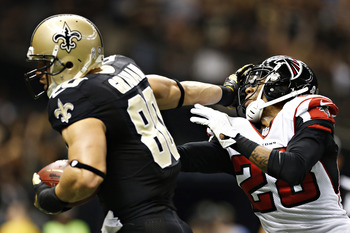 Wesley Hitt/Getty Images
A mere 20 years ago, the San Diego Chargers rallied from a 0-4 start to finish 11-5 and win the AFC West.
Now a one-time Chargers quarterback is trying to duplicate that feat.
The New Orleans Saints bounced the rival Atlanta Falcons from the ranks of the unbeaten with a 31-27 victory at the Superdome. Joe Vitt's team rallied from a 10-0 first-quarter deficit and would wind up holding off the Falcons late in the fourth quarter.
The Saints ran for 148 yards and also got 298 yards passing from Drew Brees, who continued his mastery of the Falcons. The prolific signal-caller improved his record to 11-2 vs. Atlanta since signing with New Orleans in 2006 and has now thrown for 29 scores and only 12 interceptions in those 13 meetings. More importantly, the Falcons defense has only sacked Brees 11 times in those contests.
Still, the New Orleans defense continued its own streak, allowing 400 or more total yards for the ninth time in as many games this season. But for the fourth time in five games, Brees and company had enough to offset those numbers.
Now we'll see what kind of finishing kick this Saints team has in 2012.
New York Giants: D-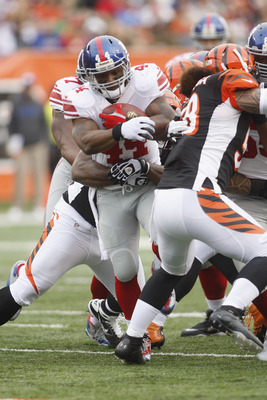 John Grieshop/Getty Images
This second-half slump thing is becoming a little disturbing if you are the New York Giants.
While two straight setbacks doesn't make for a losing streak (yet), head coach Tom Coughlin can't be happy about his team heading into its off week on a pair of sour notes.
The Giants 31-13 setback to the Cincinnati Bengals featured four turnovers, three by quarterback Eli Manning, who threw for only 215 yards and no scores while being sacked four times.
The New York defense also didn't get to Bengals quarterback Andy Dalton, who threw for 199 yards and four scores. The Cincinnati signal-caller had thrown at least one interception in each of his first eight games this season, but Giants defenders failed to pick him off.
Hence, New York is now 6-4 after a 6-2 start, which should have a familiar ring to it.
But it is certainly the kind of habit the Giants would like to break.
New York Jets: F+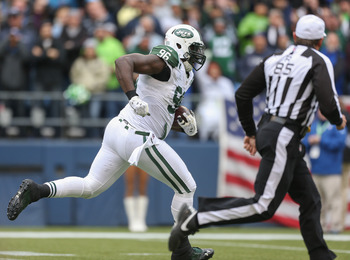 Otto Greule Jr/Getty Images
The New York Jets just keep on outdoing themselves.
And Rex Ryan's team is sinking fast.
Two weeks ago, the Green and White were humbled at home, 30-9, by the Miami Dolphins.
On Sunday, the Jets changed coasts and still managed to lose by 21 points.
Ryan's offense was unable to find the end zone in the 28-7 setback to the Seattle Seahawks, as the team's only touchdown came on a 21-yard fumble return by Muhammad Wilkerson. New York's offense totaled a mere 185 yards as quarterback Mark Sanchez was 9-of 21 for 124 yards and an interception.
The Jets also ran for only 84 yards, 40 fewer yards than Seattle's Marshawn Lynch (124) as Seattle rolled up 174 yards on the ground by game's end.
Since destroying the Colts a few weeks ago, Ryan's club has dropped three straight games and has looked progressively worse with each setback.
Makes you wonder what we're in for when they take the field in St. Louis next Sunday.
Oakland Raiders: D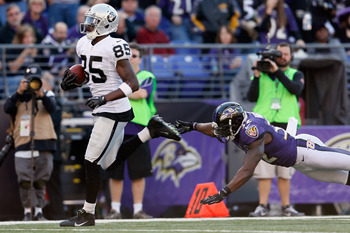 Rob Carr/Getty Images
After watching Tampa Bay Buccaneers rookie running back Doug Martin run for 251 yards and four touchdowns last week and lead his team to a 42-32 victory at Oakland, Raiders head coach Dennis Allen was perhaps wondering how things could possibly get any worse.
He didn't have to wait very long.
The Silver and Black remained winless on the road against the Baltimore Ravens courtesy of a 55-20 drubbing. The Raiders gave up 419 total yards and a total of seven touchdowns, five by the Ravens offense and two more by their special teams.
Oakland's depleted ground game managed only 72 yards on 24 carries. While quarterback Carson Palmer threw for 368 yards and a pair of touchdowns, he also committed two of the team's three turnovers.
Simply put, you're not going to win too many football games when you allow 97 points in the span of eight days.
Philadelphia Eagles: C-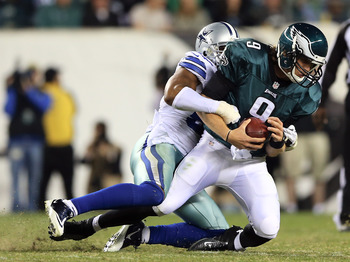 Elsa/Getty Images
Could it all be over but the shouting in the City of Brotherly Love?
With a 3-6 record, tied with the Redskins for the bottom spot in the NFC East, and in the midst of a five-game losing streak, the Philadelphia Eagles may be making some interesting decisions the rest of the way in 2012.
The Birds 38-23 home loss to the Dallas Cowboys featured quarterback Michael Vick getting knocked out of action with a concussion and rookie Nick Foles getting his chance to play. The promising talent actually led Philadelphia to a 17-10 lead late in the third quarter.
But Philadelphia's offense, defense and special teams all gave up at least one touchdown the rest of the way as the Cowboys outscored the Eagles 28-6 for the remainder of the game. Foles would throw for 219 yards and a score but committed two turnovers that were returned for touchdowns.
A mediocre 2011 season has been followed with an even more disappointing showing in 2012. Patience is indeed running thin in Philadelphia. It will be interesting to see how this drama plays out.
Pittsburgh Steelers: C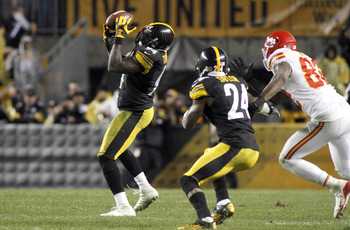 Justin K. Aller/Getty Images
Just when the Pittsburgh Steelers had found themselves this season, they may now find themselves without arguably their most important performer.
In Monday night's ugly 16-13 overtime win over the Kansas City Chiefs, Steelers quarterback Ben Roethlisberger was sacked on the team's first series of the second half and was knocked from the game. The early prognosis was an issue to his right shoulder and uncertainty regarding his future playing status.
In stepped veteran backup Byron Leftwich, who had his moments but most importantly did not turn over the football. With the Steelers ground attack limited to just 95 yards on 29 carries, the former Jaguars quarterback made a few plays, although they were few and far between.
But this one belonged to the Steelers defense, which was pushed around at times as Pittsburgh allowed a season-high 142 yards rushing. Mike Tomlin's team would fall behind 10-0 in the second quarter but forged a 10-10 by halftime thanks in part to Roethlisberger's 7-yard touchdown pass to wideout Mike Wallace.
As we well know, style points have never concerned Tomlin and a win is a win. But speaking of style, you have to give the nod to inside linebacker Lawrence Timmons, who totaled seven tackles, knocked down two passes and picked off Chiefs quarterback Matt Cassel in overtime to set up Pittsburgh's game-winning field goal.
The bottom line is that the Steelers did manage to pull out a victory in overtime without their starting quarterback and stayed within one game of the Baltimore Ravens (Pittsburgh's opponent two of the next three weeks) in the AFC North.
Now it remains to be seen how many more times will the Steelers be called on to duplicate this feat.
St. Louis Rams: B-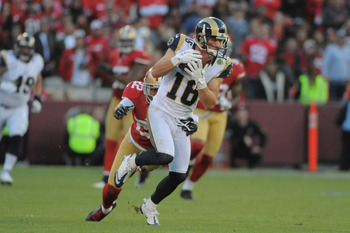 Kyle Terada-US PRESSWIRE
St. Louis Rams head coach Jeff Fisher pulled out all the stops on Sunday. While it couldn't have been any closer, the Rams and the San Francisco 49ers wound up splitting the cigar.
In what proved to be the NFL's first tie since 2008, the Rams won the battle in terms of total yardage (458-341) but couldn't take advantage of an off-day by San Francisco's defense.
Running back Steven Jackson ran 29 times for 101 yards and a touchdown. Quarterback Sam Bradford added 275 yards and a pair of scores through the air. And Fisher caught the usually-sturdy San Francisco special teams napping on two different occasions as punter John Hekker was 2-of-2 on fake punts, completing passes of 29 and 21 yards to keep drives alive.
Still, the Rams did squander a 17-7 fourth-quarter advantage. After taking a 24-21 lead with 1:09 to play, Fisher's team also allowed the Niners to tie the score with three seconds remaining in regulation. A pair of costly penalties wiped out an 80-yard pass play and a game-winning 53-yard field goal in overtime.
Perhaps that cigar doesn't taste so good after all.
San Diego Chargers: C-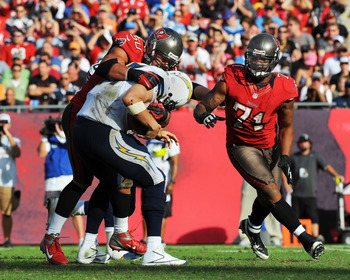 Al Messerschmidt/Getty Images
The roller coaster known as the San Diego Chargers nearly jumped the track on Sunday.
At the very least, a few cars were derailed as Norv Turner's team rolled up 426 yards and 24 points and still couldn't get the job done on Sunday with a 34-24 loss to the Tampa Bay Buccaneers.
Former Pro Bowl quarterback Philip Rivers did complete 29-of-37 passes for 337 yards and three touchdowns, but he also threw two more interceptions. One of those interceptions was returned 83 yards for a score by Buccaneers cornerback Leonard Johnson.
The Chargers actually owned a 21-17 halftime advantage but could only manage three points in the second half. The San Diego defense limited Doug Martin to just 68 yards on the ground.
The Bolts simply made too many big mistakes, including allowing a blocked punt for a touchdown in the second quarter.
If things don't steady themselves down the stretch, we may see a lot more undoing in San Diego in January.
San Francisco 49ers: C+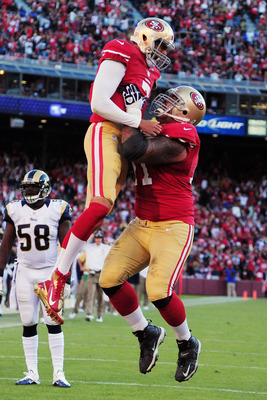 Kyle Terada-US PRESSWIRE
Could the fierce San Francisco 49ers defense be losing a bit of its roar?
While Jim Harbaugh can't be happy with a 24-24 tie with the division rival St. Louis Rams, the head coach has some bigger concerns at the moment.
Most significant is the health of quarterback Alex Smith, who suffered a concussion in the second quarter and did not return to the game. Colin Kaepernick came in and despite being sacked three times (part of five sacks allowed by the 49ers), the young signal-caller completed 11-of-17 passes for 117 yards, plus eight rushes for 66 yards and a score. The second-year player led a San Francisco rally from a 17-7 fourth-quarter hole to take a 21-17 lead.
The Niners' defense gave up 458 total yards and had its problems vs. the run as the Rams rushed for 159 yards, 101 yards of which came from Steven Jackson.
San Francisco's special teams also had a somewhat forgettable afternoon as this unit gave up a pair of long gains on fake punts, while usually reliable kicker David Akers missed a game-winning 41-yard field goal in overtime.
It may be time for a little fine tuning, especially with the Chicago Bears coming to town next Monday night.
Seattle Seahawks: A-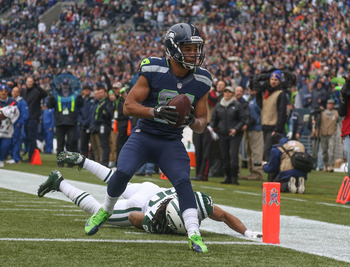 Otto Greule Jr/Getty Images
Pete Carroll is now 2-for-2 this season when facing the two teams who used to call him head coach.
While the Seattle Seahawks needed 14 points in the fourth quarter four weeks ago to stun the New England Patriots, this time the 'Hawks took a 14-7 halftime lead over the New York Jets and went on to a 28-7 victory over the team Carroll coached for one season in 1994.
Despite being sacked four times, quarterback Russell Wilson completed 12-of-19 passes for 188 yards and a pair of scores. Wideout Golden Tate caught a 38-yard touchdown pass and threw a 23-yard scoring strike to Sidney Rice, his second touchdown of the afternoon, while Marshawn Lynch totaled 124 of the team's 174 yards rushing.
Carroll's team was far from perfect as Wilson lost one of his two fumbles, while Lynch, whose 1-yard touchdown just before intermission gave Seattle a seven-point lead, also committed a turnover.
But the bottom line is that the Seahawks continued to make life miserable for anyone who visits them in the Pacific Northwest. And with a 6-4 mark, Carroll's club is very much in the hunt in the NFC West.
Tampa Bay Buccaneers: B+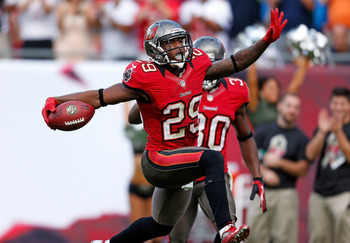 J. Meric/Getty Images
This scoring thing is becoming a lot of fun for the Tampa Bay Buccaneers.
For the fifth straight game, Greg Schiano's club rolled up at least 28 points. More importantly, Sunday's 34-24 victory over the San Diego Chargers was the Bucs' third consecutive win and fourth in the last five games.
After finishing 4-12 and losing their final 10 games in 2011, the 5-4 Buccaneers have already surpassed last season's win total.
While Tampa was limited to only 279 total yards of offense, Schiano's club got touchdowns from its special teams (29-yard blocked punt return by linebacker Adam Hayward) and defensive unit (83-yard interception return by cornerback Leonard Johnson), the perfect complement to Josh Freeman's two scoring passes.
The Buccaneers quarterback completed 14-of-20 passes for 210 yards and was sacked just once, while the Tampa running attack that rolled through the Oakland Raiders last Sunday was limited to 74 yards.
It may be a very interesting final seven weeks for Schiano and company.
Tennessee Titans: A+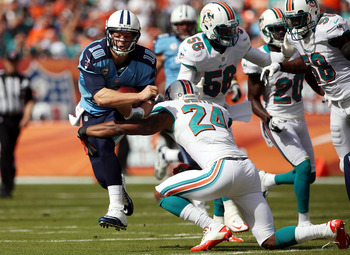 Marc Serota/Getty Images
There's logic…and then there's the NFL.
Seriously, the Tennessee Titans have defied explanation at times in 2012. And on Sunday against the Miami Dolphins, they may have topped themselves.
A week ago at home against the Chicago Bears, Mike Munchak's squad couldn't get out of its own way. The Titans fell behind 28-2 in the first quarter and would lose handily, 51-20, as quarterback Matt Hasselbeck and company would finish the afternoon with five turnovers.
On Sunday vs. Miami, Tennessee was the team taking advantage of the other team's miscues in a stunning 37-3 victory. Munchak's club totaled four takeaways, including three interceptions of Dolphins rookie quarterback Ryan Tannehill, one of which was returned 49 yards for a score by linebacker Colin McCarthy. Jerry Gray's defensive unit allowed only 255 total yards on the afternoon.
But what made the performance even more stunning was the fact that entering the game, the Titans had allowed a whopping 308 points in their first nine contests, including 30 or more in seven of those outings. It almost seemed a moot point that Chris Johnson ran for 126 yards while quarterback Jake Locker, back at the helm, threw a pair of touchdown passes.
Now Munchak has two weeks to figure out just what kind of team he has this season.
Keep Reading