Top 10 NCAA Women's Ice Hockey Rookies for 2012-13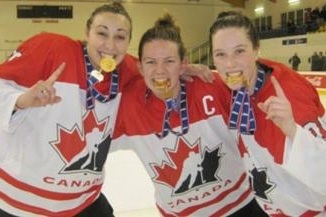 Clarkson rookies Shannon MacAulay, Erin Ambrose and Cayley Mercer claimed the Gold medal at the 2012 IIHF Under-18 Worlds (Photo courtesy of Hockey Canada)
In the aftermath of the 2011-12 NCAA season, one which produced the finest graduating class ever, it may have been easy to write off the 2012-13 season as a transitional one. Instead, the opposite has occurred. The freshman class has turned the NCAA on its ear, and in doing so, the balance of power in the league has been altered.
The one aspect that has changed recruiting is the National Under-18 programs. With Canada and the United States having won the first five gold medals in the history of the competition, a player that competes in that tournament will quickly appear on the recruiting radar.
Another game changer in NCAA women's hockey is the rapidly growing quality of the goaltending position. The 2012-13 campaign has featured the likes of Emerance Maschmeyer, Elaine Chuli and Amanda Leveille emerging as future superstars in the making.
Freshman Hannah Brandt has helped the Minnesota Golden Gophers to an undefeated October and November, while establishing herself as a contender for the Patty Kazmaier Award. Clarkson recruit Erin Ambrose is making a strong argument that she will be a key player for the 2018 Canadian Winter Games team. Her presence is helping Clarkson to a Top 10 national ranking.
While the future promises many great moments from these remarkable rookies, there are ten that have emerged as key players in the success that their respective programs are enjoying. This collection of elite recruits has brought some programs hope, while bringing others the reassurance that they shall retain their competitive status for the seasons to come.
Begin Slideshow

»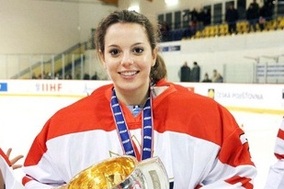 Photo by Adrian Wellman
Although Elaine Chuli has yet to win a game for the struggling Huskies program, she comes to UConn with tremendous credentials. Having competed with the Canadian National Under-18 team that won the gold medal at the 2012 IIHF U18 Women's Worlds, Chuli is able to excel in high pressure situations.
While she goes into the holiday break with a 0-9-2 record, Chuli has proven to be a workhorse goaltender. Her second career NCAA game resulted in a tie versus RPI (a 39 save performance on October 5).
In 13 games, she has logged 669:26 minutes of playing time, while accumulating 352 saves. On three separate occasions, she has brought the Huskies into overtime. Her best performance was a 41 save output versus the St. Lawrence Skating Saints on Nov. 18.
In her last four appearances, she has only allowed nine goals, reducing her goals against average to 3.76. She has faced 394 shots in 13 games, with a save percentage of .893.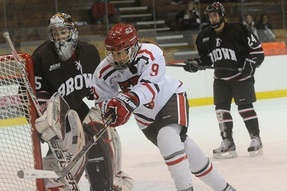 Photo by Tara Freeman
During November, Abbey McRae posted a team-high six goals including two on the power play and one game-winner. The London, ON native recorded her first collegiate hat trick against Yale while adding goals against conference foes Brown, Princeton and Colgate.
Prior to joining the St. Lawrence Skating Saints, McRae earned the silver medal in both the 2010 and 2011 Ontario Games. A captain on her high school hockey team, she competed with Team Ontario at the 2011 Canada Winter Games. During November 2012, she led all Skating Saints with six goals scored. Her first career hat trick came in a contest versus the Yale Bulldogs.
Image courtesy of Ohio State athletics
Having played in Okanagan Major Midget in 2010, she was the leading scorer in BC Major Midget. In addition, she was an All-Star selection. In 2011, Julia McKinnon participated at the Team Canada U18 training camps. During 2011, she was also a member of Team BC in 2011. She participated at the Canadian U18 Nationals and the Canada Winter Games.
With Ohio State, McKinnon ranks third among goals scored by rookies. She has scored a goal in seven consecutive series, while logging the game winning tally against the MSU Mavericks on Dec. 1 .
Image courtesy of Penn State Athletics
Hailing from Michigan, Shannon Yoxheimer competed with prestigious junior programs Little Caesars and Belle Tire. She helped Little Caesars finished second at the 2008 USA Nationals. With Belle Tire, she won the Michigan state championships. Her final year of junior hockey was in 2011-12, when she helped the North American Hockey Academy in Stowe, Vermont win the Junior Women's Hockey League title.
In November 2012, Yoxheimer led Penn State with nine points on four goals and five helpers. She helped the Nittany Lions to a respectable 3-4-0 record. Her five assists and nine points in November led all Lions skaters. In a sweep of the Sacred Heart Pioneers, Yoxheimer contributed five points (three goals, two assists). She also logged a seven-game goal-scoring streak. A Nov. 17 victory against Lindenwood was their first CHA conference victory. In a 3-2 win, Yoxheimer contributed with 2 assists. Through the first two months of the season, Yoxheimer led the Lions in goals (10), points (18), while leading all CHA skaters with 89 shots.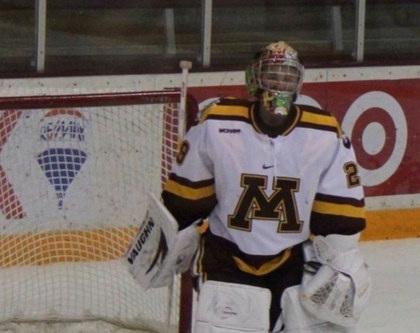 (Photo from Twitter, @MandyLeveille29)
A former goaltender with the Ottawa Senators junior girls team in the PWHL, Amanda Leveille is the heir to Noora Raty's goaltending legacy with the Minnesota Golden Gophers. Although Leveille will not see a lot of playing time during Raty's senior season (2012-13), the opportunity to play with and learn from Raty is invaluable. While Leveille is more of a long term project, she will continue to make the Golden Gophers a nationally ranked program.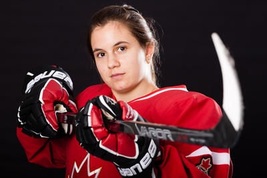 Photo by Philip McCallum
An offensive minded defender, Cassandra Poudrier helped Canada claim the gold medal at the 2010 IIHF Under-18 Women's World Hockey Championships.
In her first NCAA game (a Nov. 2 match versus Princeton), she recorded her first NCAA goal. The following day, she would have her first multi-point performance (1 goal, 1 assist) versus the same Tigers squad.
Suffering from the injury bug, Poudrier has not been able to excel up to her potential. Having appeared in only eight games, the Cornell faithful will have to wait a little longer to see what Poudrier is capable of.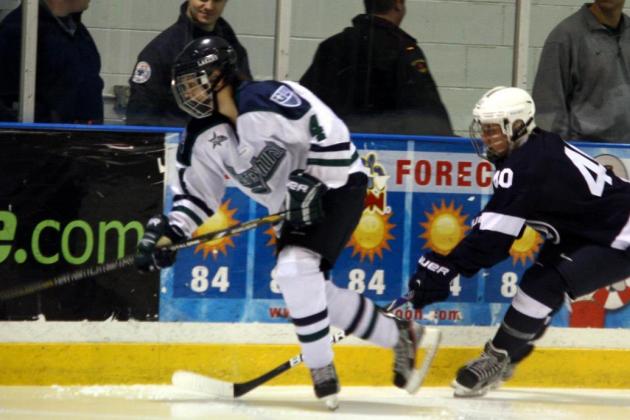 Photo by Brent Stoutamyer
With a great history of top scorers, Emily Janiga proudly follows in the footsteps of great Lakers players such as Vicki Bendus, Bailey Bram and Jesse Scanzano. Her first NCAA game (a Sept. 28 road game versus Rochester Institute of Technology) resulted in her first career assist. The following day, she would notch her first career hat trick versus RIT as part of a superlative four point output.
Through the first six games of the Mercyhurst Lakers season, she tied team captain Christine Bestland for the team lead (and conference lead) in goals scored.
She would also earn another four point performance in an October 13 win over Providence. In her first home game for the Lakers (on Oct. 12 versus Providence), she would log two assists, respectively.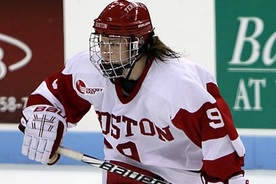 Photo by Todd Huxley Smith
The next great women's hockey prospect from Quebec, Sarah Lefort has already made a great impact with the Terriers. A former member of the Canadian Under-18 national team, Lefort is a dependable player with great breakout speed. Playing her freshman season with talents such as Marie-Philip Poulin and Isabel Menard, Lefort has the potential to develop into an elite sniper at the NCAA level.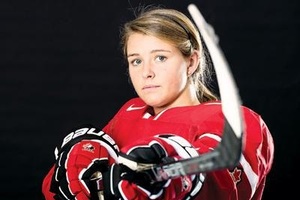 (Photo by Hockey Canada, Image from Metro News website http://metronews.ca/news/134728/dartmouths-crossley-connects-in-europe/)
Hailing from Cole Harbor, Nova Scotia, the same hometown as Pittsburgh Penguins superstar Sidney Crosby, the amazing Alexis Crossley is an impact player that can make those around her better. Crossley earned her first NCAA point with a goal against the Colgate Raiders on Oct. 6. Her best performance came with a three point output versus Boston College in an Oct. 20 contest. Through the first 20 games of the season, she accumulated 13 points.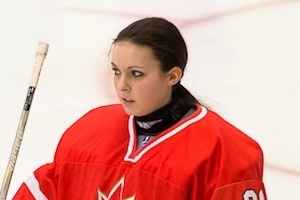 (Photo from IIHF http://u18wwc2012.com/eng/clanek.asp?id=69)
The top goaltending prospect in this year's recruiting class, Emerance Maschmeyer comes from a large hockey family in Alberta. She proudly follows in the footsteps of another Alberta goaltender, Shannon Szabados, who also played in the Alberta Junior Hockey League, and at the prestigious Brick Hockey Tournament in Edmonton, Alberta. Maschmeyer stood between the pipes for Canada in the gold medal game of the 2012 IIHF Under-18 Women's World championships, and earned a shutout versus the United States.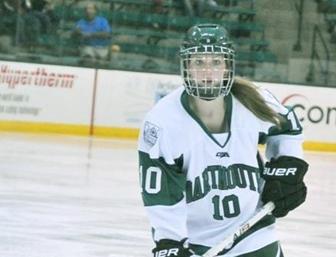 Photo by Kevin Allen, Obtained from Dartmouth women's hockey facebook page http://www.facebook.com/pages/Dartmouth-College-Womens-Hockey/91595289379
The great granddaughter of Hockey Hall of Famer King Clancy, and the niece of Terry Clancy, who competed for Canada at the Innsbruck Winter Games in 1964, Laura Stacey comes from a hockey heritage that is unmatched. A gold medalist with Canada at the 2012 IIHF Under-18 Women's World Championships, Stacey is an outstanding skater and elite scorer that can change the outcome of a game.
In her first NCAA contest, Stacey earned her first career point (an assist against Princeton on Oct. 26). She would have to wait until her fifth career game to log her first goal (a Nov. 6 affair versus the New Hampshire Wildcats).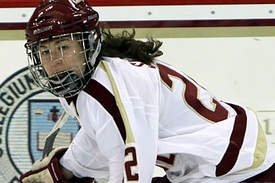 (Photo from Hockey East http://www.hockeyeastonline.com/mobile/wommob_recaps13.php?wbc_mne1.n30, Image by Tood Huxley Smith)
Joining Alex Carpenter at Boston College, Hayley Skarupa may be the final piece to the NCAA Frozen Four championship puzzle for a highly ambitious program. After a slow start (three points in her first four NCAA games), Skarupa has paid huge dividends for the Boston College Eagles. The first two goals of her NCAA career were scored in the same contest, an Oct. 21 match versus the New Hampshire Wildcats. In 13 games, she has accumulated a remarkable 26 points. Her best performance was a five point output versus the Maine Black bears on Nov. 30.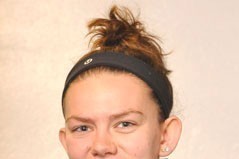 Photo courtesy of Clarkson Athletics http://www.clarksonathletics.com/roster.aspx?rp_id=3517&path=whock
A two time captain for Canada at the IIHF Under-18 World Championships, Erin Ambrose claimed the gold medal at the 2010 and 2012 editions of the championships. One of the greatest players in the history of the Toronto Jr. Aeros, Ambrose promises to bring the same level of talent to a rejuvenated Clarkson Golden Knights program.
She earned her first NCAA goal and assist in the same contest, an October 6 match versus St. Lawrence. Ambrose would follow up that performance with an 8 game point scoring streak. Her best performance of the season was a four point night versus RPI on Oct. 27. Through the first half, Ambrose has two goals (both scored on the power play) and an impressive 19 assists as Clarkson enjoys a number two ranking in the national polls.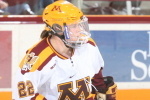 (Photo courtesy of Minnesota Golden Gophers Athleticshttp://www.gophersports.com/sports/w-hockey/spec-rel/102412aab.html)
A once in a lifetime prospect, Hannah Brandt is a key factor in the Gophers 20-0 start to the first half of the season. In her first NCAA contest, a September 28 match versus the Colgate Raiders, Brandt logged a hat trick. The following day, she exceeded her debut performance with a six point output (two goals, four assists) against the same Raiders squad. She would accumulate an astounding 17 points in her first five career NCAA games. Through the first half of the season, the 2012 Minnesota Ms. Hockey Award winner logged a remarkable 48 points.