The Doctor's WWE SmackDown Recap: The Things We Learned, Loved and Hated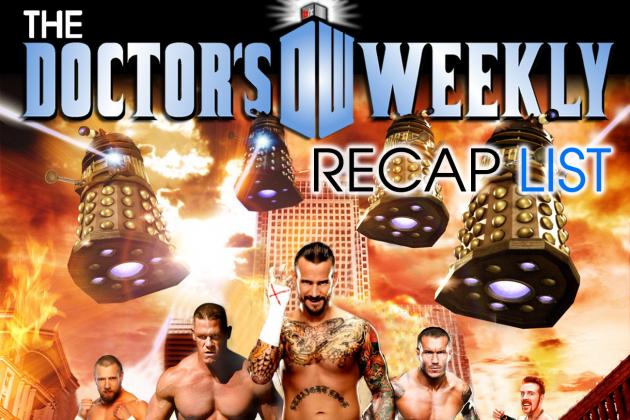 Picture by Natasha Farley (Images property of WWE, BBC and Bleacher Report)
Welcome, ladies and gentlemen, to my weekly SmackDown recap list. I always appreciate my loyal readers, but for those of you who are new, each week I recap SmackDown with a long list.

The entries are made up of equal parts observations, humor, recap, play-by-play, revelations, speculations, questions, answers and anything else I notice during the show. I sometimes comment on commercials, too, just because I get bored during them.

I try to interject some fun into these lists, so I hope you have fun reading this week's list of the 122 things we learned, loved and hated from the show.
I want to apologize for the late posting and thank everyone for their patience. Day jobs can really get in the way of things sometimes.
Begin Slideshow

»
1. And we are live (pre-taped and DVR'd) with this week's SmackDown.
2. Why is the narrator for America's Most Wanted doing the narration for the opening video?
3. The video talks about all the major events at Hell in a Cell (HIAC). I actually like this way of recapping a PPV. Maybe the night won't be filled with a million recap videos since they covered it all right there.
4. Miz comes out for MizTV at the top of the show.
5. Miz almost does an impression of Doctor Evil. It was actually pretty decent.
6. He runs down some of the major events from HIAC before bringing out his guest, Sheamus.
7. It is a little odd not seeing a title around his waist, but I liked that Big Show won. It was a good match at HIAC.
8. Why does Miz have couches and chairs if nobody ever sits down?
9. Miz puts over the World title match from HIAC as being one of the best he has seen before calling Sheamus a loser.
10. Sheamus brings up Miz's loss to Kofi Kingston.
11. I like how the crowd has started chanting "Really" back to Miz. Maybe it will become similar to "What" if they ever turn him face.
12. Miz takes credit for Big Show's win by tying together Show being fired after Miz won a match and then brought back by Johnny Ace.
13. Miz is betting that WWE fans have a longer memory than the creative team thinks we have. Thank you, Miz, for not assuming we forget things after a week.
14. Kofi Kingston comes out for some reason.
15. Kofi asks how many times he has to kick Miz in the head to knock some sense into him.
16. He talks about beating Miz three times in a row.
17. Big Show's music interrupts Miz saying he is awesome, and Miz looks pissed. His reaction was hilarious.
18. I smell a tag match coming up, playa.
19. Show says Miz is an idiot if he thinks he is responsible for the title win.
20. He wants to know why he isn't being interviewed, so Miz asks how it felt to knock out Sheamus.
21. Sheamus talks over him and says they should have another match right now.
22. Is it just me or is Big Show saying "You will have all of me that you could ever want" to Sheamus a little weird?
23. Miz tries to attack Kofi, but he gets sent over the top rope to end the segment.
24. What the hell were those shoes Miz had on? They were like sneakers on the sole and dress shoes everywhere else.
25. SinSterio is shown backstage and so are Prime Time Players as we head to break.
Since WWE didn't put this segment on YouTube, I decided to give you this week's Z! True Long Island Story.
26. Big Show is backstage after the break, and he runs into Booker T.
27. Booker takes Teddy Long's thunder and makes a tag match for later.
28. Sin Cara is out after the break with Rey Mysterio to be in his corner.
29. I think the fact that we have two feuds in the tag team division at the same time is incredible. The division has come a long way in a short time thanks to Triple H.
30. Darren Young is out with Titus O'Neil to face Cara.
31. Cara uses some high-flying moves to keep Young off his game early on.
32. Young runs him over with a clothesline and then keeps on him with a neckbreaker for a one count.
33. Hahahahaha.
34. JBL to Josh Matthews: You called 9-1-1 to have a flat tire changed one time.
35. Josh Matthews: That...is accurate.
36. Cara rolls up Young from a suplex attempt, but Young kicks out and keeps pounding Cara.
37. Cara breaks out of a back suplex and hits a missile dropkick to get back some momentum.
38. Young gets taken out with a back elbow off the ropes from Cara for a near fall.
39. JBL is already giving us his encyclopedic wrestling knowledge on commentary. I love it.
40. Young grabs Cara and hits the Gutbuster out of nowhere for the pin and the win.
41. I do have to say that the Gutbuster is one of the few moves that looks like it could be botched easily, and I have never seen Young miss it once.
42. PTP celebrate after the match.
43. Titus grabs a mic and starts blowing a whistle into it before he calls everyone country bumpkins.
44. Titus puts over Young as having just beaten a pinata.
45. He challenges Rey Mysterio to a match, and Rey gets right into the ring to accept.
46. We go to commercial with Titus about to get in the ring for the surprise match.
47. We return from break with the match starting.
48. Rey keeps his distance with some quick kicks, but Titus corners him.
49. Rey uses his quickness to escape, but he ends up being knocked a** over tea kettle by a huge clothesline from Titus.
50. I love how JBL gets so pissed whenever anyone brings up Mysterio retiring him.
51. Titus misses a kick, and Rey takes advantage.
52. Rey sets up for the 619, and Sin Cara stops Young from getting in the way.
53. Titus ends up catching Rey mid-619 and slams him into the turnbuckle.
54. Titus sets up a three-point stance, and Rey moves out of the corner and rolls up Titus for the win.
55. After the match, Rey and Cara do the PTP dance on the ramp to mock them.
56. Two quick matches, but I think it worked better than a single tag match across both segments could have been considering they have faced off twice already in the past two weeks.
57. After the break, we get a recap of the WWE title match from Hell in a Cell.
58. JBL thinks Brad Maddox is not working alone in this conspiracy, and he even mentions The Rock as a possible accomplice.
59. They throw to another recap video. We see Team Punk vs. Team Foley being made for Survivor Series from Raw.
60. We go backstage to see Teddy and Booker talking about how Vickie is not keeping Raw under control.
61. Natalya Neidhart walks in and asks if she can be Booker's assistant while Eve is on tour in Europe.
62. David Otunga walks in and says he is better for the job.
63. Booker says he wants Otunga to take on Khali, and he spits coffee all over Natalya.
64. Otunga says he is sorry to Nattie, but the coffee was an improvement.
65. He takes another sip, and she slaps it out of his mouth onto Teddy.
66. Haha. Booker just saying "Oh my goodness" off camera was pretty funny.
67. Nice. Wade Barrett and Randy Orton have a match after the break. This is one of my favorite programs in WWE right now. They have such good chemistry in the ring.
68. Del Rio is on commentary for the Orton vs, Barrett match.
69. Del Rio tries to attack Orton during his pose on the turnbuckle, and Orton gets to him first.
70. Del Rio and Ricky end up getting the better of Orton, and they run him into the ring post.
71. Barrett looks pleased about Orton already being injured as we head to break.
72. We return to see the match in progress.
73. Orton clotheslines Barrett over the top rope.
74. Orton goes out and back-suplexes Barrett onto the barricade.
75. When they get back in the ring, Barrett hits a big boot to Orton and then hits a knee drop for a two count.
76. Barrett wraps Orton in the ropes and then hits a running boot.
77. He keeps on Orton when he gets back in the ring, but Orton fights up to his feet.
78. Orton is selling a headlock from Barrett better than I have seen in years before he hits a back suplex to break out.
79. Barrett immediately gets back on Orton with a hard back kick and a boot to the face.
80. He picks Orton up and hits him in the ribs numerous times for a near fall.
81. Orton fights back out of the corner, and it turns into a slug-fest for a moment.
82. Orton ends up running into a knee lift from Barrett for another near fall.
83. Barrett hits an elbow drop from the middle rope for another near fall.
84. Orton meets Barrett on the top rope and hits him with a superplex.
85. This is a great match. I love this feud.
86. Orton comes out of nowhere with a pair of clotheslines and a snap powerslam.
87. Orton sets up and hits the rope-hung DDT.
88. Del Rio comes out on the stage, and Orton looks at him.
89. Ricky gets on the apron and distracts Orton so Barrett can roll him up for the three count.
90. I wish Barrett's victories were not all because Del Rio helped him.
91. Orton heads backstage with a head of steam to look for Del Rio.
92. After the break, we see a video about WWE and Susan G. Komen.
93. JBL puts over the WWE's charity work before we go backstage to see Matt Striker asking Del Rio why he keeps taunting Orton.
94. Orton attacks Del Rio and Ricky from behind and beats on them for costing him his match.
95. Orton and Del Rio fight by catering.
96. Del Rio tries to grab a pot of coffee but it is too hot.
97. Orton ends up grabbing it and throwing it all over Ricky.
98. They keep going at it, and Orton dumps a pot of chili on Ricky.
99. Orton ends up back-dropping Del Rio through some tables that did not break the right way. Del RIo probably hit the hard ground worse than he should have.
100. Orton hits him a few more times before they both try and put each other into the pastry table.
101. Del Rio runs off and Striker thinks this is a good time to interview Orton.
102. Orton slams his face into a cake, and the people backstage all laugh at him.
103. We get Khali coming out for his match after the break.
104. Otunga poses on the stage during his entrance. He has not slacked on his workouts while he has been off TV.
105. Otunga tries to pose after the bell, and Khali shoves him.
106. Otunga attacks the legs of Khali to get him down only to run into a huge slap from Khali.
107. Khali uses his power to get back in control, and he smacks Otunga in the chest again.
108. Natalya is watching this match in the back. Is she going to feud with Otunga?
109. And why did she cover up her coffee-stained shirt with a wrap instead of just changing?
110. Khali hits the big chop for the pin and the win.
111. Natlaya looks very happy backstage. I think she is crushing on Khali. I already hate this storyline.
112. Just put her back with Tyson Kidd and call it a day.
113. After the break, we see Khali backstage, and Natalya runs up and says she was impressed.
114. Nice. Justin Gabriel vs. R-Truth is up. This could be a good one.
115. Truth hits an early shoulder block to take Gabriel down.
116. Both men show off their dancing skills while avoiding being hit by the other.
117. Both men go back and forth until Truth misses a top rope move and gets hit with a dropkick.
118. Gabriel locks in an abdominal stretch and rolls through it for a near fall.
119. Gabriel puts Truth in a headlock.
120. Truth gets out, but Gabriel uses some quick offense to stay on top of Truth.
121. Gabriel tries for a springboard, but he misses, and Truth hits his finisher for the pin and the win.
122. Quick but entertaining match. After the match, Truth and Gabriel shake hands.
123. I like when two faces go at it and nobody turns heel. It doesn't happen too often, but when it does, it helps break the trend of people only facing people they don't like.
124. We get a replay of Cena and Vickie going back and forth on Raw.
125. Miz and Big Show are backstage. Miz is excited for the reunion of ShowMiz.
126. Big Show says he is in charge and tells Miz to hand him his title.
127. Miz looks a little worried as Show walks off.
128. Sheamus and Kofi are out first, followed by ShowMiz.
129. Big Show holds the title above his head the whole time he is walking to the ring.
130. Sheamus' chest is still torn up from his match with Big Show.
131. Sheamus and Miz are going to start off after some switches take place.
132. Miz gets right on Sheamus, but Sheamus fights him off and puts him in the corner.
133. Kofi gets the tag, and he hits Miz with some kicks before being knocked down by a shoulder block.
134. Kofi puts Miz over the top rope, and Big Show goes down to help.
135. Show moves out of the way as Kofi hit Miz with a suicide dive.
136. Ugh, commercial.
137. After the break, we see Show dominating Kofi with some nice wrestling combinations.
138. Miz gets the tag and keeps on Kofi, but Kofi still ends up tagging Sheamus.
139. Sheamus runs all over Miz after the hot tag as Big Show looks on from outside the ring.
140. Sheamus hits Miz with the Irish Hand Grenades.
141. Kofi comes back in and ends up eating a WMD from Big Show.
142. Miz pins Kofi after a pretty uneventful match.
143. It was OK, but I don't think it progressed either feud. The segment that opened the show did that for them.
144. It was a pretty good show in terms of the action, but I think most of the matches were just filler to make it seem like some of these feuds still matter more than they do.
145. I am happy the tag division has two solid feuds going on at the same time with a couple of teams still waiting to get in on the action.
146. I want Barrett to get a clean win over Orton to really get him over as a top heel.
147. Final note of the night; Natalya is quite possibly the most misused WWE superstar in history. She can out-wrestle most of the entire roster, and they waste her with flatulence and flirting.

Thanks for reading and follow me on Twitter @BR_Doctor