AP College Football Poll 2012: Winners and Losers from Week 11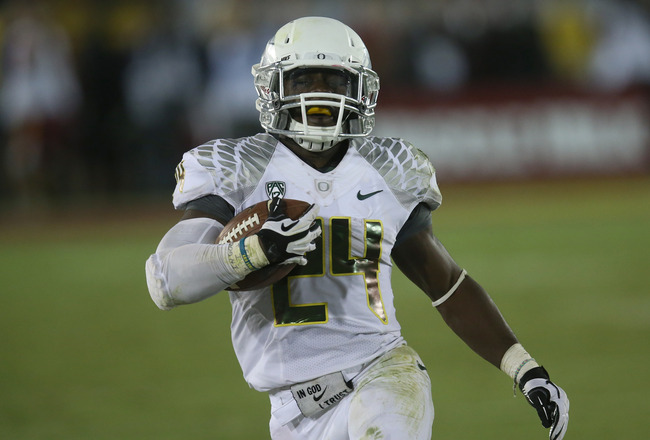 Stephen Dunn/Getty Images
Survival was the theme of college football's action last week, and the Week 11 AP poll reflects it.
Two of the top four teams in the nation, Alabama and Notre Dame, saw their perfect seasons flash before their eyes. Survival turned into resolve, and both the Crimson Tide and Fighting Irish showed that they had it.
Alabama defeated LSU 21-17, and Notre Dame beat Pittsburgh in triple overtime 29-26. With the wins, not much has changed in the title picture, according to the AP.
Alabama and Oregon still remain the biggest winners of all, holding the top two spots. Although Kansas State and Notre Dame are No. 3 and No. 4 respectively, they continue to be the biggest losers in the AP poll.
Winner: Oregon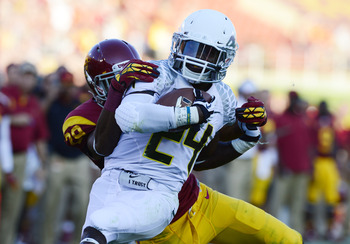 Robert Laberge/Getty Images
Smooth sailing for the Ducks.
Win—that's all Oregon has to do. Close out the season with a perfect record, and Phil Knight will be making his Oregon Ducks championship gear for Jan. 7.
With two ranked opponents and a Pac-12 championship game left to play, Oregon should have no problem gaining points in the BCS.
With the backing of the writers, Oregon continues to be the front-runner to play Alabama in the championship game.
Losers: Kansas State and Notre Dame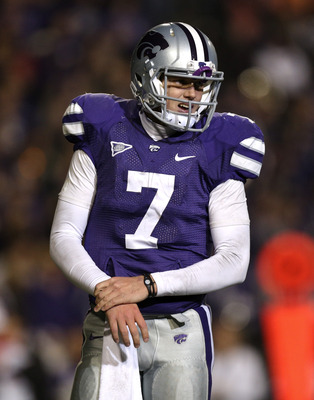 Ed Zurga/Getty Images
Kansas State and Notre Dame, the nation feels your pain.
All the Wildcats and Irish have done is beat the teams placed in front of them, yet they are still out of the national championship picture for the time being.
Alabama just passed the toughest test it'll face all season, and with the way Oregon keeps scoring points, it'll take 13 defenders to stop the Ducks.
Therefore, Kansas State and Notre Dame remain idle. BCS Armageddon is upon us, and if all four teams remain undefeated, Kansas State and Notre Dame will most likely battle for second place in the Tostitos Fiesta Bowl.
Winner: Florida State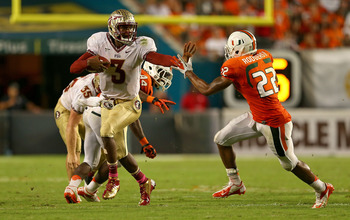 Mike Ehrmann/Getty Images
Florida State is steadily creeping up.
Though the Seminoles only moved up one spot this week, Florida State is sitting pretty at No. 8. Should the Seminoles beat Virginia Tech and Maryland, they can finish the year with a Top 10 battle against Florida should the Gators continue to win.
If the Seminoles win that game and absolute chaos breaks out, with Notre Dame losing to USC and Kansas State losing to Texas, Florida State could be right back in the national title conversation.
It's certainly a stretch, but come on, do you remember the 2007 season?
Loser: Oregon State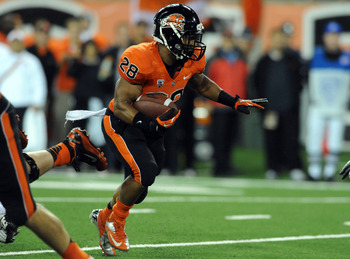 Steve Dykes/Getty Images
Apparently the verdict is still out for Oregon State.
After losing to Washington 20-17, the Beavers dropped down to No. 13 in the AP poll, making them the lowest automatic-qualifying one-loss team in the polls.
Oregon State followed the disappointing loss with a 36-26 victory against Arizona State, and with a 7-1 record, the Beavers remain at No. 13 behind Clemson and two two-loss teams in LSU and South Carolina.
Obviously, Oregon State has to deal with the level of competition those teams have faced, but for a team that still has a chance to win the Pac-12 championship and make the Rose Bowl, the ranking does seem a bit low.
Winner: USC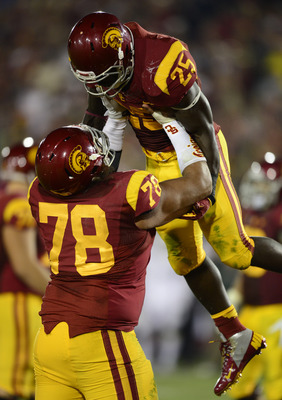 Robert Laberge/Getty Images
USC will always be the media's darling, won't it?
After losing to Oregon 62-51, the Trojans remain ranked in the Top 25 at No. 21. To be fair, they got some help from teams losing such as Boise State.
However, at 6-3, the Trojans are ranked ahead of a 7-2 Mississippi State team, 7-1 Rutgers team and 6-3 Texas Tech.
The Red Raiders' three losses came against ranked teams, while only two of USC's three losses did. You do the math.
Loser: Nebraska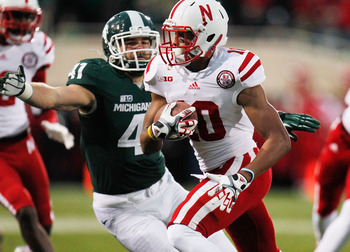 Gregory Shamus/Getty Images
It's not Nebraska's fault the Big Ten is so weak this season.
After coming back to defeat Michigan State 28-24, the Cornhuskers have now won three games in a row.
Because the Big Ten is having such a down year, Nebraska's wins against Michigan and Michigan State aren't valued as highly as they would've been before the season.
Now Nebraska, which is 7-2, sits behind many other two-loss teams because of conference woes.
Winner: UCLA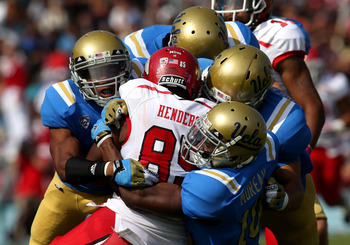 Stephen Dunn/Getty Images
UCLA was the Charlie Sheen of this poll.
Winning? Jumping eight spots in the AP poll certainly qualifies as such.
After Arizona upset USC, the Wildcats were relentlessly beaten by the Bruins. UCLA beat Arizona 66-10 and posted 611 total yards of offense.
Such a performance is sure to help out a team's ranking, but jumping up eight spots is rock star-esque.
Loser: Texas A&M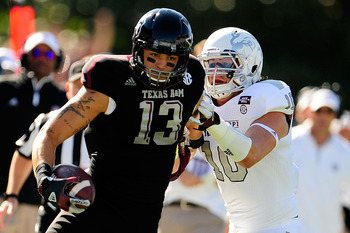 Stacy Revere/Getty Images
Johnny Manziel and Texas A&M are the No. 15 team in the rankings, but the Aggies look to be much better than that.
Texas A&M's only two losses came against Florida and LSU, and after the Aggies posted 63 on Auburn and 38 on Mississippi State, they certainly pass the eyeball test.
Isn't that what these polls are all about? Seriously, do South Carolina, Clemson, Oregon State and Oklahoma look better than the Aggies?
According to the polls, they do.
Keep Reading