Fantasy Football Live Blog for NFL Week 9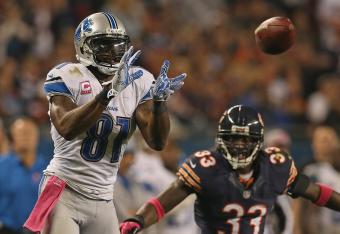 Jonathan Daniel/Getty Images
It's Week 9 of the 2012 NFL season, and as we bid farewell to the month of October and daylight-saving time, the push for the fantasy playoffs has begun.
That makes every week's games that much more important, and whether it's injury updates or news on the week's biggest performances, we'll keep you updated here on all the biggest stories from around fantasy football in Week 9.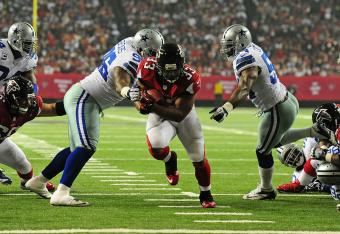 The Cowboys once again fall short at the end, and the Atlanta Falcons move to 8-0 with a 19-13 win.
Nice games for Falcons running back Michael Turner and wide receivers Roddy White and Julio Jones, who all topped 100 yards, with Turner scoring the game's only touchdown for Atlanta.
That wraps up our coverage of Week 9, or as it will now be known forever....
"Martin Time"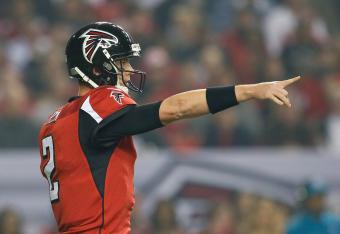 Finally a touchdown!
Michael Turner punches one in, and the Falcons lead 13-6 early in the 4th quarter.
And to all those who said I was nuts for advising folks to consider benching Matt Ryan?
9 fantasy points so far.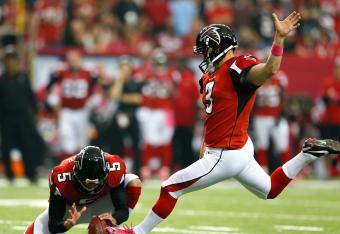 It's 6-6 at halftime in Atlanta, and I refuse to discuss kickers, so I don't have a lot to say so far about this game.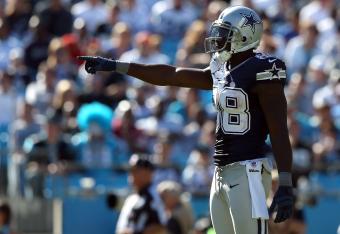 Dallas Cowboys wide receiver Dez Bryant is active for Sunday night's tilt with the Atlanta Falcons.
If you waited this long roll him out there.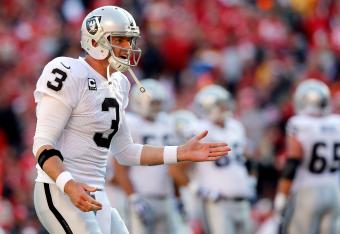 OK, so if you played against Tampa Bay Buccaneers running back Doug Martin in Week 9 odds are you took a loss.
22 carries, 265 yards, and FOUR touchdowns.
He wasn't the only player putting up gaudy stats in the game either, as Oakland Raiders quarterback Carson Palmer topped 400 passing yards and threw four touchdown passes in defeat.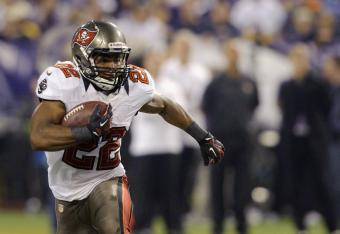 Running backs going CRAZY in the late games.
Doug Martin, Tampa Bay Buccaneers: 17 carries, 174 yards, two touchdowns
Adrian Peterson, Minnesota Vikings: 17 carries, 182 yards, two touchdowns
Wowza.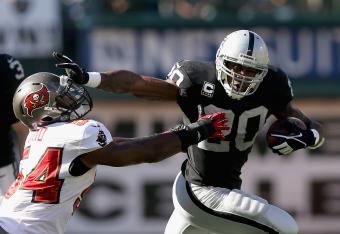 X-rays on Darren McFadden's leg were reportedly negative, but his Week 9 is over.
Cue the rush to grab Mike Goodson off the waiver wire.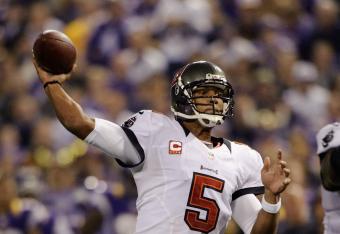 Quiet fantasy game outside of the McFadden injury in Oakland, where the Raiders lead the Tampa Bay Buccaneers 10-7 at the half.
Both quarterbacks in the game (Carson Palmer and Josh Freeman) have topped 150 passing yards with a score, and Tampa Bay wideout Vincent Jackson has two catches for 84 yards and a touchdown.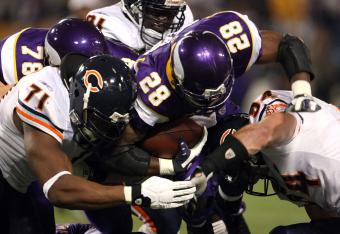 Halftime in Seattle, where the Seahawks lead the Minnesota Vikings 20-17.
Big first half for Vikings running back Adrian Peterson (144 rushing yards, 2 TD) and Seattle quarterback Russell Wilson (3 TD passes).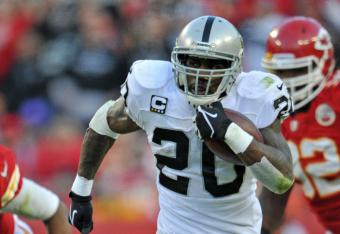 Several potentially big injuries in Sunday's late games.
In the contest between the Pittsburgh Steelers and New York Giants Pittsburgh wideout Antonio Brown and New York wide receiver Victor Cruz have been sidelined by an ankle and rib injury respectively, while Oakland Raiders running back Darren McFadden has been forced from their game with the Tampa Bay Buccaneers with an ankle injury of his own.
Cruz is expected to return, while the others have been labeled as questionable.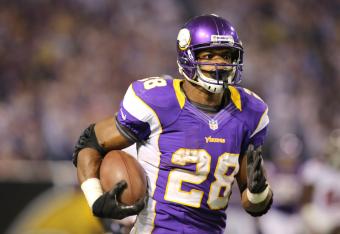 Running back Adrian Peterson of the Minnesota Vikings apparently didn't get the memo about how hard it is to run on the Seattle Seahawks at home.
Peterson racked up 80 yards (including a 74-yard rumble) on the game's opening drive before punching it in from one yard out in what is now a 7-7 game.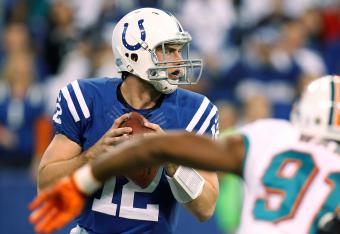 Two of the NFL's most surprising teams met in what may have been the most exciting of the early games in Week 9, as the Indianapolis Colts downed the Miami Dolphins 23-20 to move to 5-3 on the year.
Indianapolis quarterback Andrew Luck had a career day and then some, throwing for a rookie-record 423 yards and two touchdowns in the win.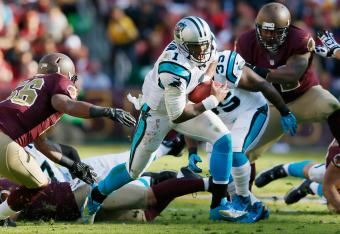 Carolina Panthers quarterback Cam Newton threw for 201 yards and a touchdown and added another score on the ground as the Panthers downed the Washington Redskins 21-13.
It was a second straight quiet game for Robert Griffin of the Redskins, who was held out of the end zone.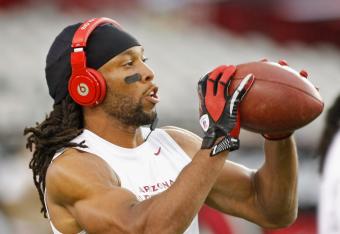 We've had a Larry Fitzgerald sighting!
Granted, the Arizona Cardinals may have lost their fifth straight game in falling to the Green Bay Packers on Sunday, but fantasy owners of the superstar wide receiver will gladly take his six receptions for 74 yards and a touchdown.
Oh, by the way, Green Bay quarterback Aaron Rodgers threw four more touchdown passes. Yawn.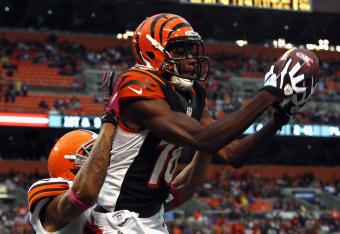 The Denver Broncos have continued their hot streak, riding 291 passing yards from Peyton Manning and two Eric Decker touchdown catches to a 31-23 win over the Cincinnati Bengals.
Andy Dalton threw for 299 yards and a score in the loss, while wideout A.J. Green added seven catches for 99 yards and a touchdown for the Bengals.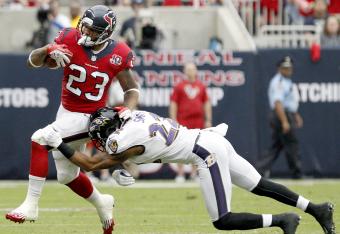 The Houston Texans held the Buffalo Bills out of the end zone, raising their record to 7-1 with a 21-9 win.
Matt Schaub threw for 268 yards and a pair of touchdowns in the victory, while running back Arian Foster added 111 rushing yards and a score of his own.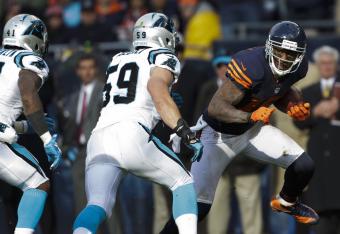 Some RIDICULOUS fantasy outings in Chicago's blowout of Tennessee.
Both Matt Forte and Chris Johnson have topped 100 rushing yards and scored a touchdown, while Bears' wide receiver Brandon Marshall has gone completelt ballistic, catching nine passes for 122 yards and three touchdowns.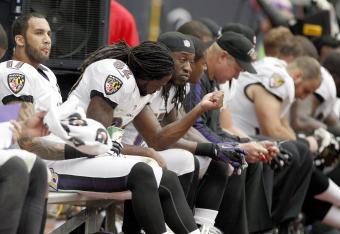 This is where fantasy football can make you crazy.
As a Browns fan, watching Baltimore Ravens wide receiver Torrey Smith score the touchdown that put the Ravens up 22-15 made me want to hurl.
However, that same play was desperately needed by a couple of my fantasy teams, so I'll stick with vaguely nauseous.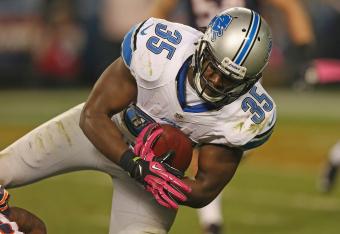 It's been a banner day for Detroit Lions running backs, as Mikel Leshoure and Joique Bell have combined for an eye-popping four rushing touchdowns against the Jacksonville Jaguars.
As to Bell, who I touted as a desperation play in an article here at Bleacher Report on Saturday?
109 total yards and almost 20 fantasy points in PPR leagues.
You're welcome.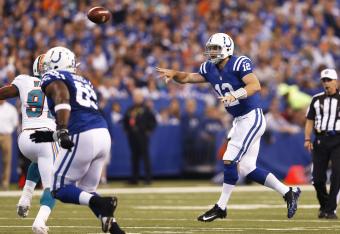 The action's heating up in a few games around the NFL.
In Cincinnati, Peyton Manning's 2nd interception of the game led to a BenJarvus Green-Ellis touchdown run, but the four-time NFL MVP answered with a scoring pass to Joel Dreesen and the Broncos lead the Bengals 24-20.
Also, Indianapolis Colts quarterback Andrew Luck is having a career day, as the rookie has racked up 379 passing yards and two scores but still finds himself deadlocked with the Miami Dolphins 20-20.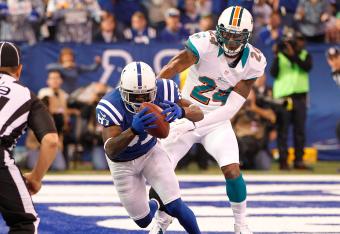 It's been the usual suspects doing the fantasy damage in Indianapolis, where the Miami Dolphins lead the Colts 17-13 at halftime.
Running back Reggie Bush has a touchdown for Miami on a nifty 18-yard scamper, while Indianapolis wide receiver Reggie Wayne has continued his fantastic season with six catches for 72 yards and a score.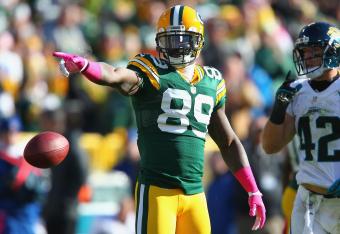 Fantasy Tip of the Day: Last-second switches rarely work out.
When it was announced that Jordy Nelson would be active today I switched out James Jones of the Green Bay Packers for Torrey Smith of the Ravens at the last second.
Yeah, that's working out well so far. Or not.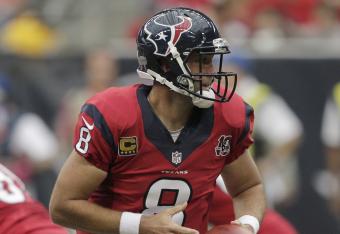 Not much to talk about in Houston, where the Texans lead the Buffalo Bills 7-6 at intermission.
Matt Schaub has had a solid first half for the Texans, throwing for 124 yards and Houston's only score.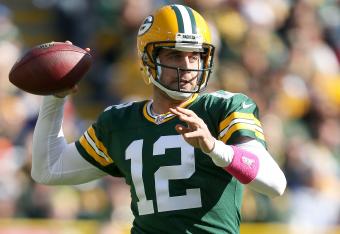 Three Aaron Rodgers touchdown passes (two to Randall Cobb, one to James Jones) and a surprisingly effective running game have staked the Green Bay Packers to a 21-7 lead over the floundering Arizona Cardinals at the half.
The nightmare continues for fantasy owners of Larry Fitzgerald. Three catches for 27 yards at halftime.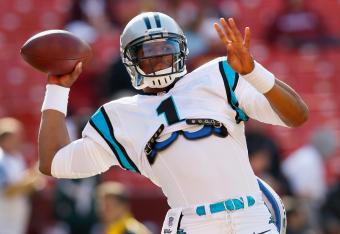 It's not looking good for Barack Obama at halftime, as the Washington Redskins trail the Carolina Panthers 14-3 in a game that has decided every presidential election but one since 1940.
Panthers quarterback Cam Newton found his favorite target in wide receiver Steve Smith for a touchdown, while rookie phenom Robert Griffin of the Redskins has to this point been held in check for the second straight week.
This article is
What is the duplicate article?
Why is this article offensive?
Where is this article plagiarized from?
Why is this article poorly edited?