Week 9 Fantasy Football Rankings: Key Sleepers for Sunday's Late Matchups
Scott Cunningham/Getty Images
Sunday's late games are always a good time in fantasy football.
Because there are many contests played before Sunday afternoon and night, you can really pull away or catch up from the later players' production. This also bodes well for sleepers to make a stronger impact.
The Atlanta Falcons defense may give up 353 total yards per game and 5.1 yards per rush, but this unit presents a better pass rush than it's credited for, and it knows how to force turnovers. Still, the Dirty Birds defense is significantly overlooked because of Matt Ryan and the offense.
Here, we take a look at Thomas DeCoud of the Falcons and other sleepers from Sunday's post-daylight saving time kickoffs.
4. Sidney Rice: WR, Seahawks (vs. Vikings)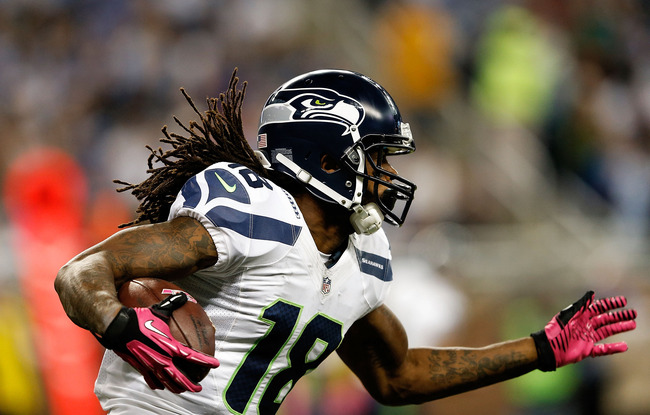 Leon Halip/Getty Images
For the Seattle Seahawks to consistently move the rock against a sound Minnesota Vikings defense, Sidney Rice must have a big game.
Entering Week 9, the Seahawks rank No. 31 in passing offense and average only 17.5 points per game, but consistently defending the pass is a concern for the Vikings. On the bright side for Minnesota, Jared Allen and Co. are capable of applying impressive quarterback pressure to generate turnovers.
That said, Rice isn't going to see double coverage with Golden Tate stretching the field and tight end Zach Miller pressing linebackers over the middle. Factor the impact of running back Marshawn Lynch and Minnesota will have to stack the box to stuff the ground attack.
In turn, Rice can work off play-action and split a Cover 2 as well as beat man-to-man. Seattle will need balance to control the tempo also, because the Vikings offense is capable of taking momentum with Adrian Peterson.
3. Mike Williams: WR, Buccaneers (at Raiders)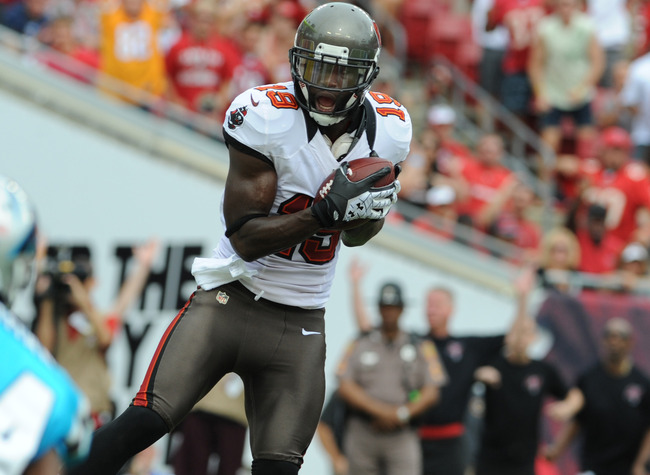 Al Messerschmidt/Getty Images
The early onset of this game for the Tampa Bay Buccaneers must be Doug Martin.
He's a complete ball-carrier and a key contributor to fielding a balanced attack. The Oakland Raiders don't present the best of coverage; however, Tyvon Branch and Co. are capable of halting the run and taking advantage of any opportunity.
Tampa Bay, though, can limit Oakland's defensive playmaking chances with Martin and targeting Mike Williams off play-action. We can expect the Raiders to double coverage Vincent Jackson because he is Josh Freeman's most explosive and consistently reliable receiver.
Focusing on Martin and Jackson simply leaves Williams against single coverage and no zoning safety over the top, not to mention the fact that 16 of Williams' 25 receptions have moved the chains.
2. Heath Miller: TE, Steelers (at Giants)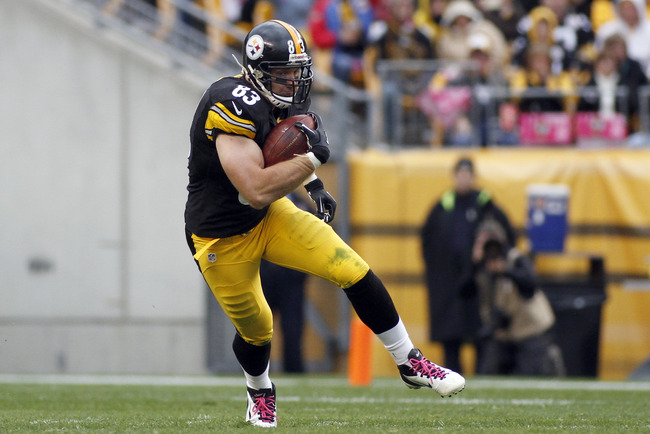 Justin K. Aller/Getty Images
When breaking down Heath Miller from an all-encompassing perspective, he is the NFL's best and most complete tight end. The guy is always reliable on third down, inside the red zone and over the middle.
Additionally, Miller is arguably the best pass-protecting and run-blocking tight end pro football has seen in quite a while. Yes, Tony Gonzalez and Antonio Gates put up sexier stats, but neither are on Miller's blocking level despite being solid in their own right.
And it's that blocking that sets Miller up as a receiver. For one, it keeps linebackers off balance and allows Miller to delay a release or alter his route when immediately getting off the line. Facing the New York Giants, Big Blue is suspect against the pass at the intermediate level.
Miller's impact in Pittsburgh's ground game presents a strong balance and he'll never see double coverage. Then again, it's no wonder why he has a team-leading six touchdown receptions.
1. Atlanta Falcons Defense (vs. Dallas Cowboys)
Donald Miralle/Getty Images
It's easy to believe the Dallas Cowboys are a trap game for the Atlanta Falcons. We've seen this story from Big D in the past, as it upset the then-perfect New Orleans Saints in 2009.
Here, Dallas is desperate for a win and possesses the overall skill set to test Atlanta. The problem, however, resides in the Cowboys' inability to force turnovers and limit turnovers. Tony Romo and Co. are minus-11 in the turnover margin thus far and Matt Ryan's team is plus-10.
Thomas DeCoud and the defense can blanket in man coverage while bringing extra quarterback pressure, or sink seven into coverage for a complete zone scheme. Along with everything between. Romo has yet to put on a consistent show and his receivers, namely Dez Bryant, continue to lack dependability.
With the Falcons offense pushing the pace to get Dallas on its heels, that also increases Romo's attempts, which enhances the odds of more turnovers. Atlanta has true playmakers all over and the Cowboys don't produce as a result.
Follow John Rozum on Twitter.
Keep Reading