5 Boxers with a Legitimate Case for the World's Greatest Pound-for-Pound Fighter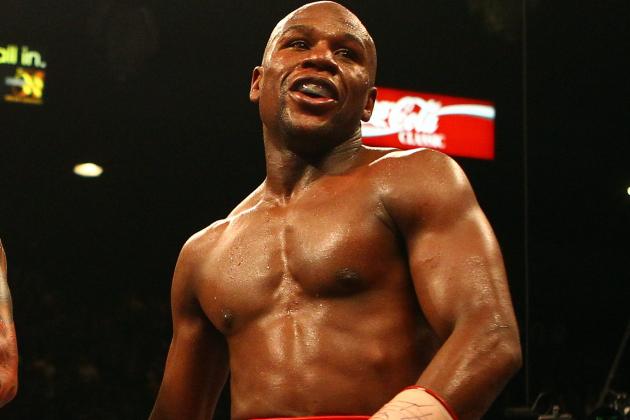 Al Bello/Getty Images
It's difficult to rank any boxer ahead of Floyd Mayweather when looking at the best pound-for-pound fighters.
The greatest pound-for-pound title is an unofficial one, but one that brings about much excitement in boxing.
It has been a topic of great interest and since the days of Sugar Ray Robinson.
While Robinson was not a heavyweight, his skills were so dominant that many of the top boxing writers would refer to him as the best boxer pound-for-pound, meaning that he may not have been as big as the heavyweights, but he was probably more skilled.
The greatest fighters have always wanted to win championships, and they also want to be recognized for their all-around skill as a top pound-for-pound fighter, even if the award is unofficial.
Begin Slideshow

»
While other fighters can make a case for being the top pound-for-pound boxer, few can make it as well as Floyd Mayweather (43-0).
There are many aspects to Mayweather's personality and life skills that can be questioned, but once he gets in the ring, his skill and talent appears to put him significantly above the other contenders.
When it comes to athletic ability, Mayweather is at the top when it comes to speed, quickness and timing of his punches.
He excels at using his talent to set up opponents with hard punches and combinations. He plays the chess game extremely well. He often is two or three steps ahead of his opponent.
Mayweather will often get criticized following victories because he has set such a high standard. That's to be expected when you are the best in the world.
Normally, heavyweight fighters are bypassed in the pound-for-pound conversation because they would almost certainly win any confrontation with a smaller fighter.
However, that doesn't mean a great heavyweight can't also be the best in the pound-for-pound discussion. Wladimir Klitschko (58-3-0) deserves consideration.
Klitschko may be 249 pounds—his weight for his last fight against Tony Thompson—but he is a skilled fighter. In addition to power and strength, he is a solid defensive fighter with an excellent jab.
His balance in the ring puts him in the discussion of the best pound-for-pound fighters.
Andre Ward (26-0) is the WBA and WBC super middleweight title holder.
In his last fight against "Bad" Chad Dawson, Ward took his opponent to school and registered a 10th-round technical knockout after dominating the fight up until that point.
Ward has intelligence, speed, quickness, excellent hands and great defensive skills. He moves well around the ring and shows surprising punching power on occasion.
Outside the ring, he has complete confidence in his ability and a winning personality. While those are not factors that indicate technical ability, Ward knows he has all the skills needed to be the best, and it shows in his attitude.
Forget the awful judging decision that resulted in a loss to Timothy Bradley. Manny Pacquiao (54-4-2) is still one of the best fighters in the world.
That decision should serve as fuel for his upcoming bout against Juan Manuel Marquez in December.
While Pacquiao is an unorthodox fighter, he is also one of the busiest punchers when he is at his best. He lands his punches at dangerous angles, and he is fearless in the ring.
Pacquiao has many outside interests including politics and show business, but when he is focused on boxing, he is still one of the best pound-for-pound fighters in the business.
Sergio Gabriel Martinez (50-2-2) is a pro's pro, the kind of fighter who goes into the ring and can always be counted on to give a consistent performance.
In his last fight against Julio Cesar Chavez Jr., Martinez took advantage of a big edge in conditioning and concentration and pounded out a huge lead before Chavez tried to rally in the last round. While Martinez did suffer a final-round knockdown, he won a lopsided decision.
Martinez sets up his combinations well, has excellent defensive skills and is as game as any fighter in the business. His ability on defense allows him to avoid significant punishment in the ring. Even though he is 37, he still appears to be at the top of his game.