New York Giants vs. Pittsburgh Steelers: Live Score, Highlights and Analysis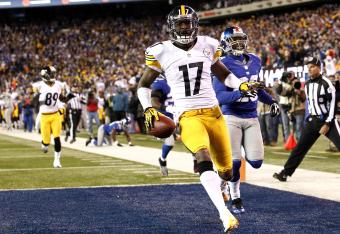 Jeff Zelevansky/Getty Images
The New York Giants (6-3) led the Steelers (5-3) by ten points heading into the fourth quarter, but Pittsburgh eventually came out on top, 24-20. With Rashard Mendenhall and Jonathan Dwyer out, third string running back Isaac Redman had 147 yards and a touchdown on 26 rushing attempts in the Steelers victory.
Eli Manning had his worst game of the season, completing only 10 of his 24 attempts for 125 yards. It was his second straight game in which he threw an interception and failed to throw a touchdown. Overall, it was a very unimpressive day for the Giants offense.
With the win, the Steelers kept pace with their division rival Baltimore Ravens. The Giants will try to right the ship next week against another AFC North opponent, the Cincinnati Bengals.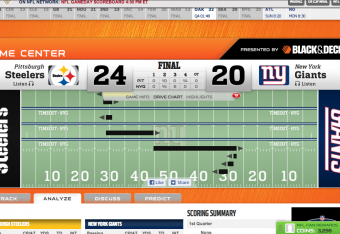 The Steelers top the Giants in a fourth quarter thriller, 24-20.
Giants didn't get one first down in fourth quarter.
— Matt Ehalt (@MattEhalt) November 5, 2012
Two Minute Warning
Perfect execution by the Steelers offense on third and nine. Roethlisberger has great protection and finds Sanders wide open for an easy first down.
New York is out of timeouts and basically needs a miracle at this point.
3:35 Fourth Quarter
The Giants are forced to punt after their third straight three-and-out of the fourth quarter. Pittsburgh's defense is really clamping down now, and so far its been too much for New York to handle.
Both teams have all three timeouts, and at this point the clock is the Steelers' worst enemy. They need a first down or two here to put this game on ice.
3:45 Fourth Quarter
Redman's stat line:
24 carries, 121 yards and a touchdown
The Giants take over deep in their own territory. The pressure is on Manning now, as he has just under four minutes to lead his team to victory.
4:02 Fourth Quarter
Rookie Jayron Hosley makes a boneheaded error, lining up offsides, which prolongs the Steelers drive.
With the ball inside the five-yard line, Redman finds the endzone, adding a rushing touchdown to an already phenomenal day for the Steelers backup running back.
As of right now, it looks like the Steelers want this game more than the Giants do.
Steelers lead, 24-20.
7:17 Third Quarter
The Giants offense goes three-and-out again, and the Steelers take over near midfield, making the failed fake field goal an afterthought. If the Giants don't get anything going offensively, the Steelers will keep getting chances to win this game.
In the meantime, the Steelers are driving. They're inside the 30-yard line, looking to close the three-point gap between them and New York.
Oh. My. Mike Tomlin. Giving up a game-tying 20-yard field goal for a FAKE? Are you insane? Michael Coe snuffed it out. Giants up 20-17.
— Ralph Vacchiano (@RVacchianoNYDN) November 5, 2012
10:25 Third Quarter
What a turn of events! The Steelers decide to fake the field goal attempt after the Giants stopped them on third down. Michael Coe was able to bring Suisham down short of the first down marker, giving the Giants possession on their own four-yard line.
The Steelers could have tied the game up with a field goal, and with over ten minutes to play, Pittsburgh got a little greedy. Now the Giants offense needs to make a play, as the Steelers have dominated early in the fourth quarter.
12:16 Fourth Quarter
Manning is sacked on third down, forcing a three-and-out for the Giants.
The momentum is clearly shifting, as Emanuel Sanders returns the fourth down punt 63 yards to the Giants 13-yard line.
Punter Steve Weatherford made an incredible touchdown saving tackle on the return, but at this point, he just delayed what may be imminent.
Chris Canty has a groin injury and Andre Brown has a shoulder injury. Return for both guys: questionable.
— Ebenezer Samuel (@ebenezersamuel) November 4, 2012
14:05 Fourth Quarter
Mike Wallace is FAST! He just ran right past the Giants defense for a 51-yard touchdown.
The Steelers only trail by a field goal now with almost an entire quarter to play. It's anybody's game, but Manning has a knack for fourth quarter heroics. He hasn't been impressive today, but he usually saves his best performances for the final frame.
Start of Fourth Quarter
The Steelers will start the fourth quarter with possession. Pittsburgh has run the ball well so far, but down by 10 with 15 minutes to go, the game is now in Roethlisberger's hands.
Manning and the Giants will try to hold on to their 20-10 lead, something they have had trouble with in the past. Last week they led Dallas by 23 but allowed them to creep back into the game thanks to 24 unanswered points by the Cowboys.
1:20 Third Quarter
Players of both teams are now huddled together praying. Rainey gets up and walks off the field under his own power. I'm not sure if the prayer was directed towards Rainey's health.
Rainey down on the field after the KOR.
— Tom Rock (@TomRock_Newsday) November 4, 2012
1:35 Third Quarter
The Giants get all the way down to the three-yard line but can't punch the ball in. New York settles for a field goal and now leads the Steelers, 20-10.
On second down, Brown tried to beat the Steelers defense to the pylon, but Ike Taylor made an impressive play, denying Brown the outside corner.
On third down, Manning tried to hit Randle in the back corner of the endzone. There was a little bit of contact but a good no-call by the officials. The pass fell incomplete.
Tynes is 2/3 on field goal attempts for the day.
Coach Tomlin wins the challenge.DE-FENSE!#SteelersGame
— Pittsburgh Steelers (@steelers) November 4, 2012
Not that it matters much; Andre Brown rushed for eight yards on third down, setting the Giants up inside the redzone.
5:43 Third Quarter
Roethlisberger rifles one down the field in Mike Wallace's direction, but Corey Webster steps in front of it and picks him off. It looks like he momentarily thought about handing the ball to Prince Amukamara before going down on the return. A good decision.
The Giants have survived on takeaways this season, and that was a huge one. It set the Giants up in Steelers territory with an opportunity to go up by two scores.
Pittsburgh is currently challenging the spot on a seven-yard completion to Cruz for a first down. He danced around a bit before he was tackled by Ike Taylor, so it would be conceivable for the first down call to be overturned.
7:59 Third Quarter
The decision to kick away from Rainey pays off, as the Steelers commit a penalty on the return. Pittsburgh's drive will start from their own six-yard line.
They are 94 yards away from a tie ball game.
8:25 Third Quarter
New York's offense sets up Lawrence Tynes with a 50-yard attempt, and this time he is able to connect. The kick puts the Giants up 17-10 with plenty of time left in the second half.
Will the Giants try to kick away from Rainey here?
10:00 Third Quarter
Redman isn't the only running back having a good day; Bradshaw is also averaging four yards per carry. If Manning can get things going through the air here, the offense may be able to put together a decent scoring drive.
And just as I say that, Manning finds Henry Hynoski, an unlikely target, for a seven-yard gain and another Giants first down.
Bad news for Steelers: Antonio Brown (left ankle) is now questionable to return.
— Ebenezer Samuel (@ebenezersamuel) November 4, 2012
13:02 Third Quarter
Rainey starts the second half off with another big return, setting his team up with escellent starting field position.
The Steelers aren't able to do much with it, though, as they are forced to punt after a third down sack by Justin Tuck, his second of the game.
The Giants will take over possession on their own seven yard line.
Start of Second Half
Roethlisberger is dominating today's quarterback duel:
B. Roethlisberger 12/18, 96 yards, TD
E. Manning 4/12, 60 yards, INT
All of the #Steelers 97 rush yards in the first half vs the Giants came inside the tackles
— ESPN Stats & Info (@ESPNStatsInfo) November 4, 2012
The Giants can't allow Pittsburgh to beat them up on the ground in the second half. Redman has been a beast running behind his massive offensive line, while the Giants' defensive front has been non-existent. If not for the big defensive score by Boley, this game would look much different.
This article is
What is the duplicate article?
Why is this article offensive?
Where is this article plagiarized from?
Why is this article poorly edited?