Philadelphia 76ers vs. New York Knicks: Live Score, Results and Game Highlights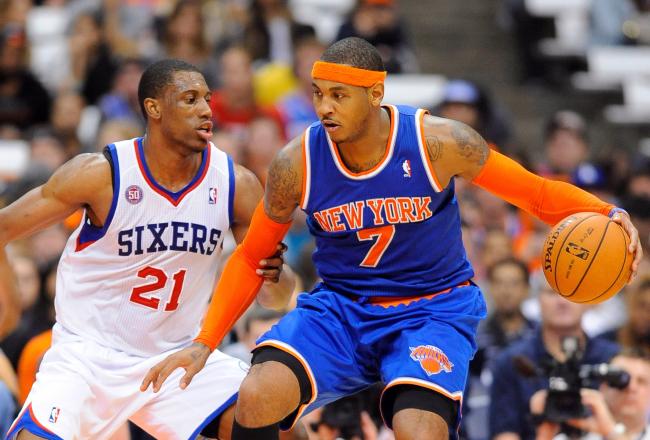 Rich Barnes-US PRESSWIRE
The New York Knicks' stellar shooting performance was too much for the Philadelphia 76ers to withstand, as the Knicks enjoyed a 16-point victory in Madison Square Garden.
Carmelo Anthony led the Knicks with 27, while Jrue Holiday was just about the only bright spot for the Sixers. He had 27 of his own.
New York improved to 2-0 atop the Atlantic division while the Sixers dropped to 1-1.
Final Score: Knicks 100, Sixers 84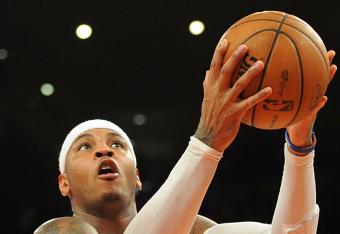 Postgame Storylines
Knicks' Offensive Efficiency
When you hit half your shots and get to the line more than the opposition, it's hard to lose. The New York Knicks did both in their contest with the Philadelphia 76ers.
Carmelo Anthony dropped an easy 27 points on 10 fewer shots than he took against the Miami Heat in the Knicks' opener. He helped facilitate an offensive attack that made 11 of its 27 three-point attempts and turned the ball over just 14 times (against 18 giveaways by the Sixers).
J.R. Smith vs. Nick Young
J.R. Smith outplayed his gunning counterpart, Nick Young, in this one. Oddly, Smith showed generally good discretion in his shot selection, scoring 20 points on just 15 shots. On the other hand, Young made just two of his 10 attempts and didn't positively affect the game in any other meaningful way. He had a game low minus-29 plus-minus rating.
That's hard to do in a game that was only decided by 16 points.
The Loss of Jason Richardson
The Sixers clearly missed Richardson, as Evan Turner showed flashes on the wing, but ultimately scored just 11 points on 2-of-9 shooting. He pulled down 11 rebounds, though. And we've already discussed Nick Young's contributions.
Without Richardson, the already offensively deficient Sixers really struggled to score. And although he played well, too much of the offensive burden rested on Jrue Holiday.
Philadelphia is going to need Richardson back in a hurry. Either that, or they'll have to figure out a way to coax some back-court scoring from their current roster.
Final Score: Knicks 100, Sixers 84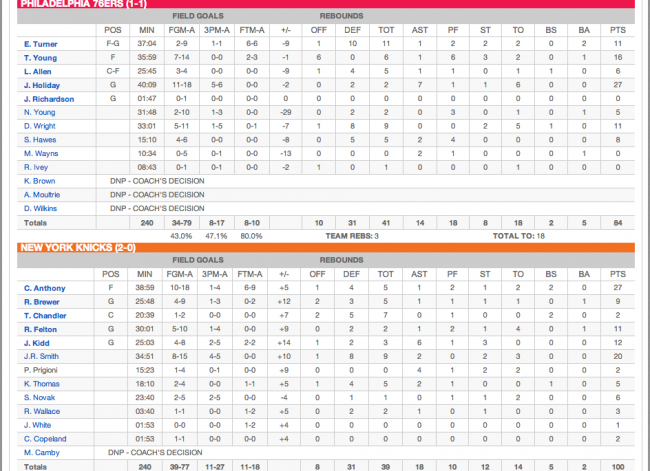 Final box score via NBA.com
The Knicks started hot and stayed hot in this one, shooting a hair over 50 percent from the field. The Sixers gave a solid effort, but Holiday's excellent performance wasn't enough to offset the injury to Jason Richardson and the general non-appearance of the rest of his teammates.
Carmelo Anthony operated surgically in the mid-post all night, tallying a team-high 27 on 18 shots.
Philadelphia lost the turnover battle 18-14, but did win the battle on the boards 41-39. New York had a big edge in free-throw attempts, reaching the foul line 18 times to the Sixers' 10.
Once again, New York played solid defense, which probably pleased the defensive-minded Mike Woodson more than the hot shooting.
Knicks Leaders
Anthony: 27 points, 5 rebounds
Smith: 20 points, 9 rebounds on 8-of-15 shooting
Kidd: 12 points, 6 assists
Sixers Leaders
Holiday: 27 points, 7 assists
T. Young: 16 points, 6 rebounds
D. Wright: 11 points, 9 rebounds
Final Score: Knicks 100, Sixers 84

Wallace hits a pair of free throws and dropped a dime. Is it possible he's still got it?
Woodson talked about Rasheed Wallace's role on team after not in rotation vs. Miami, playing only in garbage time.sulia.com/c/new-york-kni…

— Marc Berman (@NYPost_Berman) November 4, 2012
Knicks 97, Sixers 84 with 1:00 left in 4Q
Rasheed Wallace casually posts up Nick Young. Righty hook is still good. Crowd absolutely loves it. Somehow, Wallace has turned into the new Brian Scalabrine. Now we're just piling on Young, aren't we?
Knicks 94, Sixers 82 with 1:53 left in 4Q
Does anyone else find Stephen Curry's performance vastly superior to Harrison Barnes' in the Yahoo! fantasy basketball commercial? He's an acting rookie, too, I guess.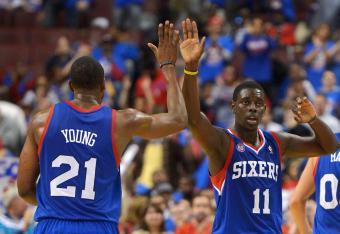 Thaddeus Young fouls out on a Carmelo Anthony hip toss. Should have probably tried that one before Melo dropped 25 on him.
Knicks 90, Sixers 79 with 2:00 left in 4Q
Rasheed!!! Wallace enters the game. Over/under on field-goal attempts is 2.5. Take the over.
Knicks 90, Sixers 79 with 3:30 left in 4Q
And we've got our first "RASHEED WALLACE" chants of the night. Who had 5:00 left in the fourth quarter in the pool?
Knicks 88, Sixers 76 with 5:00 left in 4Q
Before anybody gets too excited about the Knicks' defense, remember, the Sixers scored 84 against Denver and were one of the league's most offensively challenged squads last year.
Carmelo is PLAYING DEFENSE!!!!! Knicks Eastern Conference Finals if they stay committed!!! Remember this Tweet

— Isreal A-List Ent (@MrAListEnt) November 4, 2012
Knicks 88, Sixers 76 with 5:45 left in Q4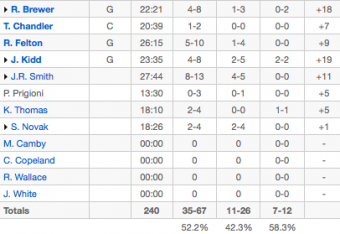 So, if the Knicks continue to make more than half their shots all year, they're going to be pretty good.
Nope.
Is there a more confident basketball player in the world than J.R. Smith???

— Josh (@elJosueMarquez) November 4, 2012
Knicks 88, Sixers 71 with 7:00 left in Q4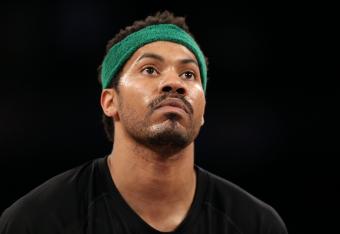 This needs to increase if we're going to see Rasheed Wallace, which we all want, don't we? Holiday with a three to cut lead to 12.
Knicks 81, Sixers 69 with 9:00 left in 4Q
Knicks come out for the fourth on fire with a quick 6-0 run. Now up 15 as Sixers' hopes fade.
Knicks 81, Sixers 66 with 10:00 left in 4Q
The Sixers cut down the Knicks' big halftime lead, outscoring New York by four in the third quarter. Most Knicks not named Carmelo have cooled off, though J.R. Smith has continued to look strong.
For Philadelphia, Nick Young's nightmare game continues; he's 1-for-8 from the field with three fouls and a turnover. Thaddeus Young (no relation) has 16 points, but continues to struggle in his defensive matchup with Melo.
The Sixers are going to need to find some scoring options to get back into this one.
Knicks 75, Sixers 66 at end of 3Q
Knicks
Anthony: 21 points, 4 rebounds
Smith: 17 points, 6 rebounds
Kidd: 10 points, 6 assists
Sixers
Holiday: 19 points, 5 assists
T. Young: 16 points, 6 rebounds
Melo's hustle forces turnover on Sixers' last third-quarter possession. Prigioni misses buzzer beater.
Knicks 75, Sixers 66 at end of 3Q
J.R. Smith leads Knicks with plus-17. As though sensing this, he promptly throws the ball away. That's more like it.
Knicks 75, Sixers 66 with :30 left in Q3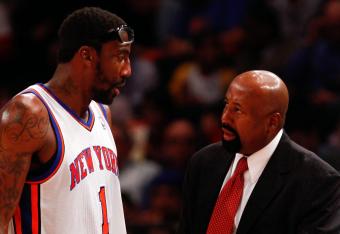 Knicks' offense is flowing nicely. Anybody else wondering if Mike Woodson has told Amare to take his time rehabbing?
Knicks 75, Sixers 64 with 1:50 left in Q3
Sixers hanging in as Holiday leads them with 19 in the game. If Turner or Young were giving Doug Collins anything, they'd be right in this one.
But, Collins probably isn't interested in the "stat" that says Young has missed seven of eight shots.
Knicks 71, Sixers 62 with 2:39 left in Q3
Speaking of old...
Kidd to Thomas for the layup and foul. That's 79 years worth of and-1 right there.

— Brian Mahoney (@briancmahoney) November 4, 2012
Knicks 71, Sixers 60 with 3:00 left in Q3
Kurt Thomas is 2-for-2. Might be the Knicks' night. Just powered in an And-1. AARP has agreed to feature him on their next magazine cover.
Knicks 71, Sixers 58 with 4:00 left in Q3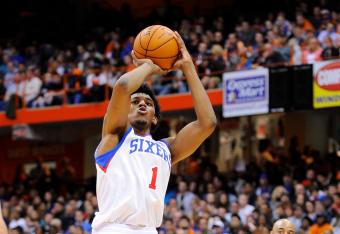 Nick Young now 1-for-8 and he just turned it over on a travel. It's almost sad enough to stop riding him about it. Almost.
Knicks 68, Sixers 55 with 5:00 left in Q3
Carmelo now 8-of-12 with 19 points and J.R. Smith is bad-shot free. That's a pretty good recipe for the Knicks.
Knicks 65, Sixers 55 with 6:40 left in Q3
Nick Young has four times as many fouls as field goals. And he just got burned on a J-Kidd drive. Doug Collins has to be wondering whether J-Rich can play on one leg.
Knicks 65, Sixers 55 with 7:00 left in Q3
Turner's come out very aggressive. He'll have to keep it up if the Sixers want to get back into this one.
Knicks 61, Sixers 53 with 8:10 left in Q3
This article is
What is the duplicate article?
Why is this article offensive?
Where is this article plagiarized from?
Why is this article poorly edited?

New York Knicks: Like this team?