Week 9 Fantasy Football Projections: Top Players from Each Primetime Game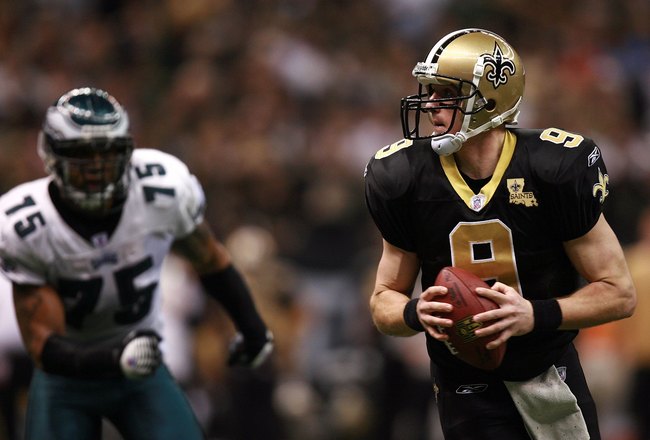 Doug Benc/Getty Images
The projections for the three prime time games in Week 9 have major fantasy football implications.
Starting with the headline late afternoon game Sunday (New York Giants vs. Pittsburgh Steelers) to the Sunday night matchup (Dallas Cowboys vs. Atlanta Falcons) to the cap on Monday night (New Orleans Saints vs. Philadelphia Eagles), each game has major players fantasy owners will be tracking.
In the following slides, we break down who we think will be the top fantasy players in each game, and project their final stats.
Pittsburgh Steelers at New York Giants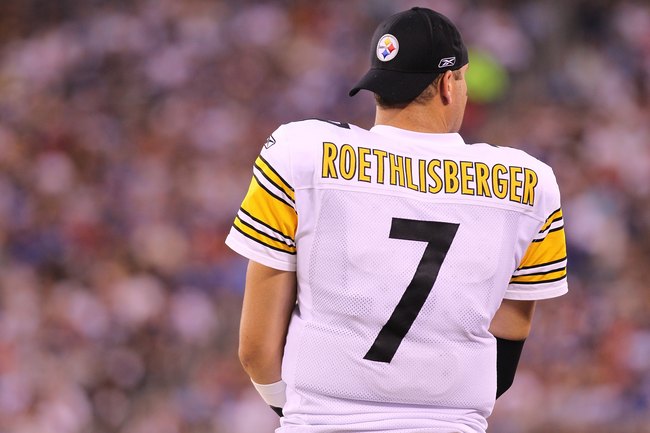 Nick Laham/Getty Images
Eli Manning, Giants
The matchup (Pittsburgh 9th against opposing quarterbacks) isn't great for Manning, but keep this in mind: Over four home games in 2012, Manning is averaging over 300 yards passing and has eight total touchdowns. Some of that Metlife magic continues today.
245 yards, 2 TDs, 1 INT
Ben Roethlisberger, Steelers
The Giants are 25th against the pass after Tony Romo put up 437 yards in Week 8, and the Steelers may have to air it out with injuries still crippling the running back position. Good combination for Big Ben.
302 yards, 2 TDs, 0 INTs
Victor Cruz, Giants
Cruz will bounce back from his worst fantasy showing of the season in Week 8 (two catches, 23 yards) with one of his best Sunday. The Steelers really don't have an answer for Cruz in the slot, which means targets should come in bunches. Typically, targets equal salsa.
Nine catches, 121 yards, 2 TDs
Antonio Brown, Steelers
With the Steelers having to throw, and throw often, the receiver with the most targets this season should stand to benefit the most. That receiver in Pittsburgh has been Brown in 2012. And don't forget: The Giants allowed three different receivers to go over 100 yards last Sunday. Mike Wallace could join Brown this week.
Seven catches, 101 yards, TD
Dallas Cowboys at Atlanta Falcons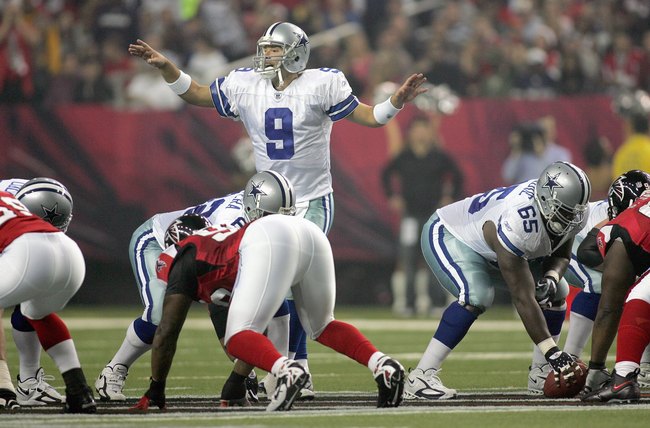 Ronald Martinez/Getty Images
Tony Romo, Cowboys
The Falcons have been very good against fantasy quarterbacks this season, with their one hiccup coming against Cam Newton a few weeks back. Romo is as unpredictable as they come, and the Cowboys figure to run the football more Sunday night, so we're setting the bar lower here.
249 yards, TD, INT
Matt Ryan, Falcons
Not a plus matchup for Ryan, as Dallas is the fourth best fantasy defense against quarterbacks. The Cowboys have allowed more than 15 fantasy points to the position just once this season (vs. Chicago). Like Romo, tone down expectations for a big day.
212 yards, 2 TDs, INT
Julio Jones, Falcons
Receivers have four touchdowns over the last four games against the Cowboys, so there's possibilities here for Jones to have another big day (five catches, 123 yards, TD against Eagles in Week 8). However, Jones still hasn't caught a touchdown or went over 70 yards at home this season.
Three catches, 66 yards, TD
Jason Witten, Cowboys
How do you keep a guy coming off 18 catches on 22 targets off any top fantasy list? He's a must start again. 18 catches won't happen again (maybe ever), but it's clear the chemistry between Romo and Witten is all the way back.
Seven catches, 79 yards, TD
Philadelphia Eagles at New Orleans Saints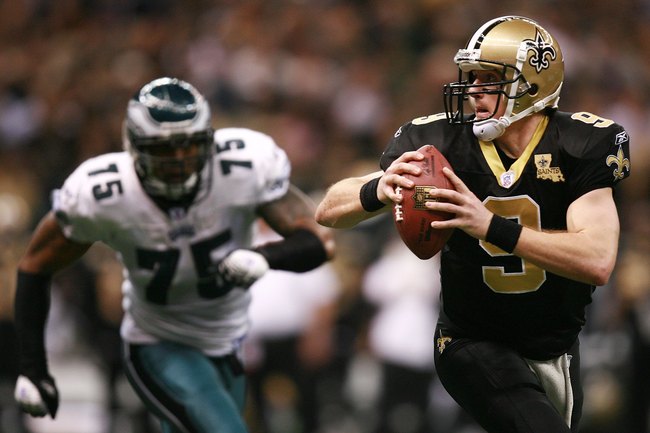 Doug Benc/Getty Images
Michael Vick, Eagles
There's no better matchup medicine for a struggling offense than the New Orleans Saints defense. Vick should eat up a defense that is allowing 475 total yards a game, and this has all the makings of a shootout. Think big for Vick, who needs a performance like this to save his job.
332 yards, 2 TDs, INT; 59 rushing yards, TD
LeSean McCoy, Eagles
If Andy Reid gives McCoy the football, he should score (and score big). Only the Bills are allowing more fantasy points per game to running backs than the Saints, who were gashed for 251 yards against the Broncos last week.
121 yards, TD; 5 catches, 35 yards
Drew Brees, Saints
Brees had an "off" game last week, throwing for just two scores and 213 yards. The Eagles aren't a pushover against the pass, but Brees always seems to save his biggest performances for primetime. He won't disappoint two weeks in a row.
314 yards, 3 TDs, INT
Pierre Thomas, Saints
The Saints know they need to run the football better on offense, and Monday night could give Thomas and Co. that opportunity. Philadelphia has allowed three straight groups of running backs to go over 100 yards.
85 yards, TD
Jeremy Maclin, Eagles
The Saints have allowed at least 30 fantasy points to opposing receivers in four straight weeks and five of seven this season. This defense simply doesn't stop receivers, and Maclin is one of the good ones. Either he or DeSean Jackson should explode Monday night.
Nine catches, 121 yards, TD
Keep Reading