Initial Report Card Grades for Every New York Knicks Player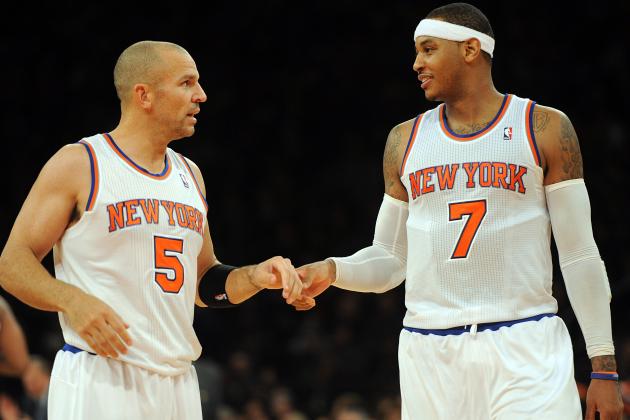 Joe Camporeale-US PRESSWIRE

The New York Knicks have gotten off to a hot start in this year's NBA, and things are starting to look up after a busy offseason.
We're still at a very early stage in the season, but the first couple of games have given us a good idea of what the Knicks are trying to do.
As veteran point guard Jason Kidd says, "This is a long journey," but it's still worth breaking down what we've seen so far.
Here are the initial report card grades for every player who's played reasonable minutes so far in the season.
Begin Slideshow

»
Joe Camporeale-US PRESSWIRE

He said he was a changed man going into training camp, and Carmelo Anthony has shown it so far in these first few games of the season.
Scoring is still the name of the game for Melo, but it's been impressive the way he's improved his effort on defense, on the boards and moving the basketball.
There have been plenty of questions about whether Anthony is the leader the Knicks need him to be, but so far he's answered all of them.
Obviously, it is still early in the season, so Anthony cannot afford to get complacent on either end of the floor. But if he keeps up the effort, he should have continued success throughout the season.
Offensively, we've seen just what we expected from Melo, as he's averaging 28.5 points per game so far.
His efficiency putting the ball in the basket has been a little off with only a 43 percent field goal percentage, but for the most part he's playing smart basketball on that end of the floor. With a player like Anthony, you'd expect his shots to start falling eventually.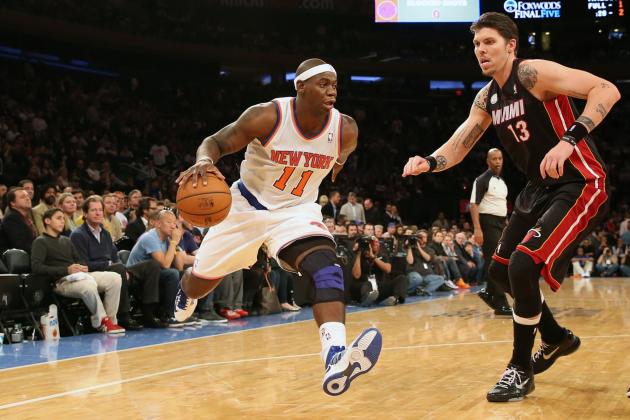 Anthony Gruppuso-US PRESSWIRE

We haven't seen anything to rave about from Ronnie Brewer, but he's done his job, and there are no complaints to be made about his play at this point.
Brewer has—as you'd expect—been defending well on the wings, contributing to what has been one of the league's top defenses thus far.
On the other side of the floor, Brewer is making strong cuts to the basket and is essentially filling the role that Landry Fields played last season.
For his career, he hasn't been a great shooter, but his agent told us he had improved over the summer, and it looks like he was right.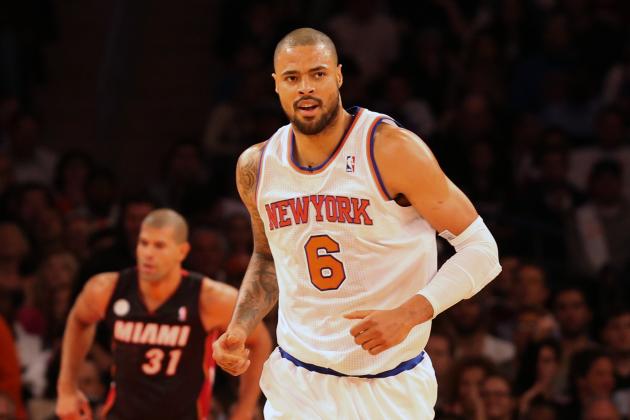 Anthony Gruppuso-US PRESSWIRE

It's not anything to be greatly worried about, but Tyson Chandler hasn't quite been the player he was last year at this early point in the season.
Considering that he's just coming off an injury scare in preseason, and was suffering from the flu this past weekend, it's easy to understand why he's been a little off.
Against Miami, it was mainly foul trouble that Chandler struggled with. Besides that, he was pretty good defensively, and didn't miss a field goal on offense.
He clearly wasn't feeling it against the Sixers, playing only 20 minutes, but with Bynum not playing, the Knicks were able to survive.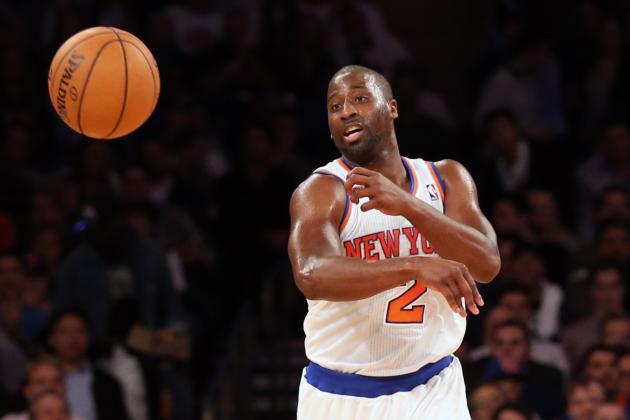 Anthony Gruppuso-US PRESSWIRE

Raymond Felton has quietly been one of the Knicks' most impressive players so far. While people will rave about the bigger name stars, Felton has been a solid and consistent performer at point guard.
With Amar'e Stoudemire out, the Knicks will need to find scoring from other sources, and his 12.5 points per game will certainly help moving forward.
Having lost weight over the summer, Felton has found it easy to penetrate and kick, averaging nine assists per game so far.
At 36 percent, his outside shot is also falling, and he's a big part of the reason the Knicks have been so successful from deep.
If Felton can keep this up all season, fans will quickly forget about Jeremy Lin.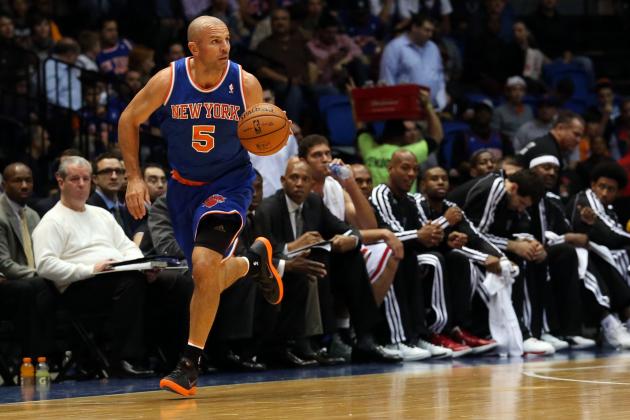 Anthony Gruppuso-US PRESSWIRE

At 39, Jason Kidd may have lost a step, but he's making up for that with the experience he's bringing to the Knicks.
So far, his numbers haven't been particularly flashy, but it's the little things that are making a big difference. His presence at shooting guard is key to the Knicks' ball movement, as he provides a second pass-first player alongside whomever is at the point.
In a small Knicks' lineup, guards are going to have to pick up some of the rebounding slack, and Kidd—as he's done his whole career—is doing just that.
Kidd is also shooting a ridiculous 50 percent from downtown and has been lethal playing alongside Raymond Felton and Pablo Prigioni.
This guy simply knows what to do and when to do it, and it's paying off for the Knicks.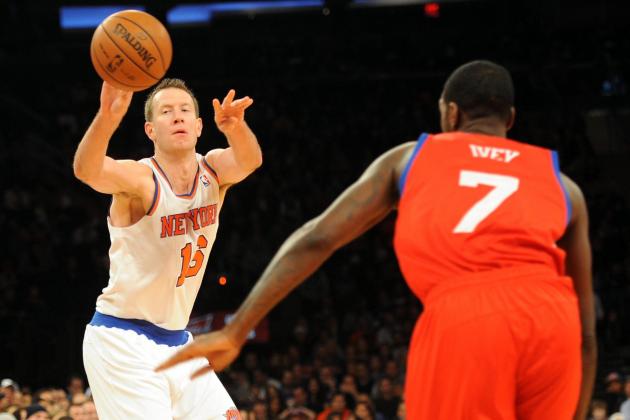 Joe Camporeale-US PRESSWIRE

Steve Novak doesn't provide much other than his deadeye shooting touch, but with the way the Knicks have been moving the ball, he's had plenty of opportunities to show off his range.
The sharpshooter has gone 7-of-13 so far in the season and has been one of the main beneficiaries of the Knicks' well-flowing offense.
Having multiple great passers on the floor at all times means that Novak will continue to get his open looks and will likely be amongst the NBA's best shooters statistically again come season's end.
On defense, Novak has been surprisingly good, finding it much easier to guard wing players than the bigger players he so often guarded in the past. With his height, he should definitely be having more success rebounding, though.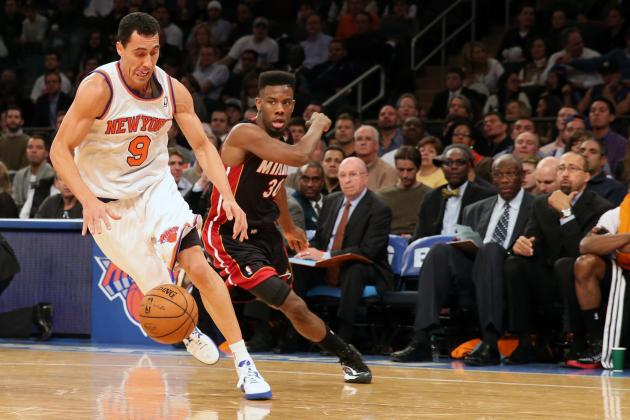 Anthony Gruppuso-US PRESSWIRE

Pablo Prigioni has not been bad by any means, but you can definitely tell that this is his first taste of NBA action.
The Argentine was a little sloppy against Miami, but he showed steady improvements versus Philadelphia and should be fully acclimated in no time.
As far as scoring, Prigioni has not yet found his touch, with only one field goal so far, but that's not what he was brought here for.
His main role is that of a playmaker, and he's currently averaging 3.5 assists per game, which is more than most third-string point guards could muster.
Prigioni is also wreaking havoc in the steals department and made one particularly notable play against the Sixers: stealing the ball off the inbound after the Knicks had just scored.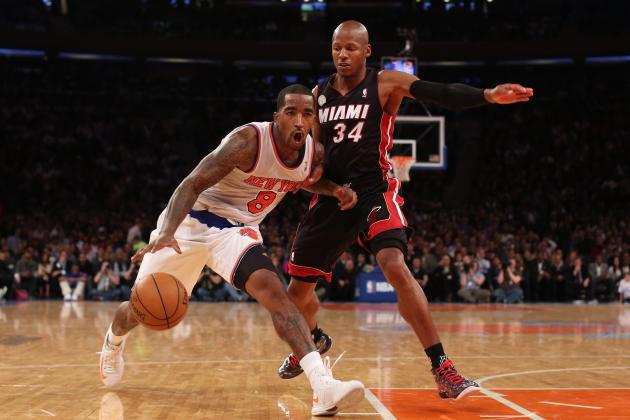 Nick Laham/Getty Images

J.R. Smith has always had the talent to be one of the premier sixth men in the NBA, and so far this season his mental side has been catching up.
Under the tough love of Mike Woodson, Smith is taking better shots and is playing a much smarter brand of basketball then we're used to seeing from him.
Smith has bought into Woodson's system offensively and is now a willing passer, having tallied six assists against Miami.
Smith's effort has been commendable as well, as he looks committed on defense like we've never seen before.
It's way too early to start this discussion, but with James Harden now starting, watch out for Smith as a Sixth Man of the Year candidate.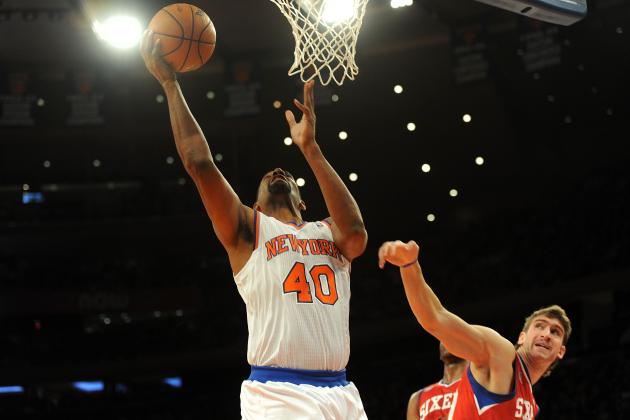 Joe Camporeale-US PRESSWIRE

For the oldest player in the NBA, Kurt Thomas is playing a lot more minutes than he likely expected when he signed with the Knicks this summer.
Essentially, Thomas has been the same player he has been for much of the latter years of his career, providing a physical presence, some solid defense and not much else.
Thomas has been good for a few hard fouls each game and some strong rebounding, but it would be nice to see some more consistency on that mid-range jumper he normally hits.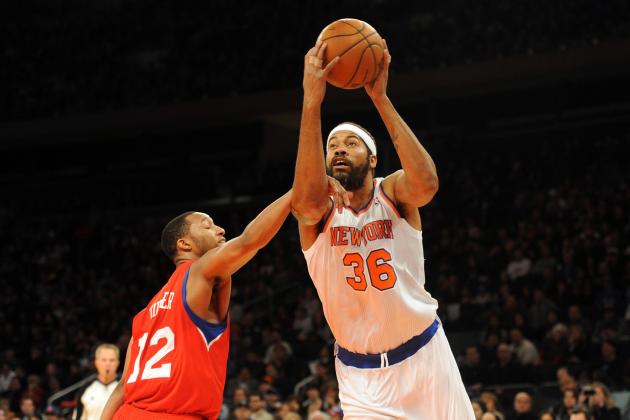 Joe Camporeale-US PRESSWIRE

The new Brian Scalabrine has actually been pretty good in the few minutes he's getting on the floor as he returns to basketball shape.
Coach Woodson has given him chances towards the end of games, and he's used them to hit the boards, do some work in the post and demonstrate the shooting touch that has stayed with him after all these years.
Considering he's only on an un-guaranteed, minimum-salary contract, Sheed has given the Knicks a lot more than they could have realistically expected so early in his comeback.
To be fair, most of his minutes are coming in garbage time against weaker opponents, but that's not bad for a player who's been out of the game for a couple of years.