Steelers vs. Giants: Final Positional Grades for Pittsburgh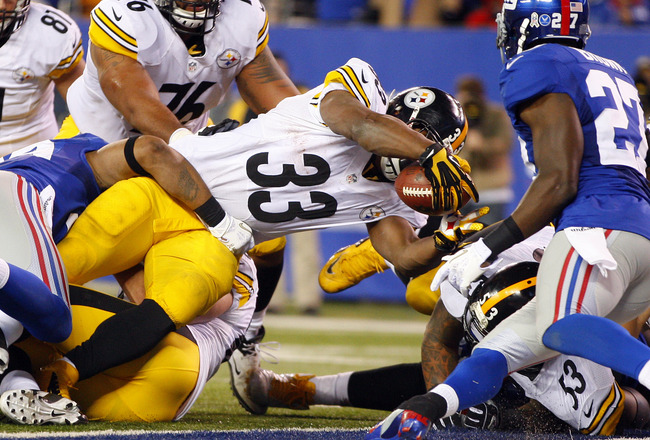 Rich Schultz/Getty Images
Week 9's NFL matchup between the Pittsburgh Steelers and the New York Giants was the much-touted contest between Ben Roethlisberger and Eli Manning.
One of those QBs didn't disappoint.
Roethlisberger and the Steelers offense sputtered early on, but down the stretch when it counted, Big Ben did his best Eli impression and led his team to victory.
The Steelers defense was on point all game and held the Giants to under 200 total yards of offense.
So let's take a look at the final game grades for the Steelers in their 24-20 road win over the Giants.
Quarterbacks: B+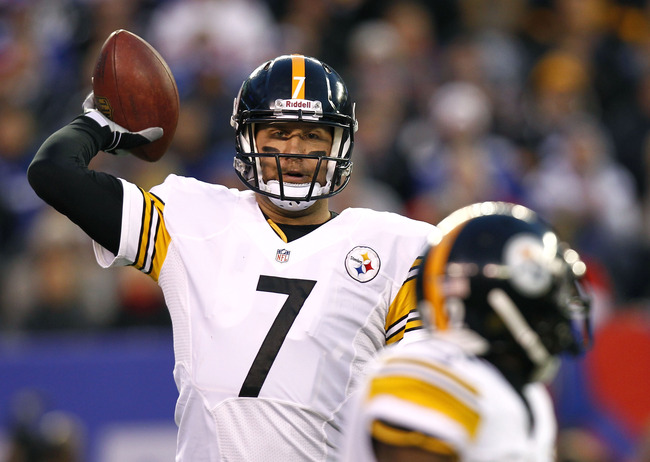 Jeff Zelevansky/Getty Images
Ben Roethlisberger was Ben Roethlisberger in the 24-20 win over the Giants. He was efficient and made the plays when he had to.
Roethlisberger finished the day 21-of-30 for 216 yards, two touchdowns, an interception and a fumble, but it was his fourth-quarter numbers that stand out. During the fourth-quarter comeback, Ben was 6-of-8 for 99 yards and a score while leading his team to a big road win.
He did have two turnovers, however, both of which led to Giant scores. It's the interception that's really perplexing, though. Ben seemed to be feeling the pressure, stepped up in the pocket and threw it right to cornerback Corey Webster.
It was an uncharacteristic play for Roethlisberger who has taken care of the ball this season.
Big Ben came back on the comeback kid himself and out-dueled his former draft mate Eli Manning. The matchup everyone was watching goes to Roethlisberger.
NOTABLE INDIVIDUAL GRADES
Ben Roethlisberger – B+
Running Backs: A+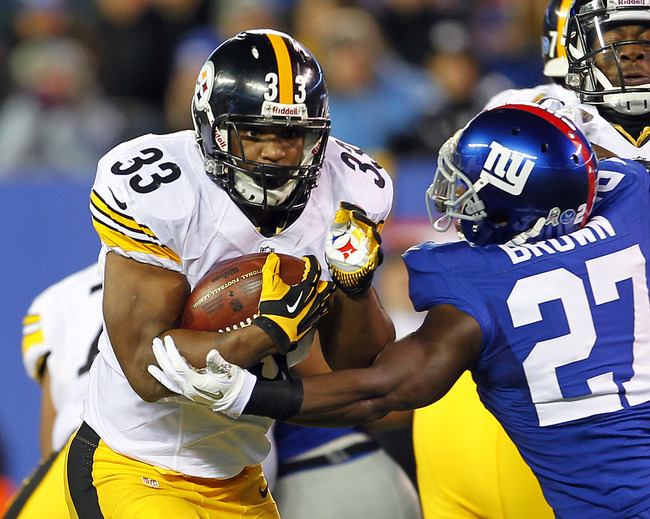 Rich Schultz/Getty Images
Steelers fans felt a blow earlier in the week when it was announced that Jonathan Dwyer, who had run for 100-plus yards in two straight games, wouldn't be suiting up in New York due to a quad injury.
But they could barely remember his name after the day Isaac Redman had.
Redman bulldozed his way to 147 yards on a season-high 26 carries and what eventually became the game-winning score. Redman routinely broke tackles at or just beyond the line of scrimmage and plowed his way through the backfield for a ton of yards after contact.
It is now the third straight game a Steelers back has rushed for more than 100 yards and, coincidently, that has led to three straight wins. It's pretty obvious that Pittsburgh's rushing attack is directly related to its number of wins.
NOTABLE INDIVIDUAL GRADES
Isaac Redman – A+
Redman was exactly what the Steelers needed with both Jonathan Dwyer and Rashard Mendenhall missing action. The Giants couldn't cut Redman down on his way to 147 yards and a score.
Wide Receivers: B-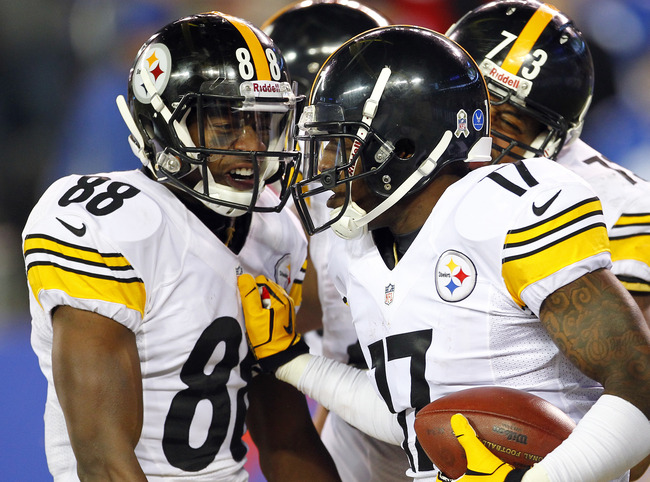 Rich Schultz/Getty Images
The wide receivers were involved in the game, but they certainly weren't the focal point.
Antonio Brown left the game early after he rolled his ankle in the first quarter and didn't return. That left the door open for Jerricho Cotchery to show his stuff.
But it was Mike Wallace who made maybe the game's biggest play when Roethlisberger hit him on a short crossing route that he took 51 yards to the end zone to pull the Steelers within three.
Emmanuel Sanders did some good things and really had a typical Sanders game.
The biggest story was that the receivers had only one drop, which came from Mike Wallace. The receivers have had an issue with drops this season and it was nice to see that diminish in a big game.
NOTABLE INDIVIDUAL GRADES
Mike Wallace – B+
Even when the team can't get the ball down the field, he still has the capability of making big, explosive plays.
Emmanuel Sanders – B
Had a pretty typical game for him, a little disappointing given that Brown was sidelined.
Jerricho Cotchery – B+
He took advantage of his opportunity and led the team with four catches.
Tight Ends: B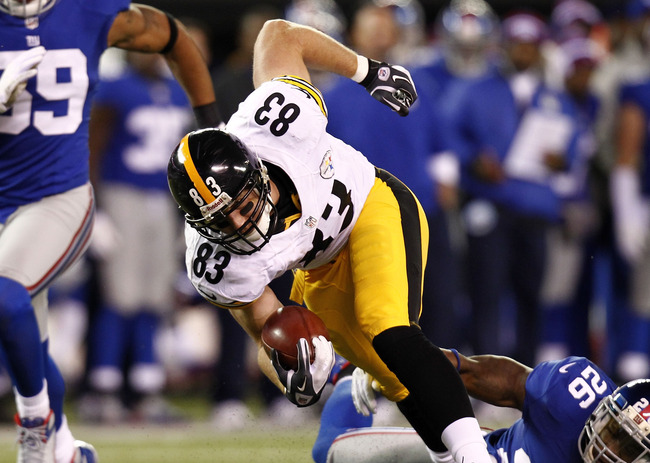 Jeff Zelevansky/Getty Images
It was a pretty quiet day receiving-wise for the Steelers tight ends, but where their real impact was felt was in the running game.
Heath Miller may not have lit up the scoreboard, but he still amassed four catches including a big one before halftime that led to a Steelers field goal.
Miller continues to be one of Big Ben's favorite targets. He drove defenders off the ball against the run and played as good a game as just about anyone on the offense outside of Redman.
NOTABLE INDIVIDUAL GRADES
Heath Miller – B+
Miller continues to be as solid as any tight end in the league, but you won't hear anything about him.
Offensive Line: C+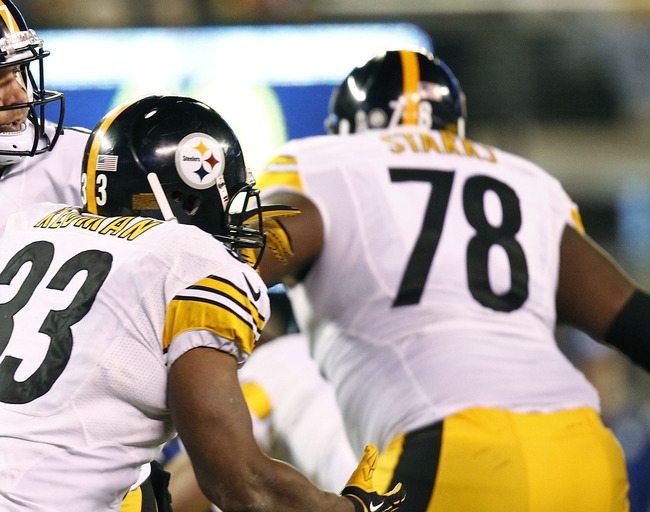 Jeff Zelevansky/Getty Images
It was a really rough start for the Steelers offensive line on Sunday afternoon, especially rookie right tackle Mike Adams. Pittsburgh's offensive line couldn't handle the pass rush the Giants were bringing early, leading to two sacks on Roethlisberger and a fumble that was returned for a touchdown.
But the line was perfect in the fourth quarter, allowing the team to storm back for the victory.
They've also been very good when the team runs the ball and they're a big reason the Steelers have amassed three straight 100-yard games.
NOTABLE INDIVIDUAL GAME GRADES
Mike Adams – D
Adams was solid in the fourth but got bulled over by Tuck and Pierre-Paul early.
Defensive Line: B+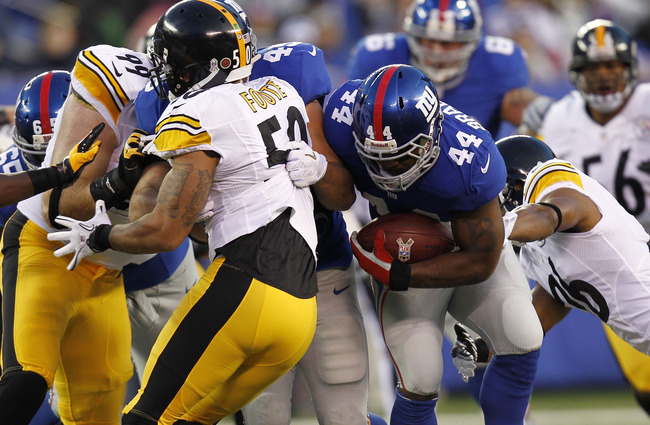 Jeff Zelevansky/Getty Images
Sunday night in MetLife Stadium was the best game the Steelers defensive line has played this season.
Ahmad Bradshaw and Andre Brown could barely move the ball on the ground and could only manage 68 rushing yards by the end of the game. Nose Tackle Steve McLendon played especially well in a limited role and may have earned himself more playing time.
I'd still like to see something more from Ziggy Hood and Cameron Heyward, both of whom were first-round picks.
NOTABLE INDIVIDUAL GRADES
Steve McLendon – A-
He didn't see the field a whole lot but made the most of his opportunities.
Brett Keisel – B+
With four total tackles on the night, he held up at the point of attack against the run.
Ziggy Hood – C-
Hood needs to show some signs of improvement or he could be on his way out.
Linebackers: A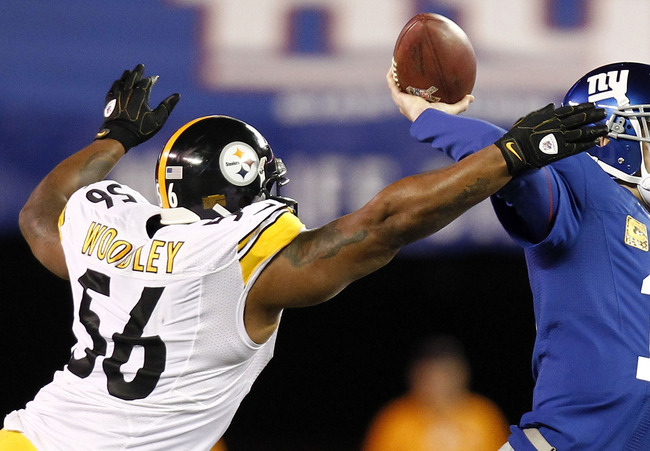 Jeff Zelevansky/Getty Images
Finally the Steelers pass rush came to life, and it started with the linebackers. LaMarr Woodley supplied good pressure all night and recorded a sack and a fumble on Eli Manning, while Lawrence Timmons also brought down the Giants QB.
Larry Foote again led the team in tackles, compiling eight in the win.
James Harrison continues to be a complete non-factor on the defensive side of the ball, however. Harrison finished with five tackles but can't seem to get any sort of pass rush going.
NOTABLE INDIVIDUAL GAME GRADES
LaMarr Woodley – A
Though he was playing hurt, he looked good all game as he supplied good pressure on Manning.
Lawrence Timmons – A
Timmons is off to his best start in his career and continues to play at the level the Steelers hoped he would when taking him in the first round.
James Harrison – C-
It was one of Harrison's better games this season, and that's not saying a whole lot.
Defensive Backs: A-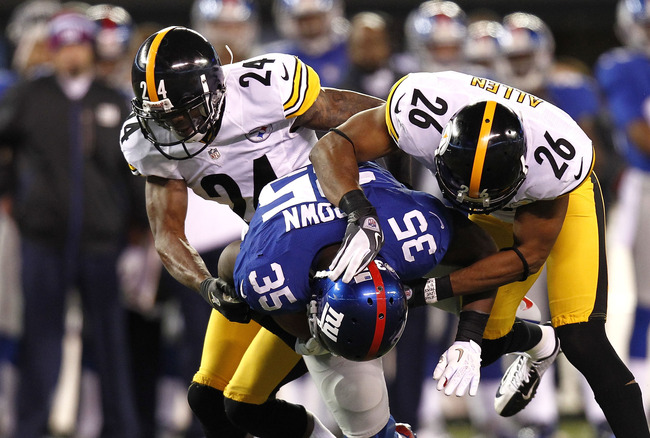 Jeff Zelevansky/Getty Images
When you can hold Eli Manning to a measly 125 yards through the air, you've done a pretty damn good job. Manning struggled to find any open receiver and completed just 10 passes during the course of the game.
The defensive backfield limited Victor Cruz to just five catches and Hakeem Nicks to only one.
The reason they only get an A- is because of some major penalties they had. Two big pass interference calls on Keenan Lewis left the door open for the Giants offense and allowed them to score.
NOTABLE INDIVIDUAL GRADES
Ike Taylor – B+
Taylor had an early interception and you didn't hear his name much after that…that's a good thing.
Keenan Lewis – C+
Lewis was phenomenal in the first quarter but struggled with pass interference calls.
Ryan Clark – A
He was called on a highly questionable personal foul. Other than that, he continued to play at a very high level.
Special Teams: B+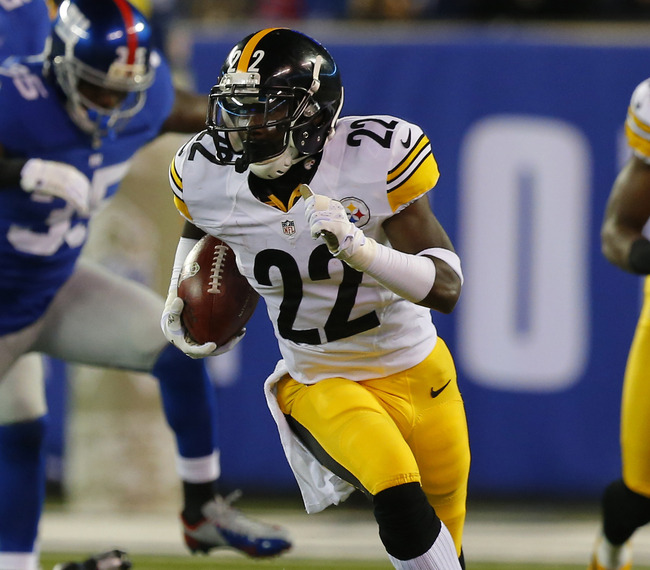 Jim O'Connor-US PRESSWIRE
The return game was at its absolute best for Pittsburgh in the win over the Giants.
Kick returner Chris Rainey continually put the Steelers offense in great starting field position. But it was Emmanuel Sanders, the third-string punt returner who came in after injuries forced Rainey and Antonio Brown out of the game, that made the biggest impact.
Sanders had a punt return that went down to the Giant 15 and, although it ended up not leading to points, it pinned the Giants offense back and later allowed the Steelers to get good field positioning and score.
Shaun Suisham continued to be excellent and hit his only field goal of the game.
On a bad note, Pittsburgh continued to see the yellow flag come out on special teams. The unit was flagged twice on special teams in this game.
NOTABLE INDIVIDUAL GAME GRADES
Chris Rainey (return only) – A
Rainey showed just how explosive he can be in the return game. Hopefully his injury isn't too serious.
Emmanuel Sanders (return only) – A
Sanders took advantage of an opportunity and gave his team a chance to win.
Coaching: B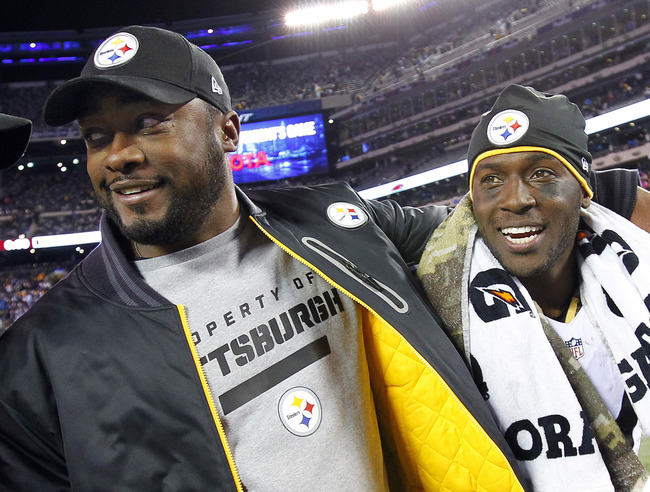 Rich Schultz/Getty Images
The Steelers coaching staff did a really nice job of putting their guys in a position to win in a hostile and emotional environment.
Defensive Coordinator Dick LeBeau had the perfect scheme to play the Giants offense. New York couldn't move the ball at all, finishing the night with under 200 yards of total offense and an interception. The defense sacked Eli Manning twice and forced another fumble.
On the offensive side, the unit struggled early, but was near flawless in the fourth quarter on their way to the win.
Give credit to Mike Tomlin. He was able to motivate his guys and get them up when they were down 10 points heading into the fourth quarter. One of the best motivational coaches in the league worked his magic once again.
The biggest problem I had with the coaching was the failed fake field-goal attempt in the fourth quarter. On 4th-and-1, the last guy I want running the ball is Shaun Suisham. Isaac Redman had pounded the Giants defense all night and should have gotten the carry there.
Keep Reading

Pittsburgh Steelers: Like this team?