Buffalo Bills vs. Houston Texans: Live Score, Highlights and Analysis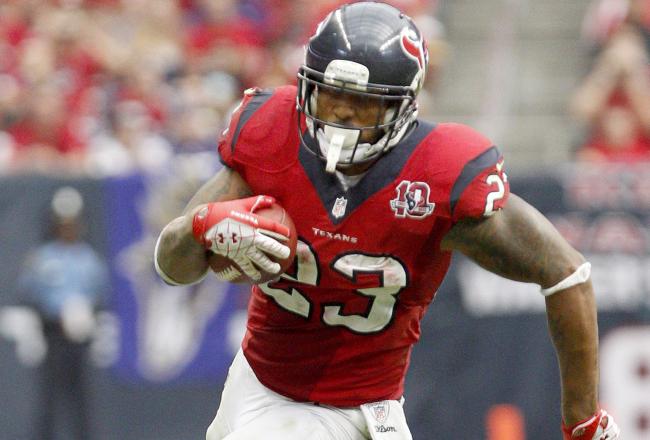 Thomas B. Shea/Getty Images
The Houston Texans rely on great defense and a steady dose of Arian Foster to push past the Buffalo Bills 21-9 on Sunday afternoon.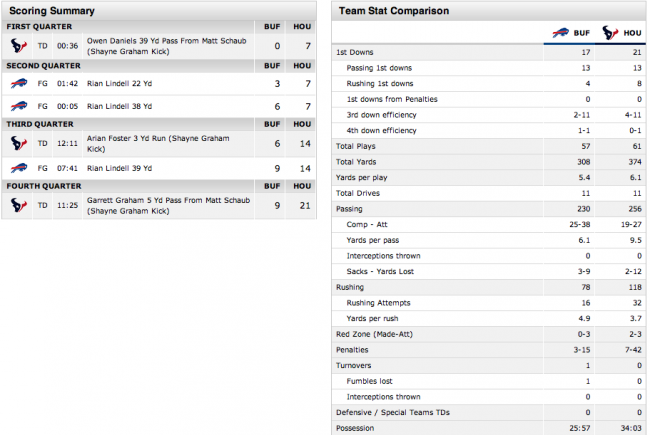 Quick glance at the box score makes it look like Buffalo should have made this a closer game. They might have had Gailey been willing to use his best playmakers rather than playing with fire.
And that's all folks.
Texans take this one handily over the lowly Bills and complete the best first half in franchise history. Taking a look at their upcoming schedule, it is hard not to see this team finishing with at least 12 wins and grabbing that one seed in the AFC.
FINAL: HOUSTON 21 BUFFALO 9
It's hard to fix a culture of losing.
Buffalo should take a good, long look at the Houston franchise.
A team that went through some brutal years in their infancy stages as an organization; they've built a core that is strong both now and in the future.
This is something that Bills fans have been begging for since Jim Kelly left. However, the team continues to show they don't have much of a clue how.
Maybe this is the reason why Buddy Nix continues to get questions about his head coach's future with the team.

Awful, awful play calling.
In a shocking development, Fitzpatrick turns the ball over by getting cute with his legs.
Buffalo now minus-7 in the turnover differential this year.
Houston assures themselves a good victory to improve to 3-1 on the year.
Interesting decision by Gary Kubiak to go for it on fourth down. Incomplete deep pass to Andre Johnson.
Fitzpatrick almost gifts the ball back to the Texans on the Bills first play after taking over on downs.
Like I said earlier.
Play action is killing the Bills.
I don't have these kind of stats in front of me, but I'm pretty sure Schaub is perfect when rolling out after a fake.
Andre Johnson has eight catches for 118 yards and a touchdown.
Bad, bad day for Gilmore.
To compound his woes in coverage, he just got lit up by Arian Foster.
The search for a gif begins.
Scott Chandler drops an easy first down and things are quickly starting to roll down hill.
A score of any kind by the Texans puts this game out of reach for a pathetic Buffalo offense.
TOUCHDOWN TEXANS: HOUSTON 21 BUFFALO 9
Houston sure loves their Wisconsin Badgers' tight ends. Garrett Graham catches a four-yard touchdown after Matt Schaub rolls out to the right.
Thanks for playing Buffalo.
Neither team has played in a game where there were no turnovers committed.
Something to watch moving forward in this fourth quarter.
Andre Johnson is embarrassing the Buffalo defense today.
The end is near for the Bills.
Bills cornerbacks continue to give too much room to opposing receivers. It makes 3rd down conversions too easy.
Not sure why that wasn't corrected over the bye.
The play action passes run by Schaub have been the most effective plays that Houston has run in the second half. Bills defenders consistently getting fooled.
Not sure why they'd run anything else if the Bills can't stop it.
Yes I understand they need the run to set up the play action, but Foster has been really the ball extremely well.
Chan Gailey continues to shoot himself in the foot.
His inability to give his two talented running backs the ball consistently is going to lead to the end of his head coaching career in the NFL.
Buffalo Bills' starting corner back Aaron Williams exited the game on the last touchdown drive by the Texans and has been ruled out for the rest of the game.

Buffalo usually plays the corners on whatever wide receiver lines up across from them on every given play. Not one time this season has Gilmore been stuck on the opposing team's No. 1 receiver for an entire game, instead Dave Wannstedt has allowed the opposing offense to dictate matchups.
Buffalo puts another solid drive together, but the groans are starting to come out as they settle for another field goal.
Lindell only attempted five field goals in seven games before the bye. He has made three of his four attempts today. That missed field goal in the first quarter could come back to haunt them in the end of this game.
Or the fact that they aren't getting into the end zone.
Dan Fouts says, "The Texans are not fooled by the wild cat."
Neither is anyone else Dan, neither is anyone else.
TOUCHDOWN TEXANS: Houston 14 Buffalo 6
The Texans make things look easy on that drive. Foster caps off the five-play drive with a nifty three-yard run between Duane Brown and Wade Smith.
The touchdown marks the tenth straight game that Foster has a touchdown on the ground, the longest such streak in the league.
Your move Buffalo.
As inaccurate as Fitzpatrick is on the deep ball, Matt Schaub always gives his receivers a chance to make a play.
Andre Johnson gets his chance to make a play on a 34-yard pass.
1st down and goal at the Buffalo 4.
Keshawn Martin shows why Holliday was let go and he his pushed out of bounds at the Buffalo 43 after a 26-yard punt return.
The speedy rookie out of Michigan State has been a solid addition to the Houston special teams unit.
In case those two throws didn't tell you anything.
Ryan Fitzpatrick is one of the least accurate quarterbacks in the NFL when throwing deep. Absolutely no touch on the football.
I apologize for the lack of multimedia during this blog. I've been having a few technological issues that have limited that aspect of the blog. Trying to resolve that during this second half.
Buffalo's offense will take the field first at their own 25 following a squib kick by the Texans.
Interesting note for Texan fans.
Trindon Holliday, the speedy return man from LSU who was released by Houston this season, just returned an 105-yard kick return for a touchdown, as a member of the Broncos.
The Houston defense hasn't been as sharp as I thought they would be coming into this game. Injuries are a partial reason for that, but aside from a few pushes in the first quarter, they haven't been as good as advertised.
A couple of stats from the first half:
Matt Schaub 8/14, 124 yards, 1 TD
Arian Foster 7 rushes, 62 yards
Owen Daniels 3 receptions, 50 yards, 1 TD
Ryan FItzpatrick 14/17, 144 yards
C.J. Spiller 4 rushes, 30 yards
Donald Jones 4 receptions, 48 yards
The Texans lead by one at the half. I'll be honest when I say I didn't see this game as being close.
This article is
What is the duplicate article?
Why is this article offensive?
Where is this article plagiarized from?
Why is this article poorly edited?