Buccaneers vs. Raiders: Live Game Grades and Player Analysis for Tampa Bay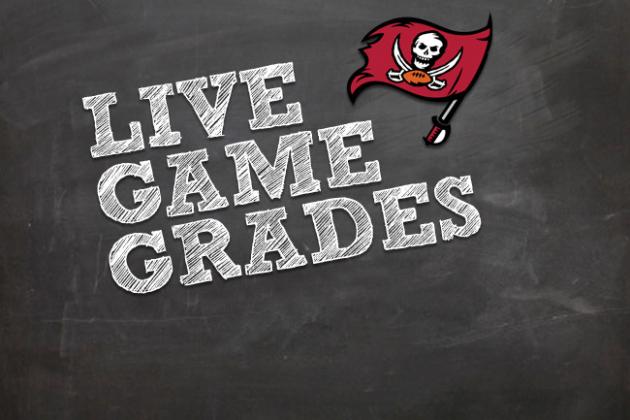 Bucs win: 42-32
The Tampa Bay Buccaneers beat Oakland Raiders in Oakland.
Tampa Bay moves into wild-card contention, while the Raiders most likely have fallen out of the hunt.
This slideshow will provide you with live game grades and player analysis for Tampa Bay's quarterback, offense, defense, special teams and coaching.
Doug Martin is now the 1st player in Buccaneer history with 4 touchdown runs in the same game.

— Tampa Bay Buccaneers (@TBBuccaneers) November 5, 2012
Doug Martin wins.
Begin Slideshow

»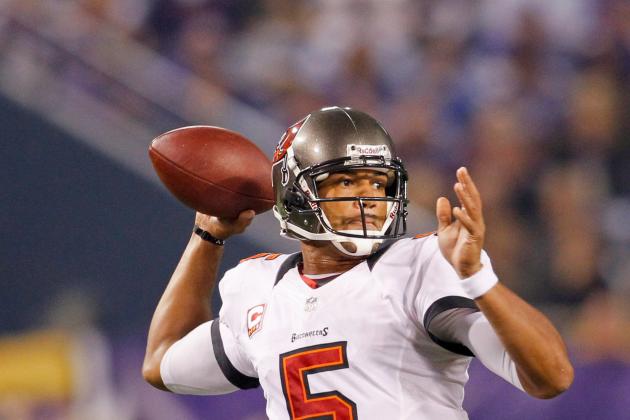 Bruce Kluckhohn-US PRESSWIRE

Overall Grade: B
Q4 Grade: C
Not a lot to say here, except that the fumble was totally Josh Freeman's fault, as he let go of the ball before LeGarrette Blount had possession.
Q3 Grade: B+
It's hard to judge Josh Freeman on the 37 yard pass to Mike Williams. The pass was out of the reach of the defender, but still very close to being intercepted. Good throw, but risky. We're seeing good things from Free on play action.
Q2 Grade: A
Can words describe the beauty of that 64-yard bomb from Free to Vincent Jackson? Probably, yes. That same arm strength the young quarterback showed on a 20-yard touchdown to (guess who) V-Jax.
Freeman has completed 12/20 passes for 160 yards and a touchdown. This does not include the multiple throwaways.
Q1 Grade: B
Josh Freeman is showing a willingness to scramble that we haven't seen yet this season. He has 17 yards on two scrambles, not including the sack he took.
If one were to count Dallas Clark's drop as a completion, Freeman would be 5/7 passing.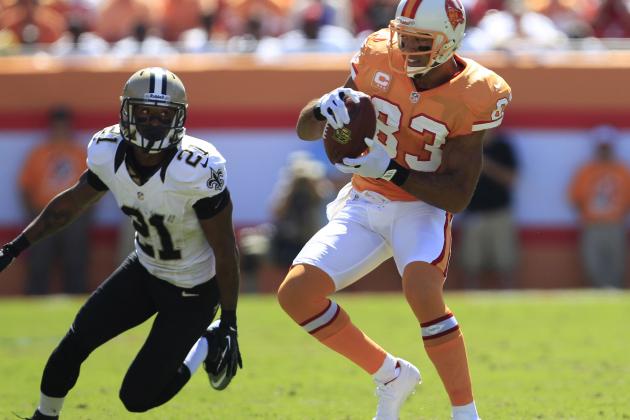 Matt Stamey-US PRESSWIRE

Overall Grade: A+
Q4 Grade: A+
Doug Martin now has TD runs of 70, 67 and 45 yards against the Raiders today. 18 carries for 244 yards and 3 TDs in just over 3qtrs of work

— Jason La Canfora (@JasonLaCanfora) November 4, 2012
LeGarrette Blount does not win. A mistimed handed off between he and Freeman leads to a fumble and an Oakland recovery. And for the record, Free let the ball go before Blount had it.
Q3 Grade: A+
Doug Martin has been showing great second effort on his carries. He's so small it might not even matter that his offensive line can't block- no one can touch him. A pretty nice example of this would be his 45 yard touchdown rush, where one can see him wiggle his way through the line of scrimmage, then make some nice cuts in space to secure the points. Apparently the Bay Area native wasn't satisfied with just one touchdown, though, because he ran for another, 67 yards this time.
Doug Martin is the first player in franchise history with two rushing touchdowns of 45 or more yards in the same game!

— Tampa Bay Buccaneers (@TBBuccaneers) November 4, 2012
No offensive line can hold him back.
Q2 Grade: B-
Vincent Jacskon got flagged for taunting after his mega-reception. Can't blame him.
How Doug Martin has picked up from where he left off last week without Carl Nicks, I just do not understand. He's playing as well as fellow 1st round draft pick Trent Richardson (No.3 overall) at the moment, if not better. But only this O-line can turn a broken tackle into a seven-yard loss on a run.
The offensive line can barely run block, and they cannot pass block at all. good thing TB has great skill position players.
Q1 Grade: C
Chalk up a dropped pass for Dallas Clark, a rare sight this season. No worries, though, because Josh Freeman is finding plenty of success throwing to his other tight ends, like Nate Bynum and Erik Lorig (listed as fullback, but lines up as tight end on a frequent basis).
It certainly looks like the Bucs will miss the recently-injured Carl Nicks. It only took them four plays before giving up a massive sack. This is quite troubling, considering the Bucs still have eight games left after this one.
Bruce Kluckhohn-US PRESSWIRE

Overall Grade: C
Q4 Grade: D+
If I didn't know better, I'd say that the Bucs defense stopped trying as hard in the fourth.
Getting very sloppy out there on defense. Tighten it up, close it out and come home with the W.

— What the Buc? (@WhatTheBuc) November 4, 2012
Carson Palmer quietly exceeded 400 yards passing.
Carson Palmer just Carson Palmered.

— Bill Simmons (@sportsguy33) November 5, 2012
That refers to Carson Palmer's boneheaded pick that fell right into the arms of Ahmad Black. No one cares when he sends one to EJ Biggers.
The defense gave up major points, but came away with turnovers when the team needed them most.
Q3 Grade: A-
Dump offs continue to haunt the Tampa Bay defense. Running back Mike Goodson has five catches for 40 yards.
Yet when Carson Palmer tries to throw 10 yards through the air... he gets picked off by Leonard Johnson! For the second straight week the undrafted rookie has an interception! Hometown hero much?
Q2 Grade: C+
Michael Bennet getting injured showed just how much the defense NEEDS him. Thankfully, he returned and actually got a sack on Carson Palmer. Without his pass rush...
The Bucs have to hope Da'Quan Bowers improves his run defense enough to become an every-down player, rather than just a situational rusher. They need more depth on the D-line.
Oakland's touchdown should be on EJ Biggers. First he gives up the reception to Darius Heyward-Bey. Then, he gives up the touchdown to Rod Streater. Two passes for 71 yards.
Q1 Grade: B-
The defense held the Raiders to a three-and-out on their first possession. And on their second.
Leonard Johnson just jammed the piss outta Denarius Moore.

— Stephen White (@sgw94) November 4, 2012
The Clearwater native has impressed so far today.
Carson Palmer has not yet completed a downfield pass this game, but has found success on screens. Completing 5/11 passes for 23 yards may not look like much, but when the Raiders find ways to extend drives on the ground like they have today, who needs an aerial assault?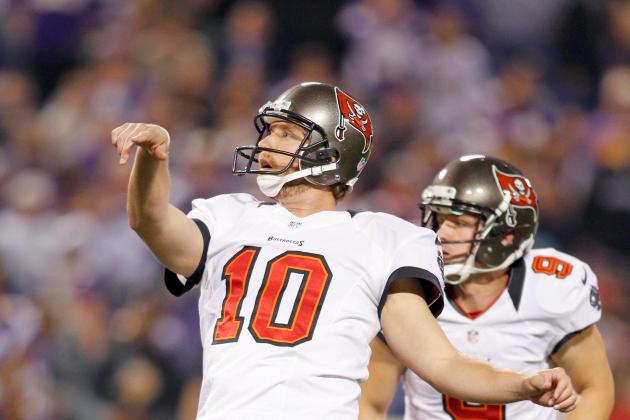 Bruce Kluckhohn-US PRESSWIRE

Overall Grade: B-
Q4 Grade: B
The Raiders tried an onside kick at 35-24, but Ahmad Black came up with it.
Q3 Grade: B+
Parrish with another long punt return, this one for 26 yards. He's a keeper.
Q2 Grade: B
A roughing-the-passer call on Adam Hayward kept the Raiders' drive alive, which nearly led to a touchdown, if not for its negation by a holding call on OT Willie Smith. Can't complain about putting the Raiders at their 6, though.
Hats off to Roscoe Parrish for a 20-yard punt return.
Q1 Grade: F+
Michael Koenen added yet another touchback on a kickoff to his stat sheet.
Because of some great special teams play by linebacker Quincy Black, Koenen's first punt stuck Oakland at its own 16.
Because of an illegal block above the waist by Arrelious Benn, the Raider's second punt saw the Bucs pinned inside their own 10.
The blocked field goal is on both Jeremy Zuttah and Jeremy Trueblood. Almost as bad as allowing the block was allowing Lamar Houston to run it back for 34 yards.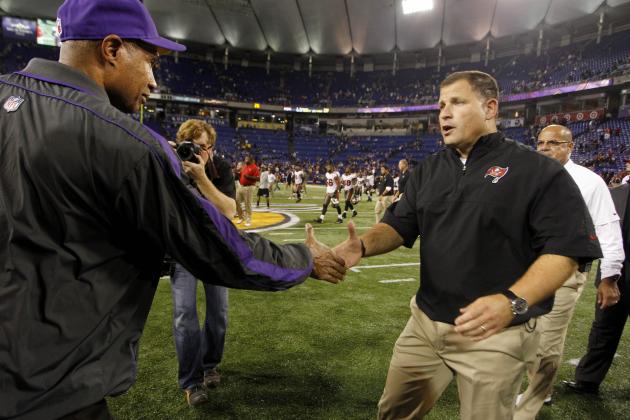 Bruce Kluckhohn-US PRESSWIRE

Q4 Grade: C
The Bucs made the right call subbing LeGarrette Blount in for Martin. Blount had not fumbled yet this year, and hey did not want to risk an injury to Martin. Technically, it was garbage time. It was wrong, however, not to have Martin run after the Raiders brought the game to 35-32.
Q3 Grade: A
Not a fan of this generous timeout usage. That's two timeouts used before we are even halfway through the fourth quarter.
The coaching staff gets the "A" only because they had the prudence to draft Doug Martin back in April.
Q2 Grade: B+
There should be not doubt that the Buccaeers are a chunk yardage team. This means they move the ball downfield with a few, long plays, rather than a bunch of short ones. As long as it works, Greg Schiano should be lauded.
Q1 Grade: C
The Bucs already have two defensive line penalties, one for encroachment, one for a neutral zone infraction. Not good.