Dolphins vs. Colts: Final Player Grades, Analysis for Indianapolis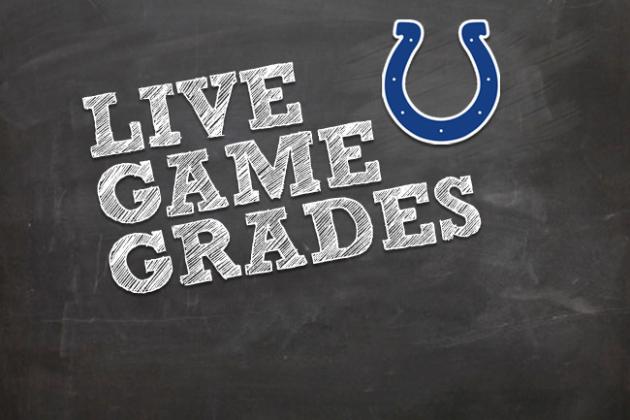 Final Score:
Indianapolis: 23, Miami: 20
Indianapolis held on for the last second win for the third week and a row, propelling them to 5-3 with the inside track on a wildcard spot.
For the Colts the win comes on the shoulder of Andrew Luck, who put up an NFL rookie record of 433 yards in the win. To keep winning, especially on days where the run game is scarce, they'll continue to rely on Luck. If he can play like he has for the last two weeks, they'll have a chance at a very surprising finish to the season.
Keep this slide show open as it will soon be updated with player grades.
Begin Slideshow

»
Frederick Breedon/Getty Images

Andrew Luck: A
After his best game as a pro last week against Tennessee, Andrew Luck followed it up with an even better performance against one of the best defenses in the league.
Luck was fantastic in the two areas the Colts needed him to be good: under pressure and on third down.
Despite being under pressure all game, again, Luck managed to avoid the pressure on almost every play, only taking one sack (Cameron Wake). He consistently made accurate throws on the run and under pressure, and helped the Colts convert 68% of their third downs. Luck only had one rushing attempt for five yards, but his movement in and out of the pocket allowed a countless number of plays to continue.
This was Luck's best game by far, and he adds another game winning drive to his resume, tying Andy Dalton and Matt Ryan for the third most by a rookie. He still has eight games left to go, and only has Ben Roethlisberger and Vince Young ahead of him with five each.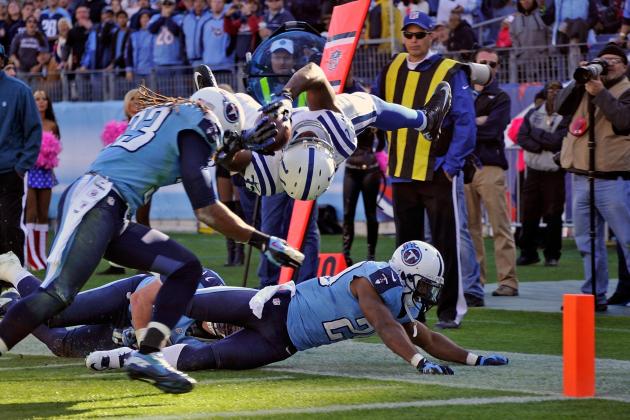 Frederick Breedon/Getty Images

Vick Ballard: B-
Ballard didn't run very well (He was running for less than 3 YPC before the final play of the game), but his biggest help was in the pass game, where he converted several first downs on check down passes from Luck. He did have one drop.
He finished with 16 yards on 60 carrries, sightly under four yards per carry, including the game clinching 19-yard run on the final play of the game.
Delone Carter: B
Carter got a lot of action running the ball, and ran hard, gaining 31 yards on 8 carries. He didn't get as much work, but he was arguably a better runner than Ballard was throughout the day.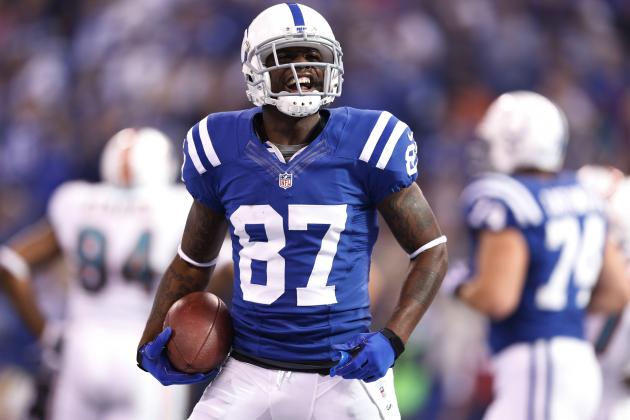 Joe Robbins/Getty Images

Reggie Wayne: A
Wayne continues to be his consistent self, catching seven passes for 78 yards and a touchdown. He leads the league in yards this season, and has had at least five passes and 70 yards in every game.
Donnie Avery: B
Avery is inconsistent, and it continued this week. He had a poor drop on the sideline in the first half, but also had a good diving catch for a 48-yard gain over the top of the defense. He continued to make up for his drop in the second half, and finished with 108 yards on just 5 catches.
T.Y Hilton: B
Hilton had a huge drop on a potential touchdown pass on the end of the first half. There have been concerns about Hilton's hands all year, and plays like this propel this notion further. Hilton has been beating defensive backs more and more every week, now he just needs to work on catching the ball. He finished with his best stats of the season, catching six passes for 102 yards.
LaVon Brazill: B+
Brazill had a couple nice catches (including one beautiful toe-tapper on the sideline), but also had a dropped ball deep on the sideline. Nevertheless, this was the most he's been involved all year, and he was productive with two catches for 25 yards.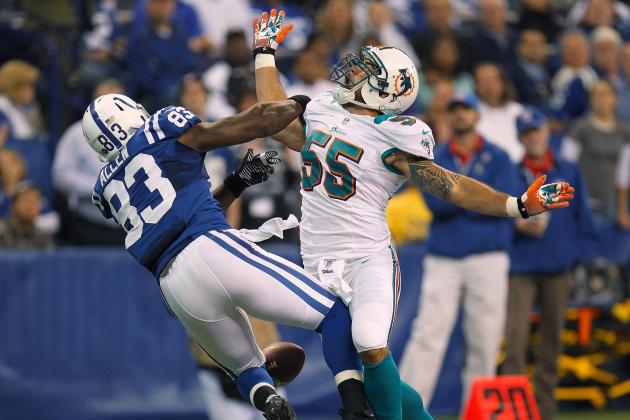 Gregory Shamus/Getty Images

Dwayne Allen: A
Allen continues to grow in his role, catching six passes for 75 yards this week. He's shown good awareness with the ball, and continues to be a fantastic blocker at the tight end position.
Allen had two 20-yard completions on the game-winning drive, and also drew a big pass interference penalty in the second half.
Wesley Saunders: C
Saunders wasn't bad from the tight end spot, but there's a reason the Colts went with more WR-heavy sets today. Saunders isn't nearly the threat Fleener is in receiving, and it showed when he had little awareness on his one target of the day, resulting in an incompletion.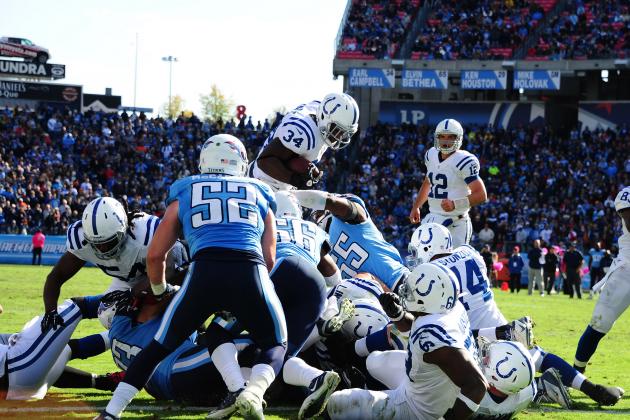 Scott Cunningham/Getty Images

Anthony Castonzo: B
Castonzo rebounded from a poor week against Tennessee with a solid game against Miami. Of course, Cameron Wake comes from the other side, but Castonzo had a solid game.
Joe Reitz: B
Reitz came in in his first week back from injury, and played well. He wasn't a road grader in the run game, but he protected Luck well in pass protection.
A.Q. Shipley: B-
Shipley once again came in and had a solid game at center. This isn't the first time he's come in and played well, which prompts me to once again suggest benching Samson Satele for the undrafted rookie.
Mike McGlynn: C+
McGlynn continues to be what he's been all year: passable. He's not a huge problem, but he could definitely be upgraded.
Winston Justice: C-
Justice left midway through the second half, and was struggling prior to the injury to contain Cameron Wake. He didn't allow any quick sacks, and was passable at times, but he did allow a lot of pressure on Luck.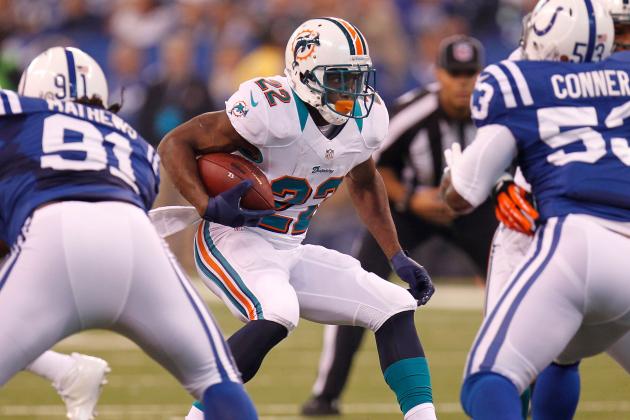 Gregory Shamus/Getty Images

Antonio Johnson: C-
Johnson played well in the first quarter, helping to bottle up the Dolphins' running game. However, he got tired as the game went on, and began to get pushed back, allowing the run game to open up.
Fili Moala: C+
Moala got a few assisted tackles, and a big hit on Tannehill in the second half. He's not an above average starter at the DE spot, but he is an upgrade over Ricardo Mathews.
Drake Nevis: B-
Nevis got his trademark penetration several times in the game, disrupting plays. He's not as stout against the run, and is inconsistent in pass rush, but is one of the few defensive linemen that can get in the backfield.
Martin Tevaseu: D+
Tevaseau was not very good in spelling Johnson this week, really failing to assert himself and make an impact against either pass or run.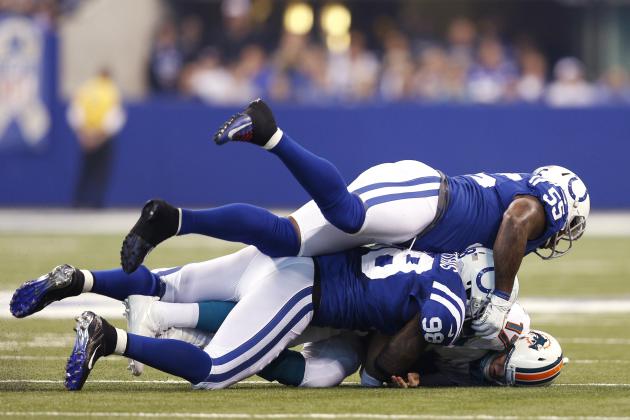 Joe Robbins/Getty Images

Robert Mathis: A-
Mathis continues to be a magnet for sacks, getting another sack early in the game with his devastating speed rush. His injury really hurt the Colts' ability to rush the passer. It's still a poor idea to drop him back in coverage.
Jerry Hughes: B-
I noticed Hughes getting pressure on Tannehill a few times, but he once again failed to pick up a sack. I'll be very interested to see what ProFootballFocus tracks for him in terms of pressure this week. He did have one stop on a running play.
Dwight Freeney: B-
Like Hughes, Freeney got pressure a few times, but failed to pick up a sack. He failed to show up on the stat sheet outside of two QB hits.
Jerrell Freeman: C
Freeman didn't pick up the stops like he did last week, only notching 2 tackles on the day. He did have one of just two tackles for a loss on the day for the Colts.
Kavell Conner: C+
Conner only notched four tackles, but also had an impressive pass defense in the first half.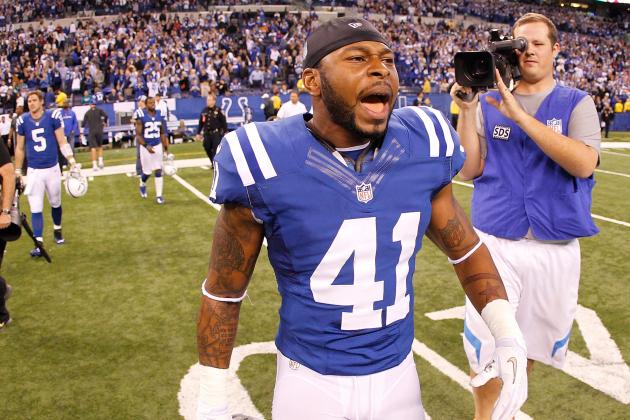 Gregory Shamus/Getty Images

Jerraud Powers: C+
Powers had good coverage, and tackles, in spots for the Colts, but was beat several times when left on an island. His build and athleticism is simply not right for a shutdown man-to-man corner.
Cassius Vaughn: C-
Vaughn continues to make the Colts long for Vontae Davis, allowing several long first down passes, and adding to his total penalties for the year with another illegal contact penalty.
Darius Butler: B
Coming in when Powers left with an injury, Butler stepped up with a huge pass defense in the fourth quarter, knocking down a ball intended for Brian Hartline with a great play.
Antoine Bethea: B
Bethea continued in his role as the cleanup guy, with six tackles on the day.
Tom Zbikowski: C
"Zibby" continues to frustrate at times, but I felt like today he was at least passable, and finished with three tackles.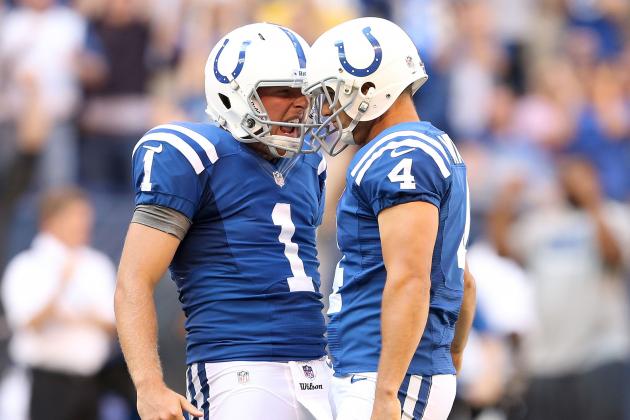 Andy Lyons/Getty Images

Adam Vinatieri: B-
Vinatieri missed two more field goals this week (one was tipped), but was Mr. Clutch with his game winner from 43-yards out.
Pat McAfee: A-
McAfee only punted twice in this game, but both were very good punts. One pinned the Dolphins on their own 10-yard line, and the other was a 59-yard blast that flipped the field in a critical fourth quarter.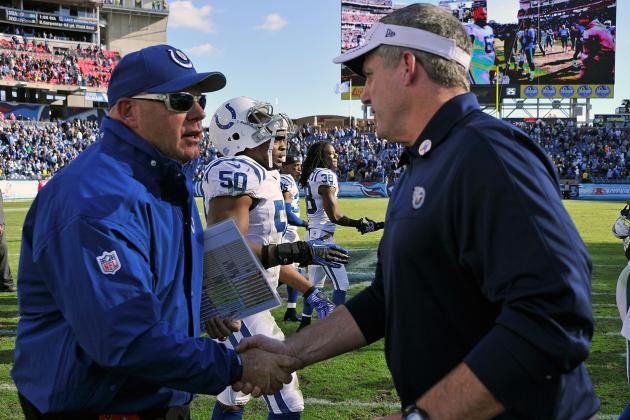 Frederick Breedon/Getty Images

Bruce Arians: B-
Outside of a bad challenge in the first half, and some overly predictable playcalling in the fourth, I felt like Arians called a pretty good game. He got more people involved in the offense this week, including setting tight end Dwayne Allen and running back Vick Ballard up with more opportunities. He'll have to continue that as the season progresses, because Reggie Wayne cannot be the sole target for Luck.
Greg Manusky: B+
For the third week in a row, Manusky's defense came out in the second half and stymied the opposing offense. Whether it's halftime adjustments or dumb luck (it felt that way against Cleveland), it's working. The one complaint I have about Manusky is that his blitzes don't land nearly enough, and it causes some big plays to happen in the passing game.