6 Early Candidates for NBA's Most Improved Player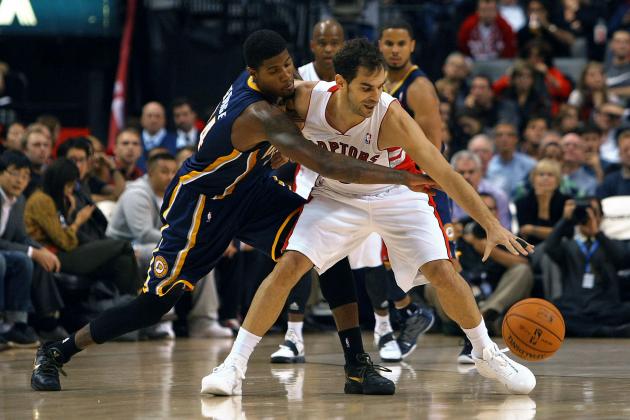 Dave Sandford/Getty Images

Although it is early in the season, some players are starting to show potential for reaching their next level. That may be due to gaining experience in the league, a new opportunity or a combination of the two.
Either way, several names are beginning to rise from the rest. They have already shown in the first few games of the season that this season very well could be a career year for them.
Because of that, these players have become early favorites to win the NBA Most Improved Player award. Just for the record, established players are still available for this award, like Danny Granger in the 2008-2009 season when he rose from 19.6 to 25.8 points per game.
So who is the favorite to be the most improved player in the NBA? Keep reading to find out.
Begin Slideshow

»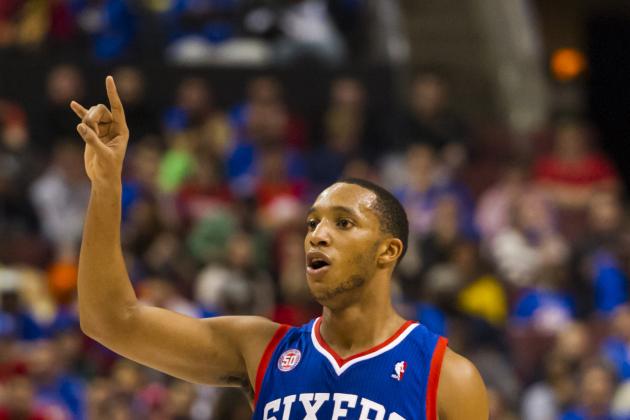 Howard Smith-US PRESSWIRE

Evan Turner started off the season poorly in a win over Denver, only scoring five points to go along with six rebounds and three turnovers.
Still, Turner improved vastly between his first and second seasons, and there is no reason that the improvement shouldn't continue. He will also be aided by the absence of Andre Iguodala, which frees up more minutes.
When he is at his best, Turner is a great rebounding guard who can put some points up. While he only has a career average of 43.5 percent shooting, that number was up to 44.6 percent last season and should continue.
Evan got even better when he was started at small forward, averaging 20.5 points, 10 rebounds and four assists while shooting 45.2 percent last season. If he is able to get an opportunity to start at small forward, or even play big minutes at the position, he will be a front-runner for NBA Most Improved Player.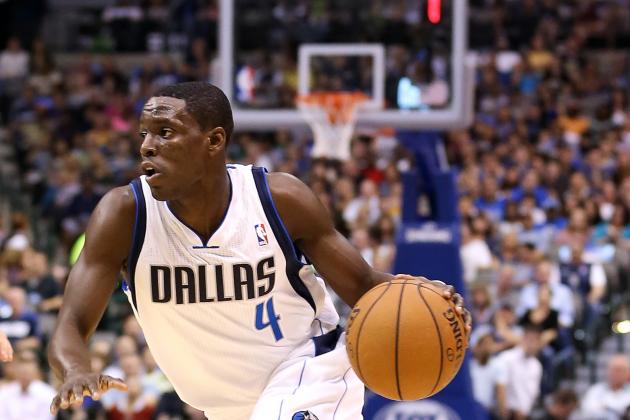 Kevin Jairaj-US PRESSWIRE

Last season, Darren Collison averaged 10.3 points, 4.8 assists and 3.1 rebounds per game playing for the Indiana Pacers.
While he was a good starting option with those numbers, he has begun to play like a star. So far, Collison has failed to shoot less than 50 percent from the field while scoring at least 16 points in each game. On top of that, he had seven assists in his second game and over 10 against the Bobcats on Saturday night.
Collison has already proven to the league that he is a solid starting player, but this season he has truly been given the reins to run the team.
While his scoring numbers may go down with the return of Dirk Nowitzki, this season should prove to be a worthy one for the NBA's Most Improved Player award.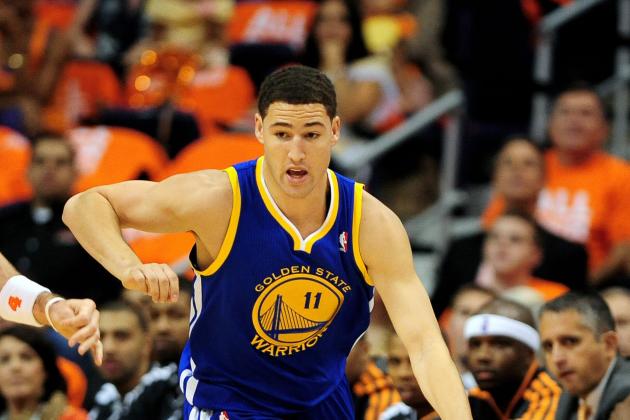 Jennifer Stewart-US PRESSWIRE

Like Collison, Klay Thompson has already proven to the league that he is more than capable as a starter. After Monta Ellis was traded away and Stephen Curry went down due to injury last season, Thompson averaged 18.1 points, three assists and 1.1 steals per game in 29 starts.
So far this season, Thompson hasn't been able to find his groove, only shooting 38.5 percent from the field while averaging 13.5 points, 5.0 rebounds and 3.0 assists per game.
Still, he has been given the team's full confidence, which shows in his playing minutes. Thompson has jumped from 24.4 minutes to 36 minutes this season.
That jump in minutes should give Klay Thompson's numbers the boost they need to truly be considered the NBA's most improved. If, however, his current slump continues, he will quickly fall from the list.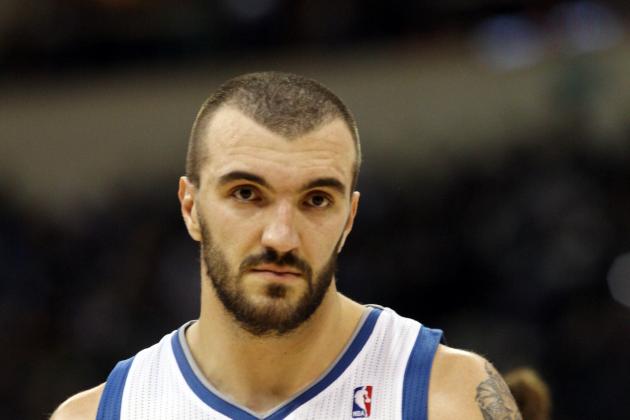 Bruce Fedyck-US PRESSWIRE

Nikola Pekovic has been one of the hottest names in discussions of who the NBA's most improved player will be, but his run toward the award hasn't started off well.
In the first game of the season, Pekovic was only able to score nine points and grab five rebounds while shooting 25 percent from the floor.
While several of the players on this list have been forgiven for poor starts, this performance is less forgivable for a few reasons. First, the rebound struggle is a little worrisome, given that he played 32 minutes. Obviously, his rebounding will go up as the season progresses, but it is still a bad sign for the third-year center.
More importantly, it is Pekovic's offensive struggles that should worry people. He scored just nine points and made only two of his eight shots. Many believed that Pekovic would benefit from Kevin Love being gone on offense, but he has struggled against double-teams, which he will probably be seeing a lot more of.
One game isn't enough to knock Nikola Pekovic off of this list, but it is enough to bump him a few spots.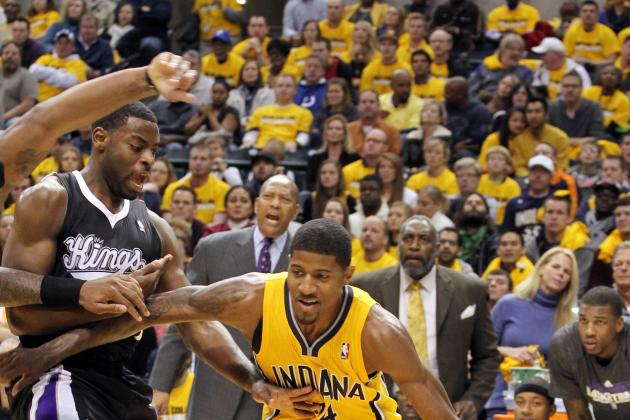 Brian Spurlock-US PRESSWIRE

Unlike several others on this list, Paul George has started off the season strong. He is averaging 14 points, 4.7 assists and an outstanding 13 rebounds per game.
That is up from 12.1 points, 2.4 assists and 5.6 rebounds per game last season.
There are still two worrisome things about George. First, he has shot the ball poorly so far this season, shooting just 41.4 percent to go along with 33 percent from beyond the arc. On top of that, Paul is averaging 4.66 turnovers per game.
Both of these numbers, however, seem to come with the new territory of being the team's go-to player. Fortunately, he will likely get over that soon and return to his normal shooting numbers. As long as Danny Granger is out with his knee injury, look for Paul George to tear up the NBA.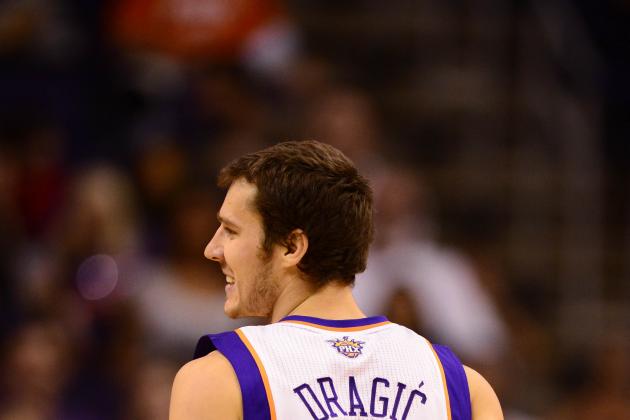 Mark J. Rebilas-US PRESSWIRE

Three seasons ago, Goran Dragic made his first mark on the NBA by putting up 23 points in the fourth quarter of a playoff game against the San Antonio Spurs.
Many thought that would officially mark the coming of Dragic as a starter in the NBA. Well, three seasons later, his time has finally come, and boy, was he worth the wait. So far, Dragic has averaged 16 points, nine assists, four rebounds and two steals per game.
Last season, he showed that he was ready by averaging 18 points, 8.5 assists and 3.5 rebounds in 28 starts with the Rockets. That, however, was stifled by the equally superb play of Kyle Lowry.
This season, Dragic is an undeniable starter for the Phoenix Suns and will show everybody just how good he is on his way to winning the NBA's Most Improved Player award.