Minnesota Vikings vs. Seattle Seahawks: Live Score, Highlights and Analysis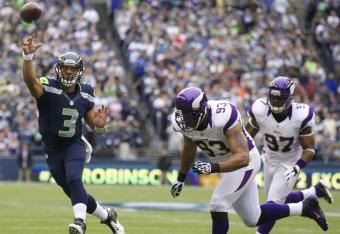 Stephen Brashear/Getty Images
The Seahawks and Vikings have finished a very interesting game in Seattle.
SCORE: 30-20 Seahawks
Scoring plays:
1. Adrian Peterson 1 Yard Run (Vikings)
2. Golden Tate 6 Yard Pass From Russell Wilson (Seahawks)
3. Sidney Rice 11 Yard Pass From Russell Wilson (Seahawks)
4. Adrian Peterson 4 Yard Run (Vikings)
5. Blair Walsh 36 Yard Field Goal (Vikings)
6. Golden Tate 11 Yard Pass From Russell Wilson (Seahawks)
7. Marshawn Lynch 3 Yard Run (Seahawks)
8. Blair Walsh 55 Yard Field Goal (Vikings)
9. Steven Hauschka 40 Yard Field Goal (Seahawks)
Final Thoughts:
The Seahawks really tried to gift this game to the Vikings with awful tackling and horrendous run defense in the first half. Seattle is very fortunate the Vikings have a young quarterback who has stopped looking down the field on passing downs for fear of getting hit in the pocket.
As expected the Seahawks won at home, but outside of Russell Wilson and Marshawn Lynch's stellar play the Seahawks defense needs a game plan overhaul on the defensive front. The shine has come off in the past few weeks as teams have figured out how to gash a once very stout run defense.
Christian Ponder had 63 yards on 22 attempts today, good for a 2.86 YPA and one INT. Can't get much worse than that

— Shawn Zobel (@ShawnZobel_DHQ) November 5, 2012
Carroll: "It's really nice to see Golden (Tate) and Sidney (Rice) come to life today." #MINvsSEA

— Seattle Seahawks (@Seahawks) November 5, 2012
Wilson 66% completion %, 127 QB Rating, 7.2 YPA, 3 TD, 0 INT, one sack. #seahawks

— Davis Hsu (@DavisHsuSeattle) November 5, 2012
It appears the Vikings have run out of gas. Seahawks offensive line is starting to facilitate Lynch domination now. It's almost over folks.
Seahawks get the first down forcing the Vikings to use their penultimate timeout.
Adrian Peterson with 38 yards in the second half. In fact, the Vikings offense has been almost completely shut down.
Pete Carroll has to go for it here. No reason to punt the ball at all.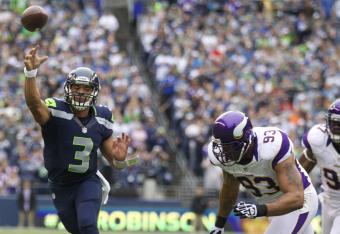 How savvy is Russell Wilson? This kid plays like a 10-year veteran at times. Great sign for the Seahawks' future.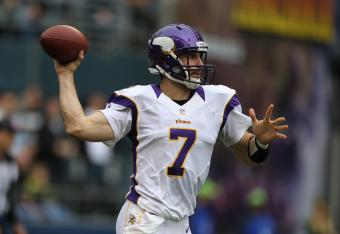 Christian Ponder adding to his pitiful day with that rainbow pick right in the hands of Brandon Browner. A day to forget for him for sure.
The Seahawks have scored 30 points for the first time in the 2012 season.
Seahawks offense gives up first sack in almost two games. Credit the improved play of Russell Wilson and the offensive line.
Lynch tackled behind the line? HE IS LOW ON SKITTLES GET HIM MORE SKITTLES

— Andrew Garda (@Andrew_Garda) November 4, 2012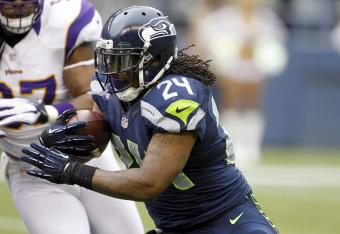 That 23 yard screen play looked like it was going to gain nothing. Great vision by Marshawn Lynch on that play.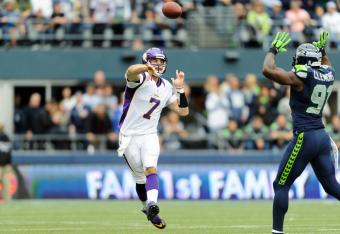 This Vikings passing offense is looking about as bad as you can possibly look. Anemic would be a kind way of describing the production to this point.
Nice to see Max Unger was able to return from earlier injury. Seahawks need him to maintain any offensive success.
The Seahawks need to remove that quick screen pass from the playbook. Almost never ends in a positive outcome.
Vikings must think this is Christmas or something. Another gift of a penalty resulting in a Seahawks first down.
The play clock expires, but the Vikings are allowed to kick FG anyway. Pete Carroll having a small stroke on the sideline.
Adrian Peterson at 170 yards rushing. It's a good thing Christian Ponder only has 58 yards passing.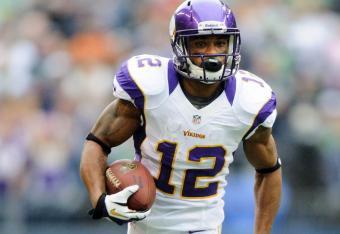 Percy Harvin takes a hit an lands awkwardly. Rolling around on the ground in agony. Looks to be a lower leg injury.
Best thing about that scoring drive was the fact the Seahawks took over six minutes off the clock.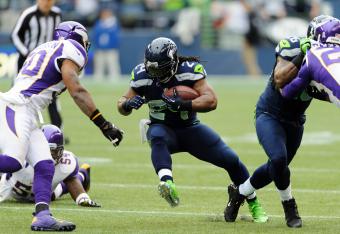 Touchdown Seahawks!! Marshawn Lynch with a 3 yard plunge to increase the Seahawks lead to 10.
Vikings are gifting the Seahawks yardage with continual offsides penalties.
This article is
What is the duplicate article?
Why is this article offensive?
Where is this article plagiarized from?
Why is this article poorly edited?

Seattle Seahawks: Like this team?