San Diego State vs. Boise State: Live Scores, Analysis and Results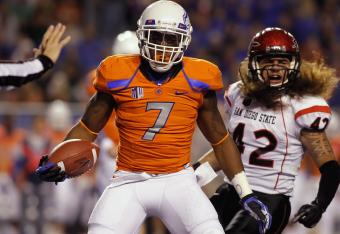 Otto Kitsinger III/Getty Images
FINAL: San Diego State 21, Boise State 19
The Aztecs marched into Bronco Stadium Saturday night and set the tone with special teams play. Returning the opening kickoff for a touchdown, the Aztecs trailed at half, but outscored Boise State 14-6 in the second half to earn the victory.
After trialing 7-0, Boise State scored and elected to go for a two-point conversion that failed. It was a bizarre call at the game's onset.
Though Boise State opened the second half with the ball, quarterback Joe Southwick tossed an interception on the first play of the third quarter. The Bronco defense managed to stop the Aztecs from scoring, but Boise State's offense was unable to move the ball. On the punt attempt, Bronco Trevor Harman rolled into pressure and had his rugby-style punt blocked. San Diego was able to score, then traded touchdowns in the fourth quarter with the Broncos to seal the win.
The Broncos were forced to try for a two-point conversion after the touchdown, but Southwick was pressured and threw the ball up for grabs. It was intercepted.
Boise State was sitting atop the Mountain West Conference, and was No. 19 in the AP poll. The loss drops the Broncos to 4-1 in the MWC and 7-2 on the season. San Diego State climbs to 5-1 in the Mountain West, 7-3 overall, and have won five games in a row.
The Broncos were erratic offensively. They only had 276 yards of total offense, with 112 yards on the ground. Boise State had 108 yards rushing as a team in the first half alone. San Diego State didn't win the total offense battle (the Aztecs finished with 269 yards for the game), but won the time of possession battle, 30:34-29:26.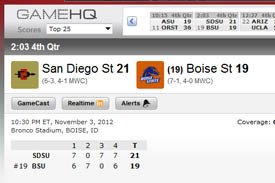 FINAL: San Diego State 21, Boise State 19
San Diego State runs out the clock to beat the Broncos on the blue at Bronco Stadium.
1:44, Fourth quarter
On fourth and two, Aztecs go for it, hand it to Muema and San Diego picks up the first down. Broncos have no time outs left.
1:56, Fourth quarter
Broncos have burned two time outs. Aztecs face third and five on Bronco 38.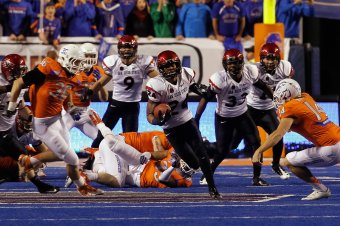 Otto Kitsinger III/Getty Images
2:03, Fourth quarter
J.C. Percy drops Muema in backfield for loss. Broncos may need to start using time outs.
Big first down catch by Escobar on sideline pass; Ioane beaten by much taller receiver.
4:53, Fourth quarter
Big first-down run by Muema. San Diego going to try to run out the game clock. Fullback Chad Young helped Muema spring for the first.
5:31, Fourth quarter
Bronco defense needs to come up with a big stop right now.
5:35, Fourth quarter: TOUCHDOWN Boise State!
Three-yard pass on play-action to Dan Paul.
Broncos have to go for the two-point conversion, and Southwick throws an interception on the attempt.
San Diego State 21, Boise State 19
6:34, Fourth quarter
Broncos are 3-for-3 on fourth down conversions. Miller goes up and pulls in the ball, gets tattooed and ball inches toward the end zone. First and goal.
7:25, Fourth quarter
Harper dropped for a big loss and Jake Fely gets up and limps off. Bad pass by Southwick brings up fourth down.
7:53, Fourth quarter
Broncos enter SDSU red zone. Southwick struggles here and throws a pass that hits an Aztec defender in the back.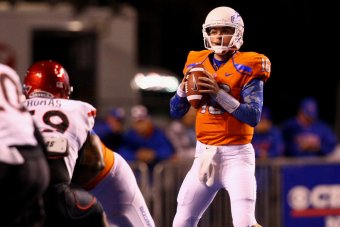 Brian Losness-US PRESSWIRE
10:09, Fourth quarter
And just as that is said, Harper scoots for a Bronco first down at the Bronco 45. Pass to Miller dropped. Don't see that often.
11:07, Fourth quarter
Broncos have seemingly abandoned run game and in a passing attack. Everything is underneath, forcing receivers to run after the catch.
12:20, Fourth quarter: TOUCHDOWN stands
Kazee gets his eighth rushing touchdown of the season. Extra point attempt is good.
San Diego State 21, Boise State 13
12:39, Fourth Quarter: San Diego State TOUCHDOWN
Kazee appeared to be stuffed at the line, but officials signal a touchdown. Play is under review.
12:39, Fourth quarter
Ioane forced the fumble. Play under review.
12:39, Fourth quarter
San Diego State fumbles on run into end zone but recovers the ball on the Bronco 1-yard line.
14:54, Fourth quarter
Horrible personal foul by Jeremy Ioane, hammering receiver out of bounds on incomplete pass. Puts the ball on the Bronco 9. Boise State's first penalty of the game and it is costly.
End of Third Quarter - San Diego State 14, Boise State 13
Aztecs driving the ball. Muema ends third quarter with great run. Offensive line opened a hole and Muema goes off tackle, cuts outside and runs down inside the Bronco 20.
3:03, Third quarter
San Diego State picks up eighth penalty on the game. Broncos have no penalties at this point.
3:46, Third quarter
Southwick throws into triple coverage; he is lucky it wasn't intercepted. Southwick had to pry himself up out of the turf after being hammered. Broncos can't move the ball after the turnover.
Remember the Michigan State game? Southwick wasn't able to bring the Broncos from behind in that game, and this is starting to have a familiar feelinig.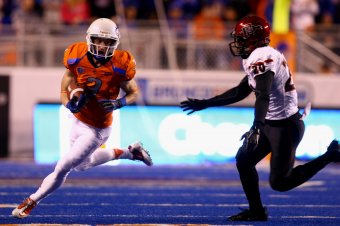 Brian Losness-US PRESSWIRE
5:24, Third quarter: Boise State INTERCEPTION
Darian Thompson picks off Dingwell and returns to midfield. Broncos needed this. Ajayi in at running back.
6:52, Third quarter
Muema starting to find the corners. Good kickouts by the Aztec offensive line to shut down pursuit from the middle.
7:34, Third quarter
Southwick sacked on third down. Pocket collapsed, and Southwick tried to scramble but was unsuccessful. Broncos came in only having given up four sacks on the season; tonight Southwick has been sacked twice.
Broncos forced to punt.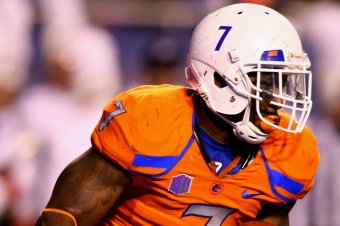 Brian Losness-US PRESSWIRE
9:37, Third quarter
Broncos trailing and starting in a hole. After the kickoff, Broncos on own 15. Boo birds were out on last incomplete by Southwick, and Broncos need to get the ball moving.
Southwick answers with slant connection to Miller. Gabe Linehan, missing with a knee strain for last couple of games, is back in.
9:41, third quarter: San Diego State TOUCHDOWN!
Back-to-back Muema runs punch the ball into the end zone and San Diego State takes the lead.
San Diego State 14, Boise State 13.
This article is
What is the duplicate article?
Why is this article offensive?
Where is this article plagiarized from?
Why is this article poorly edited?

Boise State Football: Like this team?