Dallas Cowboys vs. Atlanta Falcons: Live Score, Highlights and Analysis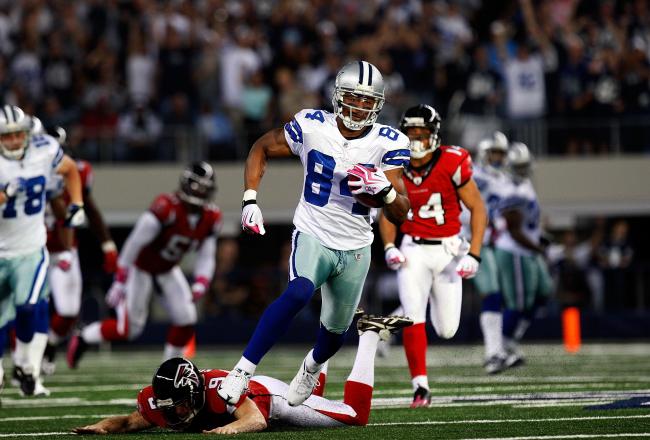 Ronald Martinez/Getty Images
The Falcons just don't lose, do they? Atlanta moves to 8-0 and their win drops the Cowboys to 3-5.
Final

Dallas 13

Atlanta 19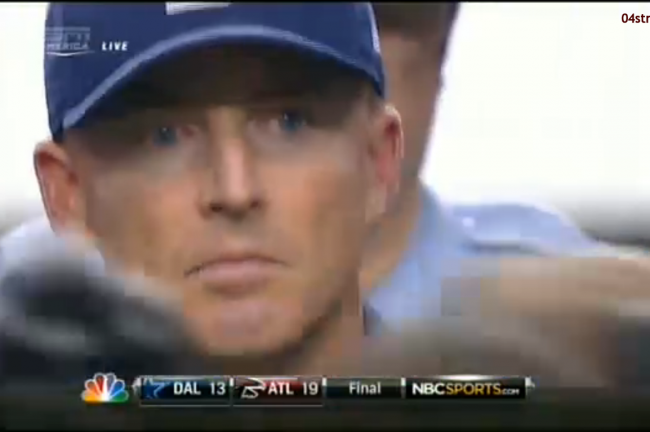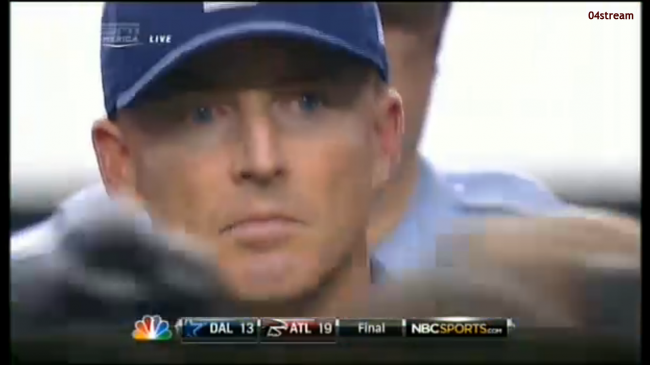 The Cowboys are down to 3-5 and the Falcons are up to 8-0. With this victory, Atlanta showed just how resilient they can be.
In the first half, it was a game full of field goals. The Falcons had a few big plays, but the Cowboys defense stopped them short of scoring touchdowns.
It was a different story in the second half as the Falcons offense came to life and put Dallas to bed. They scored their only offensive touchdown in the forth quarter behind the legs of running back Michael Turner.
Quarterback Matt Ryan was able to get his two main weapons more involved, Roddy White and Julio Jones, as they combined for 238 receiving yards.
Turner eclipsed the century mark for just the second time this season and Matt Ryan missed just 10 passes the entire night.
This Falcons team is serious.
While they beat a bad Cowboys team on a regular Sunday night in November, it showed just how tough can be when their offense isn't clicking on all cylinders.
For the Cowboys, their season may be over. They have two games against the struggling and desperate Eagles and welcome the Browns to Cowboys stadium for a game that will be tougher than it sounds.
Romo tossed one touchdown and he was just as efficient as Matt Ryan. But there was a noticeable difference in the two quarterbacks. One seemed to brim with confidence while the other looked lost at times.
:13 Seconds 4th Quarter
Falcons kicker Matt Bryant has extended the Falcons lead six points, and in the process, handed the Cowboys their fifth loss of the season.
:22 Seconds 4th Quarter
As a side note, Cowboys corner Orlando Scandrick may want to take a cab all the way back to Dallas.
Don't believe me about the Cowboys? Take Matt's word over mine.
31 yards for Jacquizz Rodgers. That'll do it.

— Matt Miller (@nfldraftscout) November 5, 2012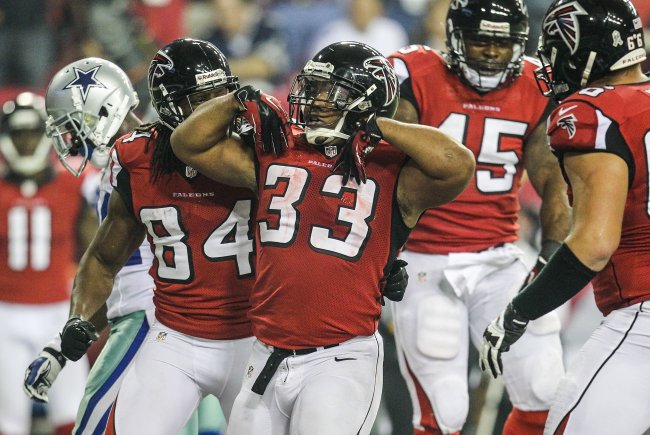 Daniel Shirey-US PRESSWIRE
3:29 4th Quarter
The Falcons don't have to do much to drive as the Cowboys were just flagged for pass interference.
This gives Atlanta a first down and the Cowboys have no timeouts remaining.
A hallmark of the Cowboys teams over the past decade has been mental errors and mistakes. Dallas would have stopped the Falcons on the third down, but the penalty negated that stop.
For Atlanta, they just have to take care of the ball and remain mistake free. If so, they should have this game in the bag.
3:25 4th Quarter
The Falcons may have just ended the Cowboys season.
On third and short, Ryan found running back Jacquizz Rodgers for a 31 yard gain for the first down.
Atlanta has crossed midfield and will now force the Cowboys to use their timeouts.
The Falcons are undefeated for a reason, folks.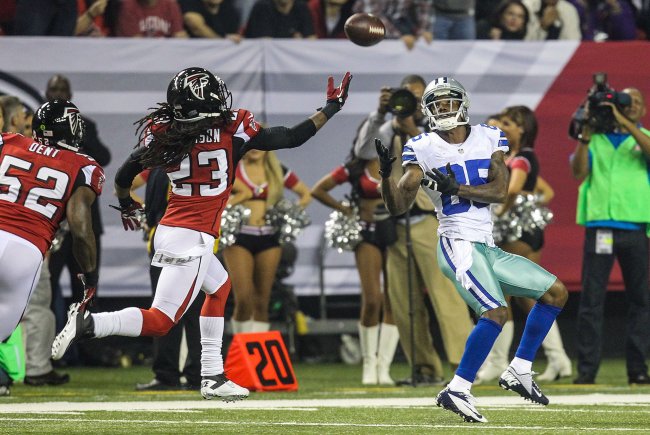 Daniel Shirey-US PRESSWIRE
5:21 4th Quarter
A no huddle offense for Dallas on their last drive yields big returns.
The Cowboys just drove 78 yards in just 2:28 on six plays to bring the game to within three points. Tony Romo, scrambling and directing traffic, found Kevin Ogletree in the back of the en zone for a 21 yard score.
Dallas gave up on the run during that last drive and kept the Falcons on their heels as they freely drove down the field.
Now, can the Cowboys defense stop the Falcons offense with just five minutes remaining?
7:49 4th Quarter
The Falcons receiving duo in Roddy White and Julio Jones is downright dangerous.
For this game, they have a combined 247 yards receiving on just 12 receptions. That is amazing because the Cowboys secondary isn't that bad any longer.
But when one is dealing with speed, as the Falcons are with Julio Jones, sometimes the receiver can just run right by the corner and there is nothing the defense can do about it.
That seems to be the case tonight with Jones' two long catches.
So, can the Cowboys come back and win it? Better yet, can they slow down the Falcons passing attack?
There is some good news for Cowboys fans.
I know no one cares.. but Bruce Carter is a beast.. see him run down on Julio ?

— Nick Eatman (@nickeatman) November 5, 2012
11:45 4th Quarter
The Falcons have put the nail in the Cowboys coffin, they just have to hammer it in.
Ryan just found Julio Jones for a 48 yard gain to take the ball into Cowboys territory.
Many have stated that the Falcons are overrated, but the way they have played in this game, it will be tough to give them that label.
Dallas' defense has been stout, but the Falcons offense has just worn them down.
Atlanta driving...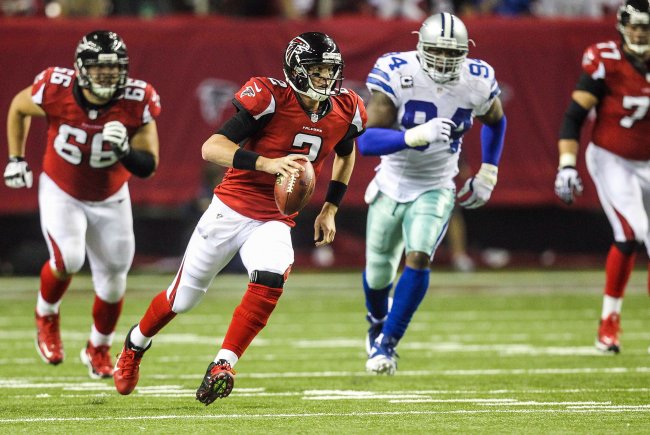 Daniel Shirey-US PRESSWIRE
12:45 4th Quarter
Dallas has a very quick three and out after picking up an all out blitz from the Falcons on third down.
This is probably the point in the game where Cowboys fans start to get nervous as Dallas isn't known for coming back from deficits.
The ball is back in the hands of Matt Ryan, who now has a very quiet 245 passing yards. No touchdowns, but he has been efficient.
Also, the Cowboys secondary has been shredded. Judging only by stats, they haven't played well. Roddy White has 118 yards on seven receptions and Julio Jones has four catches for 81 yards.
Falcons gathering steam and will look to put the Cowboys away with this current drive.
14:16 4th Quarter
The Falcons last scoring drive belonged to running back Michael Turner. He had a 43 yard scamper and a three yard touchdown as a reward.
Atlanta's offense has perked up after a six play, 81 yard drive.
If Dallas wants to save their season, they will have to score a touchdown. No more field goal's for the Cowboys.
Start of 4th Quarter
No touchdowns in this game so far, can you believe that?
Well, sans that bit of news, we just had our forth big play of the game, which may give new life to the Falcons offense.
As of the third quarter, the Cowboys were holding the Falcons to just 1.8 yards per carry. Michael Turner just changed that as he broke for a gain of 43 yards. Because of that, he's now averaging 5.6 yards per carry.
How quickly things change.
Atlanta has the ball on the Cowboys 16 yard line.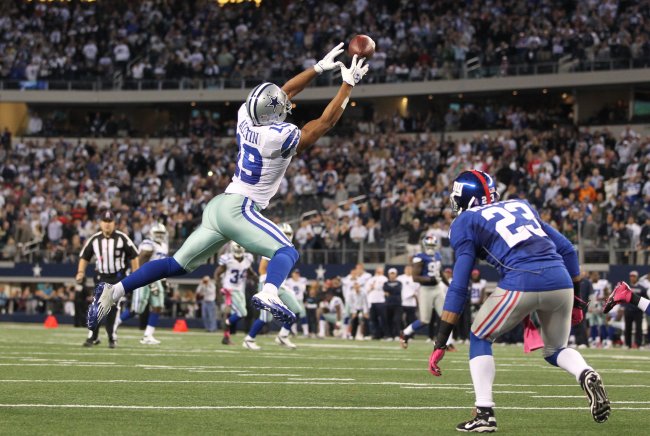 Tim Heitman-US PRESSWIRE
3:02 3rd Quarter
Dallas has been forced to punt again.
This time of play from the Cowboys cannot continue as frankly, they aren't good enough to win a close game of this nature.
On third and long, Romo found receiver Miles Austin for the first down, but he dropped the pass, forcing Dallas to punt.
Again, Dallas has to score a touchdown. The game is still tied and it is almost the third quarter.
The Falcons do not lose games like this.
Witten just tied Irvin as teams all time leading wr

— Clarence Hill (@clarencehilljr) November 5, 2012
Howard Smith-US PRESSWIRE
6:43 3rd Quarter
Falcons kicker Matt Bryant is a little off his game tonight. He just missed his second field goal of the night from 43 yards out.
The Falcons had the opportunity to take their first lead of the game, but instead, the ball goes back to Dallas.
9:39 3rd Quarter
The Falcons are faced with another third down, this time its a long one. Atlanta had a third and 12 on their own 30 yard line.
Ryan was pressured, again, but he was able to extend the play by scrambling out of the pocket. He found Roddy White for the first down to cross the 50 and give new life to their drive.
Falcons driving...
11:41 3rd Quarter
The Cowboys have found a hole in the Falcons rush defense. So far, the Cowboys have been very run heavy, electing to pass just twice.
On third and seven, the Cowboys were forced to pass, and Romo was swarmed by at least four Falcon defenders.
Dallas was forced to punt and Atlanta now has the ball. On Dallas' next drive, it will be interesting to see if they decide to go run heavy again.
INJURY UPDATE
Cowboys nose tackle Jay Ratliff has a sprained ankle and his return his questionable.
This game's about as even as it gets: Total Yds (ATL 178, DAL 182), 1st downs (ATL 9, DAL 8), Time of Poss (ATL 14:28, DAL 15:32). #atldal12

— Atlanta_Falcons (@Atlanta_Falcons) November 5, 2012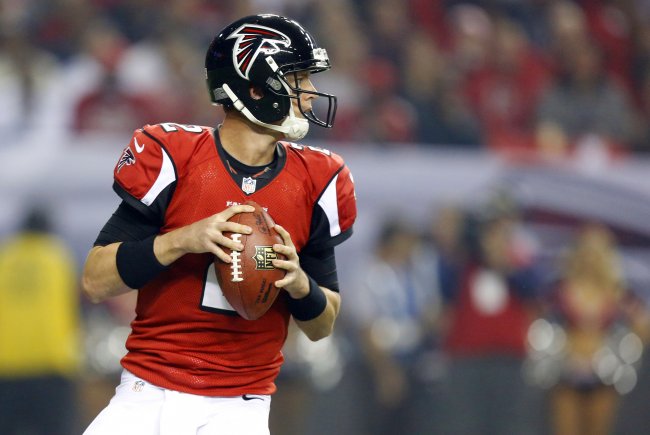 Josh D. Weiss-US PRESSWIRE
Halftime
We are all tied in Atlanta at halftime. Dallas has six and the Falcons have equaled that total with their last field goal.
Let's explore that quarter ending drive by the Falcons.
Atlanta started on their own 10 yard line with just over a minute remaining. What happens after that should give Atlanta a great boost of confidence going into the second half.
The Falcons burned off all 1:03 seconds with six plays and 60 yards. Ryan was able to find tight end Tony Gonzalez twice, receiver Roddy White, and an eight yard scramble to cross midfield.
Ryan engineered the Falcons two minute offense in a masterful way, dicing up the Cowboys secondary and escaping pressure to place his team in a position to score.
Should be an exciting second half.
:17 2nd Quarter
Atlanta's offense has been rendered largely ineffective so far. On that last play, third and five, Ryan was able to complete it to receiver Roddy White for 20 yards for the first down.
The Falcons are at least trying to get into field goal range before halftime, but the Cowboys defense has been strong. Ryan has been under pressure and running away from it for a large part of the evening.
Can they at least tie it up before halftime arrives?
Well, Mr. Hill isn't enjoying the action in Atlanta.
That fake fourth and one was most exciting part of this Sunday night game so far. No doze please

— Clarence Hill (@clarencehilljr) November 5, 2012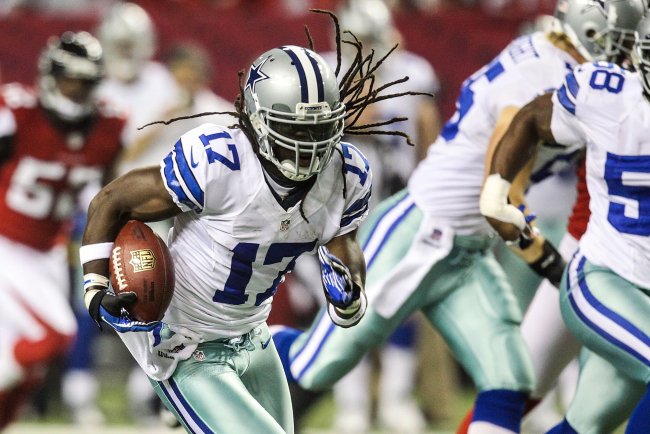 Daniel Shirey-US PRESSWIRE
1:11 2nd Quarter
Another big defensive stop, but this time, its for the Falcons.
Dallas had a third and inches at the 50 yard line and the Falcons were able to stop it. Running back Phillip Tanner attempted to run for the first over the right side, but it was quickly negated.
Atlanta forces the Cowboys to punt, giving the Falcons the ball with two timeouts and at least a minute left on the clock. But the last play is still under review for spot of the ball.
6:24 2nd Quarter
One thing I'll say for both teams is that the defense tonight has been great.
Matt Ryan and Tony Romo haven't truly gotten into a rhythm as they are to busy running away from pressure.
We are close to halftime and this game is a tale of two defenses.
Matt Ryan has 103 passing yards with a nice chunk going to Julio Jones and Roddy White. Same for Tony Romo. He has 114 passing yards, but his 65 yard completion to Kevin Ogletree accounts for a big part of his yardage.
I'm sure that adjustments will be made at halftime, but for the time being, this game has been fun to watch from a defensive perspective.
Cowboys still up by three, 6-3.
This article is
What is the duplicate article?
Why is this article offensive?
Where is this article plagiarized from?
Why is this article poorly edited?

Dallas Cowboys: Like this team?