Alabama vs. LSU: Live Scores, Analysis and Results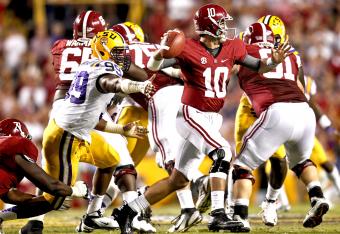 Alabama 21 LSU 17 Final
Top-ranked Alabama survived a furious comeback from rival LSU and scored the go-ahead touchdown with less than a minute to hold on for a 21-17 victory.
LSU rallied from a 14-3 halftime deficit to take a 17-14 lead early in the fourth quarter, but a late missed field goal set the stage for A.J. McCarron to lead his team on a drive that will forever go down in Crimson Tide lore.
LSU dominated this game statistically, which will make this loss a hard pill to swallow on the bayou.
Alabama ended LSU's 22-game winning streak in Tiger Stadium with its cardiac comeback.
Nick Saban and the Crimson Tide improve to 9-0, while the Tigers fall to 7-2.
Here is a link to my postgame piece on Alabama's big win.
Hope you all enjoy it, and many thanks once again for following the blog.
As always, thanks to everyone for following along!
I hope you enjoyed this classic as much as I did.
This is what college football is all about!
Look out for more postgame coverage of Alabama's thrilling win on B/R.
Thanks, once again!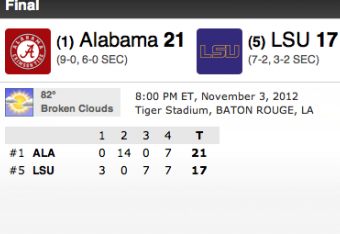 Here's a final look at the box score, courtesy of ESPN.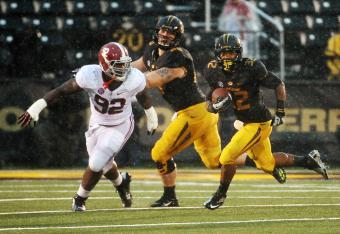 Damion Square sacks Mettenberger, and Alabama wins an improbable comeback 21-17. Good heavens, that was an amazing game.
LSU left the door open one time too many, and it looks like it will bite them in the end.
Holy Crap! Alabama catches LSU in a blitz and McCarron hits Yeldon on a screen, and the freshman takes it 25-yards for the touchdown. Alabama leads 21-17 with 51 seconds left.
That. Just. Happened.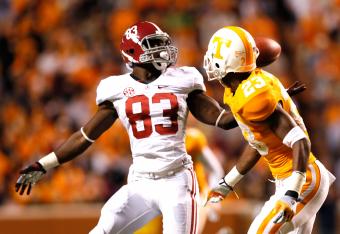 McCarron hits Kevin Norwood for two long completions and the Tide are nearing field goal range.
The drama is building in Baton Rouge.
Norwood has come up HUGE tonight, and Alabama is in range to tie it up.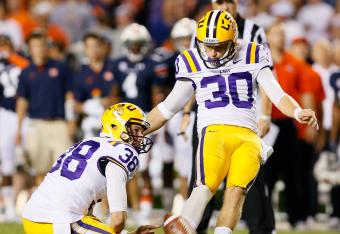 The Tigers look like they will let Alleman attempt a 45-yard field goal to go up six points with 1:39 left to play.
Alleman hooks it wide left, and the score remains 17-14 with LSU leading.
Alabama is starting to use its timeouts, and they have taken their final one. LSU is facing a 3rd-and-long with 2:28 left.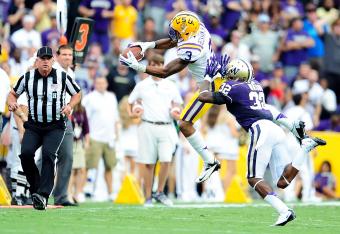 Wow. Unreal.
A false start saves the Tigers as Copeland fumbled after the play was dead.
Almost fittingly, one play later, Mettenberger throws a beauty of a deep ball to Beckham for a big play that sets the Tigers up deep in Alabama territory.
Seems like the legend of the Mad Hatter is growing with each second that ticks away.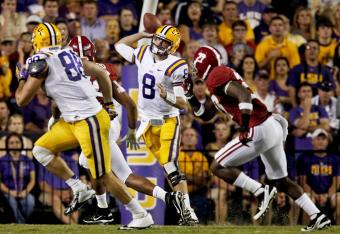 Alabama brings a blitz on 3rd-and-6, but Mettenberger stands tall and finds Landry matched up against a safety, and LSU gets a huge fresh set of downs.
The Tide's defense is still coming hard and playing with tremendous effort fitting of a champion.
They are playing their hearts out.
Third down conversions have been the story of this game, and Mettenberger has been deadly in what seemed like an unlikely thought heading into this game.
LSU's offense has come alive in the second half, but can they avoid the crucial mistakes that have kept the Tide in the game?
I get the sense that Alabama's defense is winded, and forcing a turnover appears to be its best hope considering the offense's ineptitude.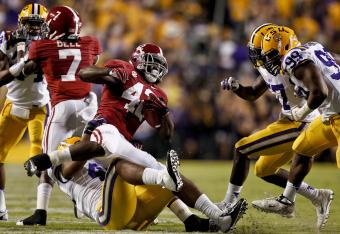 Interestingly enough, Alabama comes out throwing.
The one drive where they moved the ball in the third quarter came on the ground.
McCarron has no one to throw to on third-and-long and Montgomery brings him down and forces another three-and-out.
You have to wonder where Eddie Lacy is after his stellar first half.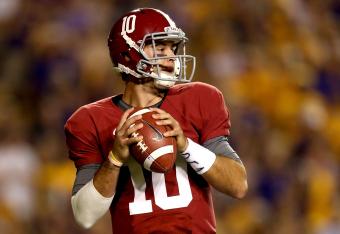 Alabama has played easily its worst game of the season, but their defense just came up with a crucial stop that gives them new life.
Can the offense, which has been dreadful in the second half, step up and put together a drive when the Tide's national title hopes on the line?
Its time for McCarron and his cohorts to step up.
Getting a false start penalty to start the drive is another costly mistake that could haunt LSU.
Adrian Hubbard has had a monster game for Alabama tonight, and he stepped up to stuff Copeland on a dive play.
Mettenberger delivers another rocket to Odell Beckham, Jr. and LSU is on the move again.
This is exactly what LSU fans had in mind when Mettenberger took over at quarterback.
Alabama's defense looks to be wearing down, but they have to hold the Tigers to three points here.
Facing a 4th-and-one, Spencer Ware takes a wildcat snap and gets stuffed and the Tide hold on a huge play.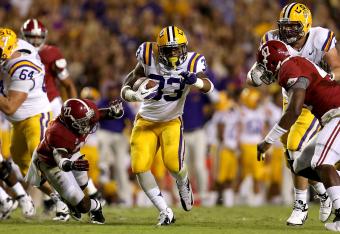 LSU is setup with decent field position and a chance to deliver a knockout blow to its rivals with a touchdown.
Alabama's defense has been on the field for 65 plays, so conditioning could prove to be a huge factor in this drive.
Can the Tide's defense step up and come up with the biggest stop of the season?
The crowd is roaring in all of its glory.
The defense is playing inspired football right now.
Eric Reid almost comes up with an interception, but instead its Alabama's third three-and-out of the second half.
Well, Alabama finally is playing a meaningful game in the fourth quarter, so how will they react to being tested this deep in a game?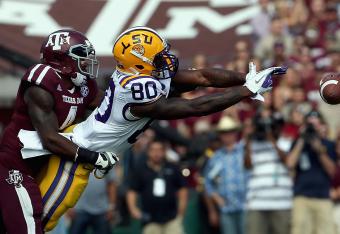 For all of the backlash of the rematch, these two teams are delivering some stirring drama tonight.
Regardless of what happens in this fourth quarter, I get the sense Mettenberger has come of age tonight.
He takes a huge hit on a blitz, but he fires a dart to Landry and the Tigers are in the red zone again.
Mettenberger hits Jarvis Landry for an 18-yard touchdown and LSU takes the lead! LSU goes up 17-14 and you can feel the ground shake from Baton Rouge to Eugene.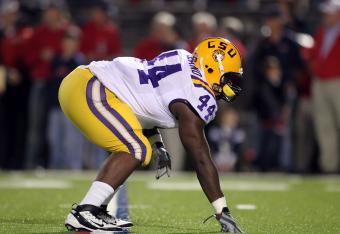 LSU is 90 yards away from making No. 1 begin to sweat.
Copeland atones for his earlier penalty with a monster catch-and-run and LSU is already in Tide territory.
We go to the fourth quarter, and that Death Valley mystique is certainly in the air.
Hang on, folks!
Whoa. Yeldon fumbles the exchange and Sam Montgomery recovers. LSU dodges a bullet.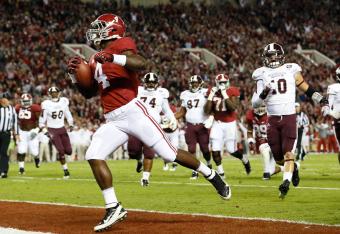 Alabama's offensive line has answered the bell every time LSU has gained some momentum.
This drive is no different.
Yeldon has made a few jaw-dropping cuts in this game, and Bennie Logan needs his ankles re-taped after a sick stutter step from the freshman.
Between Yeldon and Hill, someone needs to check these young fellas' ID's.
No way in the world they are 18, at least not after tonight.
LSU burns another timeout with Alabama facing a 3rd-and-short inside the redzone.
That could be crucial with time starting to become a factor.
Death Valley has come alive.
LSU goes for an onside kick and recovers, and the Mad Hatter strikes again.
However, the officials ruled that the kicker touched it before it went 10 yards.
The play is under review.
Wow, you gotta hand it to Miles for letting loose in a big game, even though his gambles have all appeared to have backfired.
The crowd is in the game, but giving Alabama a short field could temper that enthusiasm.
Alabama will get the ball as the call is confirmed.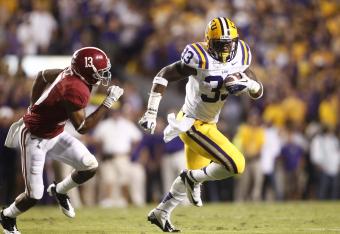 LSU apparently had the perfect play called and scored a touchdown, but a false start penalty wipes away a touchdown.
Goodness.
You can't make this stuff up.
They are handing Alabama a shotgun.
Danielson feels the refs made a bad call, so forgive me if that's the case.
Mettenberger hits Landry for another nice throw and gets the first down anyways.
One play later, Hill leaps in from a yard out and we've got a ballgame folks! Alabama's lead has been cut to 14-10.
Mettenberger hits a huge conversion with an out route and LSU is knocking on the door.
Cannot stress enough how bad they need to get a touchdown here.
Wonder if this is four down territory?
This article is
What is the duplicate article?
Why is this article offensive?
Where is this article plagiarized from?
Why is this article poorly edited?

Alabama Crimson Tide Football: Like this team?