The NHL's 10 Biggest Headaches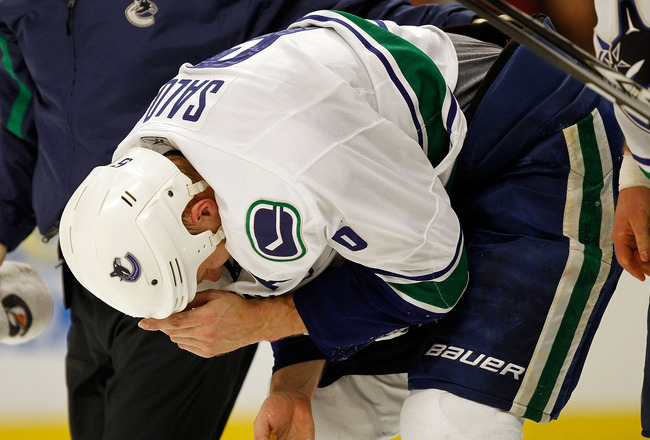 Jonathan Daniel/Getty Images
Here we are, nearly two months into the lockout and a month past when the NHL's regular season should have started, and we are still without the game that we love.
Hopefully, the owners' lockout of the players will come to a close soon.
For right now, here is a look at the 10 biggest headaches facing the National Hockey League today. These are not all related to the lockout, although many of them are more or less self-inflicted.
Hopefully, with a little cooperation between the players and the owners, at least some of these can be worked out soon.
As always, your comments and additions are most welcome.
The Lockout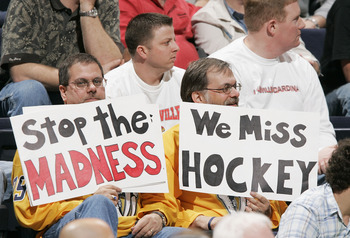 Brian Bahr/Getty Images
This lockout started on Sept. 15 and the end is still not quite in sight.
There is plenty of blame to go around on both sides, but the bottom line is, this work stoppage is bad for the game and everyone associated with it and bad for the fans.
The NHL recovered in a lot of ways from the 2004-05 lockout, but didn't in others. Fewer and fewer newspapers, for example, have beat reporters that travel with teams. Overall coverage of the NHL in the "mainstream" media is tougher to find.
Right now, the lockout is the biggest headache the league has and nothing else will be solved until its conclusion.
What will the effects of this lockout be for the long term? We won't know for a while, but rest assured, they won't be positive.
Donald Fehr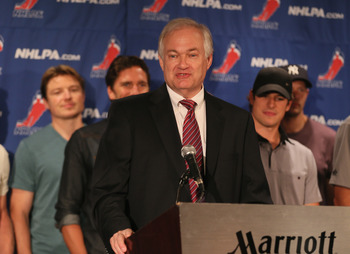 Bruce Bennett/Getty Images
There is plenty of blame to go around for this lockout, and Donald Fehr has to take his fair share.
In the months leading up to the Sept. 15 expiration of the previous CBA, Fehr seemed to be in no hurry to open serious negotiations with the owners.
There was another long lapse of time between the players' first and second offer to the owners to settle the lockout as well.
Fehr's critics say he has a large ego and is willing to wait for the owners to come to him.
Both sides in the lockout seem more content to win the PR war rather than to settle issues.
Regardless of who you blame most for this mess, Fehr has to take some responsibility. Until this is settled, Fehr remains a headache for the league.
Gary Bettman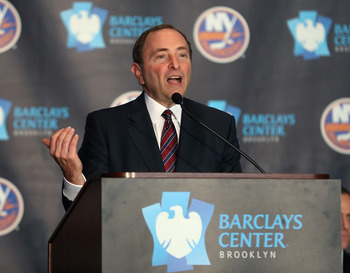 Bruce Bennett/Getty Images
Just like Donald Fehr, Gary Bettman has to accept some of the blame for this lockout. Any marriage counselor will tell you it takes two sides to fight.
Without getting personal, Bettman has now been in charge of the NHL through three major labor stoppages. The league lost half a season in 1994-95, a full season in 2004-05 and now at least six weeks worth of games have been officially canceled in 2012-13 and counting.
The NHLPA has had different leadership over the course of these lockouts while Bettman has been a constant. Perhaps there is something about Bettman's leadership style, strategy or personality that leads to this kind of confrontation.
Also keep in mind, all three labor stoppages during Bettman's tenure have been lockouts by the owners, not strikes by the players.
Either way, Bettman has to accept some of the blame for the mess the league finds itself in again. Hopefully, this one will end shortly.
Hard-Line Owners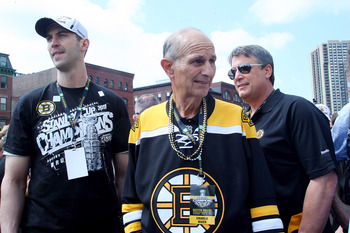 Jim Rogash/Getty Images
While Gary Bettman is the owners' representative, a big reason the NHL is in its third lockout since 1994-95 is because of hard-line owners.
Among those identified as hard-liners are Jeremy Jacobs of the Bruins and Ed Snider of the Flyers.
It's ironic that the owners got nearly everything they wanted in the last lockout settlement including "cost certainty" and now are demanding further concessions from the players.
Either way, the hard-liners on both sides make tougher demands and make settling this lockout more difficult. And right now, that's a huge headache for the NHL.
Phoenix Coyotes Ownership Situation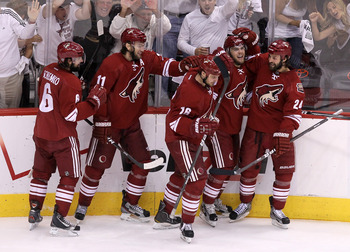 Jeff Gross/Getty Images
The National Hockey League has owned the Phoenix Coyotes since 2009.
Over the past three years, there have been several interested parties, a few even seriously, but the league is still in control of the franchise.
The team has now played in their new arena in Glendale since December 2003, but the team's lease situation and future in Arizona remain up in the air.
There have now been rumors of expansion to Toronto and Quebec City. Cities like Kansas City (a new rink available) and Seattle (a new rink planned) may be able to take the Coyotes if Glendale falls through, but all of that is on hold pending a new owner.
There are a few other NHL franchises with issues, but none comes close to the length and urgency of the Coyotes. This is a headache that the NHL can't seem to get rid of and one they need to solve ASAP once the work stoppage ends.
Head Shots and Concussions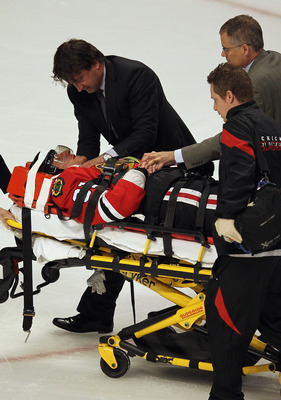 Jonathan Daniel/Getty Images
The issue of head shots remains one the league is trying to solve on an ongoing basis. It is likely that the league's response will evolve over time to find a happy medium between two opposite views.
On the one hand, NHL hockey has always been and always will be a sport with lots of hard hitting and physical contact. The game is played at high speeds with split-second decisions being made on the ice and fans don't want to take the physical aspect out of hockey.
However, with ever-increasing information becoming available about the long-term effects on concussions on former athletes, the league also needs to address issues of player safety.
Eventually, a middle ground will be found, hopefully one that improves player safety as much as possible without compromising the physical aspects of the game. But for now, this remains a big headache for the NHL.
Realignment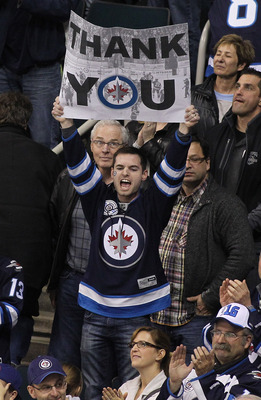 Marianne Helm/Getty Images
When the Atlanta Thrashers left Dixie for Western Canada before the 2011-12 season, they remained in the Southeast Division and the Eastern Conference.
Obviously, a team based in Winnipeg, Manitoba, should be somewhere in the Western Conference, most likely in a division with teams like Edmonton and Calgary. Travel costs and the different time zones for road games simply make it logical to move the Jets to the Western Conference.
The league set up a plan for realignment which would have moved the Jets to the Western Conference and reduced the league to four divisions with 16 teams in the Western Conference and 14 in the Eastern Conference. The NHLPA rejected the move.
Perhaps this will be resolved shortly after the major economic issues that surround the lockout are settled, but until then, realignment remains something the league needs to work out.
Rising Ticket Prices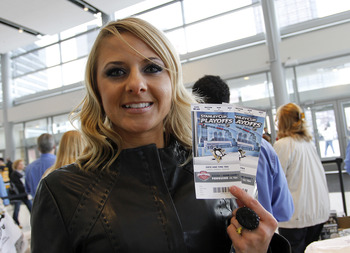 Justin K. Aller/Getty Images
Let's face facts: the price of tickets to an NHL hockey game is so high that there are now a lot of potential fans who would love to attend games but simply cannot afford to.
The prices keep going up, too. Each time a new arena is built or an old one is renovated, prices skyrocket.
The cost of taking a family of four to a game if you add up parking (or public transportation), tickets, some food and a program or souvenir exceeds $150 in most NHL arenas even if you want to sit in some of the least expensive seats in the house.
This may be a long-term headache for the league since it doesn't figure to be reversed any time soon, and it may eventually cost the league a future generation of fans who miss out on the experience of attending NHL games live.
Loser Points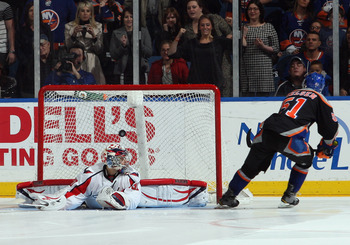 Bruce Bennett/Getty Images
The NHL has a real inconsistency in its point system and it needs to be addressed soon. You see, in the NHL, some games award two points and some award three.
A team gets two points for winning in regulation, overtime or a shootout. Teams get no points for losing in regulation, but one point for losing in a shootout or in overtime.
The NHL loves this point system because it keeps the standings closer and keeps more teams in playoff contention longer which leads to more ticket sales.
It also makes for some strange scoreboard watching down the stretch. Often, fans of one team have to hope more than anything that a game ends in regulation or both teams they may be chasing in the standings will gain a point.
In fairness, the "loser point" should be eliminated or, the NHL should award three points for winning in regulation time, two points for winning in overtime or a shootout and one point for losing in overtime or a shootout.
Losing in regulation time should still yield no points. That way, every game again has the same number of points at stake.
Diving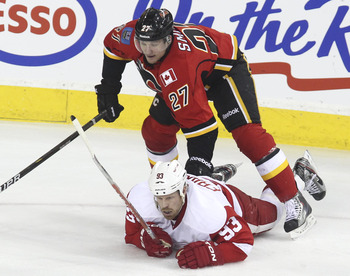 Mike Ridewood/Getty Images
The NBA is allegedly cracking down on diving this season, but the NHL's handling of it still makes no sense.
We always see tripping called AND an unsportsmanlike conduct call for "embellishing" the trip that actually took place. Both teams get 2:00 minors and no power play is awarded.
What is really needed to crack down on diving is calling the penalty when there is no actual trip and a player flops down to try to draw a call.
This would result in a power play for the non-diving team and would truly be an incentive against embellishing trips, hooks and other similar calls.
It's time for the NHL to get the diving call right. This is a minor headache for the league and a pet peeve of mine.
Keep Reading