Oregon vs. USC: Live Blog in-Game Analysis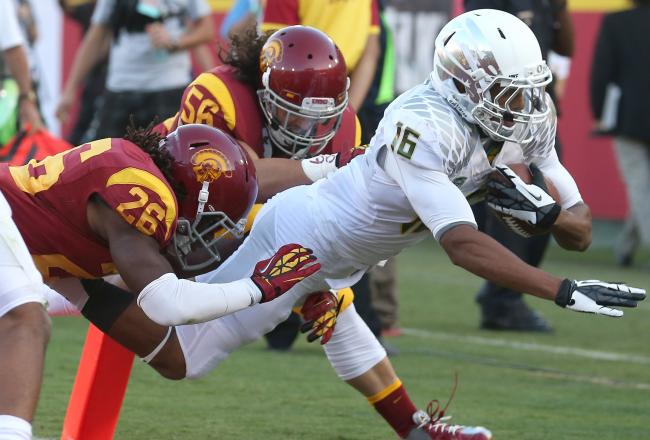 Stephen Dunn/Getty Images
Final Oregon 62 USC 52
The Oregon Ducks went Los Angeles, Calif., for a Pac-12 battle against the USC Trojans, a game that has BCS implications for an undefeated Ducks squad looking to make it back to the National Championship Game, and they continued to stay on that path with a 62-52 victory over the Trojans.
The Ducks had 732 total yards of offense while the Trojans also had a formidable 615 total yards of offense.
With this victory, the Ducks move to 8-0 and remain in control of the Pac-12 and their own destiny.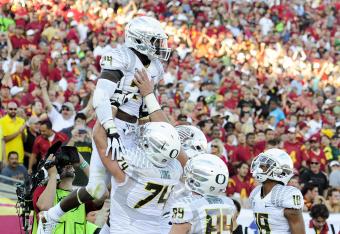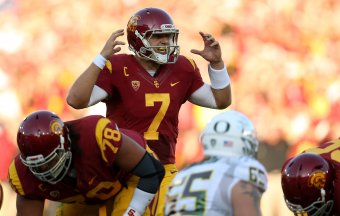 Stephen Dunn/Getty Images
Final: Oregon 62 USC 51
And despite that USC score the Ducks remain undefeated and in control of their own destiny. In a game where the teams had 1,345 combined yards on offense and scored 113 combined points, both teams showed their offensive prowess and a knack for finding the endzone. But in the end, USC's late surge couldn't overcome Oregon's offense or their mistakes in the first half.
With that, this concludes the live blog. This is Colby Lanham, signing off!
That late touchdown shows what kind of aggressive coach that Chip Kelly is. And it's the kind that continues to win them games.
And it appears that Oregon shall remain undefeated, and continue to be in control of their own destiny. They never really lost control on offense, totaling 732 yard of total offense.
But to no avail, USC just doesn't seem to have it. Assuming Oregon continues to be Oregon, they continue to remain undefeated.
And USC gets the ball back.... we'll see if they can do some sort of sorts with it.
And.... the ruling is that he didn't maintain possession. Ball goes to Oregon.
This could really turn the tide of this game...
Let's see what this review is... It's a BIG one here.
Oregon 55 USC 45
Good score by USC.... but Oregon has to get the ball back....
Bad overthrown ball.. Gotta be quick score now
Seems like for every two steps USC takes forward, Oregon takes twelve of them. Hard to beat em in a shootout when you can't stop em.
Oregon 55 USC 38
And so does this....touchdown Oregon!
Oregon in the redzone..sounds familiar
Oregon scores here, it could be a nail in the coffin for the Trojans.
Oregon 48 USC 38
And touchdown Oregon! Just when the USC defense could look for an opportunity to take that lead...
It's like holes open immediately when he touches the football.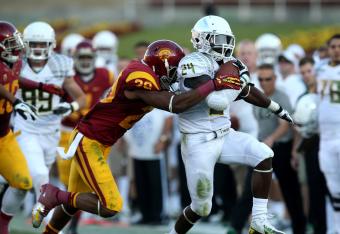 Kenjon Barner is Oregon's saving grace right now in the running game.
USC looks very different from the one in the first half. They've got life again, and that Oregon defense let them back into the game.
Out of Oregon's 540 yards thus far, 305 of them are on the ground.
These two teams have an almost 1,000 combined yards of total offense. They will definitely have that by the end of the night.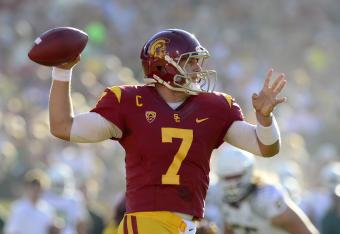 Oregon 41 USC 38
And just like that, it's a game again! Touchdown USC! They're within three points now! A classic shoot out has emerged. Extra point is good.
This internet loves to go out at the worst possible time. Apologize with the technical difficulties folks.
Oregon 34 USC 17
And there he goes! Another long touchdown by Barkley to the freshman receiver! Extra point is good. USC has something to work with now.
Well, I'm surprised... and he missed it. No FG. USC gets a win on defense for once in this game. Can Barkley respond?
Got over ten yards, but no first down. Surprised if Chip Kelly doesn't go for it.
This article is
What is the duplicate article?
Why is this article offensive?
Where is this article plagiarized from?
Why is this article poorly edited?