Toronto Raptors vs. Brooklyn Nets: Live Score, Results and Game Highlights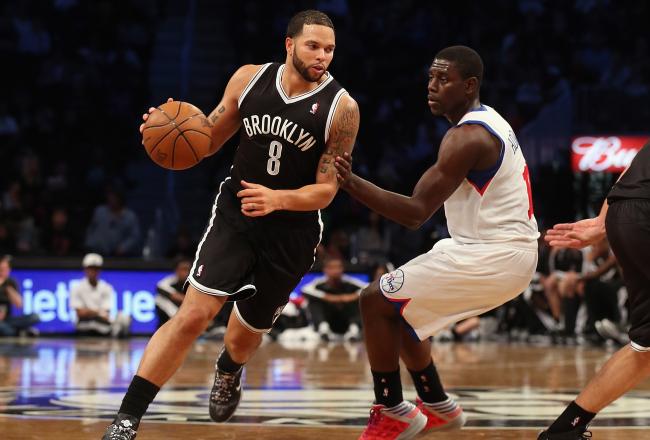 Deron Williams driving to the hoop
Bruce Bennett/Getty Images
Welcome, as tonight the Toronto Raptors travel to Brooklyn to take on the Nets.
This will be the first game of the season for Brooklyn as their initial opener against the New York Knicks was postponed due to Hurricane Sandy. This showdown marks what the Nets are hoping will be a new beginning in many ways. This is their first season in Brooklyn, so they're hoping to come out and challenge the Knicks for the heart of the city.
The plan to do that goes through their revamped roster. The lineup included Deron Williams, Brook Lopez, Gerald Wallace and Joe Johnson. The offensive potential is one not seen in these parts since the days of Vince Carter.
For Toronto, this season is about continuing to climb back up the ladder. In their opener, the Raptors fell to the Indiana Pacers 90-88 on a George Hill shot with 2.1 seconds to go. Their roster included additions of Landry Fields and Kyle Lowry. The rest of the starting squad features Jonas Valanciunas, DeMar DeRozan and Andrea Bargnani.
The game is being broadcast on RSN, and will tipoff at 7:30 p.m. EST, so check back soon for this exciting opener that will mark the first NBA game at the new Barclays Center.
Brooklyn Nets open Barclay's Center with win over Raptors. Rockin' crowd chanting Brooklyn all night. Great atmosphere.

— Dave(@Dave_in_718) November 4, 2012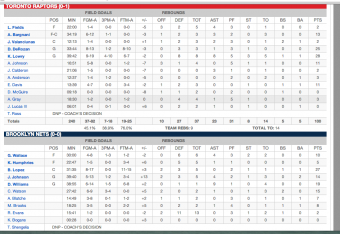 FINAL SCORE: TORONTO RAPTORS 100, BROOKLYN NETS 107
So, Brooklyn gets it done at home and wins their opener. In a solid performance that certainly left room for improvement, the Nets had a strong second quarter that ultimately made the difference. Brook Lopez finished with 27 points while Deron added 19. The team was strong on turnovers at points, and weak at others. Consistency will be key from here on out.
For Toronto, the backcourt wasn't enough. Lowry had 28 and DeRozan had 25. They gave up too much on the fast breaks and weren't aggressive enough on the shooter.
Brooklyn rebounds from a slow start, mirrors it's city rebounding from Hurricane Sandy, and pulls it out. After New York's win over Miami last night this is an ideal athletic achievement for the Big Apple.
Thank you for joining us in this live blog of Raptors vs. Nets, have a good night!
TORONTO 97, BROOKLYN 103
Joe Johnson hits both free throws with just 26 seconds to go. He certainly is a clutch player, but who knows how much he'll be able to show that off behind Deron.
I just thought that Gerald Wallace had suffered a serious injury. So, of course, he gets up and never leaves the game.

— Tim Bontemps (@TimBontemps) November 4, 2012
Ouch, and with just seconds to go Gerald Wallace is down. He has been huge tonight, and the trainers are looking at his left ankle as it landed right beneath Lowry. He would be a huge loss for the Nets, so let's hope this isn't what spoils Brooklyn's big night...but he's back out there already! Heroic stuff from Mr.Wallace.
Really a team effort from Brooklyn, which is exactly how they will have success. Lopez has 27 points, Evans has 11 rebounds, Williams has 9 assists. You like to see contributions across the board.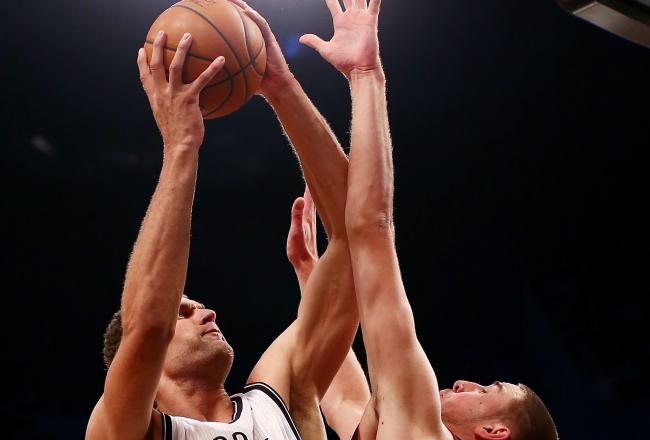 TORONTO 95, BROOKLYN 100
WALLACE FINDS LOPEZ INSIDE, AND LOPEZ FORCES A THREE-POINT PLAY!!!! That might be the game folks, and down the stretch Gerald Wallace was the man with great shots, great rebounds and even some assists. Brooklyn on their way to a first win.
TORONTO 92, BROOKLYN 97
Deron Williams with the ball in his hand, as it should be. He finds Wallace who is fouled hard, but makes one foul shot at a very crucial moment. Man has Wallace been huge. He's showing up those who forgot about him in this lineup.
RAPTORS LEADERS
DeMar DeRozan: 8-13, 25 points, 3 rebounds
Kyle Lowry: 8-14, 23 points, 8 rebounds, 8 assists
The guards are doing it for Toronto and surprisingly keeping pace with the Brooklyn backcourt. Valaciunas has been insufficient with 2 points.
Crowd has really been great tonight, and they likely need something to distract them. Brooklyn will need to make some plays to match what the Knicks did last night for their city though.
TORONTO 90, BROOKLYN 94 3:50 left in 4TH QTR
Interesting to see how this close one plays outs. Brooklyn doesn't have the chemistry only time can create, but they have individuals capable of making plays. Which will win out?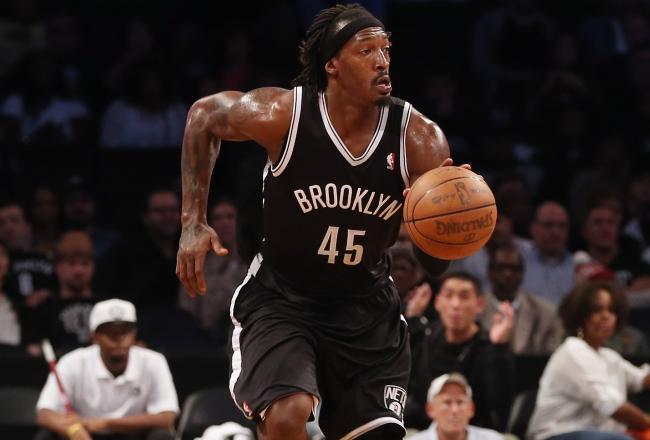 Great defensive rebound for Gerald Wallace. His athleticism is underestimated, and he really can contribute on both ends of the floors.
Gotta agree with this one, Brooklyn had the game in their hands and simply didn't execute down the stretch:
The nets let the raptors right back into this game

— Anthony Tarantola (@A_Tarantola) November 4, 2012
Lopez draws the foul, and he will head to the line once more. These will be his 13th and 14th free throw attempts, which bodes well for a Brooklyn team wanting to vary the length of their shots.
TORONTO 87, BROOKLYN 90
Six minutes to go, and it's still a matter of one possession. This one will come down to who has less turnovers, but could that advantage this Raptors teams that has played together for more time?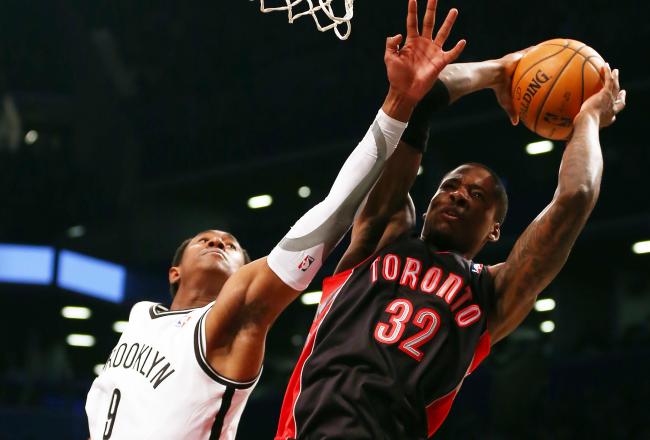 Avery Johnson is forced to call a timeout as Ed Davis shows Toronto has some athleticism as well.
TORONTO 81, BROOKLYN 84
Real close one here, and turnovers are the reason. Brooklyn took advantage of the Raptors' mistakes early, but now they are the ones giving the ball away.
In the first few minutes of this last quarter, the Nets have lost their fluidity and aren't moving on offense. This could be the sign of a close on down the stretch.
DERON WILLIAMS UPDATE
Through three quarters, Williams has 14 points and 8 assists. He is only 1/5 from downtown, but his energy has gotten his team going. He is the leader of this team and has acted like it, which is what the Nets want from him.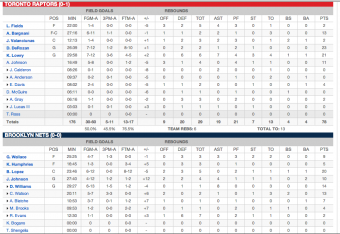 TORONTO 78, BROOKLYN 84 END OF 3RD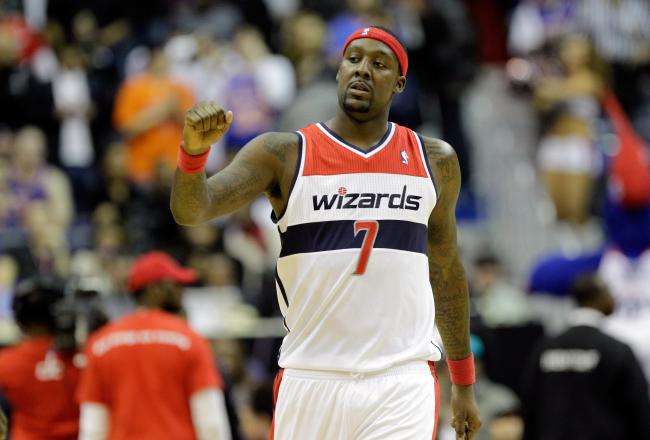 Andray Blatche fades away for a jumper. Thats 8 points in 10 minutes, so Brooklyn is thrilled at the moment. He has shown the same combination of power and finesse as Lopez which should have Williams licking his lips.
TORONTO 74 , BROOKLYN 81
Great play by Deron as he banks in a shot after the contact. He is at 14 points and 8 assists.
This article is
What is the duplicate article?
Why is this article offensive?
Where is this article plagiarized from?
Why is this article poorly edited?

Brooklyn Nets: Like this team?