Oklahoma State vs. Kansas State: Live Scores, Analysis and Results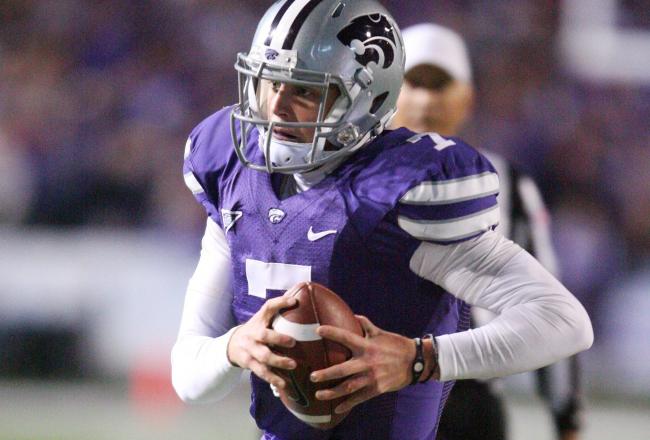 Final Score:Kansas State 44, Oklahoma State 30

The Kansas State Wildcats will remain undefeated after holding to a victory over the Oklahoma State Cowboys on Saturday night.
After jumping out to a 21-point lead thanks to forced turnovers and a solid run game, the Cowboys made their comeback on the arm of backup quarterback Clint Chelf. Ultimately though, it was not enough, as Kansas State held on to keep its blemish-free record intact.
Collin Klein missed the last chunk of the game with an undisclosed injury, but his team proved it could hold on without him. The Wildcats proved that they were the better team on the field tonight, and that they are one of the best teams in nation overall.
For more on Kansas State and what they proved in this game, check my companion piece outlining the 10 Things We Learned About the Wildcats from this win.
Kansas State Wins!
Sams kneels and time runs out. Pending a potential Alabama loss to LSU, these Kansas State Wildcats could be No. 1 in the nation tomorrow.

Game over. An interception in Kansas State's own endzone by senior Allen Chapman likely wins the game for the Wildcats. That is Chapman's third pick of this ball game.
It is a sour ending for Chelf, who had played extremely well up until that last throw, passing for 233 yards and a touchdown in his quarter and a half of play.
Mike Gundy calls timeout ahead of a four down and seven facing his Cowboys.
Blake Jackson has great potential, but he has to start catching the ball. That third down incompletion was all on him.
On fourth down, a defensive pass interference call gives the Cowboys a fresh set of downs. However, they need to score very quickly to make this a winnable game.
On third down, Chelf fumbles the ball trying to escape the pocket. Randle is there to recover the ball, and Chelf responds with a huge fourth down pass to Josh Stewart for a first down.
With another long pass to Stewart, Chelf is proving himself tonight in Manhattan, Kansas. His performance tonight has to at least make the Cowboy coaches consider giving him a start or two moving forward with the season.
The Cowboy defense holds on third down, forcing the Wildcats to attempt yet another field goal, which is missed by the Kansas State kicker Cantele.
That might have been the break Oklahoma State needed, as they will now take the field and attempt a do-or-die drive.
The Cowboys really need Quinn Sharp to kick it out of the endzone and prevent a return. He has done that very well all season up until this game.
Oklahoma State alumus Markelle Martin agrees:
Kick it out the end zone Quinn.
— Markelle Martin (@MarkelleMar10) November 4, 2012
Sharp complies, and the Wildcats will start their drive on their own 25-yard line.
Oklahoma State Scores!
Quinn Sharp hits a 28-yarder to cut the lead to 14 after Chelf nearly throws a pick on third down.
The quarterback has done well coming in cold, but Oklahoma State cannot win this game with field goals. Now, they will face the Wildcats who will be milking as much time as possible off the clock with their running game. The Cowboy defense cannot give up a long drive here.
It is clear that Clint Chelf is not an amazing talent or athlete but he is moving the chains better than the Cowboys have all night. His passes are on target, and he has done a good job of scrambling when it has been necessary.
Time is running against him, but he could still bring the Cowboys back. If he does not, the Cowboy coaching staff may be wondering if they should have put him in earlier.
Kansas State Scores!
Cantele hits a 40-yard field goal to keep Kansas State's lead a three-possession one.
Meanwhile, LSU has taken the lead against Alabama in Baton Rouge. If LSU and KSU both hang on, the Wildcats will likely be the No. 1 team in the nation tomorrow.
We all get that there is a big game going down in the Bayou between two SEC powerhouses, but do Musberger and Herbstreit have to make it so obvious that they would rather be at that game?
The Wildcats get great field position after Tramaine Thompson returns the kickoff inside the Cowboy 35-yard line.
If there is an award for worst kickoff coverage in a single game, the Cowboys deserve it.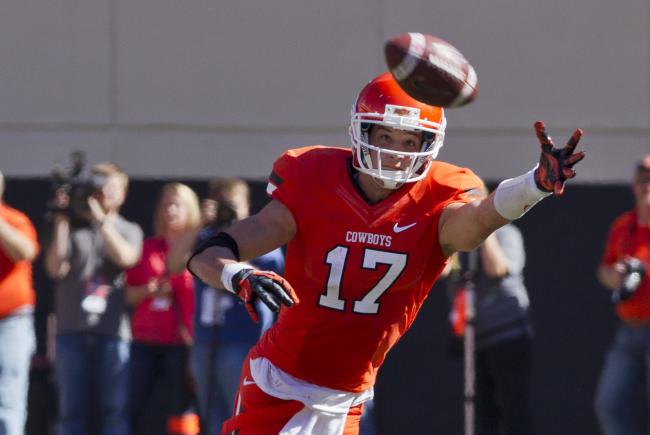 Oklahoma State Scores!
Chelf completes a slant pass to Blake Jackson to convert a huge third down. Follows that up with a long pass down the sideline to Charlie Moore that brings the drive inside the Kansas State 30 and then another long pass to Moore that scores the touchdown that pulls the Cowboys within 14 points.
The junior has completed 9-of-11 passes since coming in the game. He may be earning playing time in future games, and he is definitely giving the Cowboys a glimmer of hope in this game.
Score: Kansas State 41, Oklahoma State 27
Huge play by junior Cowboy safety Daytawion Lowe to knock that ball down. Not a good throw by Sams, but still a good play by Lowe.
Kansas State Scores!
Cantele nails the 37-yard field goal to extend the Wildcat lead to 41-20. It is big to hold Kansas State to a field goal there, but the Cowboys must start scoring touchdowns as soon as possible.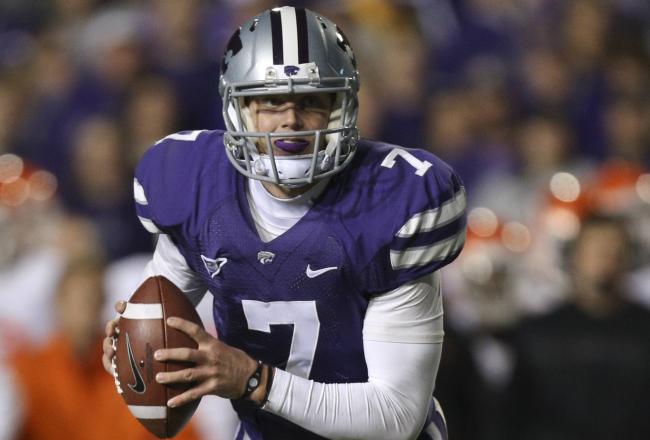 End of Third Quarter
Kansas State 38, Oklahoma State 20
The third quarter ends with both starting quarterbacks likely down for the game, and the Wildcats facing a third down and six play.
Eighteen points is hardly a blowout, although it is close. This game feels over, but things are not beyond taking a dramatic turn of events in the fourth quarter, especially if Collin Klein is unable to return.
With Lunt out for the rest of the game, the Cowboys play it conservative. Three straight run plays do not net a first down, even with a running back as good as Joseph Randle.
The Wildcats now have great field position up 18 points with just 18 minutes left in the game. A touchdown on this drive ends the game.
ESPN Big 12 Blogger David Ubben on Kansas State quarterback Daniel Sams:
Though I should also note: You won't find a Big 12 QB that's faster than Sams.
— David Ubben (@davidubben) November 4, 2012
Oklahoma State defense holds, but the Wildcats down the ensuing punt within the Cowboy 5-yard line. The Cowboys need a good drive and points here or this game may be over.
Kansas State begins a new drive with a new quarterback, Daniel Sams, who appears to be another great athlete.
On the Cowboy quarterback front, Kelly Hines of the Tulsa World fills us in:
Wes Lunt being taken to the locker room, it appears. Looks very much out of it. #okstate
— Kelly Hines (@KellyHinesTW) November 4, 2012

It has not been an easy freshman season for Lunt, and this game has not helped him much. Hopefully, he is legitimately injured. It would not be a good sign for Oklahoma State if he is out only because of emotional toll this game has had on him.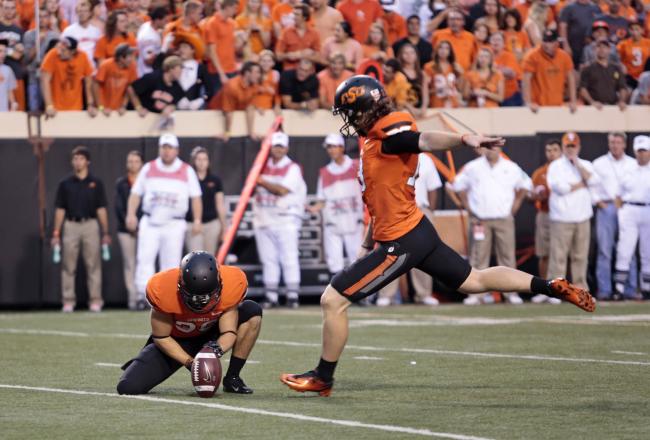 Oklahoma State Scores!
False start penalty kills the Cowboys on fourth down after Charlie Moore makes a great catch on third down just short of the first down marker.
Quinn Sharp nails the 43-yarder to make the score 38-20, Wildcats.
In other news, Brent Musberger wants to be Sharp's agent. I can't blame him for wanting to get in on that big kicker money.
So far, so good for Chelf. He is not a difference-maker, but he does know the offense and has veteran experience.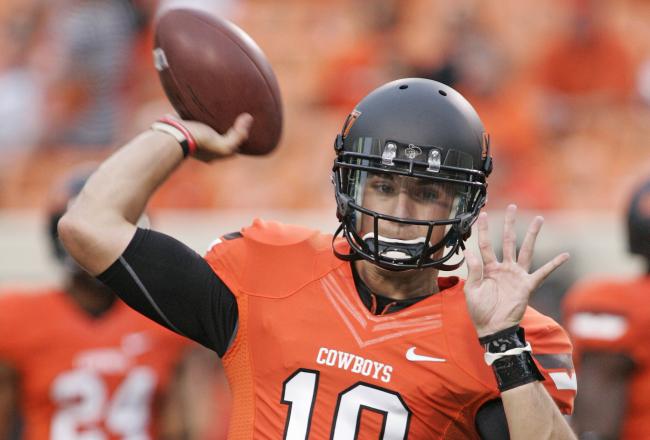 The touchdown is overturned, but Klein QB-sneaks it in on the very next play.
This next drive is an interesting one for the Cowboys, as it appears that third-string quarterback Clint Chelf will take over for the struggling freshman Wes Lunt.
Chelf was Brandon Weeden's backup last season, but was beaten out by both Lunt and J.W. Walsh in the offseason. He will not get his chance on the biggest stage of the season to make his case for the starting job.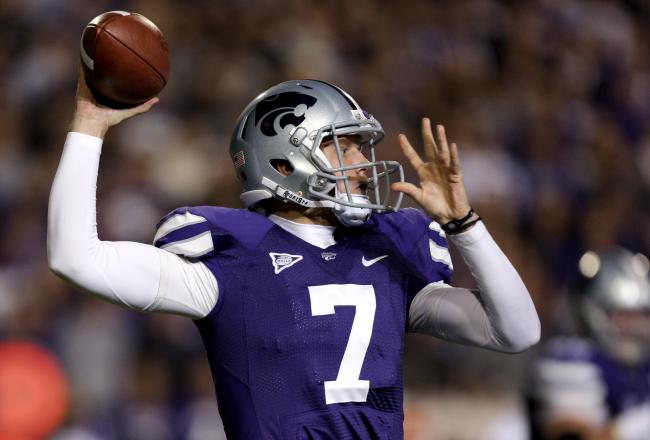 Kansas State Scores!
Klein pummels his way into the endzone from about 20 yards out, gives the Wildcats a 38-17 lead. One thing no one can deny about Klein is his toughness and tenacity. He showed that last year in a loss in Stillwater, and he is proving it again tonight.

Collin Klein does a great job of picking up the blitz, and throwing the ball where it needed to go to get the first down.
Meanwhile, Carson Cunningham of KOCO in Oklahoma City has some interesting news on the Cowboy quarterback front:
<blockquote class="twitter-tweet">
Chelf is warming up. #okstate
— Carson Cunningham (@CarsonC5) November 4, 2012
Chelf has played very sparingly this season, appearing only in the Cowboys' earlier win against Louisiana-Lafayette.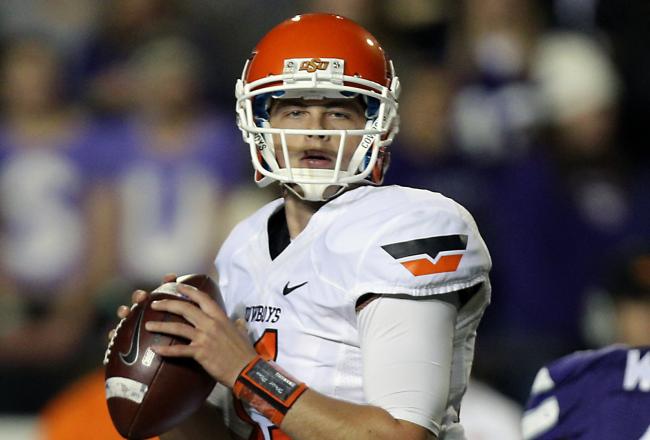 Wes Lunt throws his third interception. He had been good on that drive. He does a good job of staying in the pocket and taking a hit on one throw, then finds Blake Webb across the middle for a big game. Then, he makes a freshman mistake.
Cowboy fans have to be worrying about Lunt's mental state. He was already playing in a really tough spot and throwing three interceptions does not help.
Cowboys start second half with the ball. It is an absolute must that Oklahoma State get points on this opening drive.
TEAM HALFTIME STATS
OSU KSU
| | | |
| --- | --- | --- |
| 1st Downs | 10 | 14 |
| 3rd down efficiency | 2-6 | 3-7 |
| 4th down efficiency | 0-0 | 0-0 |
| Total Yards | 198 | 258 |
| Passing | 148 | 178 |
| Comp-Att | 9-17 | 13-19 |
| Yards per pass | 8.7 | 9.4 |
| Rushing | 50 | 80 |
| Rushing Attempts | 16 | 20 |
| Yards per rush | 3.1 | 4.0 |
| Penalties | 3-35 | 1-5 |
| Turnovers | 3 | 0 |
| Fumbles lost | 1 | 0 |
| Interceptions thrown | 2 | 0 |
| Possession | 11:03 | 18:57 |
Stats Courtesy of ESPN
This article is
What is the duplicate article?
Why is this article offensive?
Where is this article plagiarized from?
Why is this article poorly edited?

Kansas State Football: Like this team?