Week 9 is a week for road teams. While betters and prognosticators hate picking on those defending their home turf, you can't ignore the matchups that run in favor of the visitors. Let's take a look at every game on Sunday's schedule and pick winners.
Cardinals at Packers
Okay, not every road team will win this week. The Cardinals have been a nice story and if they were facing the Packers team we saw through the first three weeks, you can bet we'd be giving Arizona a fighting chance. But this ain't the same Green Bay team. Aaron Rodgers is back to his MVP form and the Cardinals will be the victim of bad timing.
Lions at Jaguars
Detroit has been helter skelter but they can't be worse than the Jacksonville Jaguars. Jacksonville is depleted with injuries and while Jacksonville has talent, it won't be nearly enough to contend with the Lions offense.
Bears at Titans
The Bears have been red hot and they haven't even seen the best of Jay Cutler. The Chicago defense has been suffocating. While Tennessee has seen some increased production from Chris Johnson as of late, they are not nearly well-rounded enough to push the Monsters of the Midway to the limits. They might make it interesting,but this is Chicago's game.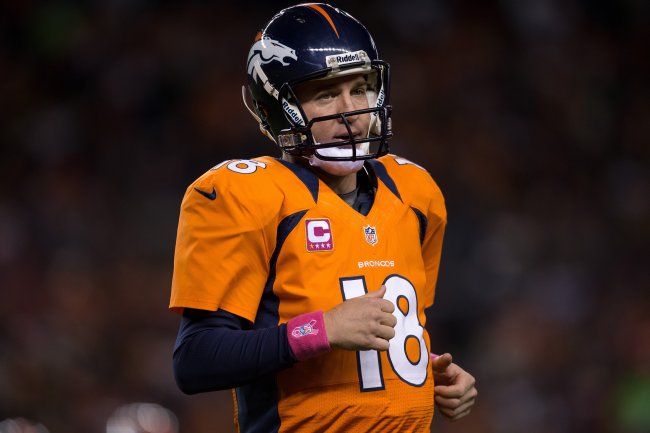 Justin Edmonds/Getty Images
Broncos vs. Bengals
The Bengals have been shaky while the Broncos have been humming. Manning has returned to his MVP form, and that's bad news for a Cincinnati defense that is a shell of what they were last year.
Panthers at Redskins
Perhaps the most exciting showdown on the docket features two of the most electrifying QB's in sports. While Cam is dangerous, he's been anything but through the first half of this season. The Redskins are too well coached and RGIII is playing too well right now to let a struggling Panthers team give them a real contest.
Ravens at Browns
The Ravens got waxed last weekend and the Browns are facing an upset team at the wrong time. While Trent Richardson has been a ray of light in the Browns season, the Ravens will zoom in on him and force Weeden to make him beat them. Unfortunately for the rookie QB, that just won't happen.
Dolphins at Colts
This game could go either way, but the Dolphins seem to be having a charmed season. Andrew Luck is good, but he'll fall short at home.
Bills at Texans
This is one road team that won't be stealing one away from home. The Texans are easily the best team in the AFC right now, and they'll remind the Bills of that.
Vikings at Seahawks
The Seahawks have cooled over the last couple of weeks, but they'll right the ship against a Vikings team that isn't quite as good as their surprising record would indicate. It should be a close one, but the Vikings will come up short to a talented Seattle team.
Buccaneers at Raiders
Neither of these teams is very impressive, but the Bucs have some talent offensively. They rank in the top half of the league in both offensive categories and while they won't dazzle, they'll just be good enough to steal one in Oakland.
Giants at Steelers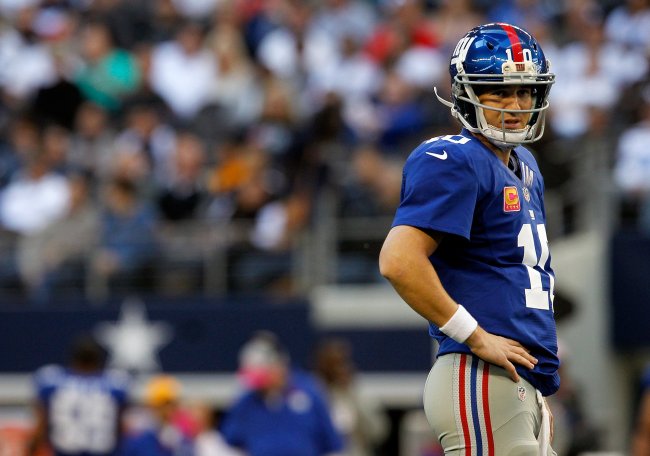 Tom Pennington/Getty Images
This is the best game of the day and one that could go either way. While the Giants defense has been suspect at best, their offense has been great. However, Pittsburgh is still running the league's second-best defense statistically. Look for the Giants to play this close but the Steelers to sneak a much-needed win.
Cowboys at Falcons
As much as I'd like to believe the Cowboys can make a game of this, they are facing the league's best team through the first half of the season. The Cowboys' offense is sputtering, and it will continue.
Eagles at Saints
It's the battle of two teams that need a win for morale purposes alone. Vick has been a disaster behind center. While Brees has been great, the difference here will be defense.
Vick will be fighting for his job against the NFL's worst ranked defense, while Brees will be going up against a Philadelphia defense that has been solid despite their struggles. The Eagles will win this one and keep Vick under center for a while longer.