Heat vs. Nuggets: Postgame Grades and Analysis for Miami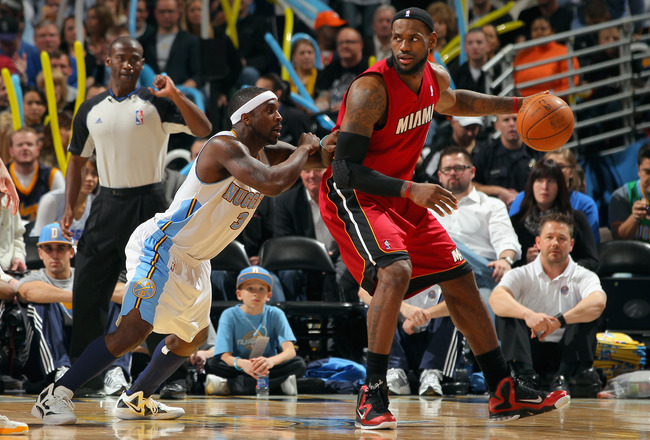 Doug Pensinger/Getty Images
The Miami Heat defeated the Denver Nuggets, 119-116, in one of the most exciting games of the young season, and if it weren't for a huge fourth quarter from Ray Allen, there might be a few folks getting nervous about this Heat start.
Despite the huge number of points it gave up, Miami sits at 2-1 after pushing the Nuggets into an 0-3 hole.
Chris Bosh is the obvious hero on paper, putting up 40 points, but this game goes much deeper than the box score.
The story of this game was terrible rebounding from Miami that led to endless second-chance points for Denver to go along with extremely weak interior defense, giving Miami a 32-point deficit in the paint.
If it weren't for the three-ball, Miami would have been blown out in this one, so it seems a lot of props need to be given to Allen for the win.
Let's take a look at just how much credit he deserves in this Miami victory.
Starting Point Guard: Mario Chalmers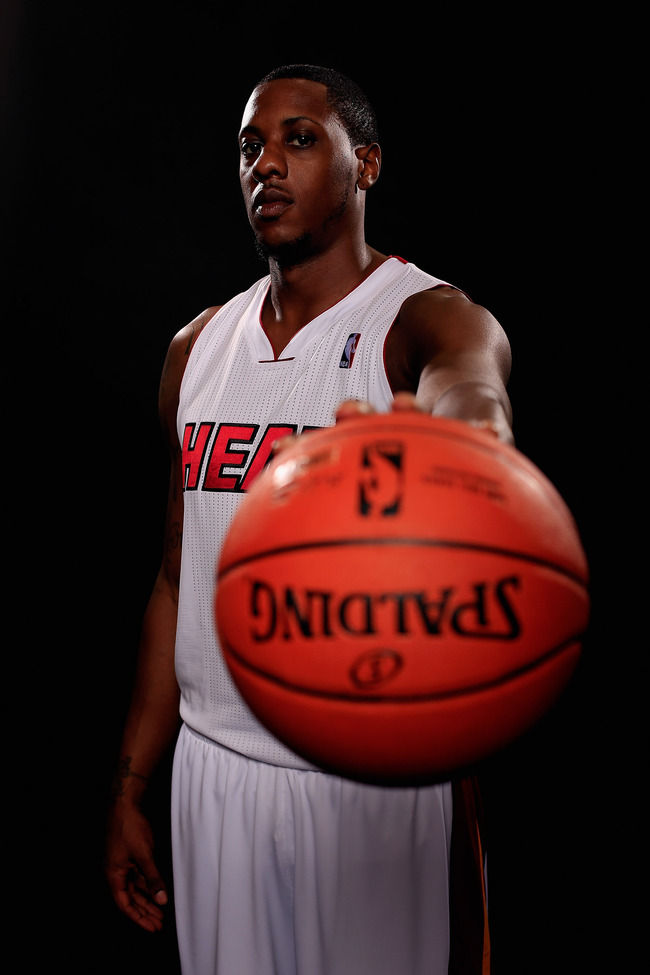 Chris Trotman/Getty Images
Final Grade: C-
This was an increasingly tough game for the Miami point guard.
Mario Chalmers spent most of the game either getting burned by Ty Lawson on defense or making stupid mistakes on offense.
Chalmers ended this one with nine points, three rebounds and five assists, but punctuated it by continually letting defenders get the better of him or just letting the rim get in his way, as he missed twice by simply jamming a couple of layups against the front of the rim.
Starting Shooting Guard: Dwyane Wade
Nick Laham/Getty Images
Final Grade: B
Dwyane Wade has had an interesting three games so far, playing well altogether, but never really taking over the game for a stretch, and this one was no different.
He was able to get to the rim and draw fouls well in this one, as well as keep a pretty sturdy body on Andre Iguodala, but he shot poorly and was never really proactively involved in the game on offense.
Wade's 14 points were an impressive 14 when he scored, but there were stretches when he seemed more content to settle for jumpers, rather than go at the rim. Of course, he deserves credit for the late fast-break layup that helped Miami win the game.
Defensively, he was a bit streaky. He was able to really stay on top of Iguodala or Andre Miller, evidenced by his four blocks and two steals, but there were other points where he sagged off and allowed open shots.
Starting Small Forward: Shane Battier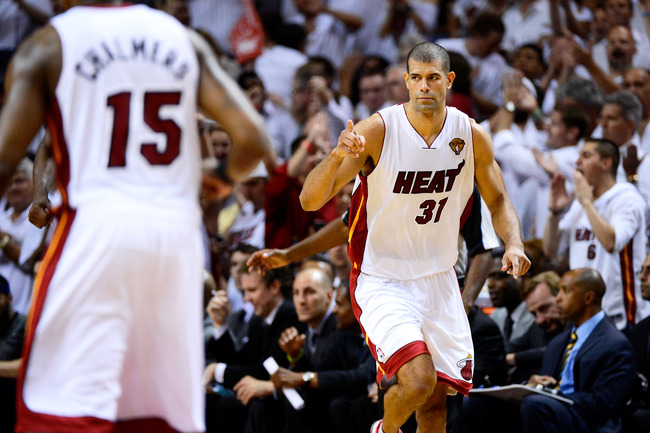 Ronald Martinez/Getty Images
Final Grade: C-
This is one of those teams that Shane Battier just isn't as effective. He was able to hang with the slowed-down pace of Boston and New York, but when teams get out and run, it seems like he ends up getting lost in the fray.
It's always hard to weigh Battier's game based on stats alone, but his two rebounds in 20 minutes aren't enough for him to be a productive player on defense. I'll give him credit for his two three-pointers early in the game, however.
Defensively, Battier was slow on rotations when he had to chase Danilo Gallinari and outhustled by Corey Brewer.
This feels like one of those games where Miami needs to go with a bigger lineup so LeBron James can come out and play more perimeter defense.
Starting Power Forward: LeBron James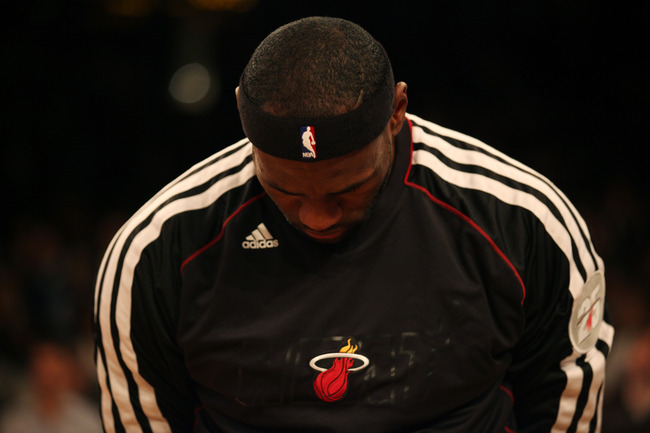 Nick Laham/Getty Images
Final Grade: A-
Call it the typical LeBron James near triple-double; you know it's coming from the start of the game when he starts racking up assists like mad, but when it finally happens, it's surprising.
It wasn't LeBron that we know from last season, taking over the game and putting it away late, but he did have a big part in the late-game heroics that ended up giving Miami the win.
He had a very good all-around game, and just because he doesn't score 30 points doesn't mean he didn't dominate the game. His 20-point, 11-assist, nine-rebound effort was admirable.
LeBron missed a shot that would have nearly put the game away, so there's going to be some knee-jerk Skip Bayless hate toward that, but he ended up making the pass that won the game for Miami.
Starting Center: Chris Bosh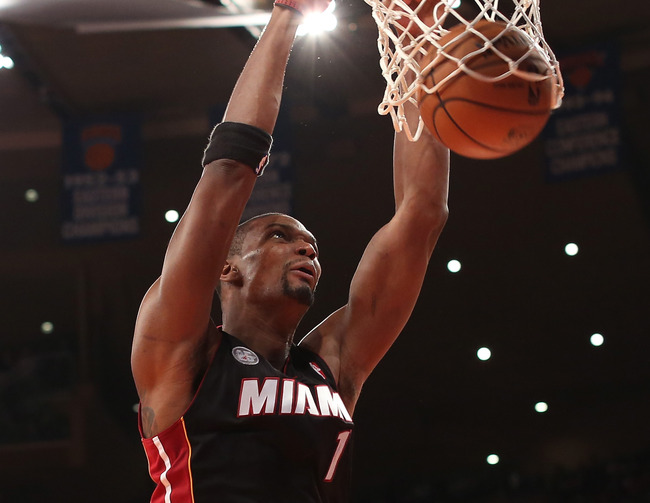 Nick Laham/Getty Images
Final Grade: A-
Going off the box score, it seems like I should sit here and shower praise on Chris Bosh, and he deserves quite a bit, but there was a lot of his game that just wasn't there tonight.
Bosh's 40 points is a high for his time with the Heat, but for every two things he did well on the offensive end, he did a bad thing on the defensive end.
Let's give him some credit first. Bosh was amazing on offense, making shots left and right, whether they be in the paint or a mid-ranger jumper. Everything fell.
On defense, however, Bosh just wasn't there. He couldn't compete with JaVale McGee's length, getting out-rebounded every step of the way.
That being said, if Bosh didn't show up on the offensive end, this would have been a very different game.
Sixth Man: Ray Allen
Final Grade: A+
There's no question that Ray Allen came in and did what he needs to do for this team, but what was surprising was how involved he was defensively.
Allen knocked down five threes, putting together 23 points for the night and nailing a big-time game winner. Of course, most of these points were the result of terrific ball movement or LeBron's penetration, but he knocked down the shots he needed to.
Beyond his huge shots (11 of his points came in the fourth), Allen was able to poke away a few balls, picking up two steals on the game along with a block. Plus, he ended up with five rebounds, something Miami needed more than anything else.
Miami's Bench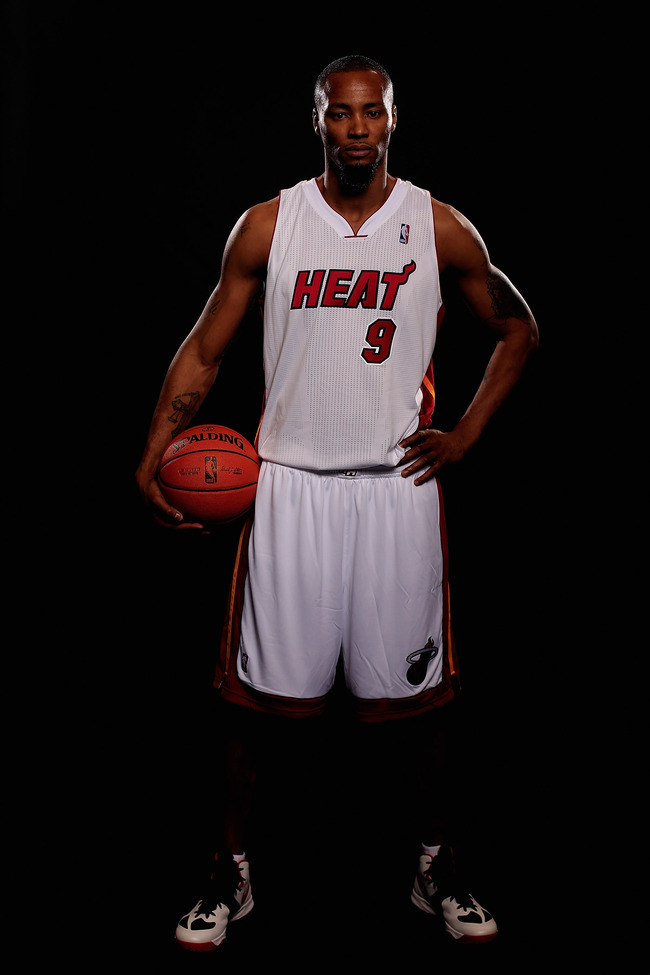 Chris Trotman/Getty Images
Final Grade: D
There were a lot of things to complain about with Miami's bench, so let me get the good out of the way on the front end so we can get to the bad.
Mike Miller made one three and Rashard Lewis found two points somewhere along the way. Aside from Ray Allen's 23 points, this bench was horrendous in this one.
The problem with Miami's bench against these young, athletic teams, is that it is neither young nor athletic.
Lewis and Miller were continually beaten off the dribble or slow rotating out to shooters, leading to big runs when they were on the floor.
What baffles me is that Joel Anthony was allowed to shoot the ball twice in this game. I know it seems like I'm picking nits here, but Anthony's shots were so bad that they might as well have resulted in points on the board for Denver. He missed hard off the front of the rim, leading to an easy fast break for Denver.
Keep Reading