Texas Football: Grading All 22 Starters from the Texas Tech Game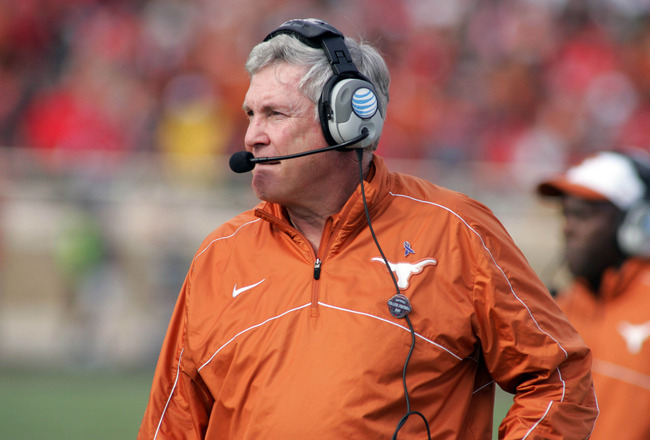 Michael C. Johnson-US PRESSWIRE
The Texas Longhorns recorded what could be a slingshot victory that catapults them into a strong finish to the season.
Although a tough game against Kansas State still looms last on the schedule, the Longhorns did themselves a solid by coming out and delivering in a strong performance against the Red Raiders in a 31-22 win in Lubbock.
Texas was able to execute a game plan effectively, and those components produced a strong effort that landed the Longhorns their fourth conference victory of the season.
The report card is in, and the grades are definitely foundations for a strong finale.
Quarterback: David Ash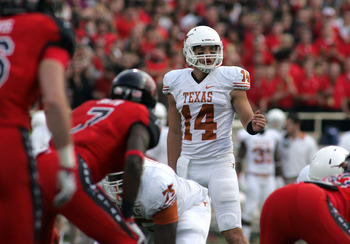 Michael C. Johnson-US PRESSWIRE
ASH: B+
Were it not for a mostly unimpressive second half, minus the late touchdown throw to Mike Davis that ultimately provided the scoreboard security, David Ash likely would have earned an A grade.
After a poor showing against Kansas last weekend, Ash put in a strong first half against Texas Tech, going 9-of-13 for 228 yards and two touchdowns and hitting deep balls to Davis all game long.
Although the sophomore threw for just 36 yards and a score on 2-of-6 passing, Ash's ability to manage the offense and take care of the football was very evident.
If there was any lingering concern about Ash's composure as Texas' quarterback, the Belton product answered those calls with a strong outing.
Running Back: Johnathan Gray
Michael C. Johnson-US PRESSWIRE
GRAY: A-
Freshman running back Johnathan Gray recorded in second straight 100-yard performance in his second career start for the Longhorns.
The first-year standout picked up 106 yards on 20 carries and is continually making Texas fans forget about Malcolm Brown, who is just getting over an ankle injury and could have played against the Red Raiders.
Unmoved by the first-year jitters, Gray has answered the bell when called upon and has stepped fluidly into the starter's role.
Gray's pass protection is still a work in progress, but the burst that he has shown is something that no other Texas running back can offer at this point.
Wide Receivers: Mike Davis, Jaxon Shipley and Marquise Goodwin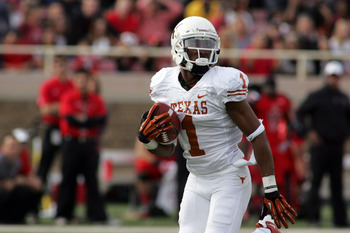 Michael C. Johnson-US PRESSWIRE
DAVIS: A+
SHIPLEY: B+
GOODWIN: C
With Texas having thrown the ball just 19 times, compared to 39 touches on the ground, the Longhorns receivers had little to work with through the air.
However, Davis set a career-high in receiving yards for the second time this season, proving uncoverable while hauling in 165 yards on four catches, two for touchdowns.
Shipley picked up just two receptions for 30 yards, but with one of them an early Texas touchdown, the sophomore pass-catcher continues to produce, though not at peak levels.
Goodwin netted zero yards from scrimmage, but it is his selfless blocking and commitment to the offensive scheme that makes his presence critical for the Texas offense.
In fact, these three receivers have made no secret about their ability to block down field.
Tight End: D.J. Grant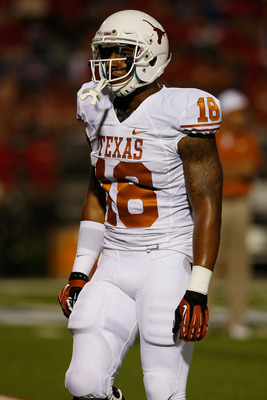 Scott Halleran/Getty Images
GRANT: C
The tight end position still suffers from statistical production, but it is a group that can still come up with a big play from time to time.
Grant secured the game-winning touchdown last weekend for his lone catch of the day, but the senior did not pick up anything in the box score against Texas Tech.
The tight ends still play a large part in the Texas offense, forming the edge blocks for much of its misdirection schemes.
At the end of the day, Grant was neither here nor there in terms of positives and negatives, but surely, the staff will want to see a bump in production.
Offensive Line: Hawkins, Hopkins, Espinosa, Walters, Cochran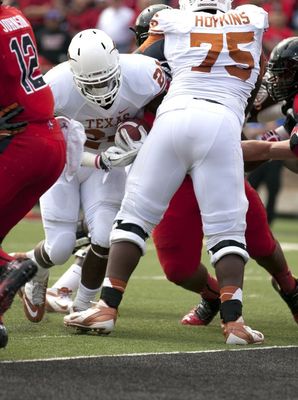 Austin American-Statesman / Ricardo B. Brazziell
O-LINE: B+
It wasn't the most dominating performance, but it came pretty close to one of the more complete performances from the group this season.
There were some breakdowns, but the overall product that paved the way for 427 total yards is an offering that needs to be repeated down the stretch.
Pass protection was there to allow Mike Davis the time to get down field. Run blocking was there for Johnathan Gray to average more than five yards per carry.
After manhandling the Red Raiders a season ago on the ground, the Longhorns' big boys did themselves a solid favor for the offense's confidence.
Defensive Tackles: Brandon Moore, Desmond Jackson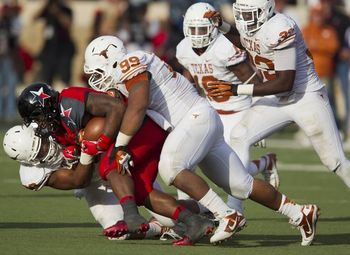 Austin American-Statesman / Ricardo B. Brazziell
DTs: B
The interior defensive line has been a source of trouble against the run for most of the season, and the lack of pressure up the gut has softened the middle of the Texas defense.
But against the Red Raiders, there was plenty of push at the point of attack as the tackles helped control a Texas Tech running game that had experience some great success before Saturday.
The Red Raiders recorded 112 rushing yards, much less than their match average, and credit has to be given to the big boys up front who plugged the running games and shot the gaps like they have not been able to do for most of the season.
A couple of timely runs up the gut gashed the Longhorns, but for the most part, Texas was able to control a legitimate running threat.
Defensive Ends: Alex Okafor, Cedric Reed
Michael C. Johnson-US PRESSWIRE
OKAFOR: B+
REED: B
It will be generally tough for the defensive ends to consistently grade well, mostly because of Jackson Jeffcoat's absence.
Most of the production and swagger will and has come from the senior end Alex Okafor, who added another sack to his total, making it eight on the season. He finished with two tackles on the night.
Cedric Reed, who got the start opposite Okafor, also recorded a tackle for loss, as he still continues to find his feet after jumping Reggie Wilson in the depth chart. Reed finished with four tackles.
Linebackers: Steve Edmond, Kendall Thompson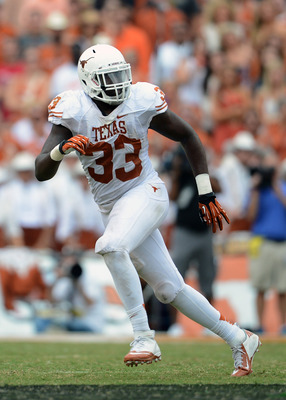 Matthew Emmons-US PRESSWIRE
EDMOND: B
THOPMSON: B-
Hands down, this was the best performance from the linebackers since Jordan Hicks' injury.
The growing pains will still be evident and frustrating, but a strong outing from Edmond is a confidence builder moving forward. The sophomore's lone pass breakup late in the game was one of several huge defensive plays for the Longhorns. Edmond led the team with eight tackles.
Thompson left the game with a head injury, but did put up four tackles and a quarterback hit before his exit. Since joining the starting ranks after Hicks' hip knock, Thompson has seemingly improved week-to-week, as his progress is still under scrutiny, with depth and experience a concern.
Cornerbacks: Carrington Byndom, Quandre Diggs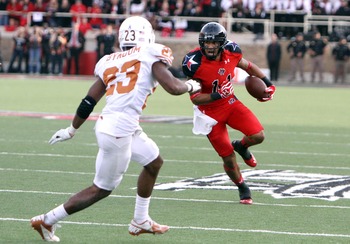 Michael C. Johnson-US PRESSWIRE
BYNDOM: A-
DIGGS: B
The Texas pass defense did just enough to thwart a potent Texas Tech passing offense.
Seth Doege did manage to throw for 329 yards and a touchdown, but it also took him 44 throws to get there, signifying a win for the Longhorns secondary.
Byndom gave up his share of catches to Tech's top pass-catcher Eric Ward, but Byndom's four critical pass breakups served as big plays in stopping the Red Raiders offense. But it was his blocked field goal late in the game that sealed the deal for the Longhorns.
Diggs had another up-and-down performance, but he did record seven tackles, with one for a loss.
Safeties: Kenny Vaccaro, Adrian Phillips, Mykkele Thompson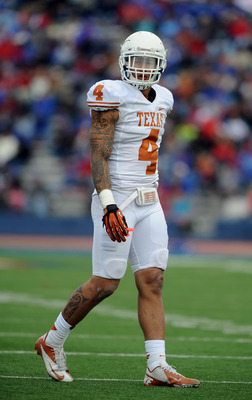 John Rieger-US PRESSWIRE
VACCARO: B+
PHILLIPS: B+
THOPMSON: C+
The biggest ache for the Texas defense this season has been the big play and the broken tackle, the two often coming one after the other.
But the Longhorns managed to avoid giving up that big play, keeping everything in front to make the stop.
Vaccaro and Phillips put up much improved performances from a tackling standpoint, recording four and five tackles respectively.
With the Longhorns tucked into their nickel package, Thompson got the nod and was largely a nonfactor.
Keep Reading

Texas Longhorns Football: Like this team?