Barcelona Break Record, Atletico Madrid Streak Ends and More: La Liga Review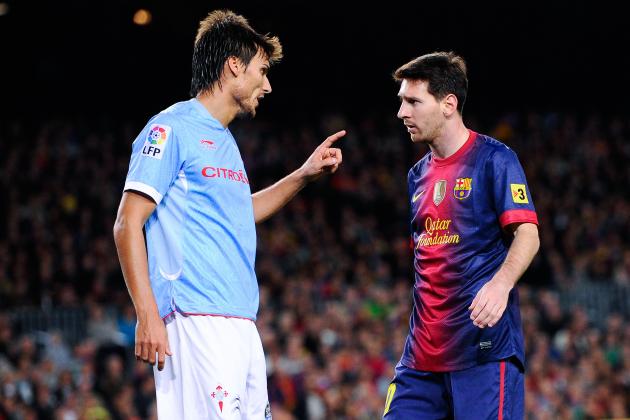 David Ramos/Getty Images

We aren't even halfway though the weekend, but already matchday 10 has proved pivotal in Spain.
La Liga's table has now been rocked with some big upsets, new records and broken streaks.
It started when Malaga failed to put Rayo Vallecano down and suffered their second loss of the season.
Tito Vilanova then beat Jose Mourinho's record for best start to a debut season by winning his ninth match of the campaign.
The Portuguese responded by beating Pep Guariola to 100 wins in La Liga—133 to 139—when the champions beat Real Zaragoza with a fairly subdued performance.
The biggest result of the day came in the final match when Atletico Madrid's nearly seven-month long unbeaten streak came to an end at the hands of Valencia.
Let's look back at the big results that have greatly changed the La Liga title race this weekend.
Begin Slideshow

»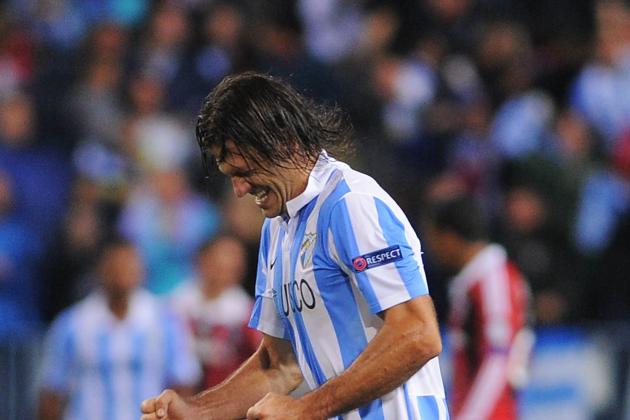 Gonzalo Arroyo Moreno/Getty Images

Rayo back on track
Rayo Vallecano beat Los Boquerones after losing six of their last seven games. They now move into the top 10 for the first time this season.
Piti had an incredible match and scored both goals for his team while Leo Baptistao continues to look like one of La Liga's great surprises by adding two more assists.
Terrible week for Malaga
We knew the magic had to end eventually. Not even Manuel Pellegrini can overcome these obstacles.
It began midweek with news that Malaga has once again failed to pay its players. The match against Rayo proved just as frustrating as the club's financial troubles.
Both teams found many opportunities to score, but it was the visitors who took advantage right from the start with Malaga looking very inconsistent in attack.
Malaga's depth problems
Pellegrini's men have now started their third competition and are starting to look tired. Isco had a poor match, and the entire team looked unfocused and uncomfortable at times.
To add to their squad concerns, Martin Demichelis and Ignacio Camacho will now both miss the next league match after earning their fifth yellow cards of the season.
Malaga have now dropped points in three of their last four matches and have fallen out of the top three, perhaps permanently with the top three teams looking much stronger overall.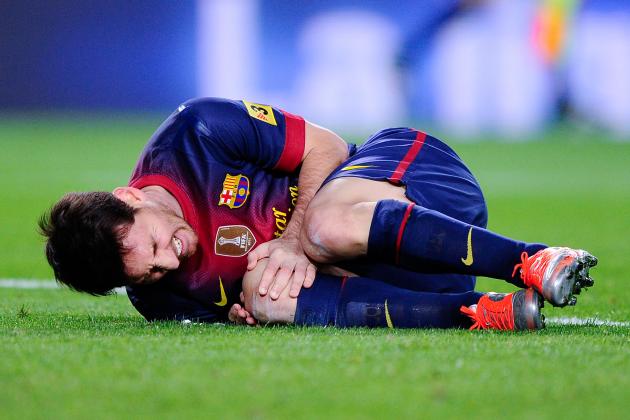 David Ramos/Getty Images

Celta Vigo put in a superb performance against Barcelona but left Camp Nou with nothing to show for their efforts.
The referee proved influential yet again in Spain as Jordi Alba's third, clinching goal was allowed despite the left-back being miles offside.
It was the third goal and not the decider, but it totally killed Vigo's spirit. Before that, the visitors knew they had a chance to earn a point and were always a threat to La Blaugrana.
Celta managed more shots at Camp Nou than any other team at Camp Nou has this season, including Real Madrid.
However, once they went down two goals to the giants with barely 30 minutes to play, they knew a comeback was all but gone at that point.
Thiago's father with a poor match
Lionel Messi tried his best to score so he could dedicate a goal to his newborn son, Thiago, but failed to do so and had a pretty poor performance overall.
Messi failed to beat Javi Varas one-on-one when the keeper managed the situation perfectly, and his finishing was never at its best.
Fans were fearful when the Argentinian was down on the pitch for almost five minutes, but he got back on the pitch later. Early reports say it was just a bruise and that he should be fine.
More defensive woes
Messi was not the only one with a poor night. The defense for La Blaugrana was just woeful for much of the night, especially in the first half.
On Celta's first counter, Javier Masherano was beaten very badly by Aspas before Valdes did very well to stop him one-on-one.
On the goal, the entire back line fell asleep. It was Sergio Busquets who was left alone in a two-on-one situation, and the visitors took advantage of the opportunity to level.
Barcelona looked much better when Marc Bartra came on in the second half, and the youngster will likely get a lot more time on the pitch now that Adriano is set to miss three weeks.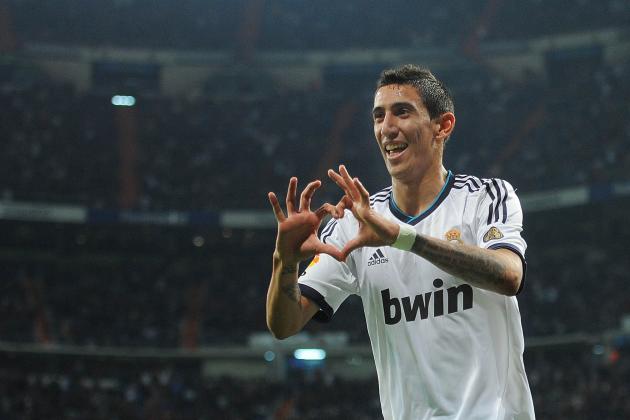 Gonzalo Arroyo Moreno/Getty Images

Positives for Madrid
London's Premier League teams may have all failed to win on Saturday, but two of their former stars did well in Spain.
Michael Essien and Luka Modric both netted their first goals for Real Madrid and did a fine job of covering for Xabi Alonso and Sami Khedira in midfield.
Sergio Ramos was a rock at the back and worked hard to give Iker Casillas the clean sheet.
Most importantly, Jose Mourinho's men kept pace with Barcelona and moved into third place in the league.
Referee influential again
The reigning champions did not have a tremendous match against Zaragoza, despite what the final score implies.
In fact, if Helder Postiga's goal had stood like it should have since he was onside, Zaragoza could have drawn level after grabbing momentum.
Instead, they were left deflated by a poor call, just as Celta Vigo were against Barcelona
Negatives for Madrid
The last two goals came in garbage time after the result had long been decided. Cristiano Ronaldo managed to put five shots on goal but failed to score and misplaced far too many passes.
Gonzalo Higuain was opportune in walking a rebound in from Roberto but rarely threatened aside from that tap-in.
They got the win without their best midfielder which is all that matters in the end, but Los Merengues were far from their best against Zaragoza.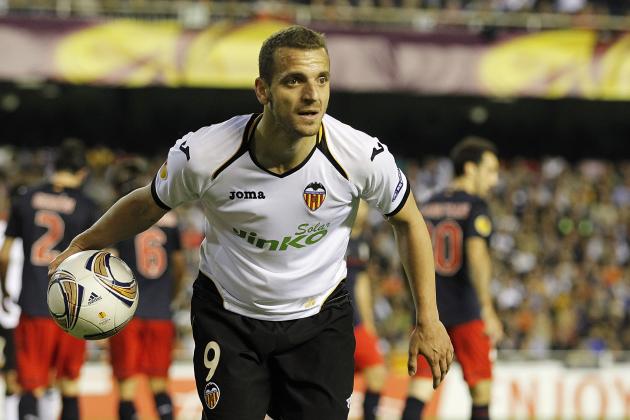 Angel Martinez/Getty Images

April 11, 2012
That was the last time Atletico Madrid had lost a game before they entered La Mestalla this weekend.
Los Che handed Atleti their first loss of the season and knocked them off their perch at the top of the La Liga standings.
Roberto Soldado opened scoring with perhaps the goal of the season, and Los Colchoneros were kept out of goal for 90 minutes.
Falcao had a pretty pedestrian night, and his biggest impact came when he was pulled down a couple of times inside the box.
One of those falls could arguably have been a penalty, but most of the time the El Tigre just went down a bit too easily. Thankfully, the ref did not decide this one.
Impact going forward
Make no mistake, this result was huge for both teams.
Valencia finally ended their skid which saw them lose three of their last four. They are now in seventh place and back in striking distance of a Champions League spot.
A win over Atletico Madrid, who are really a superior team, could inspire a great run to close out the first half of this season.
Momentum shift in Madrid?
For Atletico Madrid, the loss could be a turning point.
Diego Simeone has been phenomenal this season and turned this team into one of Europe's best. Many fans have started dreaming about the league title again.
But now, after falling three points behind Barcelona and letting Real Madrid get within five, the facade might have faded.
The "fate factor" took a big hit in Valencia and now Los Rojiblancos' great rivals know they have a chance to overtake Atleti within a few matches.
Losing just a single match to a great team like Valencia is not a big problem on its own, but when it puts pressure on Atletico by putting Real Madrid hot on their tails, it becomes a greater concern.
Let's see how both teams respond next week.